Is the all-electric BMW i3 the right car for you?
---
PUBLISHED TUESDAY, AUGUST 8, 2017
BMW's i3 is the company's first foray into the electric vehicle arena. Is it right for you?
The first five-door, all-electric BMW i3 became available to US buyers in May 2014. This very green car has proven to be a seriously efficient vehicle with serious good looks.
The i3 boasts unique, modern, aerodynamic styling, with options for eye-catching dual-color paint jobs. Also, the i3 has a surprisingly roomy interior, a new approach to design and materials, and a propulsion system that appeals to many buyers.
A BMW i3 review
Our BMW i3 and the i3 Range Extender reviews are meant to give you enough information to help you make an educated decision about which electric car purchase is right for you. Below you'll find the highlights of this unique car, plus the reasons to make it one of your top options.
What's the difference between the BMW i3 and the BMW i3 Range Extender?
The basic difference is that the BMW i3 (BEV) version has an all-electric vehicle motor without the optional range extender. The BMW i3 Range Extender (REx) is simply the BMW i3 with the range extender option included, which is a small, two-cylinder gasoline generator that keeps the batteries full of charge. When the i3's battery charge drops below six percent, the range extender kicks in to give you some extra mileage.
What kind of mileage range does the BMW i3 get per charge?
The BMW i3 comes in two different versions. According to fueleconomy.gov, the i3 can drive over 80 miles on a single charge.* This will vary depending on your driving style and other factors like cold weather, use of the heater or air conditioner, and hilly terrain.
Reasons to buy a BMW i3
Buying hybrid and all-electric vehicles is a growing trend and more people are buying these cars than ever before.
There are plenty of great reasons to check out a BMW i3 all-electric car.
It has a futuristic, unique exterior that stands out on the road.

The i3 has exotic looks, with hemp-like door panels and premium wood finishes.

Seats are mounted high to give a commanding view of the road.

The i3's greenhouse design provides a clear panoramic view and fewer blind spots.

The iDrive infotainment system includes a range assistant to help with navigation.

You'll get a quiet ride and lots of tech-y bells and whistles.
How long does it take to charge the BMW i3 battery?
There isn't a cut-and-dry answer to this question — every EV recharges differently because of varying factors for every situation (battery size; 120v, 240v, 480v DC charging source, etc.).
The 2014 i3 charges in about 18 hours with a standard, 120v Level 1 charger. Aftermarket Level 2 chargers are available from a variety of companies and are designed to dramatically reduce the charge time for each vehicle.
Where can I charge my electric car?
One of the first questions people ask when considering an all-electric car is, where can I charge my electric car? Finding a public charging station is quick and easy — just check out an online charging station map to find a spot close to where you live.
What is the max speed of the BMW i3?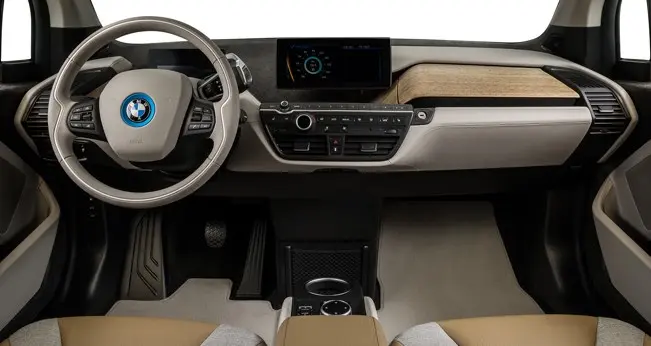 The BMW i3 is lightweight (just over 3,000 pounds) and aerodynamically slippery, thanks to its aluminum chassis and streamlined carbon fiber framework. This is good news for both the i3's mileage and its "giddy-up." The BMW i3 can go from zero to 60 mph in less than seven seconds, and it tops out at nearly 100 mph. That's plenty quick for a car of these dimensions. Electric car owners love the fact that these vehicles really take off from a standstill — electric cars give great, seamless acceleration thanks to their motors' torque (184 ft lbs) and single-speed transmissions!
How is the BMW i3's drive and handling?
Although the BMW i3 is considered a subcompact car, it's quite sporty and a lot of fun to drive. It's a rear-wheel drive vehicle, so even though it sits rather high, it's well balanced. Don't try any fancy slalom maneuvers — the skinny tires are built for hypermiling, not for the track — just enjoy the i3's ability to shoot off the line and hold the road well.
BMW really got the design right with this car because the batteries are installed very low to the ground. So although the vehicle is tall, it's not top-heavy and therefore has an even weight distribution that boosts its maneuverability. It's pretty stable at higher speeds as well.
How much does the BMW i3 cost?
While current prices for new i3s can exceed $50,000, before federal tax rebates, the median used BMW i3 price at carmax.com is around $20,000.
The bottom line
A used BMW i3 is a smart electric car that's reasonably priced for a vehicle in this class. It's a great choice for drivers who want a futuristic-looking vehicle that gives them an invigorating driving experience and plenty of green features. Its cost may exceed that of other electric vehicles out there, but lots of drivers are willing to pay this premium for the BMW name, refined ride, and overall uniqueness.
Mileage is based on EPA estimates. Range will vary based on, among other things, battery age, vehicle condition, and driving conditions. Battery decreases with time and use. See store for details. Unless otherwise noted, information related to these featured vehicles comes from third-party sources, including manufacturer information. Product and company names may be trademarks™ or registered® trademarks of third-party entities. Use of them does not imply any affiliation with or endorsement by these entities.