Ask the Expert: Ford F-250 vs. Ram 2500
---
PUBLISHED FRIDAY, MAY 20, 2022

BY EDMUNDS EDITORS

With thousands of vehicles in our inventory, we're here to help make car research easier for you. We've partnered with car-review experts from Edmunds to weigh in on what matters most when you're looking to buy a truck or car.
***
A duo of heavy-duty trucks with heavy-duty features.
Vehicles Reviewed
Ford F-250
Ram 2500
Sometimes, you just need a big ol' truck for towing heavy trailers, hauling large furniture or supplies in the bed, or simply putting up with a lot of abuse for years on end. For those jobs you can turn to a heavy-duty or "three-quarter ton" pickup, which will provide more strength and capability than a typical full-size "half-ton" pickup. Two popular options are the Ford F-250 and Ram 2500. In this article, Edmunds expert Ryan ZumMallen highlights the strengths of each truck and provides personal recommendations based on his experience.
What are your options?
First up is the Ford F-250. The current fourth-generation version made its debut for the 2017 model year, and the F-250 was refreshed for 2020 with a new grille, tailgate, and higher-quality interior on Limited trims. The F-250 offers several different cab sizes, bed lengths, engine choices, and trim levels for you to choose from. XL, XLT, and Lariat trims come standard with rear-wheel drive and offer four-wheel drive as an option, and King Ranch, Platinum, and Limited trims come exclusively with four-wheel drive.
What sets the F-250 apart from competitors is its aluminum body panels. Ford's competitors prefer steel construction, but the F-250 uses a high-grade aluminum to reduce weight. The weight reduction means improved fuel efficiency and it enables higher maximum towing and hauling capacities for the F-250. The downside is that aluminum is tricky to repair, and for some people, the aluminum panels pose too much of a damage risk given the demanding work these trucks do.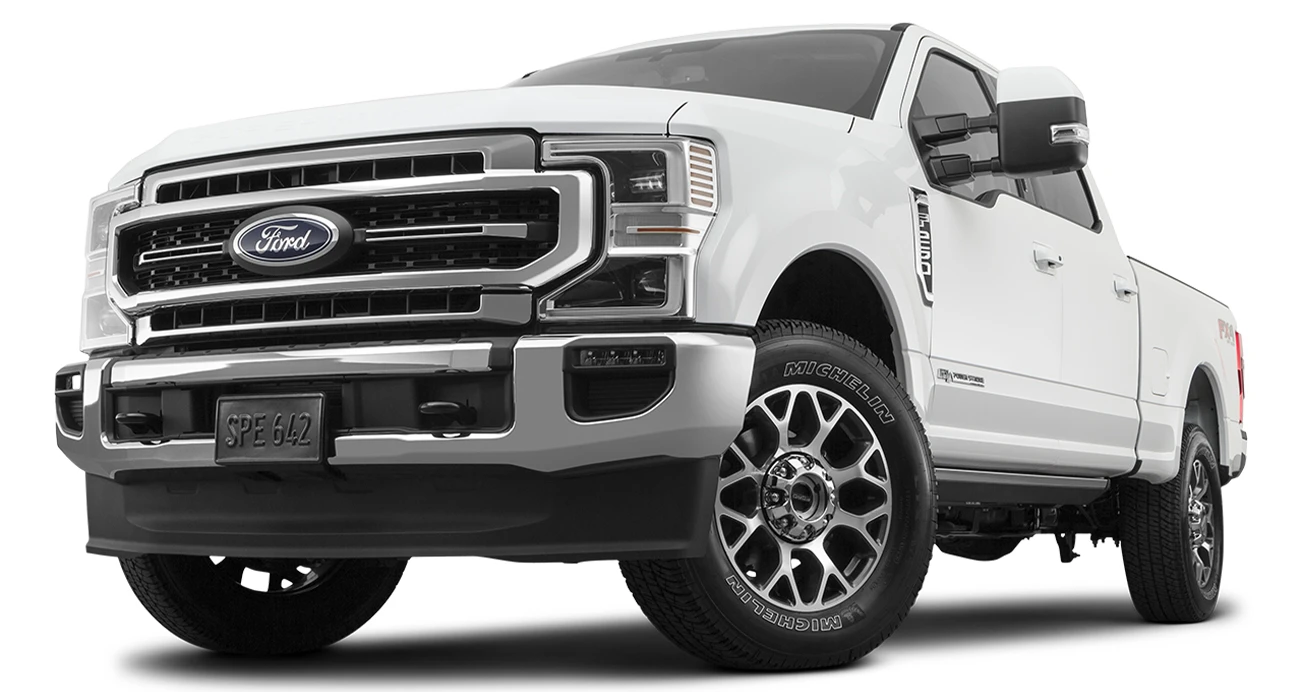 Here are the trim levels you'll find for the F-250:
Base models: XL, XLT

Midlevel trim: Lariat

Luxury versions (crew cab, 4WD only): King Ranch, Platinum, Limited

Off-road variant: Tremor package (available on Lariat, King Ranch, and Platinum)
Next up is the Ram 2500. The most recent version of this heavy-duty truck is the fifth generation, which came out for the 2019 model year. Like the Ford, several sizes are available, depending on the bed length and cab size you prefer. Four-wheel drive is optional on nearly all trim levels, except for the off-road Power Wagon variant, where it comes standard.
Towing and hauling capabilities are a definite strength for the Ram 2500, but it impresses most inside the cabin. Even the more affordable base models offer comfortable accommodations and excellent technology features. The more luxurious models, however, feel plush and extremely advanced for the heavy-duty truck class.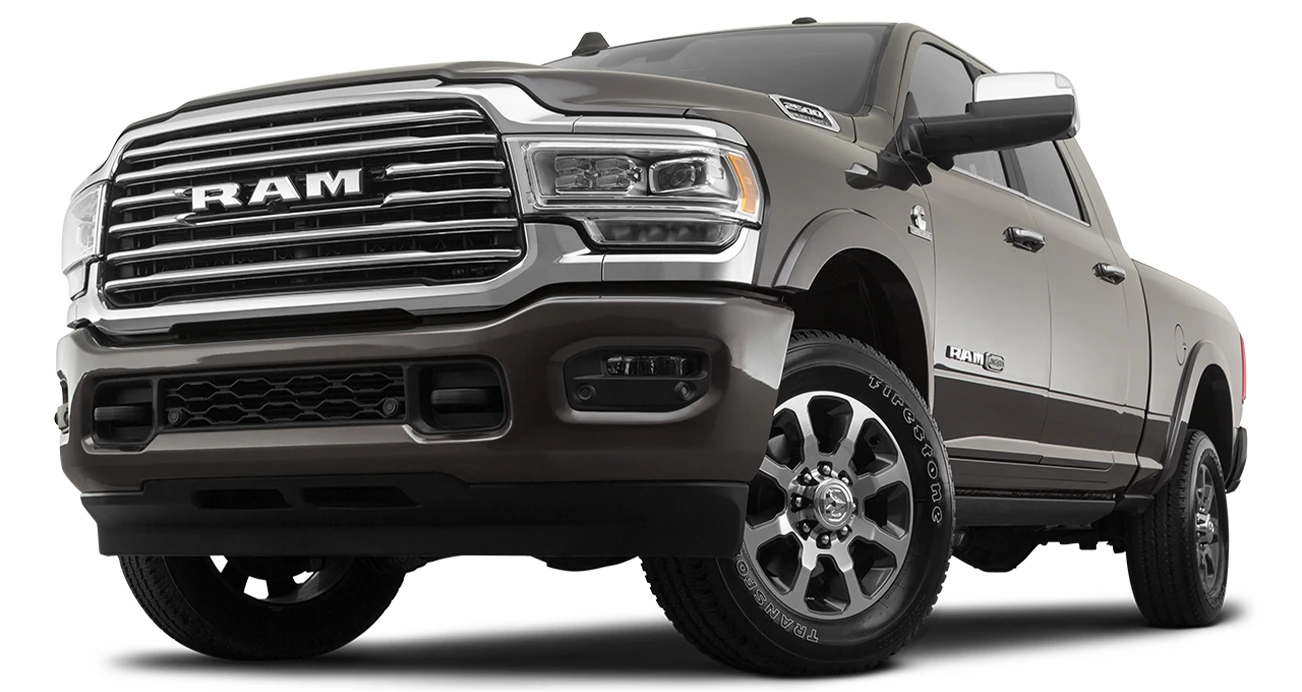 Here are the trim levels you'll find for the Ram 2500:
Base models: Tradesman, Big Horn/Lone Star

Midlevel trim: Laramie

Luxury versions: Limited Longhorn, Limited

Off-road variant: Power Wagon
What engines do they come with?
A hallmark feature of heavy-duty trucks are their large, powerful engines. They typically offer a choice of gasoline or diesel engines. Also, a note: Because these vehicles are intended for vocational work, manufacturers are not required to provide estimated fuel economy figures.
Here are your engine choices for the Ford F-250:
6.2-liter gasoline V8 (385 hp, 430 lb-ft) and six-speed automatic transmission

7.3-liter gasoline V8 (430 hp, 475 lb-ft) and 10-speed automatic transmission

6.7-liter turbodiesel V8 (475 hp, 1,050 lb-ft) with a 10-speed automatic transmission
 Engines you may find in the Ram 2500 include:
6.4-liter gasoline V8 (410 hp, 429 lb-ft) and eight-speed automatic transmission

6.7-liter turbodiesel six-cylinder (370 hp and 850 lb-ft) and six-speed automatic

6.7-liter turbodiesel six-cylinder (420 hp and 1,075 lb-ft) and six-speed automatic
 Ryan's take: The gasoline engines listed above are great for getting around town comfortably and handling some heavy work. But for both trucks, the diesels are where it's at. Ford's is called the Power Stroke® and Ram's are made by the highly regarded diesel experts at Cummins. You may have noticed that each one is available with more than 1,000 lb-ft of torque. Yes, you read that correctly. From behind the wheel, that kind of grunt is intoxicating, and it lends a special kind of confidence while towing that perfectly suits these burly trucks. When buying new, choosing the diesel option is often prohibitively pricey. If you're lucky enough to find one on the used market that fits your needs, act fast before it's gone.
What are the interiors like?
Like most pickup trucks, heavy-duty trucks are pretty sparse on the inside to start. Their base models typically come with a lot of plastic and hard, uncomfortable materials inside the cabin. However, as you move up the trim levels, these trucks leave their meager roots behind and add ever more comfortable features. At the top trims they're essentially luxury vehicles … and priced to match.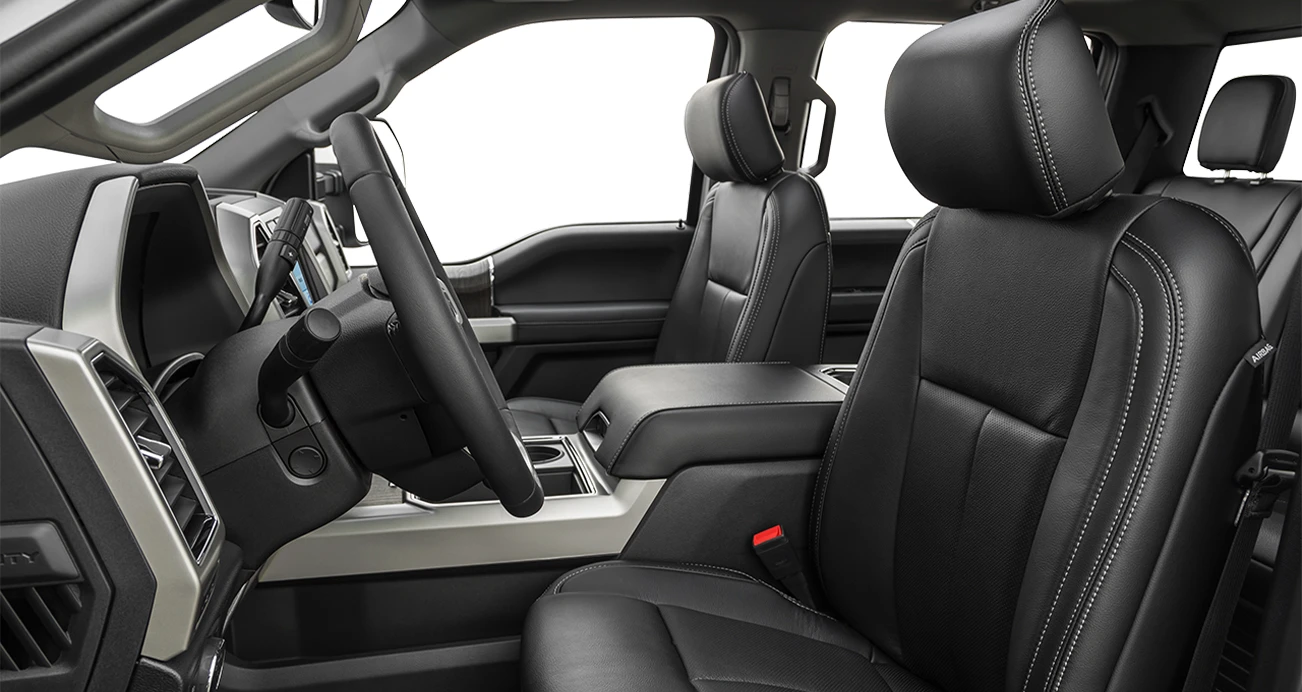 In the F-250, expect to find plenty of space for passengers both front and rear. Regardless of your trim level, the seats are well cushioned and suited for support on long drives. On King Ranch, Platinum, and Limited trims, there are optional multi-contour seats, which provide a massage function. The standard center screen is small at 4.2 inches, though you can option up to an 8-inch touchscreen or—beginning in 2022—a 12-inch screen running the most recent version of Ford's highly rated software system called SYNC® 4. Interior storage stands out for its quantity, but there isn't much cleverness that warrants special attention.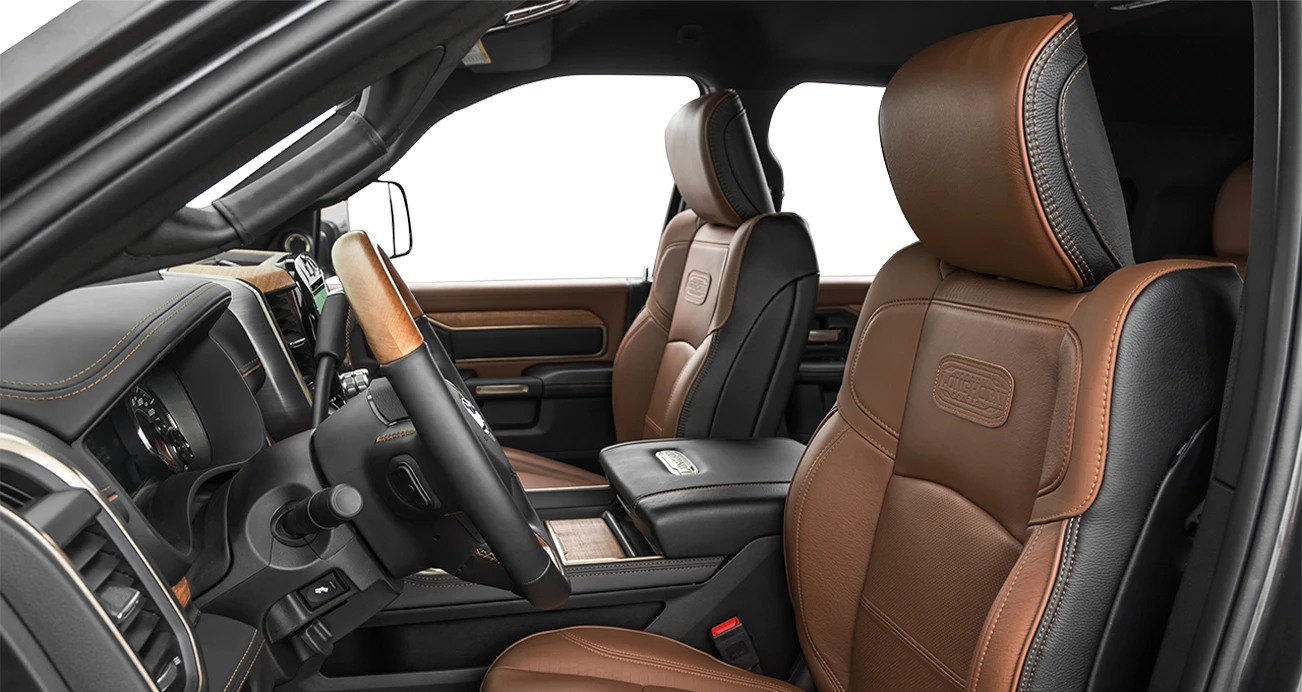 The interior is where the Ram 2500 shines. This truck is spacious inside, and if you combine the Mega Cab configuration with its extra rear legroom and the astounding level of detail on an upper trim level, the Ram can feel downright palatial. A strength on every trim is the configurable center console that brilliantly opens and slides for an assortment of storage options. Available screens include a standard 5-inch unit, an 8.4-inch touchscreen, and a stellar 12-inch screen that's vertically mounted. One drawback we've observed: The driver's seat rides surprisingly high for taller folks.
 Ryan's take: Inside the Ford, the cabin is pretty straightforward. You'll likely hoist yourself inside and find the comfort acceptable and the design slightly stylish with a few noticeable flourishes, but at no point do you forget that you're in a truck designed to work.
The Ram is different. There are more design accents to look at; more interesting textures to feel; more tech features to fiddle with. It's an elevated experience for the class that competitors are working to match. I'm particularly taken by the impressive thinking behind the configurable center console. Every time I use it, I find myself wondering why trucks weren't designed this way decades ago.
How do they drive?
The Ford F-250 may have an aluminum body designed to save weight, but it still feels like a heavy truck from behind the wheel. Tipping the scales at around three tons, or in some cases much more, the F-250 is a beast on the road. That said, it has light steering to help low-speed maneuverability in tight spaces and firm handling on the highway to keep it moving straight. All three available engines provide plenty of power to get the truck moving, but the turbodiesel V8 with its massive torque deserves special attention.
As for the Ram 2500, this is a heavy-duty truck for modern times, with comfortable and confident steering at all speeds. In Edmunds' testing, the Ram outperformed the Ford in terms of braking power, too, even though it also typically weighs in the neighborhood of 6,000 pounds. The improved braking goes a long way for such heavy vehicles. And the Ram 2500 can get going in a hurry too. Its gasoline engine is large and capable, while both available turbodiesels lend the Ram 2500 a distinctive, muscular charm with their copious low-end torque.
 Ryan's take: Again, you can take one look at the Ford and pretty much discern exactly how it feels to drive. The lightweight body panels are noticeable because the truck's heavier mechanical components are pulling its center of gravity toward the ground, making it feel planted and composed on the road. But it's still a massive truck with a stiff and bouncy ride.
Again, that's just not the case in the Ram. The steering is crisp and modern, while the trick suspension steals the show in terms of ride comfort. The Ram 2500 uses coil springs in the rear rather than the more common leaf springs. It's a rarity in the truck world that pays major dividends in ride quality and handling. Some Ram models come with an air suspension, which is a revelation. Again, this kind of shoot-for-the-moon thinking sets the Ram apart. Some people may prefer the familiar, old-school nature of the Ford, but even they would likely admit the Ram sets the bar. 
How capable are they?
Towing and hauling are not a problem for the F-250. The maximum towing capacity for both gasoline V8 engines in a crew-cab body style is an astonishing 15,000 pounds. As for the diesel? Some versions are capable of towing up to 20,000 pounds. That is serious weight—enough to pull enormous boats, trailers, or toy haulers. For more pedestrian use, there are features like an integrated step ladder in the tailgate. However, we find the bed sides are high, making it difficult to quickly reach in and grab items over the side.
The Ram 2500 presents its own set of unique towing capabilities. With the gasoline engine, its maximum towing capacity reaches 16,880 pounds—even more than the Ford. Its diesel engines don't go quite as far, maxing out at 19,020 pounds. But this is still eye-popping capability that demonstrates how far these trucks have come in recent years. Ram heavy-duty trucks have a retractable step on the bumper corners to aid accessibility to the bed, and we found it easier if you want to reach in from over the side than in the Ford. One neat feature that Ram offers is the optional RamBox® storage system, which consists of sizable cubbies built into the actual bed walls, albeit at the expense of maximum bed width.
Ryan's take: The numbers speak for themselves. Each of these trucks is massively capable so if you're looking to tow 10,000 pounds or more, you're in the right place. For more casual, everyday use, I prefer the Ram again for its clever thinking with RamBox and lower bed sides that make it easy to toss things inside. But pay special attention to the Ford's integrated step in the tailgate that helps you climb inside the bed when necessary. Just beware that using it leaves sharp metal parts exposed and you don't want to smack your shin on that—trust me.
What else should I consider?
The only other heavy-duty trucks in this class are the Chevrolet Silverado 2500 and its mechanical twin, the GMC Sierra 2500. The biggest difference between the two is the GMC's more luxurious interior, so turn to that model for more plush seats, for example.
You could also move a step up to the full-ton class. This includes heavier, more capable versions of the trucks listed here. Predictably, they are known as the Ford F-350, the Ram 3500, and the Chevrolet Silverado 3500. These trucks come with reinforced frames for upgraded towing capacity and beefier suspensions to support additional weight. In some cases, to handle extreme weight, they may have a dual rear-wheel setup—also known as a "dually."
 Ryan's take: The heavy-duty Chevy and GMC twins are gutsy trucks, to their credit. But they feel a step or two behind the times. Compared with the Ford and Ram, these pickups are a little behind on power and don't go the extra mile with their interior comfort. They're also less ambitious in terms of innovative features, and the ones they do have are often hidden away in the very top-end models exclusively. But if you need a truck with towing confidence and like the looks or availability, there's more than enough strength to justify a purchase.
Conclusion
The Ram 2500 wins out as the heavy-duty truck with the highest overall score in the Edmunds ratings system. Its stellar interior, smooth ride, and superior usability give it the edge over the competition. Ram also set a new standard for overall comfort with this model.
However, the Ford F-250 is not far behind. Many of its configurations have higher maximum towing capacities, and the interior is impressive as well. It may not go as far as the Ram in terms of cleverness and innovative features. But from tip to tail, there's no denying this is one seriously capable truck.

Ryan ZumMallen has written automotive news and buying advice for over a decade. As an automotive reviews editor for Edmunds, ZumMallen examines trends in both the new and used markets with a focus on sporty, affordable cars, off-road trucks, and SUVs.