Ask the Expert: Toyota Tacoma vs. Ford Ranger
---
PUBLISHED FRIDAY, JANUARY 28, 2022

BY EDMUNDS EDITORS

How to choose between these two popular midsize trucks.

With thousands of vehicles in our inventory, we're here to help make car research easier for you. We've partnered with car-review experts from Edmunds to weigh in on what matters most when you're looking to buy a truck or car.
***
Vehicles Reviewed
2021 Toyota Tacoma TRD Off-Road and the 2020 Ford Ranger XLT
If you need hauling and towing capability in a more convenient package than a full-size truck, consider the Toyota Tacoma and Ford Ranger. These two well-known midsize trucks are smaller and easier to park than their respective upsized brethren, the Toyota Tundra and Ford F-150, but are still well suited for doing lots of truck stuff. Edmunds' Ryan ZumMallen explains the pros and cons of each vehicle and offers some recommendations when shopping.
What are your options?
The current Toyota Tacoma is the third-generation model that debuted in 2016. Toyota offers an extended cab (Access Cab) or a crew cab (Double Cab); the crew cab has more rear passenger legroom inside. The extended-cab Tacoma comes with a 6-foot bed, while the crew cab comes with either a 5.1-foot bed or a 6-foot bed.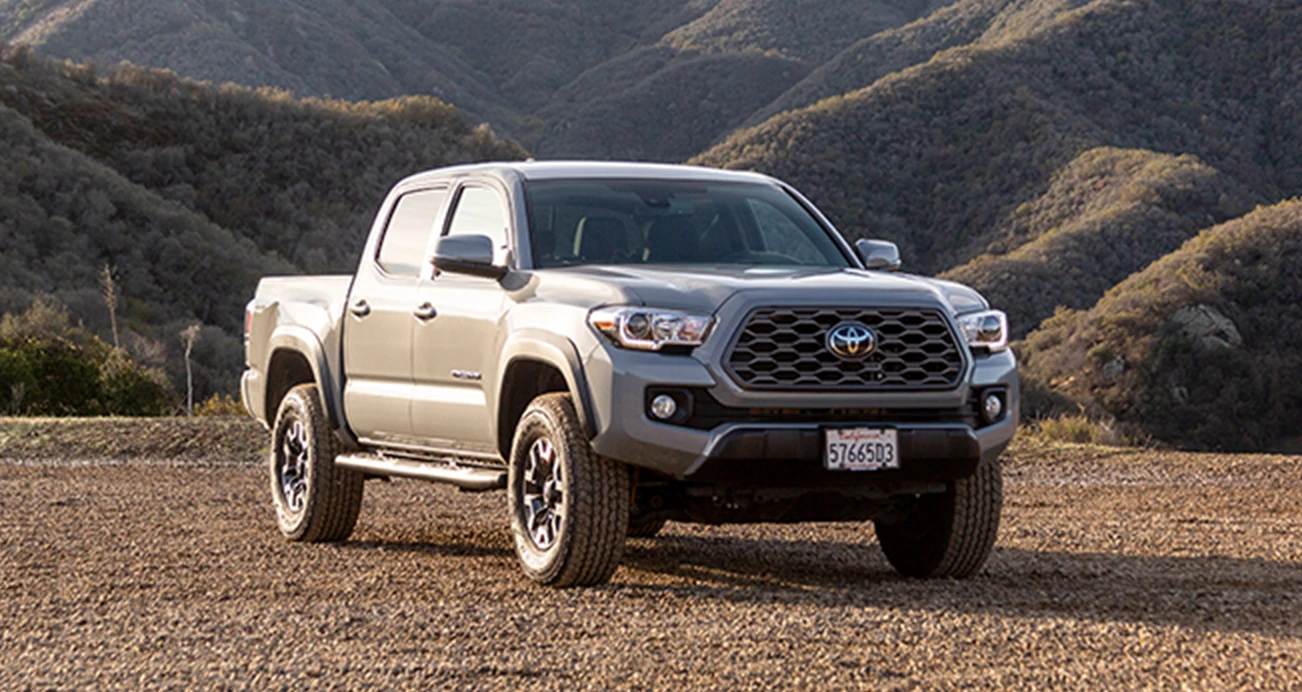 Toyota issued a number of significant changes in the 2020 model year, so look for those newer models to get better smartphone integration, upgraded driver's seat adjustments, and more. For this comparison, we're using a 2021 Toyota Tacoma as our generational representative. But the article refers broadly to all 2016-2022 models unless otherwise noted.
Several trim levels are offered for the Tacoma. The Tacoma SR starts off the Tacoma lineup with just the necessities, while the SR5 and TRD Sport add more convenience features. The TRD Off-Road is designed for enhanced off-roading capability. For 2017 Toyota introduced the TRD Pro with a higher ground clearance and additional features to further boost the Tacoma's off-roading potential. Finally, the Tacoma Limited is the most luxurious thanks to leather seating and even more premium features.
You may remember the Ford Ranger from its previous life—its third-generation model had a long production run that came to an end in 2011. After a hiatus, Ford revived the Ranger for its fourth generation starting with the 2019 model year. This latest Ranger comes as an extended cab (SuperCab) or crew cab (SuperCrew). The former has a 6-foot bed and the latter has a 5-foot bed.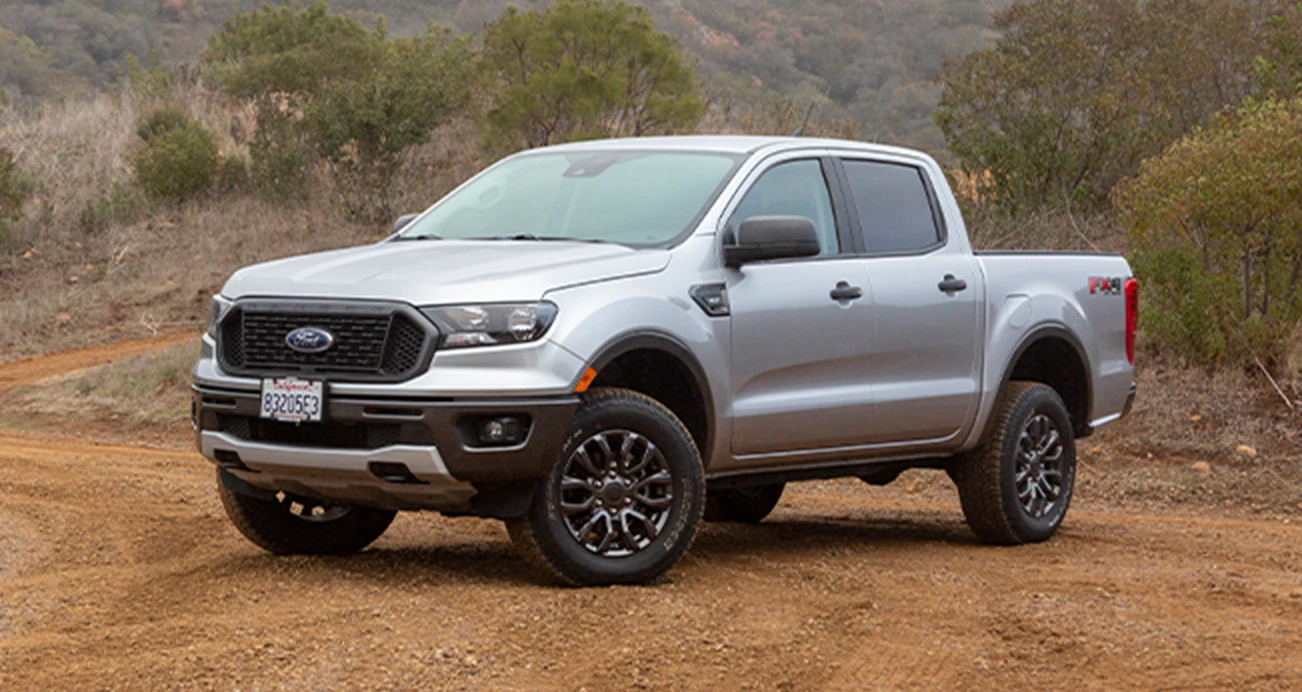 Ford has made only minor changes to the Ranger from 2019 to the 2022 model years. This article uses a 2020 Ford Ranger as the basis for our comparison with the Tacoma.
Trims are a simple affair. There's the base XL, which is pretty sparse with steel wheels, a small center screen and few tech features. Then comes the XLT, which beginning with 2020 models includes a standard 8-inch touchscreen, plus parking sensors and a number of driver assistance aids. The top-level Lariat has leather upholstery, power-adjustable front seats, and more. Just as important are the options. Ford offers optional packages for each trim that bundle extras such as advanced driver aids or off-roading hardware.
What engines do they come with?
The Tacoma offers your choice of these two engines:
Standard on SR/SR5: 2.7-liter four-cylinder (159 horsepower)

Optional on SR/SR5; standard on others: 3.5-liter V6 (278 hp)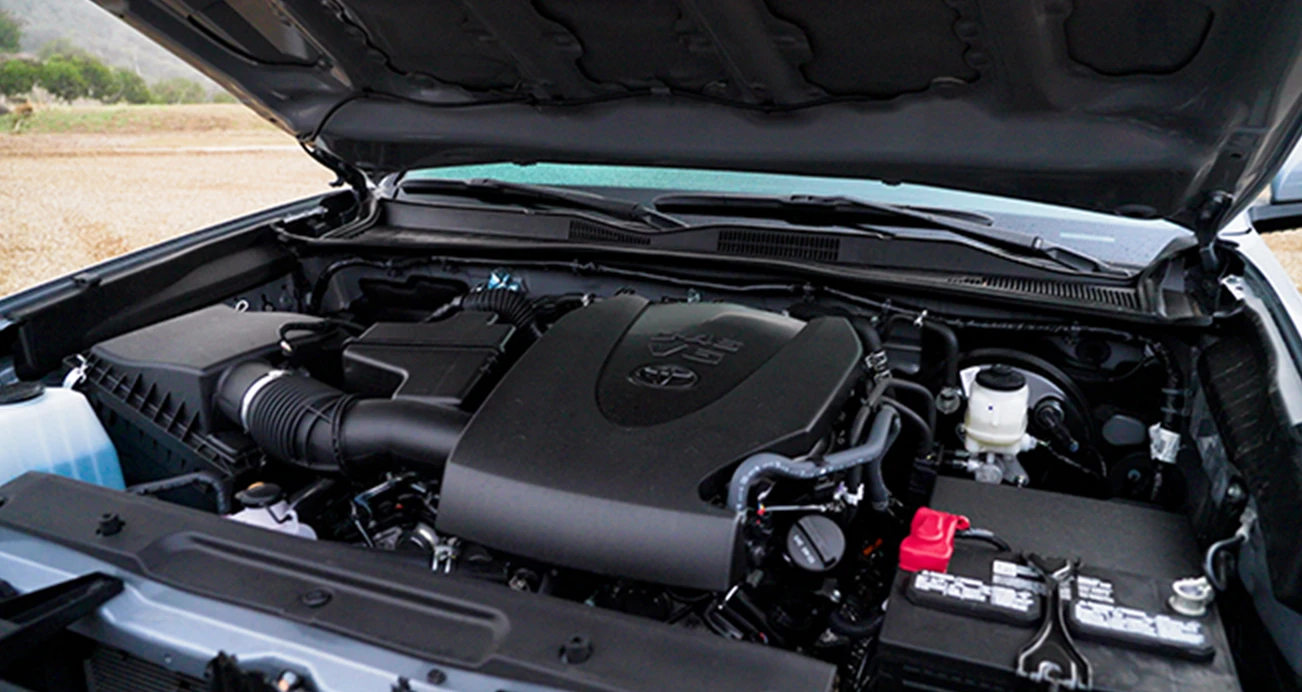 EPA-estimated fuel economy for a 2021 Tacoma stands at:
2.7-liter four-cylinder: 21 mpg (2WD) or 20 mpg (4WD) combined

3.5-liter V6: 21 mpg (2WD) or 20 mpg (4WD) combined

3.5-liter V6 with a six-speed manual transmission: 18 mpg combined
The Ranger keeps it more simple. There is only one engine and transmission on offer:
Standard on all models: turbocharged 2.3-liter four-cylinder (270 hp)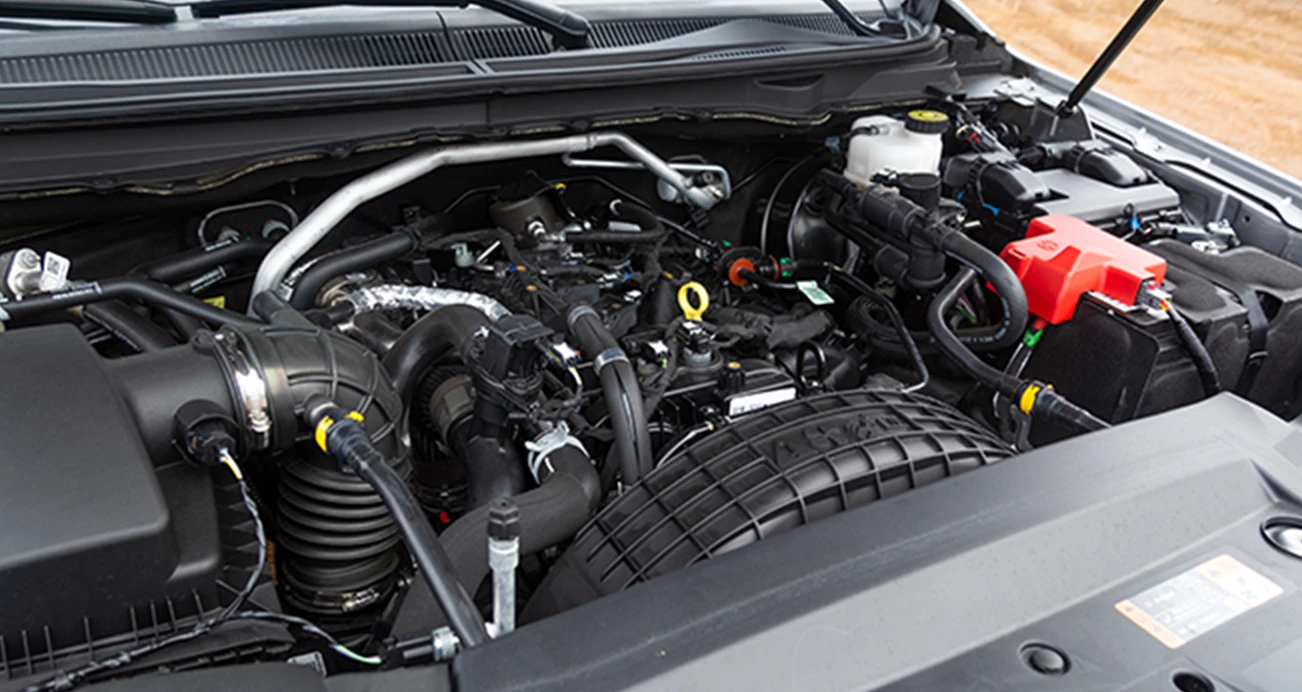 The EPA estimates a 2020 Ranger will get:
23 mpg combined with RWD

22 mpg combined with 4WD
Ryan's take: Driving the Tacoma will give you the old-school feels. The four-cylinder engine can be awfully underwhelming in terms of power, while the V6 is more gutsy but delivers a coarse rumble. The funny thing is that their EPA-estimated fuel economy figures are identical, so you might as well take the V6 if you're choosing between the two. Compared to these engines, the turbocharged motor in the Ranger is a revelation. It feels stronger when accelerating and gets higher EPA fuel economy estimates to boot. It's also very responsive to the touch for a vehicle in this class. The Ranger isn't a perfect vehicle, as you'll see below, but it has a clear advantage when it comes to what's under the hood.
What are the interiors like?
The Tacoma has an interior that's easy to use and relatively comfortable for a truck. More on the positives in a second. But anyone who knows Tacomas will tell you that the first thing to know about the interior is the driver's seat. The Tacoma has strange dimensions, especially for taller drivers. There isn't much space for their legs, and the driving position is high, which results in cramped conditions and a poor setting for long drives. Toyota added greater adjustability to the driver's seat in 2020, so you can lower it more for a better position. But it's still not great. The other limiting factor is the truck's high ground clearance, which requires quite a hike to climb inside. Otherwise, the controls are big, simple to use, and easy to locate.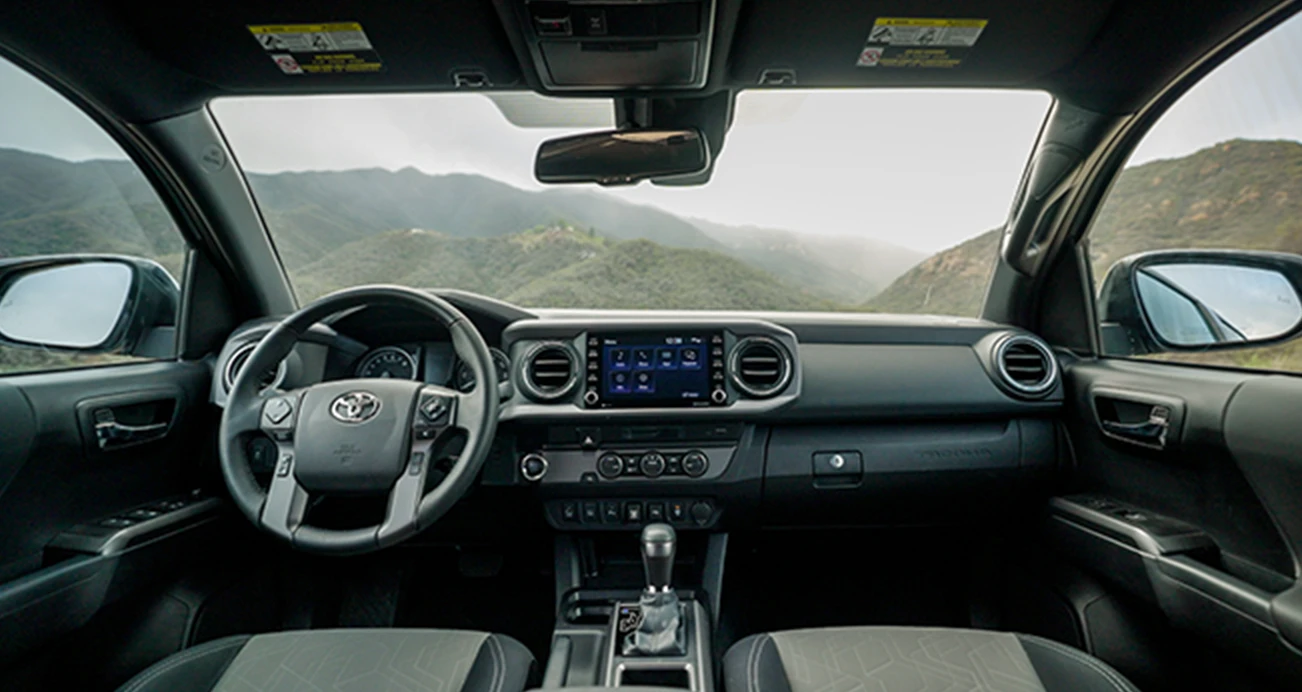 The Ranger's design and overall comfort are behind the times. The styling seems like it's a generation behind other pickups in the class, and there is a more extensive use of hard plastic that lends the cabin a cheap feel. Maybe this won't bother you so much. However, the confusing controls layout and lack of rear legroom might be deal breakers. Now, there is good space for taller adults in the front seats, and the truck sits at a convenient height for climbing in and out. From the driver's seat, you have a commanding view of the road plus good visibility over the downward-sloping hood.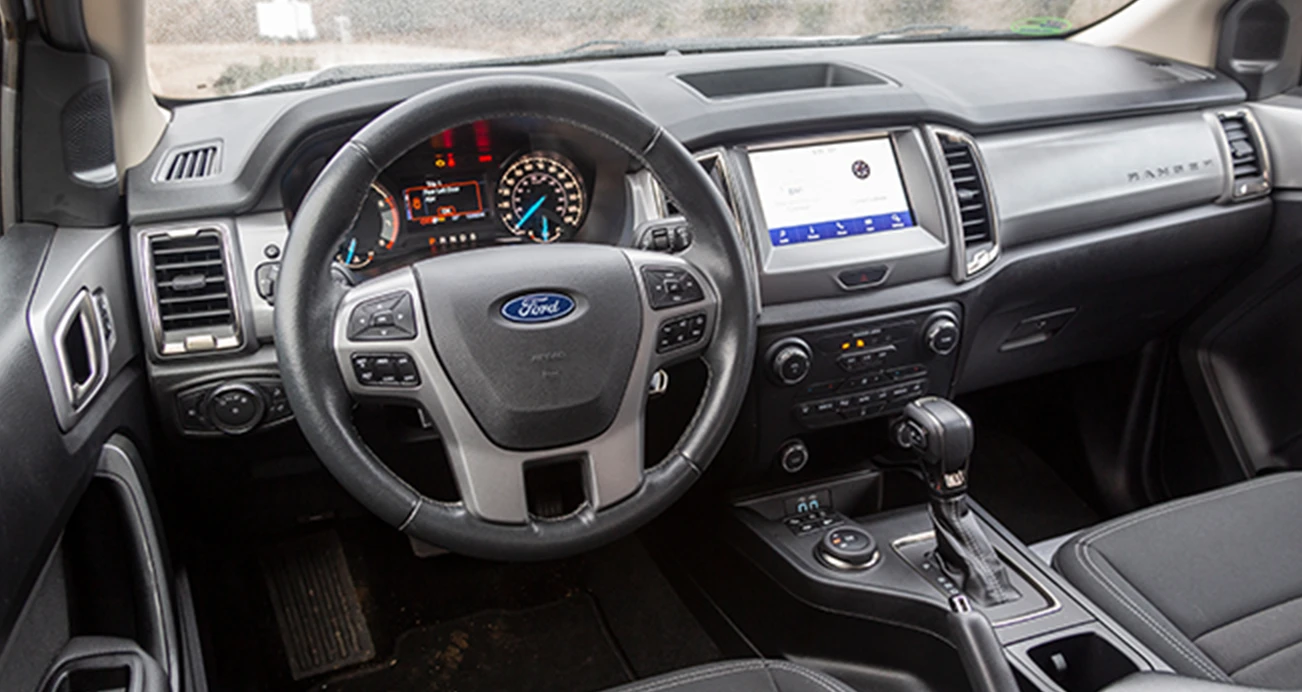 Ryan's take: I would rather sit inside the Tacoma. Now, it's true that there are comfort issues with the driver's seat, even after the improvements that came with the 2020 update. I've been on long road trips in Tacomas that required more stops to stretch my legs than I normally would take. But I simply find the Tacoma interior to be more comfortable and usable than the Ranger's. It seems like Ford miscalculated the standards that American drivers expect these days, both in terms of user-friendliness and materials.
What about technology features?
Technology in the Tacoma is a tale of B.U. (Before Update) and A.U. (After Update). In the 2017-2019 versions built before the midcycle update—the B.U. period—the Tacoma came with either a 6.1-inch screen or a 7-inch screen. Neither supports Apple CarPlay® or Android Auto™ smartphone integration. Jumping right ahead to the 2020-present models—the A.U. period—a 7-inch touchscreen is standard on the base SR, and an 8-inch screen comes on the SR5 and up. Thankfully, Apple CarPlay and Android Auto are both standard no matter the trim.
The Ranger XL has a smattering of technology features, such as an available Wi-Fi hotspot, but offers nowhere near the capability of higher trims. The XLT and Lariat come with a standard 8-inch touchscreen with Apple CarPlay and Android Auto smartphone integration—a clear upgrade. This screen also comes with the SYNC® 3 infotainment operating system, which is responsive and easy to use.
The Tacoma comes with an impressive array of driver aids as standard. Beginning with the 2018 model year for every Tacoma regardless of trim level, Toyota included the following:
Forward collision warning with automatic emergency braking (warns you of an impending collision and applies the brakes in certain scenarios)

Lane departure alert (alerts you if your vehicle begins to drift out of its lane)

Adaptive cruise control (adjusts speed to maintain a constant distance between your vehicle and the car in front)
When it comes to driver aids, the base-level Ranger XL comes with forward collision warning and automatic emergency braking. But that's about it. Instead, look to the XLT and Lariat trims because those come standard with the Ford Co-Pilot360™ package that includes:
Lane-keeping assist (steers the truck back into its lane if it begins to drift over the lane marker)

Blind-spot monitor with rear cross-traffic alert (warns you if a vehicle is in your blind spot during a lane change or while in reverse)
Adaptive cruise control is optional on both the Ranger XLT and Lariat. Blind-spot monitoring with rear cross-traffic alert comes standard on the Tacoma Limited trim and is optional on most others.
Ryan's take: There's no question that the Tacoma offers a more comprehensive set of standard driver aids. However, I still prefer the way these systems work in the Ranger—even though you need to find them in optional packages or upgraded trims. The warnings and semi-automated controls feel a little more smooth and natural in operation than those in the Tacoma. I also prefer the touchscreen and operating system in the Ranger, but not by so much that it should be a deal breaker in your decision.
What are they like to drive?
The appeal of the Tacoma is that it behaves predictably and competently. This truck is not especially sporty or responsive, but it's equipped to get the job done. We prefer the optional V6 over the standard four-cylinder engine by a wide margin, but even then the Tacoma feels about average in terms of power and acceleration. Its steering and handling are comfortable for a pickup this size, and the same goes for ride comfort. If you're planning to drive off-road, the Tacoma is an excellent choice with its available TRD Off-Road and TRD Pro models.
The Ranger's bright spot is under the hood, where the turbocharged 2.3-liter four-cylinder engine provides plenty of punch. It even makes the Ranger relatively quick for a pickup. But this positive is overshadowed by two major negatives—steering and ride comfort. The steering feels vague and inconsistent, and the suspension transmits too many cracks and bumps in the road to your seat. The Ranger also becomes easily unsettled in curves. The total package feels a little sloppy.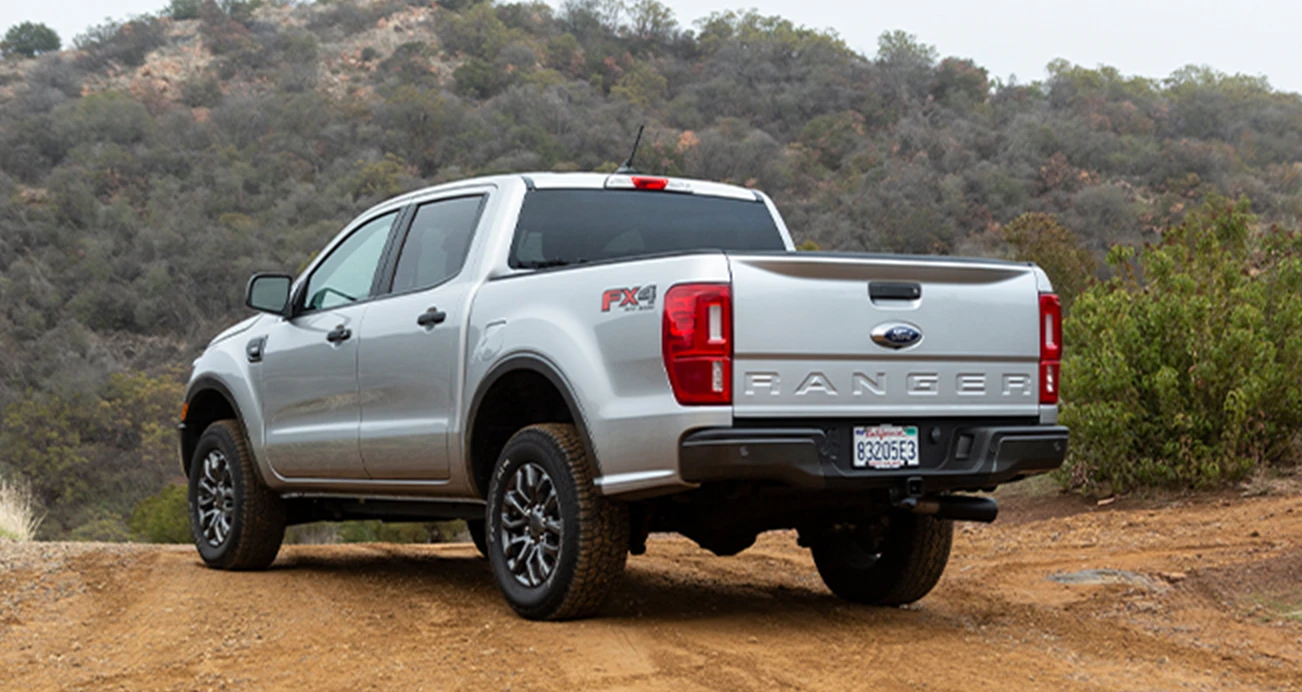 Ryan's take: Apologies to Ford fans, but the way the Ranger drives takes it out of the running for me. While the turbo engine is nice, the rest of the experience is lacking. So that leaves the Tacoma. The best thing I can say about the way the Tacoma drives is that it's honest. It looks like a truck and drives like a truck. It's kind of slow, kind of heavy, and kind of cumbersome around turns. But it's predictable, and there's plenty to like—particularly if you're going off-road or loading up the bed with any regularity.
How capable are they?
The Tacoma has an impressive bed. All models are made with a protective composite material, which makes the bed surface less susceptible to scratches and other damage. There are also plenty of tie-downs and some models include movable cleats that can be configured wherever you need them. As for how much the Tacoma can pull and haul, its figures are about average for the class. The Tacoma is rated to tow as much as 6,800 pounds of maximum capacity when properly equipped, and its maximum payload capacity is 1,620 pounds on 2016-2020 models and 1,685 pounds for Tacomas beginning in 2021. Neither number is top of the class, but both should be plenty for everyday tasks, basic home maintenance duties, and towing small trailers or boats.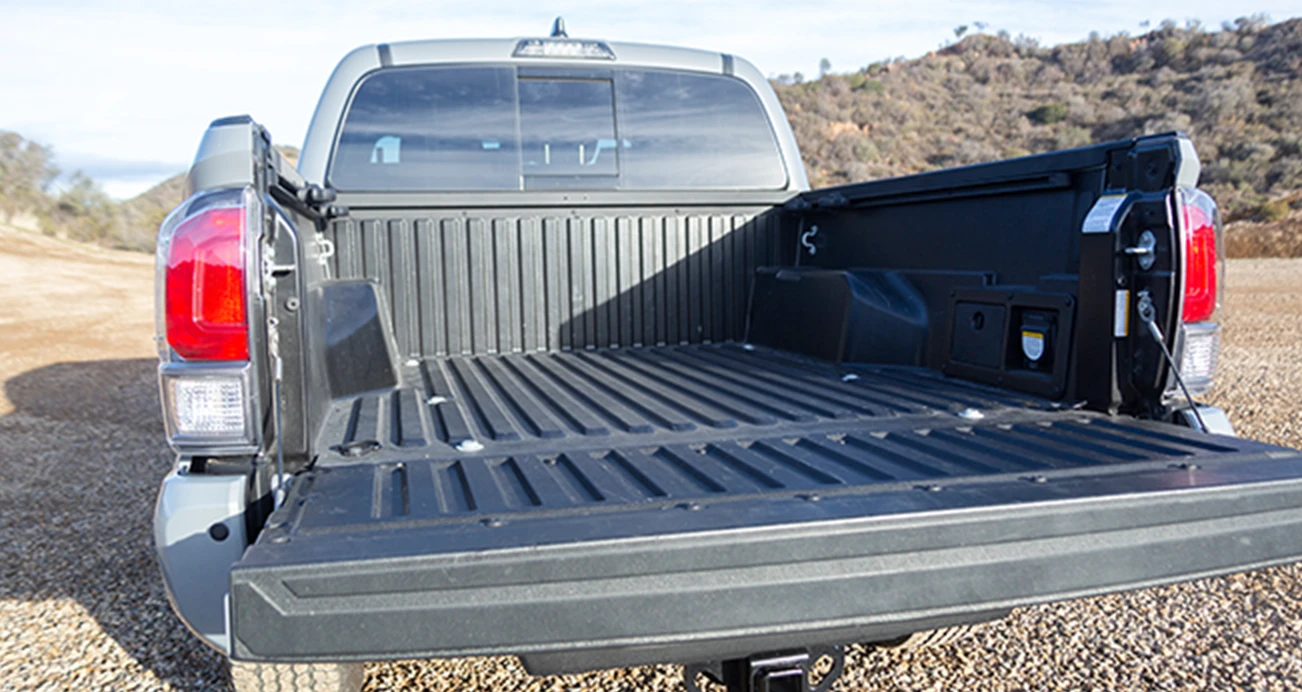 Ford set its sights on giving the Ranger the best capacities possible. In the bed, it has a maximum payload capacity of 1,860 pounds. This is an impressive figure and tops among rivals—but there are caveats. First, the number is only for the smaller SuperCab configuration, and other midsize trucks have better payload capacity when you compare the more popular crew-cab versions. Second, the Ranger's bed sides are rather tall and inaccessible compared with the Tacoma's. The Ranger is a competent truck for towing, with a maximum capacity of 7,500 pounds regardless of trim level. That is a best-in-class figure for gas-powered trucks of this size.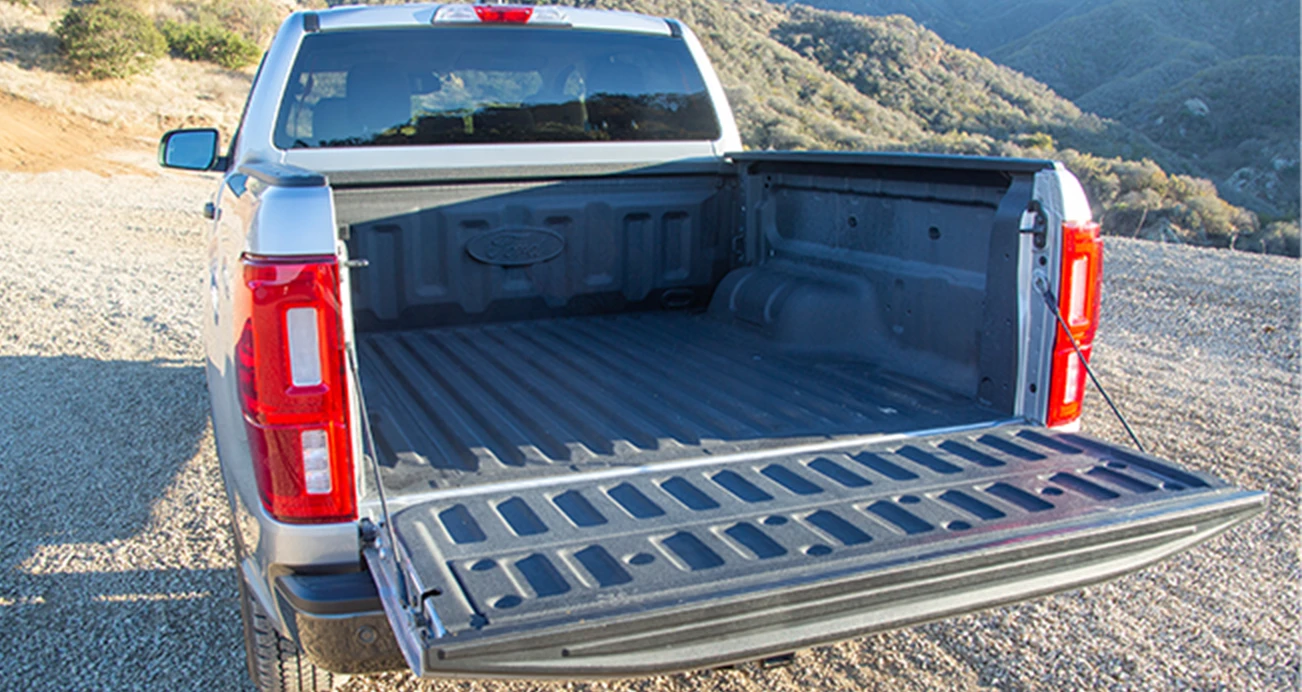 Ryan's take: Numbers are one thing, and the Ranger certainly has the better numbers in this category. But usefulness is another thing, and the Tacoma is simply easier to use. The composite bed and lower bed sides are nearly enough to win this category alone. But I also like the damped tailgate, which helps the gate lower gently rather than slam open. The Ranger is stronger by the numbers, but its tall bed is more difficult to use and you'll need to find an optional bedliner to get the same protection that comes standard on the Tacoma.
What else should I consider?
Other trucks in this realm include the Chevrolet Colorado and its more upscale sibling, the GMC Canyon. These models have a comfortable ride for the class and comparable maximum capacities when it comes to doing hard work. There is also the Nissan Frontier, which is typically a basic work truck that is often more affordable than rivals. That means you will need to endure some cheap-feeling interior parts as well as rudimentary ride quality. One thing to know: 2021 Frontiers come with an upgraded powertrain, and 2022 Frontiers have been redesigned from the ground up.
Then there are the outliers. One is the Jeep Gladiator, which is slightly larger than the other trucks on this list and excels at off-roading. But the Gladiator suffers at times when it comes to qualities like steering feel, ride quality, and fuel efficiency. On the other end of the spectrum is the Honda Ridgeline. Unlike the other trucks here, its structure is not traditional body-on-frame, but instead it's unibody—or all one piece—like a typical car or crossover SUV. This delivers a well-cushioned ride and minimal noise inside, but it isn't as rugged as competitors, and maximum towing capacity is only so-so.
Ryan's take: If you're considering the Tacoma or Ranger, the closest apples-to-apples competitors are the Colorado and the Frontier. For those who strongly value comfort, the Colorado is a treat in the class because of its easygoing ride and smooth transmission. It also has high towing and payload ratings and even an optional turbodiesel engine. The Frontier is another good option, but it sat mostly unchanged for over a decade until its redesign in 2022. Spend any time with a Frontier and you will feel its age. Finally there's the Ridgeline. Give it a try if you're willing to keep an open mind. It's consistently been a leader among Edmunds' top-rated midsize trucks.
Conclusion
The Toyota Tacoma and Ford Ranger are capable of being helpful tools for your towing, hauling, and adventure-seeking needs. On the one hand, the Tacoma has been around longer and its base models are well equipped compared to rivals. On the other hand, the Ranger is quicker to accelerate and has appealing maximum towing and hauling capabilities.
Overall, the Tacoma is likely a better choice for the majority of used-car shoppers. This is a growing market with plenty of options, but if it comes down to these two models, put the Tacoma at the top of your test-drive list.
Ryan ZumMallen has written automotive news and buying advice for nearly a decade. As an automotive reviews editor for Edmunds, ZumMallen examines trends in both the new and used markets with a focus on sporty, affordable cars, off-road trucks, and SUVs.