Ask the Expert: Should You Buy a Ford Mustang Mach-E?
---
PUBLISHED MONDAY, APRIL 11, 2022

BY EDMUNDS EDITORS

With thousands of vehicles in our inventory, we're here to help make car research easier for you. We've partnered with car-review experts from Edmunds to weigh in on what matters most when you're looking to buy a truck or car.
***
What makes the electric Mustang different from other EVs today.

Vehicle Reviewed
2021 Ford Mustang Mach-E Select

Ford took a leap of faith when creating its Mustang Mach-E. This electric SUV carries the name of the brand's famous two-door pony car and everything associated with it. But can an electric SUV really be cool enough to live up to the Mustang badge? And how good of an EV is it really? Edmunds expert Ryan ZumMallen takes you through all the details of the Mustang Mach-E to help you decide on whether the Mach-E is right for you.

What do I need to know about the Mustang Mach-E?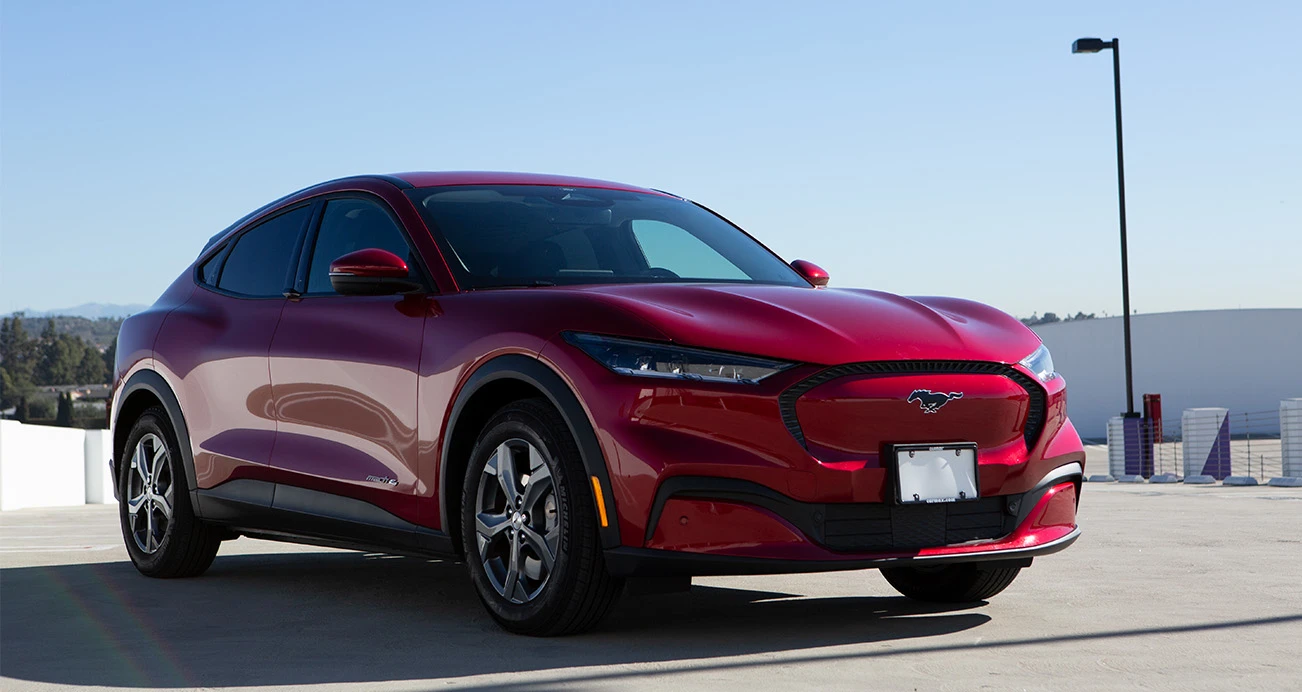 The Mustang Mach-E first came on the market for the 2021 model year. Other than the name, there's really no relation to the Mustang sport coupe or convertible. This is a four-door, five-passenger small crossover SUV with a fully electric powertrain.
Ford made an effort to give the Mach-E distinctive Mustang-like styling, though. While the look is certainly a departure from the traditional two-door Mustang, it's still curvaceous and exciting, particularly for an SUV. The hatchback-style liftgate in the back opens up wide to help you load and unload items into the cargo area.
The Mach-E comes in four main trim levels. The base version is the Mach-E Select, and it comes reasonably well equipped with standard features. Technology and driver aids are strong points in particular. Move up to the California Route 1 for a panoramic roof and a surround-view camera system, among other features. The next trim, Premium, gets even more comfort features. Then there's the GT that gets the most power and sportiest performance. Ford also offered a First Edition for the 2021 model year only. It's similar to the Premium trim but has a few special cosmetic enhancements. 
How much power and range does the Mach-E have?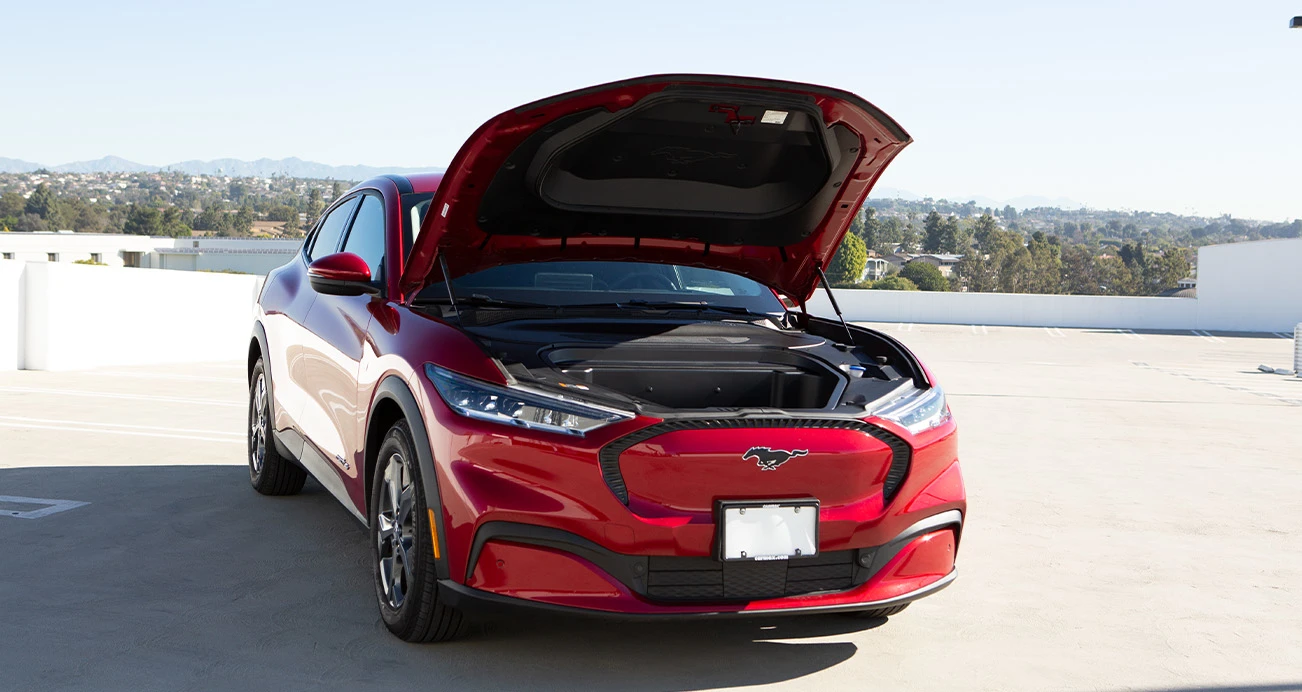 It depends on the Mach-E version you get. There's a standard battery pack or an available extended-range battery pack, plus one or two electric motors. All Mustang Mach-Es have a rear-mounted electric motor that drives the rear wheels. The available second motor is mounted up front and drives the front wheels to give the Mach-E all-wheel drive.
Here are the power and EPA-estimated range figures you can expect from a 2021 Mustang Mach-E:
Standard-range battery
RWD: 266 horsepower and 317 lb-ft of torque; 230 miles of range

AWD: 266 hp and 428 lb-ft; 211 miles of range
Extended-range battery
RWD: 290 hp and 317 lb-ft; up to 305 miles

AWD: 346 hp and 428 lb-ft; 270 miles
Mach-E GT
AWD: 480 hp and 600 lb-ft; 270 miles

GT Performance with AWD: 480 hp and 634 lb-ft; 260 miles
Ryan's take: Sure, there's power on tap. But the Mustang Mach-E also has strong electric range for the class. In Edmunds' EV testing, the Mach-E exceeds EPA-estimated range by a substantial margin. We've tested three different Mach-E models in real-world driving, and each one went significantly farther than its associated rating which indicates drivers can reasonably expect to go even longer between charges than they may expect. 
What is the Mach-E's interior like?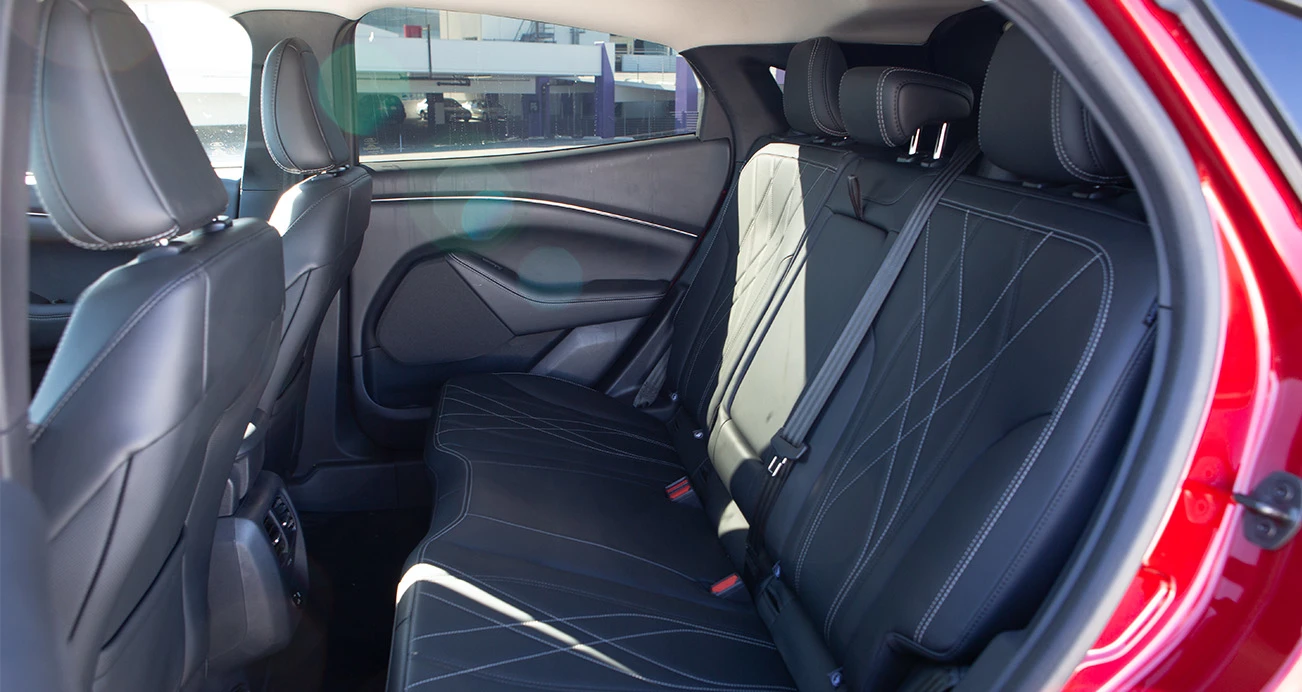 Getting inside the Mach-E feels like a different experience. You press a small circular button to pop the doors open instead of using traditional door handles. It's a neat feature. You should be able to climb inside without much trouble because there is good head clearance despite the fastback styling. The seats are also positioned at a convenient height for easy access.
The seats themselves are comfortable, though more lateral support and additional adjustments would be nice. Depending on your height and driving position, the steering wheel might not telescope far enough for your liking. Make sure to try it out. While a few buttons and switches feel a bit too plasticky, in general the Mach-E's interior looks and feels upscale.
Ryan's take: The Mach-E interior is comfortable and thoughtful. But since most people will compare it to the Tesla Model Y, let's address how the two models differ inside. The interior is the most stark difference between them. The Model Y has a minimalist approach that borders on bare-bones. By contrast, the Mach-E is much more traditional, with familiar controls and design elements that won't require a high learning curve for drivers coming out of gas-powered cars. The Model Y is slightly roomier, but I prefer the superior comfort and build quality of the Mach-E.
What's the Mach-E like to drive?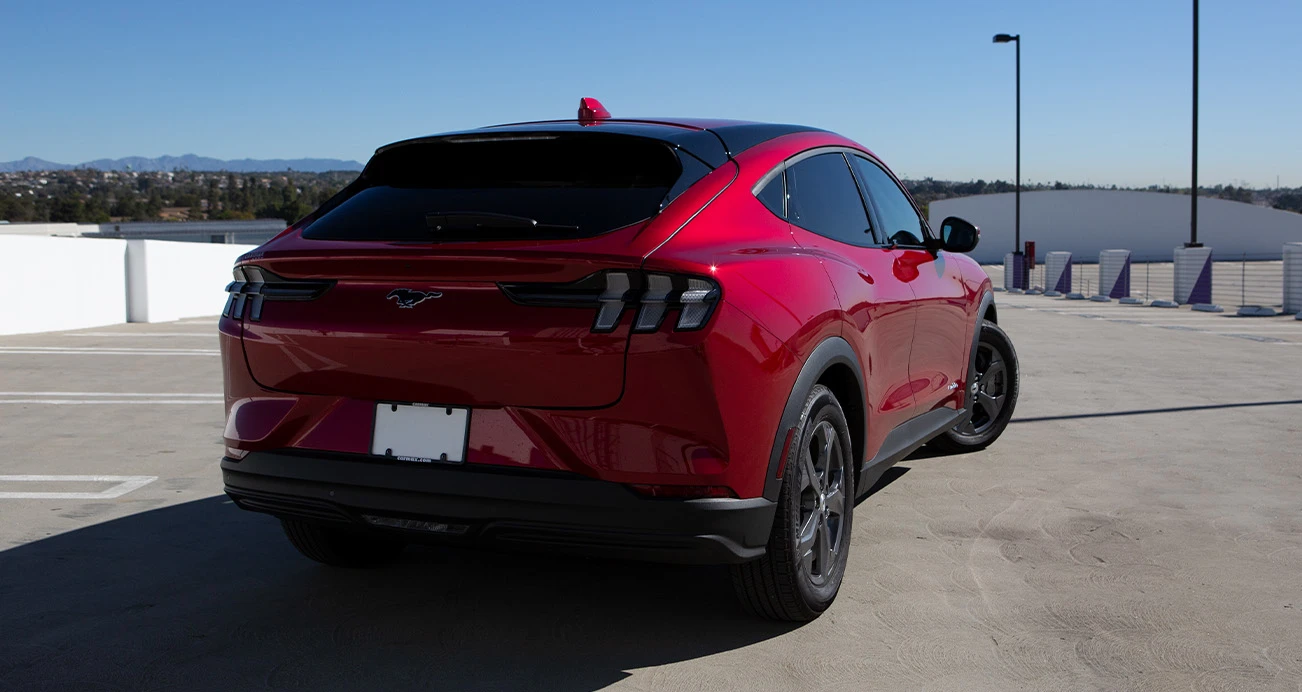 The Mustang Mach-E is a fun SUV to drive. And it's quick—an AWD Extended Range version sprinted from 0 to 60 mph in 5.2 seconds in Edmunds' testing. For comparison, the sportiest Ford Escape Edmunds tested did 0-60 mph in 6.9 seconds. But more importantly, the Mach-E is easy to drive. Power delivery is smooth thanks to the electric system, and you can use one-pedal driving to come to a comfortable and complete stop simply by taking your foot off the accelerator.
But slowing down the usual way—by pressing the brake pedal—could be better. There isn't much feeling delivered back to you through the pedal, and it can be tricky to stop smoothly. The steering and handling are thankfully more responsive. While not as thrilling as a traditional gas-powered Mustang, the Mach-E is easy to learn and provides momentary thrills behind the wheel. 
Ryan's take: This is a fun electric car, best at delivering quick bursts of power to quickly take off from a stop or kick out the rear wheels (just a touch) through corners. Around town, the Mach-E feels very smooth—no surprise given the nature of battery-powered vehicles. But the steering, handling, and braking feel appropriate for a sports car only on the aggressive GT trim. Otherwise the Mach-E falls short of its Mustang namesake, preferring calm and efficient driving instead.
How practical is the Mach-E?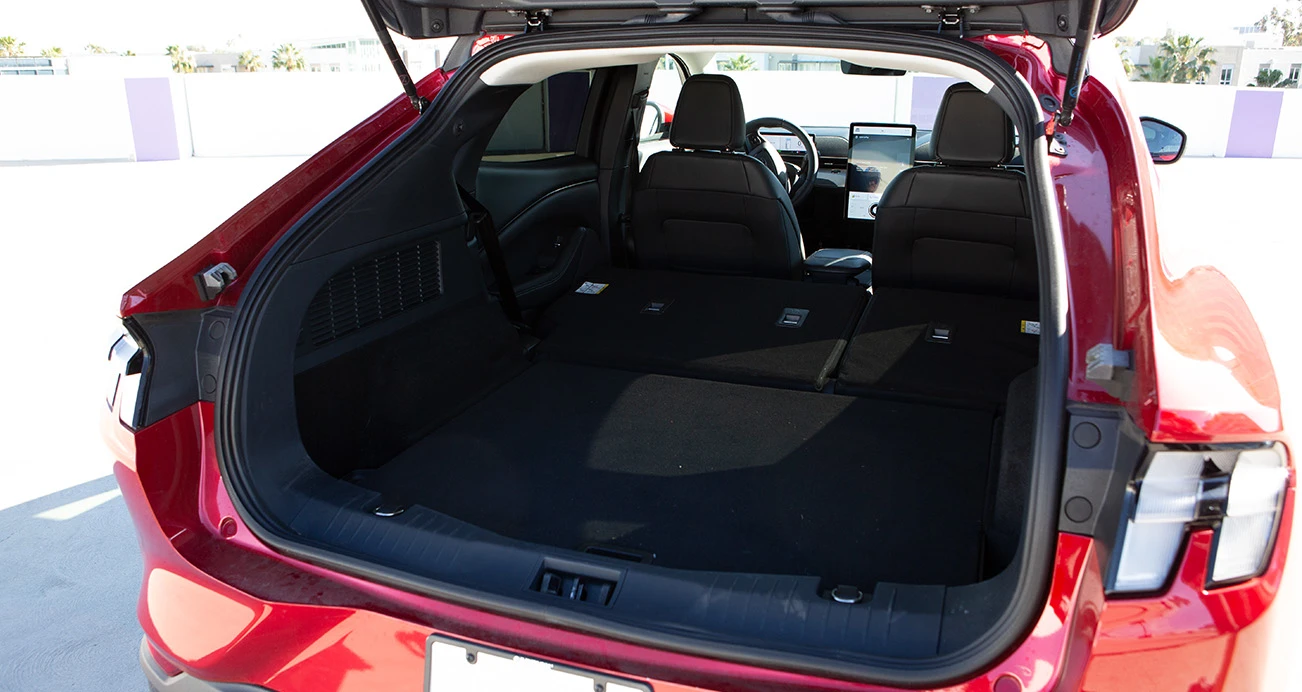 The Mach-E has generous storage space. You can lift up the rear hatch to reveal 34.4 cubic feet of cargo space behind the rear seats. This is plenty for large suitcases or sports equipment, especially given the Mach-E has a high ceiling inside. It also helps that the rear seats fold down flat to increase cargo capacity significantly. But the opening itself is somewhat tight, so beware the loading height and rather thick surrounding structures.
There's a handy underfloor space in the cargo area, which is great for securing wet or dirty shoes, for example. The same goes for the front trunk, or "frunk," which even has a drain plug in case you want to dump ice inside or wash it out.
Ryan's take: No regular Mustang can match the utility offered by the Mach-E. Storage space is plentiful throughout the cabin, and the Mustang is a proper five-seater with 6-footers able to sit comfortably in tandem. The sleek roofline does compromise cargo space a little bit—think of how the Mach-E looks compared to a boxier SUV like a Ford Explorer—but overall the Mach-E should easily satisfy.
How is the Mach-E's technology?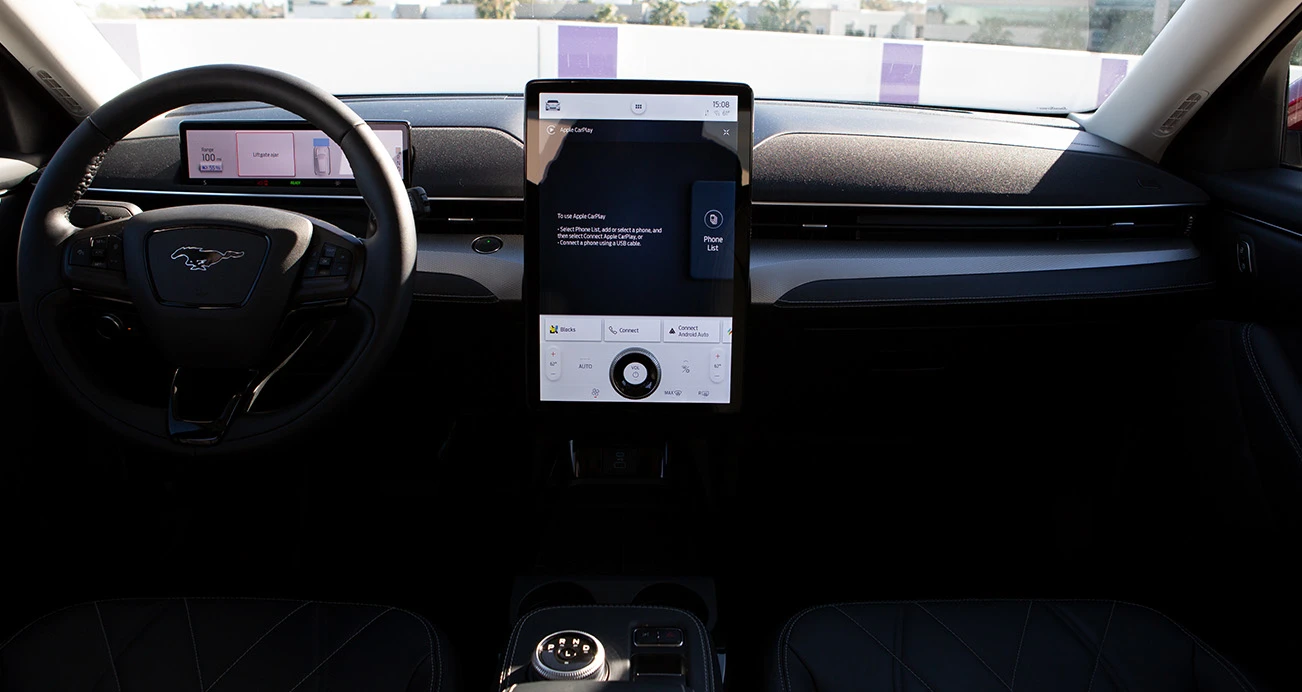 There's a 15.5-inch center touchscreen that immediately commands attention, and it's powered by Ford's SYNC® 4 operating system that has proven sharp and responsive in testing. The in-system navigation and maps are also a strong point, and you can swipe or pinch the screen to zoom like a smartphone. The Mach-E also gets a helpful color digital display in front of the driver to communicate speed, battery life, proximity to outside objects, and more.
Apple CarPlay® and Android Auto™ come wirelessly on all models. This is great because you don't need to plug in your smartphone to access these apps—but you can if you want because there are four USB ports inside. We also like the accurate voice controls and optional 10-speaker stereo system, but the real cherry on top is the driver aids. Every Mach-E includes:
Lane centering (makes minor steering corrections to help keep the vehicle centered in its lane)

Blind-spot monitoring (alerts you if a vehicle in the next lane over is in your blind spot)

Adaptive cruise control (maintains a driver-set distance between the Mach-E and the car in front)
Even better, look for the California Route 1 trim or higher to get the option to activate BlueCruise using the FordPass® App and a FordPass® Member Account. While not a replacement for your attention, judgment, and control, BlueCruise allows for hands-free driving on prequalified sections of select highways.
Ryan's take: This is solid execution. SYNC 4, Ford's latest infotainment software, is very easy to use because it responds quickly to your touch, and there aren't any confusing menus or submenus that weigh down many rival systems. Personally, I don't think anyone needs a screen larger than 10 inches, but the 15-inch unit in the Mach-E certainly makes a statement, and more importantly it's well integrated into the interior. Every tech feature feels centered around being useful to the driver, including the driver-assistance aids that to me are some of the most effective available today.
What else should I consider?
The first vehicle you should cross-shop is the Tesla Model Y. In some ways the Model Y is a superior car, especially when it comes to peak acceleration, range, and utility. In other ways the Mach-E is better, particularly in terms of overall comfort, build quality, and smartphone integration.
Otherwise, try the Chevrolet Bolt, which is a useful compact hatchback, though it isn't very exciting. The Nissan Leaf is another possible choice, though it feels outdated compared to modern options. It may help to wait for newer vehicles such as the Hyundai Ioniq 5 and Volkswagen ID.4 to hit the used market in greater numbers.
Ryan's take: I understand why people are drawn to the Tesla Model Y—I really do. But after spending hundreds of miles driving both, there's no question in my mind that I would buy a Mustang Mach-E first. The key difference is Ford's focus on usability and easy-to-use features, but nearly as important are its civilized ride and construction. As for the other EVs listed above, none is anywhere near as charismatic as the Mach-E. That seals the deal in my mind.
If I decide on a Mach-E, which one should I buy?
Our advice is to search for a Mach-E Premium, the midlevel trim. This version comes with a lot of desirable features such as heated seats and steering wheel, a hands-free liftgate, and an upgraded stereo. You also get the option to activate Ford's BlueCruise advanced driving system .
If you really want to capture the classic Mustang spirit, there's always the Mach-E GT model. It gets sportier seats and a more aggressive suspension that is loads of fun. Just be aware that Ford limits peak acceleration to 5 seconds at a time, perhaps putting a damper on your muscle-car dreams. In some ways, it's a good summation of the entire Mach-E experience: very close to an excellent electric Mustang but perhaps a little too cautious for its own good.
Ryan ZumMallen has written automotive news and buying advice for more than a decade. As an automotive reviews editor for Edmunds, ZumMallen examines trends in both the new and used markets with a focus on sporty, affordable cars, off-road trucks, and SUVs.