Chevrolet Camaro vs. Ford Mustang: What to Know When Buying Used
---
PUBLISHED FRIDAY, DECEMBER 3, 2021
Which modern muscle car is best for you?
With thousands of vehicles in our inventory, we're here to help make car research easier for you. We've partnered with car-review experts from Edmunds to weigh in on what matters most when you're looking to buy a truck or car.
***
Vehicles Reviewed
2020 Ford Mustang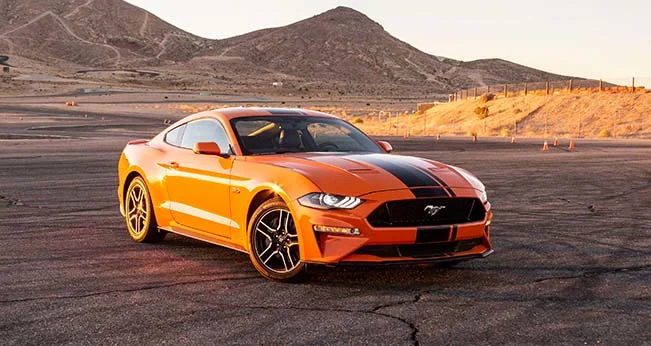 2020 Chevrolet Camaro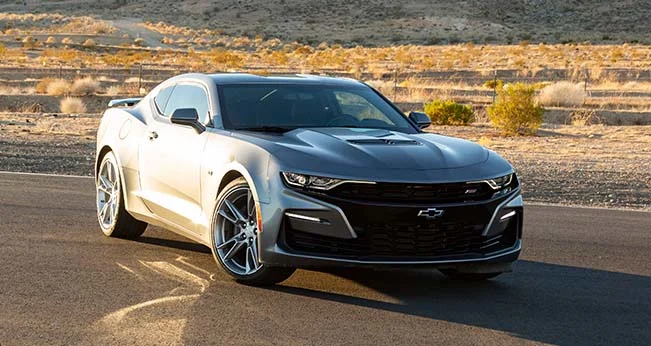 Few automotive rivalries have lasted as long or gone as strong as the rivalry between the Chevrolet Camaro and the Ford Mustang. Both cars debuted back in the 1960s as affordable and sleek sport coupes. Since then, Chevrolet and Ford have updated and upgraded them to be faster, more fun to drive, and more technologically advanced. So if you're going shopping for a new two-door American muscle car, which one should you be interested in?
What are your options?
The Camaro and Mustang both come in two available body styles: two-door coupe or two-door convertible. Each has seating for four passengers. The Camaro was last redesigned in 2016 and the Mustang back for 2018.
For the purposes of this comparison, we'll be reviewing vehicles from the 2020 model year. Notably, that's when both cars received small but significant changes. For the 2020 Camaro, Chevy updated several trim levels with new standard equipment and rolled out a new 10-speed automatic transmission for the optional V6 engine. For the 2020 Mustang, Ford enhanced the acceleration and handling potential for Mustangs fitted with the base four-cylinder engine.
Engines and fuel economy
So, what are these two packing for horsepower? Well, it depends on which engine you decide to go with.
The 2020 Ford Mustang starts out with a turbocharged 2.3-liter four-cylinder engine that Ford calls EcoBoost. It produces 310 horsepower and 350 lb-ft of torque. An optional High Performance package increases power to 330 hp. A 5.0-liter V8 considerably increases output to 460 hp and 420 lb-ft of torque for most GT versions. In the top Bullitt trim, it produces 480 hp.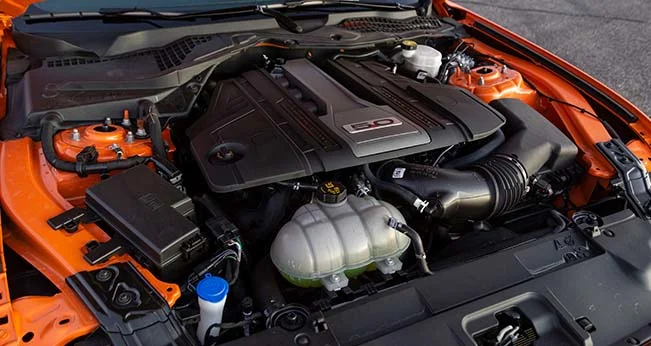 Both engines drive the rear wheels through either a standard six-speed manual transmission or an optional 10-speed automatic.
Depending on whether you go with the coupe or the convertible, and depending on which engine and transmission you choose, EPA fuel economy estimates for the Mustang vary considerably. On the high end, turbocharged four-cylinder 2020 Mustangs with the automatic receive an EPA estimate of 25 mpg combined. With the V8, the automatic transmission, and the coupe body style, the EPA estimates that the 2020 Mustang will return 19 mpg combined.
The Camaro offers a wider range of available engines. At the base end, there's a turbocharged 2.0-liter four-cylinder engine that makes 275 hp and 295 lb-ft. Next up in the Camaro lineup is a 3.6-liter V6 that produces 335 hp and 284 lb-ft of torque. For its V8 offering, the Camaro SS has a 6.2-liter V8 that puts out 455 hp and 455 lb-ft of torque.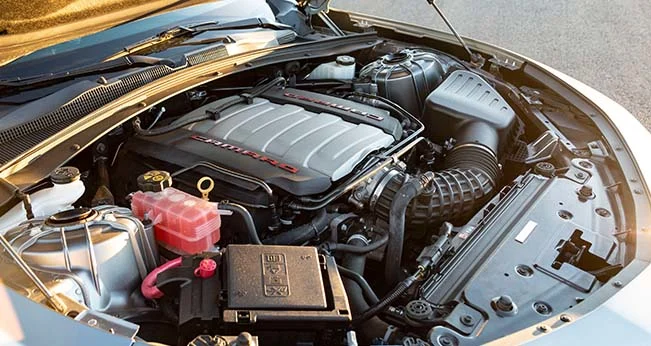 All three of these engines come standard with a six-speed manual transmission. For the four-cylinder, a six-speed automatic is available as an option, while a 10-speed automatic is available for the V6 and the V8.
Much like the Mustang, the Camaro has a wide range of EPA fuel economy estimates. At the high end, a four-cylinder 2020 Camaro gets an EPA estimate of 25 mpg combined with the automatic transmission. The Camaro SS with its V8 and the automatic get an EPA estimate of 20 mpg combined.
Travis' take: A good place to start when you're shopping for a muscle car is to decide what size engine you want. For me, it's V8 or bust in these two. The epic soundtrack you get while driving is worth the cost of entry alone. Fuel economy estimates drop, sure, but you'll get a lot more smiles per mile. And if you can get a Mustang with the optional performance exhaust, you're in for a treat when you hit the nearest freeway on-ramp.
Interior and utility
Interior refinement is at an all-time high in modern muscle cars, with the Camaro and Mustang both getting quite a few modern amenities. The Mustang's interior is a bit more spacious, with a larger range of adjustability from the steering wheel and driver's seat that allows for a better driving position. The back seat is slightly larger too, and the front seat folds farther forward for easier access.
The dashboard and interior panels of the Mustang feel well built with a number of high-quality materials. On lower trim levels, there are a few hard-and-hollow plastics, but they're not on surfaces that you come in contact with regularly. The Mustang's interior is also laid out in a logical manner, with buttons and controls that are easy to locate. Getting inside and learning the lay of the land is simple.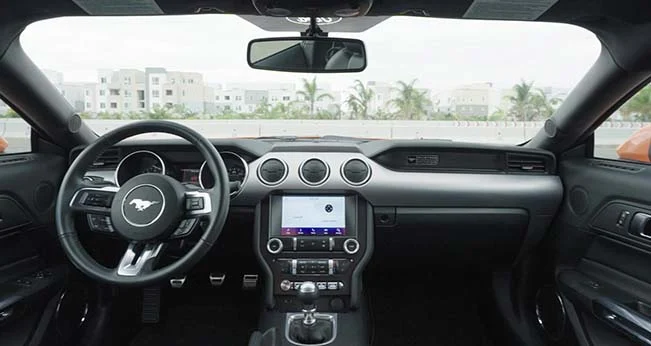 It's a similar story when it comes to the Mustang's infotainment system. The base 4.2-inch screen isn't particularly impressive, but the optional 8-inch screen is easy to read. Apple CarPlay® and Android Auto™ smartphone integration comes along with the upgrade.
The Camaro's interior isn't quite as refined. The worst part is that the Camaro's slim windows make it hard to see out of. The interior design isn't as easy to learn either. Locating some buttons and controls can be difficult and the infotainment screen is angled downward, so it's not as easy to see. Hard plastics are used a bit more frequently inside the Camaro, but build quality feels similar to the Mustang's.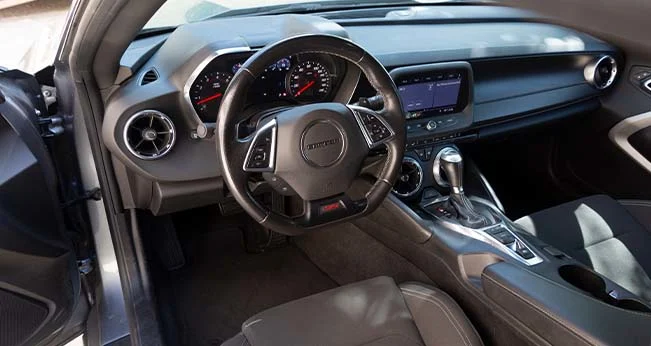 The Camaro's cabin is also more cramped. The rear seat is very small, so you'll probably just want to use the rear seat as extra luggage space. Getting in and out of the Camaro is also a bit of a challenge because of the low roof.
The Camaro's infotainment system is visually appealing and easy to understand. A 7-inch screen is standard and an 8-inch screen is optional. The Mustang's system, however, has slightly better voice controls that allow for more natural language when doing tasks like changing the radio station.
When it comes to trunk space, it's no contest. The Mustang has much more space and a larger opening to access the trunk on both coupe and convertible models. The Mustang offers 13.5 cubic feet of storage in the coupe and 11.4 cubic feet in the convertible. The Camaro? It only offers 9.1 cubes in the coupe and 7.3 cubes in the convertible.
Travis' take: The Mustang's interior is just a nicer place to be. It's easier to get in and out of the driver's seat, it's easier to load items in the back seat or the trunk, and the infotainment interface is easier to use, especially if you like using voice commands. If you're on any sort of road trip, you'll have a better time on the open road in the Mustang.
What are they like to drive?
Both the Camaro and the Mustang are powerful, especially with their upgraded engine choices. Both are impressive in a straight line too, with similar acceleration numbers during testing.
In the Mustang, steering and handling are at the top of the class, even on standard non-high-performance trim levels. Add any of the optional track performance packages and you've got a razor-sharp performance car on your hands. As a bonus, the front seats are generally comfortable and the suspension soaks up most road bumps. Performance-oriented versions of the Mustang have a ride quality that's a bit stiffer, but it's not an unbearable difference.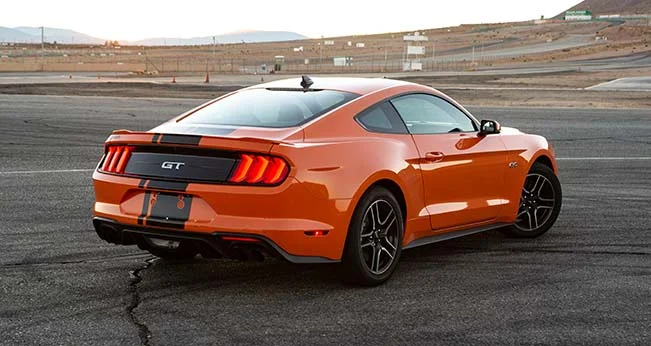 The Camaro is a bit less comfortable but feels a bit more performance-oriented. Handling is impressive whichever suspension you go with, and there are available performance upgrades for almost every trim level. The Camaro's seats, however, have a stiffer padding so they won't be as plush on long road trips. The stiffer suspension underneath the Camaro that improves handling also makes for a bumpier ride. You'll notice potholes and road imperfections making their way into the cabin of the Camaro more often than you'll notice in the Mustang.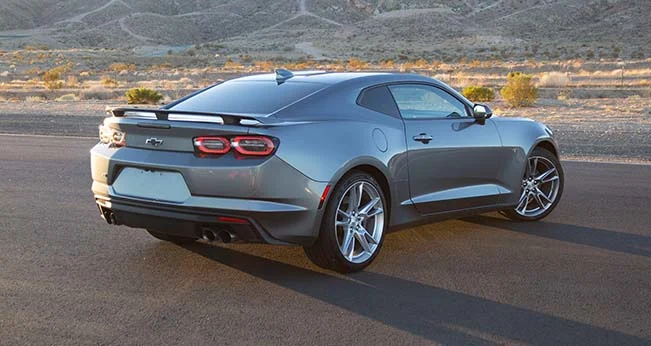 Travis' take: While it might be a bit more fun to drive quickly, the Camaro is less comfortable. So, if you find yourself using your car for more performance-oriented driving, the Camaro might be the right choice. But if you want something that's more daily-driver friendly, it's the Mustang. The seats are better, the ride is better, and there's not a big drop-off in steering and handling capabilities either, so I'd say go with the Ford.
Conclusion
The Chevrolet Camaro and the Ford Mustang both have a lot going for them. Both offer modern driving thrills with a bit of nostalgia and both have a wide variety of available configurations. They're pretty evenly matched in departments such as power and fuel economy. The Mustang is the more well-rounded performance car thanks to superior comfort and utility, but going with the Camaro could make sense if handling precision is a priority for you.
Travis Langness is an automotive reviews editor for Edmunds.com. As a lifelong car-and-truck enthusiast, Travis has a deep passion for cars. Through instrumented testing, off-roading, epic road trips, and local commuting, the Edmunds team tests and writes about new and used vehicles to help car shoppers make informed decisions.