Ask the Expert: Challenger or Charger―Which Is the Dodge Muscle Car for You?
---
PUBLISHED THURSDAY, SEPTEMBER 24, 2020
Breaking down the differences between Dodge's retro-styled muscle cars.
With thousands of vehicles in our inventory, we're here to help make car research easier for you. We've partnered with car-review experts from Edmunds to weigh in on what matters most when you're looking to buy a car.
***
The Dodge Challenger and Dodge Charger were born and bred in the muscle car era of the 1960s and 1970s. With retro styling touches and thumping V8 power, the modern versions of the Challenger and Charger appeal to the visceral drag racer in all of us. But should you get a Challenger or a Charger? And which model year or trim level is the best? Edmunds' Travis Langness walks you through the details and makes specific recommendations.
Pros and Cons
Rebooted in the early 2000s, the Challenger and Charger have shared a platform for nearly two decades now. So, there are a lot of similarities between the two cars. There are however, some differences. Here are the main contrasts you need to know between the Challenger and the Charger:
Challenger
Sporty coupe design with a usable back seat

Comfortable ride and equally comfortable seats

Slightly better acceleration and handling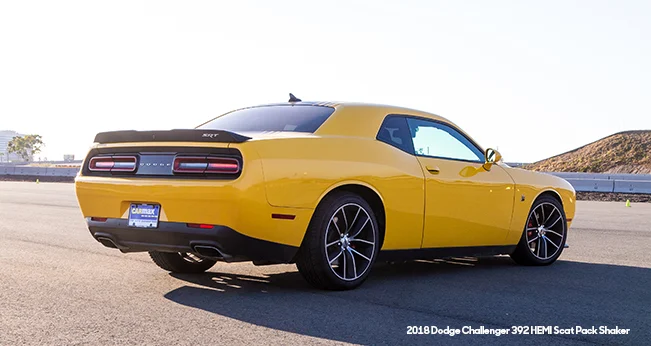 Charger
Sedan size means more interior space and cargo capacity

Slightly smoother ride

More family-friendly for daily use and road trips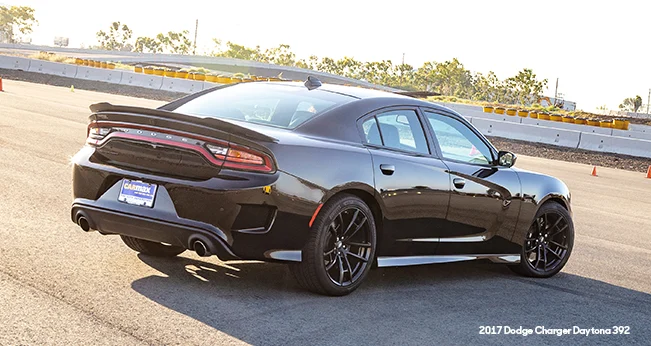 The Challenger and the Charger are mechanically equivalent and share the same underlying car platform. The key difference is that the Challenger is a coupe and the Charger is a sedan. Otherwise, they offer nearly-identical lineup powertrains and similar interior designs. Even their updates through the years have been aligned. But look closer and you will find subtle differences that can influence which car you'll like more.
Challenger and Charger Generation Overview
Dodge has been building the Challenger and the Charger on the same platform for more than a decade. There have been updates to styling and available equipment, but most of the Challengers and Chargers built in the last 15 years have the same underlying construction.
Challenger
The Dodge Challenger got its start with the 1970 model year and spans three generations. The Challenger went out of production in the 1980s, but was resurrected for the 2008 model year and has been in production ever since. Dodge has made significant updates through the years. The biggest one came for the 2015 model year when the Challenger rolled out revised styling, new features, an upgraded interior, and more power.
Charger
There are seven generations of the Dodge Charger. Introduced in 1966, the Charger went through five generations of changes as a two-door coupe. The sixth-generation Charger debuted in 2006 as a sedan. In 2011, Dodge made enough significant updates to warrant calling the 2011 models the seventh generation. Current 2020 Chargers are part of the seventh generation. As with the Challenger, 2015 and newer Chargers feature revised styling, new features, an upgraded interior, and more power.
Travis' take:
Remember this year: 2015. The new eight-speed automatic transmission that debuted then marked a big upgrade from the old five-speed transmission. Plus, Dodge introduced new optional features such as forward collision mitigation. The Challenger and Charger also had face-lifts that year as well as added trim levels that included 707-horsepower Hellcat. Based on looks alone, I prefer the 2015-and-up models. But factor in all the other changes and it's obvious that you should focus on getting one of these newer Challengers or Chargers if you can.
What are the available Challenger and Charger engines?
The Challenger and Charger have had a wide array of available powertrains over the past decade. We're going to focus on the 2015-2020 models to simplify what could otherwise be a bewildering list of specs.
2015-2020 Challenger primary engine choices:
A base 3.6-liter V6 (305 horsepower and 268 lb-ft of torque)

An available 5.7-liter V8 (370 hp and 395 lb-ft of torque with the automatic transmission, or 375 hp and 410 lb-ft of torque with the manual)

An available 6.4-liter V8 (485 hp and 475 lb-ft of torque)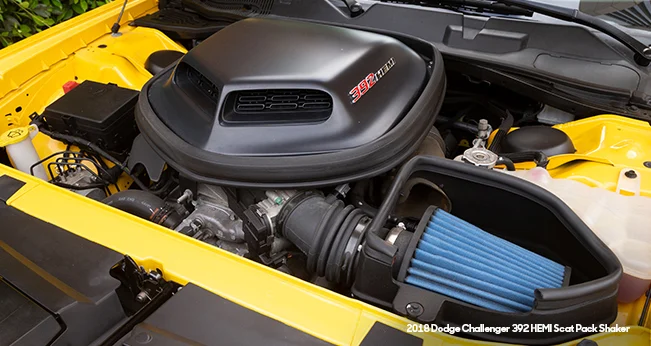 Most versions of the Challenger come with rear-wheel drive and an eight-speed automatic. A manual transmission is optional for the V8 engines. You might also find a 2017-2020 Challenger with the V6 engine, the automatic and all-wheel drive.
2015-2020 Charger primary engine choices:
A base 3.6-liter V6 (305 horsepower and 268 lb-ft of torque)

An available 5.7-liter V8 (370 hp and 395 lb-ft of torque)

An available 6.4-liter V8 (485 hp and 475 lb-ft of torque)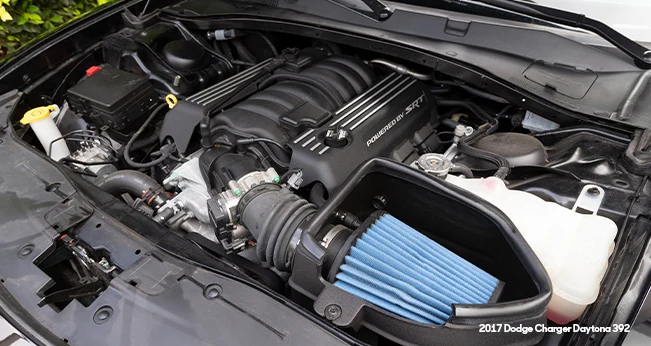 Dodge doesn't offer a manual transmission for the Charger, so every model comes with the eight-speed automatic. Most Chargers have rear-wheel drive, though all-wheel drive is an option for V6-equipped Chargers of this period.
Want even more power? Check out the Hellcat versions for both the Challenger and Charger. They come with a supercharged 6.2-liter V8 that produces 707 horsepower and 650 lb-ft of torque. Specialty Hellcats, such as the Redeye and limited-production SRT Demon, have engine outputs as high as 840 hp and 770 lb-ft of torque.
Travis' take:
The 6.4-liter V8 is my favorite engine in the lineup. Sure, the Hellcat is the big party piece, and the Demon and related Redeye have the ultimate bragging rights. But those are going to be significantly more expensive and less fuel-efficient. With the 6.4-liter engine, you get plenty of V8 rumble, easy access to burnouts, and plenty of high-octane fun. I also like that you can get this engine in a variety of trim levels. Chances are one of them will meet your definition of cool.
What's the gas mileage for the Challenger and Charger?
As above, we're going to focus on the 2015-2020 Challenger and Charger models to help narrow down a wide range of fuel economy estimates from the EPA. Both Dodges offer reasonably efficient V6 options, which will provide the best EPA estimates, but as engine displacement and power increase, fuel economy drops significantly.
Note that for readability in this article, we're only focusing on EPA estimates, but your mileage may vary depending on equipment and driving conditions.
Challenger
The base engine in the Challenger is a V6. From 2015 to 2020, the 3.6-liter V6 comes with an eight-speed automatic transmission and rear-wheel drive. From 2017 to 2020, the V6 can also be paired with all-wheel drive. Rear-wheel-drive models get an EPA estimate of 23 mpg in combined city/highway driving. All-wheel-drive models drop a bit to 21 mpg combined.
Next up is the 5.7-liter V8. Like all the other V8s in the Challenger lineup, the 5.7-liter engine is paired exclusively with rear-wheel drive. With the eight-speed automatic, the 2015-2020 Challenger is rated at 19 mpg combined. With the six-speed manual, those numbers drop to 18 mpg combined.
The 6.4-liter V8 has slightly lower estimates. With the eight-speed automatic, the 2015-2020 Challenger has an EPA estimate of 18 mpg combined. When paired with the six-speed manual, the 6.4-liter engine has an EPA estimate of 17 mpg combined.
The supercharged 6.2-liter V8 is the most powerful of the bunch and, unsurprisingly, has the lowest EPA estimates. Most models, regardless of whether they're equipped with the eight-speed automatic or the six-speed manual, have a combined EPA estimate of 16 mpg. The only exception to this rule is the 2020 Challenger Widebody, which has an EPA-estimated 15 mpg combined.
Charger
While the four-door Charger is a bit bigger and slightly heavier than the Challenger, it receives nearly identical fuel economy ratings to the Challenger from 2015 to 2020. The only difference with the Charger is that you can't get it with a manual.
Travis' take:
It's a pretty easy formula: the more power you want in your Challenger or Charger, the more you're going to pay at the pump. The 6.4-liter engine, along with the 6.2-liter Hellcat powerplant, require premium fuel. So if you're just in it for the looks, go with a V6. Otherwise, expect to spend a bit more time and money filling up the tank.
As you'd probably expect, the Challenger and Charger are very similar inside. They offer a nearly identical range of trim levels, which means they're both available with high-end interior materials. You'll also see the same buttons, center consoles, and dashboards. However, you might be disappointed with some of the interior materials on earlier models. Early Challenger and Charger models feel dated and plasticky, with significant leaps in quality coming in both 2011 and 2015.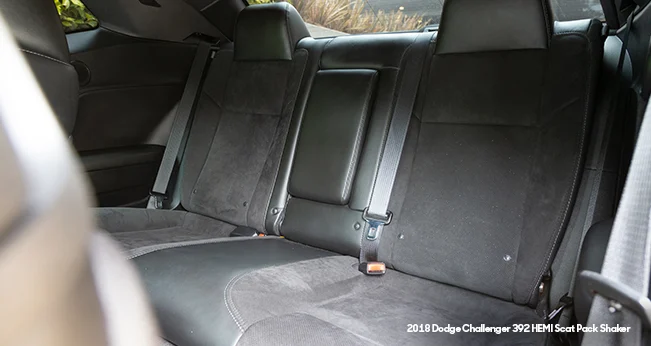 In its current four-door form, the Charger clearly offers more rear space. That means more legroom and footroom for rear passengers, as well as a slightly larger trunk. Even so, the two-door Challenger has more cargo space than its two main rivals, the Chevrolet Camaro and the Ford Mustang. It also offers more passenger space in the back seat than those cars. Trunk access  for both vehicles is easy thanks to a low load height and a wide opening that can easily fit large items such as suitcases or a big toolbox for tinkering on your muscle car at the drag strip. If you love the look of the Challenger, take pride in the fact that you'll have a lot more space for passengers and storage space for suitcases than you would in a muscle car rival.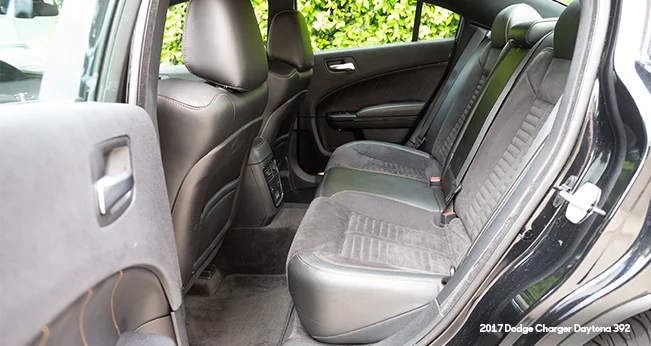 Travis' take:
If you like taking your muscle car on long road trips, or if you're just averse to packing light, the Charger is the right choice. Between the two, it's the one I'd choose just because I enjoy the looks more. The added practicality gives it some points too.Also, upgrading to one of the available V8s doesn't just mean you'll get more power and better performance. It also means you'll get a higher-quality interior. The 5.7-liter and 6.4-liter V8s are paired with nicer-looking interior appointments. Some of those V8 variants have a high-performance suspension too, which means a stiffer ride. But it's worth the trade-off.
What features come with the Challenger and Charger?
One of the many things to like about the third-generation Challenger and seventh-generation Charger is the wide variety of trim levels, available equipment, and customization options. Both vehicles come in a number of bright and entertaining colors, both offer simple or plush interiors, and both can be fitted with some excellent tech in the cabin.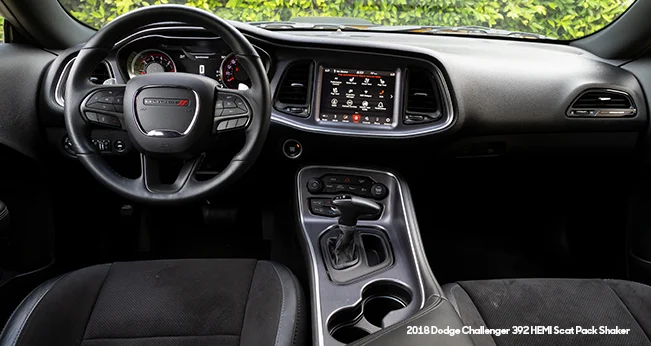 Base models generally come with the V6 engine and simple interior equipment such as cloth upholstery. Move up the trim-level ladder and you get access to the V8 engines plus features such as leather upholstery, heated and ventilated seats, improved cabin materials, and upgrades to performance equipment including the suspension, brakes, and tires.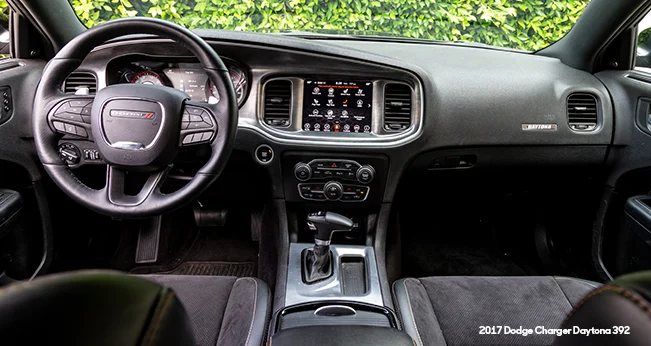 Depending on the model year and the equipment level, you can have a Challenger or Charger with Dodge's Uconnect® system. Uconnect controls the touchscreen functions. It's easy to use and has crisp-looking graphics (especially on the optional 8.4-inch screen) and quick responses to driver inputs.
Starting in 2015, the Challenger and Charger offer additional optional driver assistance features. They include forward collision warning with automatic emergency braking (automatically applies the brakes to help prevent or reduce the severity of a crash) as well as lane departure warning (designed to alert you if your car starts to drift out of its lane).
And with 2017 and newer models, you might also find Apple CarPlay® and Android Auto™. These allow you to operate many of your smartphone's apps right on the car's touchscreen.
Travis' take:
If it were my money, I'd make sure my Challenger or Charger had the 8.4-inch Uconnect screen and smartphone connectivity―it makes living with a vehicle so much easier when your phone hooks up every time you get in. With Uconnect, you get quick loading of large playlists and song libraries, and it comes with a crisp, attractive screen. Heated seats are a must-have for me too, but that's just a creature comfort I can't do without.
How do the Challenger and Charger drive?
Unsurprisingly, the current crop of Challengers and Chargers (2006 and newer) perform similarly on the road. The Challenger, with its lighter two-door setup, feels a bit more direct on a twisty road as you turn the wheel. But the loss in performance between it and the Charger is marginal. Neither vehicle is nimble or agile like a modern sports car, but they perform well despite their emphasis on comfort and straight-line speed. On the highway, they're both comfortable and quiet, though higher-horsepower versions have a stiffer suspension plus larger wheels that produce a bit more noise.
The V6 engine is obviously less thrilling than the V8, but it can certainly hold its own. If you've got one of the V8s under the hood, though, you'll be treated to a proper muscle car experience. The 5.7-liter V8 accelerates smartly and makes lovely noises, while the 6.4-liter V8 and supercharged 6.2-liter V8 are suitably nutty. They provide grin-inducing acceleration at just the slightest tap of the throttle.
Travis' take:
Are the high-performance versions of the Challenger and Charger a bit less comfortable? Sure. But that's typical of a car with a high-performance tune. What's really impressive is how both of these Dodges can rip down the dragstrip and then cruise all day long on the highway. Even at the top of the Challenger and Charger lineups, the seats are plush and supportive, and you'll find it easy to enjoy a long road trip. Also, consider getting a Challenger with a six-speed manual if you want to maximize driver engagement.
Final Take:
Few vehicles offer the combination of comfort, nostalgia, and performance of a Dodge Challenger or a Dodge Charger. Keep in mind, though, that certain types of racing can impact your warranty or service plan, so be sure to check your paperwork. We recommend the newer 2015-and-up versions for their more appealing in-car tech, updated powertrains, and sleeker looks. But there's a long history of likable engines and comfortable interiors throughout the years. The Charger is a more family-friendly car because of its four-door setup, and the Challenger offers marginally better performance. Above all, both are respectable homages to their muscle car roots.
Travis Langness is an automotive reviews editor for Edmunds.com. As a life-long car-and-truck enthusiast, Travis has a deep passion for cars. Through instrumented testing, off-roading, epic road trips and local commuting, the Edmunds team tests and writes about new and used vehicles to help car shoppers make informed decisions.