10 Best Muscle Cars for 2022: Reviews, Photos, and More
---
PUBLISHED TUESDAY, FEBRUARY 1, 2022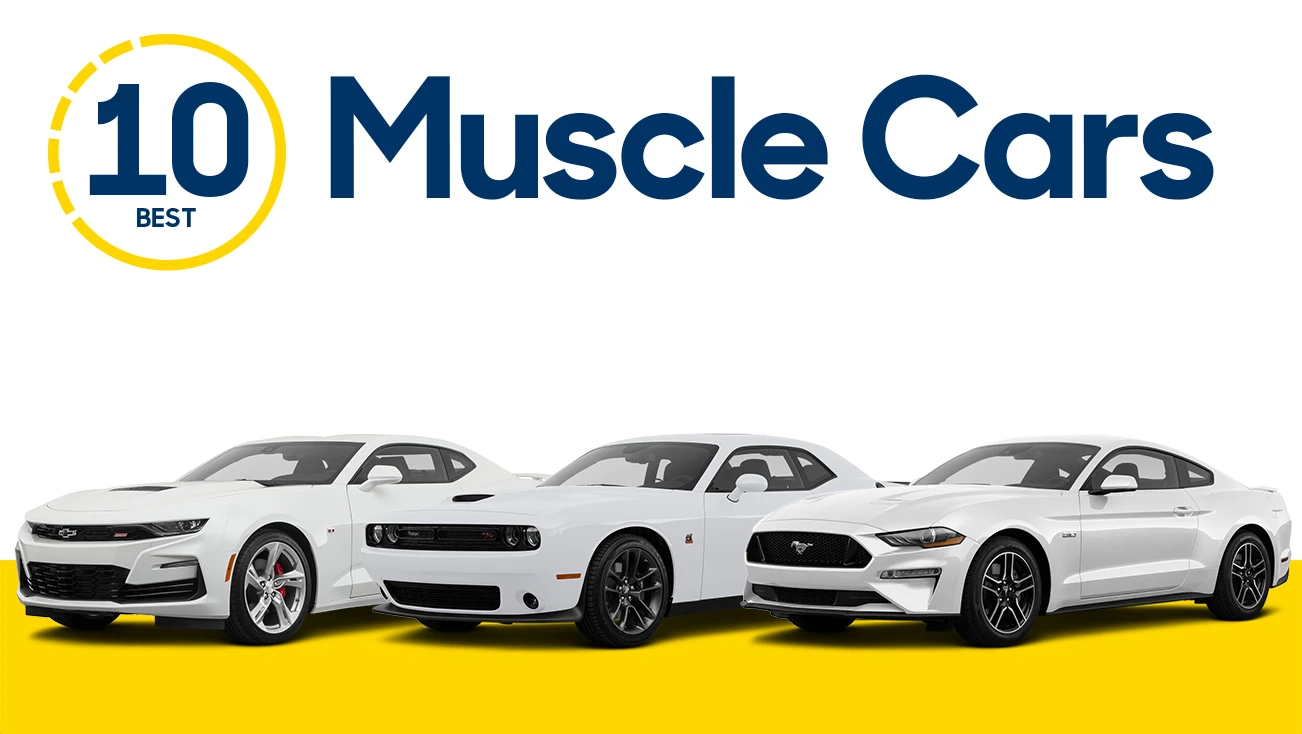 Add some muscle to your garage.
There's a reason so many songs have been written about muscle cars: owning one is a rite of passage for enthusiasts of all ages. With sinewy brawn making up the outside curves and beefy powerplants growling under the hood, muscle cars offer a singular experience that's unmatched. Today's prowling two- and four-door cars are loaded with modern technology and engineering and they're worth taking for a spin to figure out which one feels right for you.
To help you with your search, we've compiled a list of the best muscle cars for 2021 shoppers, based on CarMax sales data from June 1, 2021, through November 30, 2021.

10.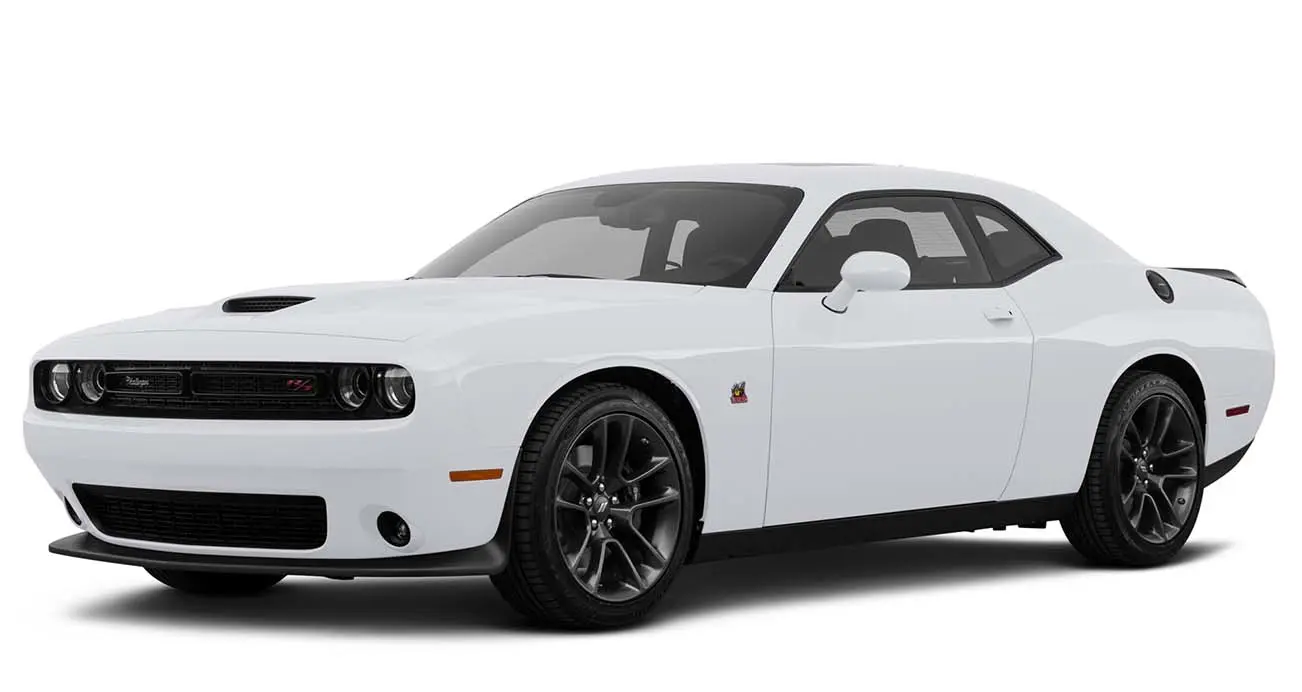 When every stoplight feels like an opportunity to rev your engine, a 2017–2021 Dodge Challenger is a great match for you. Sporting a robust 5.7L V8 making 372 hp in the automatic option or 375 hp with a six-speed manual transmission, the Challenger R/T delivers the classic muscle car experience. Inside, the seats, doors, and center console armrests are nicely padded for a level of comfort that's suitable for the commute. And sound-deadening materials ensure that when you're cruising down the highway at speed, you don't have to worry about your engine drowning out the tunes coming from your six-speaker audio system.
Standard equipment for 2017–2020 Dodge Challenger R/T models includes:
Seven-inch touchscreen infotainment system

Apple CarPlay® and Android Auto™ connectivity (2018 models and newer)

Power driver's seat

20-inch alloy wheels

Fog lights
Explore more Dodge Challenger research to learn more.
9.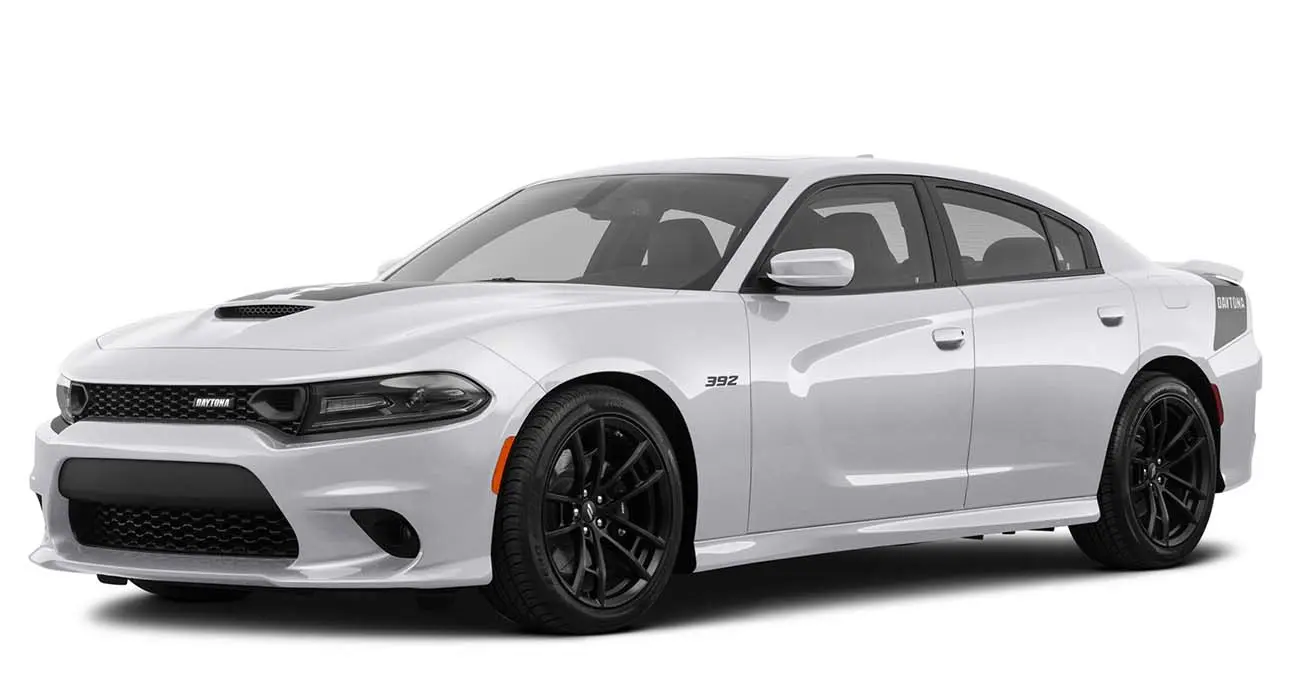 If you are determined to get a muscle car but you need one that will fit your whole family comfortably, fear not. The 2017–2021 Dodge Charger may look like a sedan, but one touch of the accelerator and you'll quickly realize it's primed for performance. Available in colors that suggest a good time like Green Go, Yellow Jacket, and Contusion Blue, a Dodge Charger from 2017–2021 is a great choice if you want a car with a roomy back seat but don't want to concede any power. Who says you can't have a family car that can also handle itself properly on a track?
Expect these features and more on a 2017–2021 Dodge Charger:
6.4L V8 powerplant (485 hp and 475 lb-ft of torque)

Stability and traction control

Upgraded performance brakes

Rear parking sensors
Find more Dodge Charger research to help you decide.
8.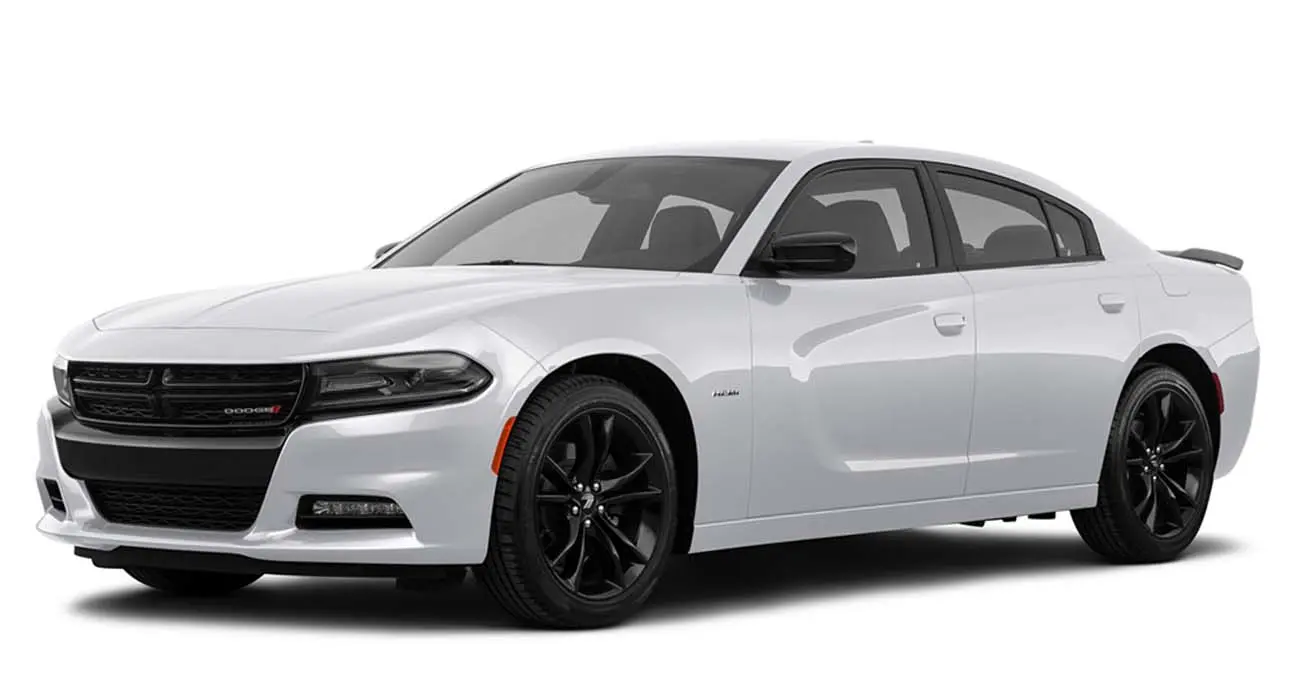 When it comes to practical full-size sedans, a 2017–2021 Dodge Charger R/T is a terrific choice. For starters, you'll get a thrilling 5.7L Hemi® V8 that cranks out 370 hp. With the eight-speed automatic transmission, Dodge also gives you paddle shifters for more control and fun while you're driving. This is one sedan your kids won't mind as a hand-me-down for a first car, and vibrant color choices include a bright orange Go Mango, subtle Maximum Steel, and bright White Knuckle.
On all 2017–2020 Dodge Charger R/T models, you'll find standard features like these:
Apple CarPlay and Android Auto connectivity

Front and rear USB ports

Eight-way power driver's seat

Heated seats

Sport-tuned suspension
7.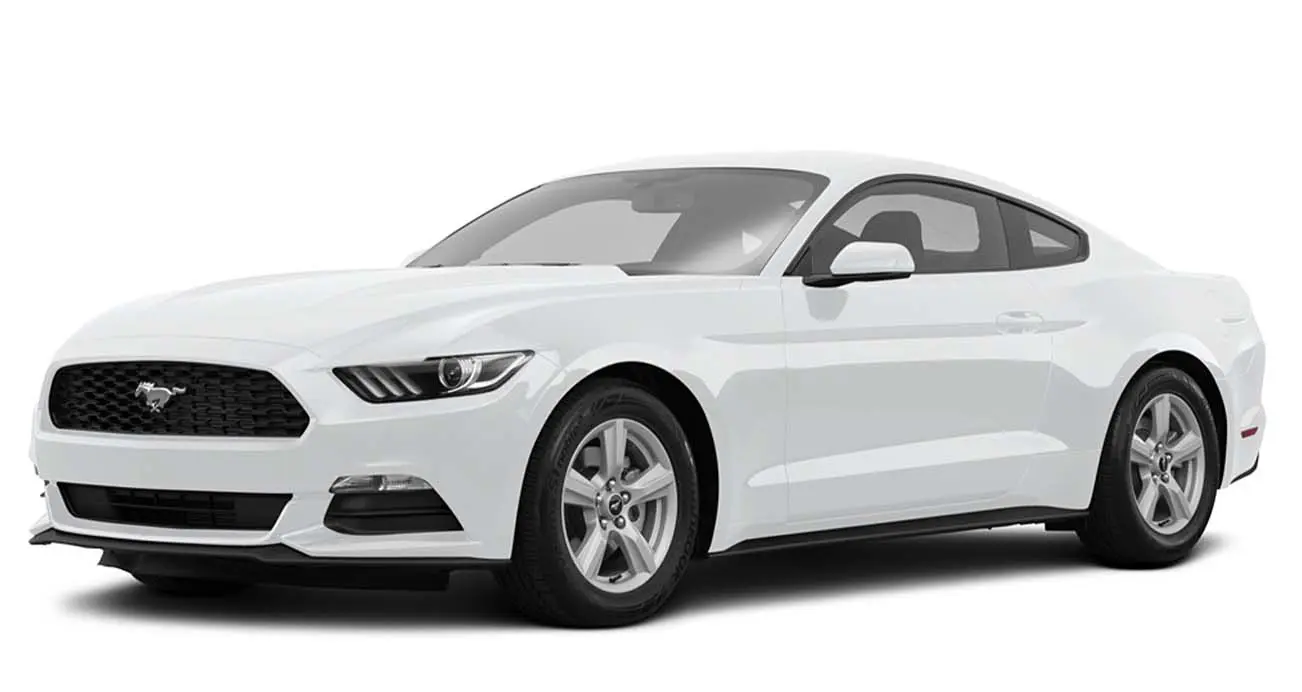 It would be ludicrous to have a muscle car list without the iconic Ford Mustang and it takes three places on ours. Available as a two-door coupe or convertible, 2017–2021 Mustangs are the pony car you've wanted since you were a kid. Aside from that terrific Mustang roar, which is generated from a variety of engine options from a standard V6 to the EcoBoost® turbocharged four-cylinder engine to a beefy V8, the Mustang is truly an experience. Depending on which powerplant you choose, you could be cruising along with anywhere from 300 horsepower to 435, so giddy-up.
You'll find these options and more as standard on 2017–2021 Ford Mustangs:
Bluetooth® connectivity

Cruise control

Tilt-and-telescoping leather-wrapped steering wheel

Keyless ignition and entry
Continue your Ford Mustang research to learn more.
6.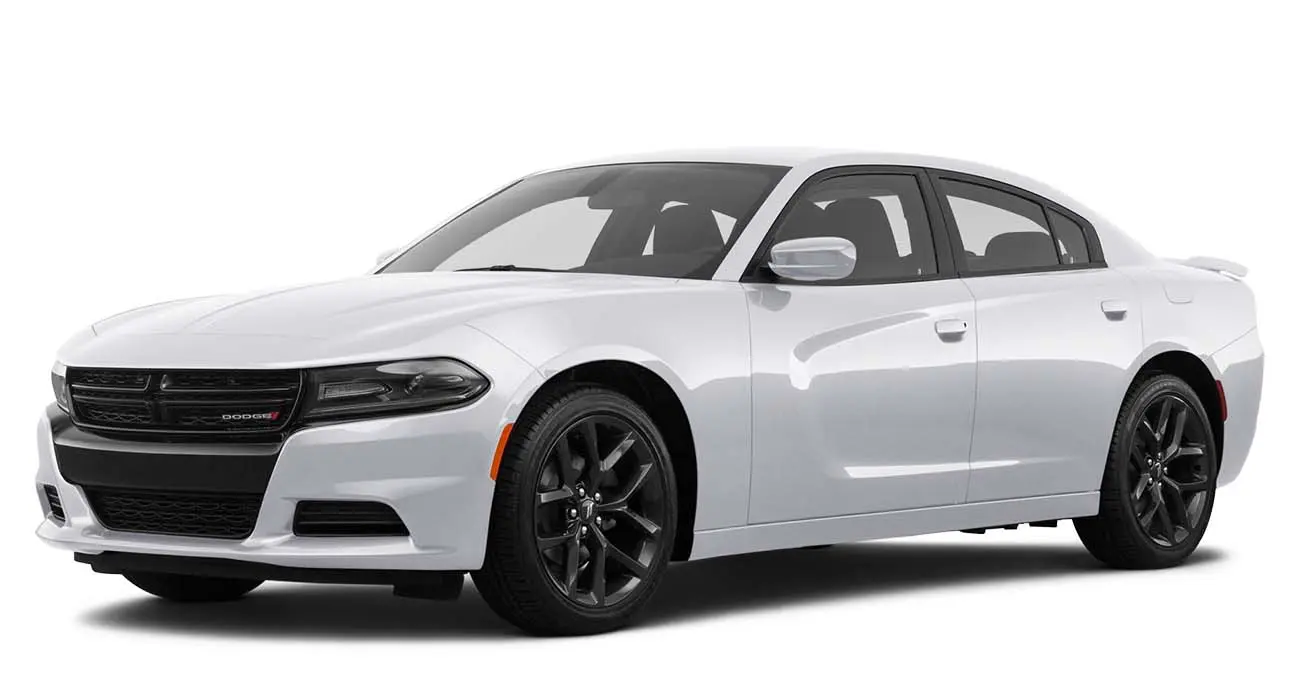 SXT models of the 2017–2021 Dodge Charger are flush with features and options you'll appreciate in a four-door muscle car. Every 2017–2021 Charger SXT packs a punch with a burly 292-hp, 3.6L V6 engine. An eight-speed automatic transmission is standard, and AWD is optional. One of the best things about owning a Charger is the wide, roomy back seats where your passengers can relax during your next coastal road trip. This is one muscle car you could take on vacation with friends or family—enjoy the rumble under the hood while packing its roomy trunk (16.5 cu-ft in 2017–2021 models) with all the gear you need.
For model years 2017–2021, Dodge Charger SXTs include:
Cloth upholstery

Apple CarPlay and Android Auto connectivity

Six-way power-adjustable driver's seat

Automatic headlights with LED daytime running lights

Leather-wrapped steering wheel and shift knob
5.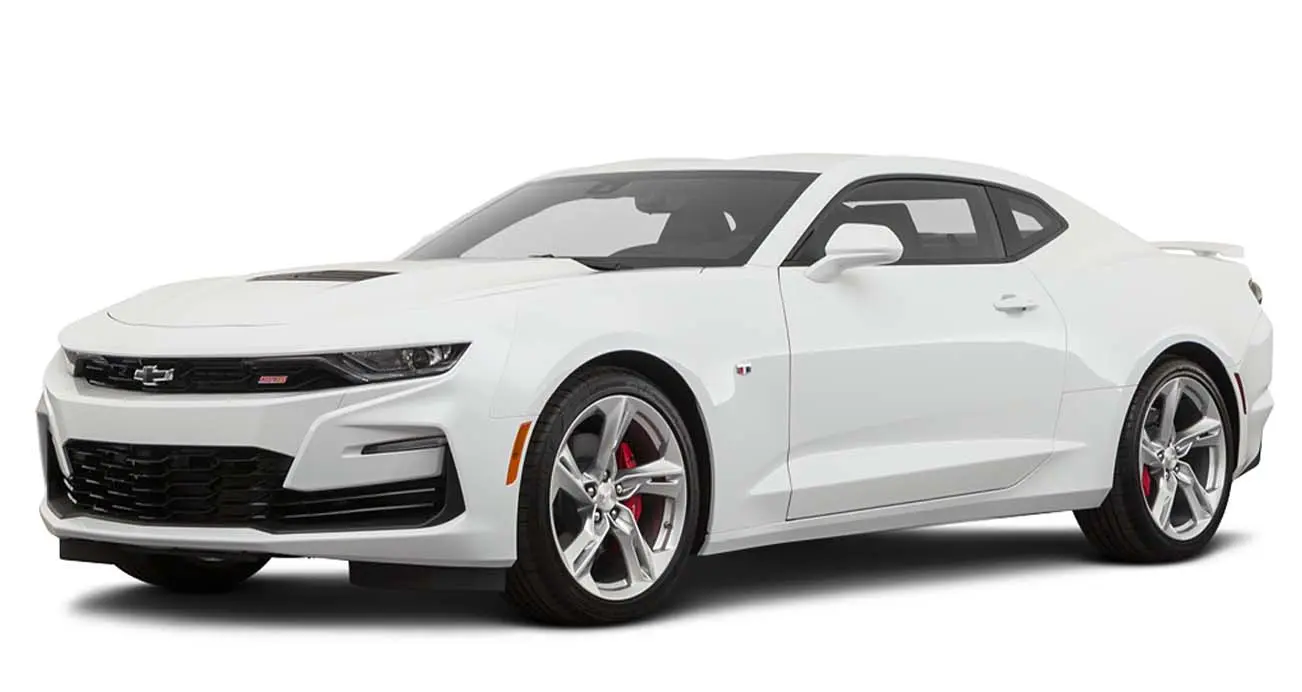 Redesigned for model year 2016, the Chevrolet Camaro is a modern pony car that retains its legendary presence at its heart. Camaros from 2017–2021 in the SS trim live up to the heritage "SuperSport" name and are equipped with a rumbling 6.2L V8 making 455 hp. It's RWD, and with that power means it's incredibly fun to drive. It comes standard with a six-speed manual, or you can opt for the eight-speed automatic; either way you're getting a rip-roaring 455 lb-ft of torque in the package. Picture yourself in this car in coupe or convertible form, a smile on your face every time you slip inside.
The 2017–2020 Chevrolet Camaro SS has plenty of standard features, including:
Four-piston performance brakes with ABS

Mechanical limited-slip rear differential

Sport-tuned suspension

Rearview camera
Learn more at our Chevrolet Camaro research page.
4.
Powered by a jaw-dropping 5.0L V8, the 2017–2021 Ford Mustang GT is a must-have for fans of the eight-cylinder beast. Models from 2017 get a more-than-respectable 435 hp, and 2018–2021 versions of the Ford Mustang GT get a bump to 460 hp. That's a lot of horses. Available in a sturdy coupe or sun-loving convertible style, the Mustang GT is a blast to drive anywhere you go. You might even find yourself making up reasons to leave the house just so you can drive it.
The 2017–2020 Ford Mustang GT has lots of other great features, such as:
Cloth seating

Launch control (manual transmission only)

Six-way power driver's seat

Four-way power passenger seat (six-way passenger seat for 2017–2019)

Reverse sensing system with rearview camera
3.
One of the reasons the Dodge Challenger is so beloved is because it has so much to offer in terms of an exciting, muscular drive, while still being appropriate as a daily driver. The base model 2017–2021 Dodge Challenger SXT delivers the goods with a stout 305-hp V6 paired with a sprightly eight-speed automatic transmission. It also comes with comfortable cloth seats that cradle you while you gleefully drive it from errand to errand or out for a night on the town. And starting with model year 2017, you can enjoy your zoom even in inclement weather with an all-wheel drive option on the Challenger GT.
Standard equipment across 2017–2020 Dodge Challenger SXT models includes:
Cloth seating

Bluetooth connectivity

Five-inch touchscreen (seven-inch for 2018–2020)

Power driver's seat

18-inch wheels
2.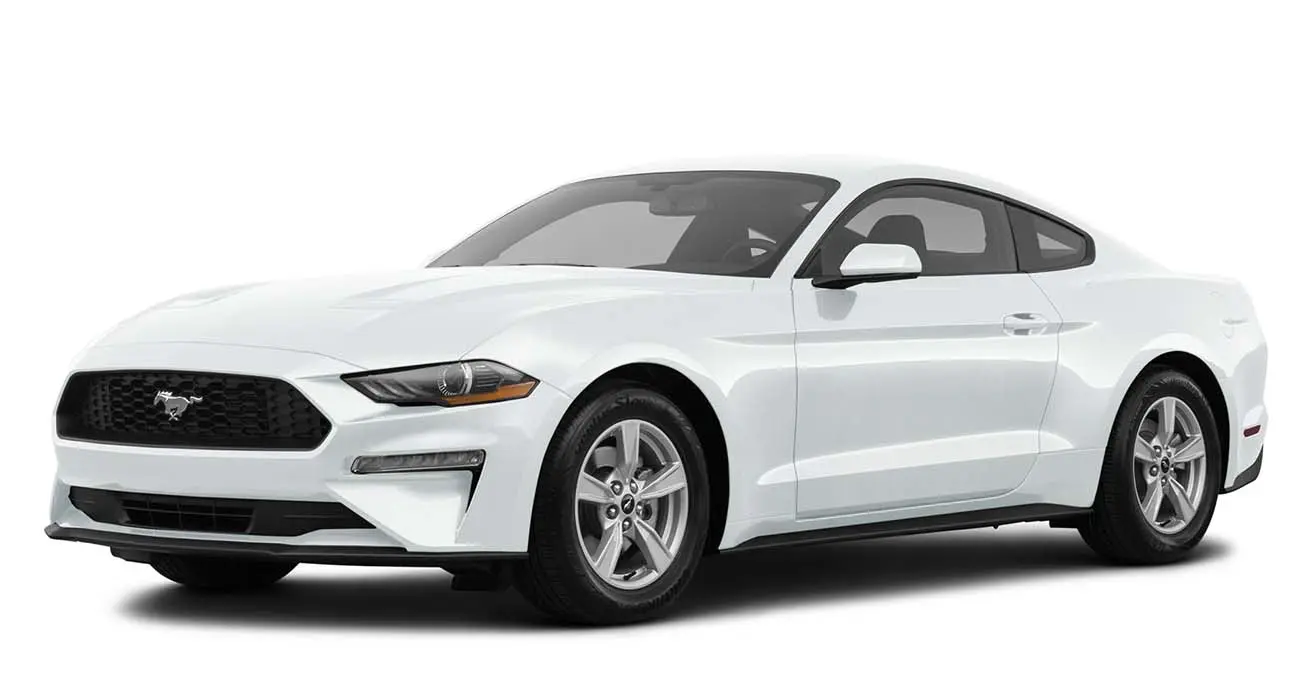 With a twin-scroll single turbocharger and direct-injection technology, the 2.3L EcoBoost engine is a breed apart from other muscle cars. As a Mustang, it doesn't disappoint in any way, pumping out 310 hp with a manual or automatic transmission. And you'll benefit from the limited-slip rear differential, which shifts torque to the wheel with the most traction as needed, improving your ride.
For 2017–2020 model years, the Ford Mustang EcoBoost has standard features such as:
Cloth seating

Six-way power driver's seat

Four-way power passenger seat (six-way passenger seat for 2017–2019)

Active noise cancellation

Keyless entry and ignition
1.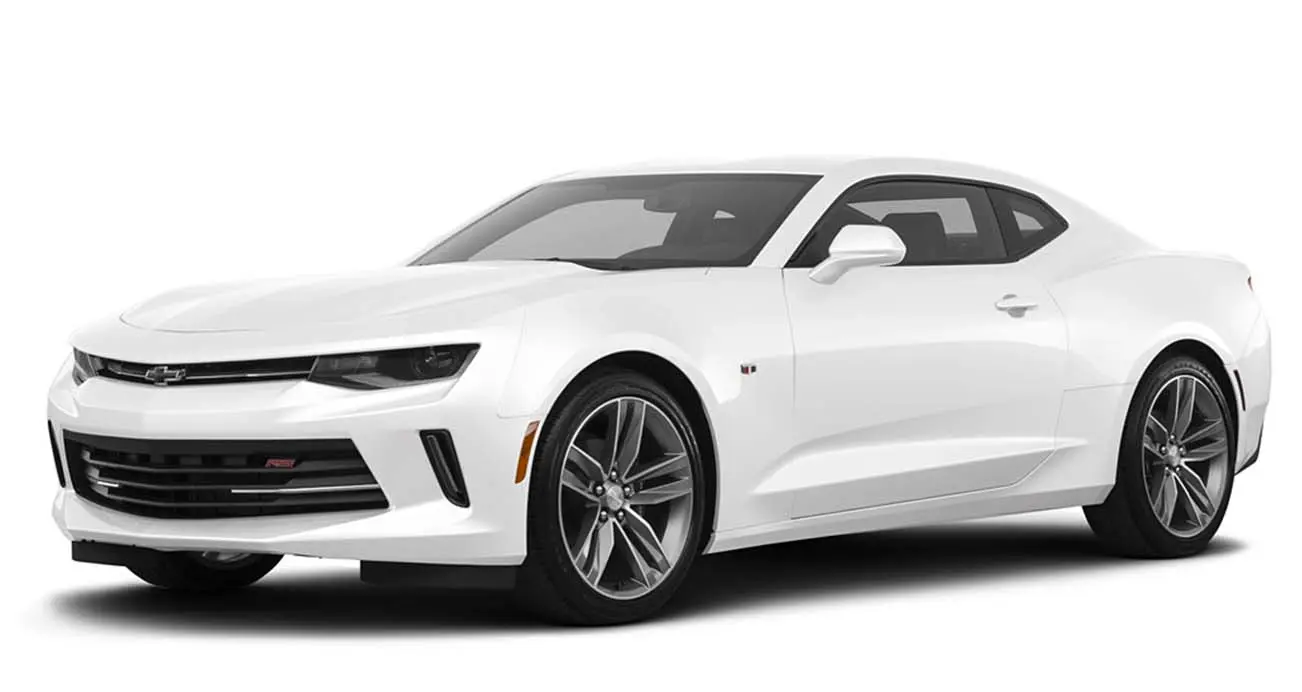 At the top of our list, the 2017–2021 Chevrolet Camaro LT reigns supreme with a standard 275-hp dynamic 2.0L turbocharged four-cylinder engine. Need more power? The 3.6L V6 making 335 hp is a great upgrade option. Whether you choose the 2017–2021 Camaro LT in a coupe or fair-weather-ready convertible, you're going to delight in this classic blend of power and practicality. A six-speed manual transmission is standard, or an eight-speed automatic transmission is optional on the Camaro LT for model years 2017–2021; in either case, you'll notice the nimble handling and feel the joy of driving a legendary muscle car.
Check out some of the standard features on all 2017–2020 Chevrolet Camaro LT models:
Seven-inch touchscreen display

Apple CarPlay and Android Auto connectivity

Leather-wrapped steering wheel

Heated and ventilated front seats

Six-way power passenger seat

LED running lights
When you're looking for a car that fulfills your dreams of pure power and an open road, a muscle car fits the bill. Today's muscle cars are better than ever with updated technology, upgraded interiors, and a bevy of options. With this list of the best muscle cars, you can surely find the right match for you.
Looking to learn more? These related articles can help you on your search: