Ask the Expert: Should You Buy a Honda Accord or Hyundai Sonata?
---
PUBLISHED TUESDAY, JULY 13, 2021

BY EDMUNDS EDITORS
With thousands of vehicles in our inventory, we're here to help make car research easier for you. We've partnered with car-review experts from Edmunds to weigh in on what matters most when you're looking to buy a truck or car.
***
Vehicles Reviewed
2020 Hyundai Sonata SE
2020 Honda Accord Sport
The Honda Accord and Hyundai Sonata are two midsize sedans that offer impressive comfort, style, and value. However, there are also some subtle but important distinctions in the way they drive and how well some of their features work.
In this article we'll compare the Accord and the Sonata to help you decide which one will be best for you. Edmunds' Ryan ZumMallen brings his experience with both models to this detailed guide, complete with personal recommendations.
What are your options?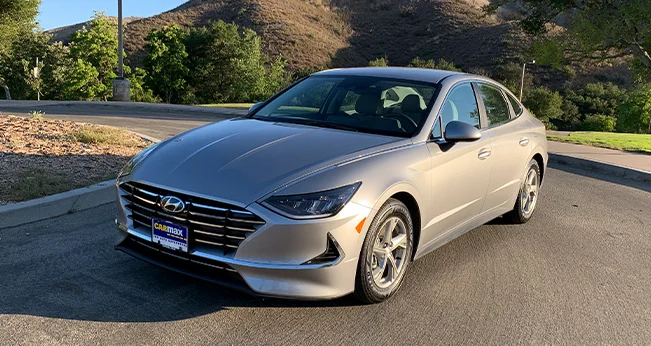 Hyundai fully redesigned the Sonata in 2020. This latest generation features sharper exterior styling and a more modernized interior compared with older Sonatas. Every Sonata has four doors and seats five passengers.
You'll be able to choose from four trim levels when you're looking for 2020 Sonatas: the SE, SEL, SEL Plus, and Limited. The Sonata SE is the base model. The SE and SEL come with additional features, while the Limited comes loaded with everything on the SEL plus upgraded technology features.
This article focuses on the gasoline-powered Sonata. There is also a Sonata Hybrid version, if you would prefer to look for one of those instead.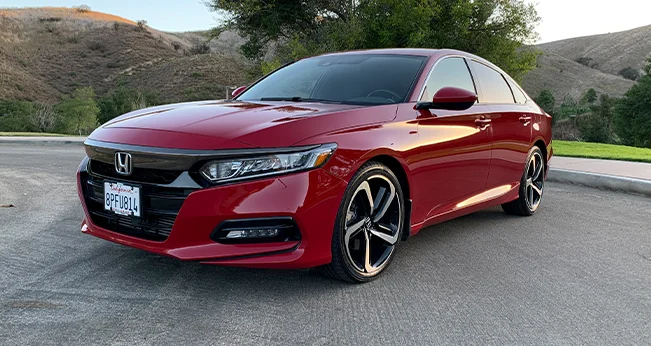 The current-generation Honda Accord came out in 2018. It also has four doors and seating for five. Trim levels for the Accord include the LX, Sport, SE, EX-L, and Touring. Just as with the Sonata, these trims progressively come with more features. The Accord LX is the entry-level version and the Touring is top-of-the-line.
This article focuses on the gasoline-powered Accord, but note there are Accord Hybrid versions too.
Engines and fuel economy
For the 2020 Sonata, you can choose from one of two engines:
Sonata SE and SEL: 2.5-liter four-cylinder (191 horsepower)

Sonata SEL Plus and Limited: turbocharged 1.6-liter four-cylinder (180 hp)
Both engines come standard with an automatic transmission. Fuel economy is similar for these engines too. Expect to get:
2.5-liter engine with automatic engine start-stop: EPA-estimated 32 mpg combined

2.5-liter engine without automatic engine start-stop: EPA-estimated 31 mpg combined

1.6-liter engine: EPA-estimated 31 mpg combined
Under the hood of the 2020 Accord you'll find:
Accord LX, Sport, SE, and EX-L: turbocharged 1.5-liter four-cylinder (192 hp)

Accord Sport 2.0T, EX-L 2.0T, and Touring: turbocharged 2.0-liter four-cylinder (252 hp)
At the pump, the 2020 Accord gets:
Turbocharged 1.5-liter engine with CVT automatic: EPA-estimated 33 mpg combined

Turbocharged 1.5-liter engine with seven-speed automatic transmission: EPA-estimated 31 mpg combined

Turbocharged 2.0-liter engine with engine start-stop: EPA-estimated 27 mpg combined

Turbocharged 2.0-liter engine without engine start-stop: EPA-estimated 26 mpg combined
The vast majority of Accords you'll come across at CarMax will have an automatic transmission. However, Honda does offer a manual transmission on the Sport trim with either the 1.5-liter or 2.0-liter engine. An Accord with the manual has slightly lower EPA fuel economy estimates than those above.
Ryan's take: I like the Sonata's turbocharged engine that comes in the SEL Plus and Limited. It delivers power in a smooth and crisp manner and makes the car feel more modern overall. The fact that it has similar fuel economy ratings to the smaller, standard engine makes it even better. For the Accord, the more powerful 2.0-liter engine sure is a hoot. But it also comes with a steep fuel economy penalty compared to the 1.5-liter, which is perfectly strong in its own right. I'd choose the latter and save a little money.
Interior and utility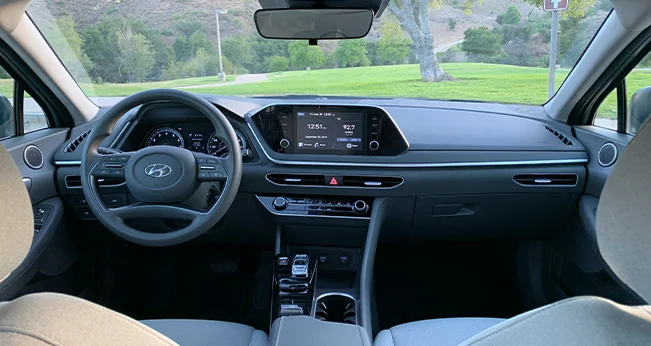 The Sonata brings some flair to the table. There are interesting shapes throughout the cabin that make it appear upscale. And though base versions have an abundance of hard plastics, other trims have more surfaces and touch points that are pleasingly soft. There is plenty of room inside for passengers; even taller ones who have to duck to access the rear seats will notice loads of space. The interior has a few downsides, such as loads of gloss black plastic that easily shows grease and smudges, but the Sonata is comfortable and distinctive enough to stand out.
The Accord takes a more traditional interior approach and doesn't take many risks when it comes to style. The cabin is defined by familiar lines and controls, which makes everything easy to find and use. There are also more soft surfaces. While the Accord has its share of plastic, it's less obvious and used in appropriate places. Passengers have lots of room to get comfortable, and it takes less effort for taller folks to get into the back seat. It also has excellent seats that feel plush and luxurious compared with those in the Sonata.
In terms of cargo, the Sonata has a large 16-cubic-foot trunk for a car of its size. There's plenty of space to fit groceries, luggage, or recreational-related items thanks to a wide opening and impressive depth before you reach the rear seats. The Accord's trunk is similarly useful and even has a little more capacity at 16.7 cubic feet.
Ryan's take: The choice here comes down to personality. Do you prefer a car that's a little adventurous? Then it's the Sonata for you. Are you a by-the-book kind of person? Go with the Accord. These sedans are so similar when it comes to packaging that they'll serve your needs almost equally. If you do decide on the Sonata, though, skip all the plastic on the lower models and seek out a more plush SEL or Limited trim.
Technology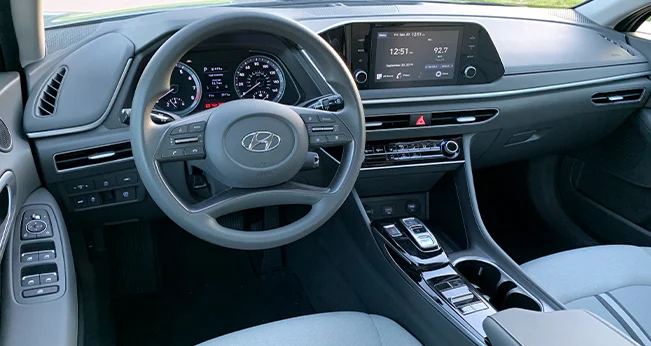 Tech features are a strong point in the Sonata. To start, you get an 8-inch touchscreen and Apple CarPlay® and Android Auto™ smartphone integration standard on all models. If you opt for either an SEL Plus trim with the Technology package or the top Limited trim, you'll be upgraded with a 10.25-inch screen that also has navigation and a 12-speaker stereo. The voice activation on some models is one of the best systems you can buy in a non-luxury sedan.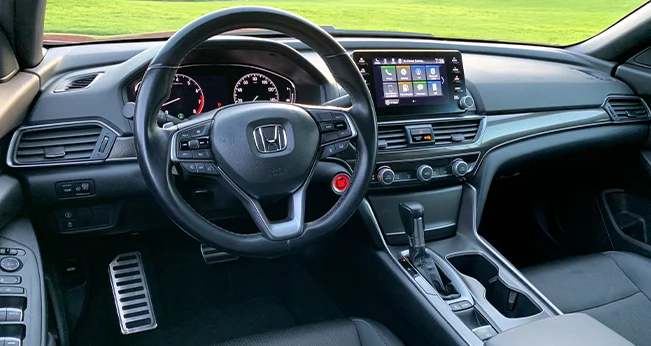 Technology is a good but not great area for the Accord. Base LX models come with only a four-speaker sound system and a 7-inch screen. You'll need to upgrade to the Sport trim to get an eight-speaker stereo and an 8-inch screen with Apple CarPlay and Android Auto. Higher still is the EX-L with a 10-speaker stereo, or the Touring with a head-up display and wireless device charging pad. Some Accords have voice activation, but it isn't our favorite because it responds only to specific prompts.
When it comes to advanced driving aids, both the Sonata and Accord come standard with similar features. For instance, all models regardless of the trim level are equipped with the following:
Adaptive cruise control (can maintain a driver-set distance between your vehicle and the car in front)

Forward collision mitigation (warns you of an impending collision and applies the brakes in certain scenarios)

Lane-keeping assist (steers the sedan back into its lane if it begins to drift over the lane marker)
To add blind-spot monitoring (alerts you if a vehicle in the next lane is in your blind spot), you have to upgrade to the Sonata SEL trim. On the Honda, you have to go one step further to the Accord EX or higher.
Ryan's take: The Sonata wins here for me. I like how the Accord makes its buttons and functions easy to find, but in the Sonata, everything seems to work a little better. The graphics quality, excellent sound, and adept driver aids elevate the car's standing quite a bit. Voice controls that actually work as intended are the cherry on top. In an Accord it's often apparent that the driver aids are overly sensitive. It's not a deal-breaker, but you should know before you buy.
What they're like to drive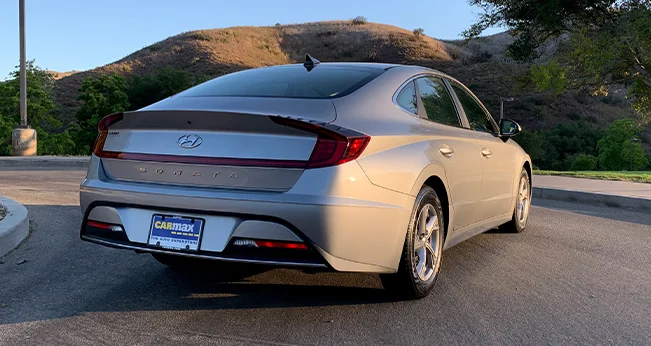 Power is not the problem in the Sonata. Both of its available engines provide plenty of muscle for everyday driving. But the rest of the experience is not as refined as its exterior appearance. The steering is not very direct, and the brake pedal tends to pulsate in some circumstances. Most of all, the ride is a little too firm. Passengers will feel more bumps and cracks in the road than in the Accord. The firm ride might be acceptable if there was a payoff in handling, but unfortunately that's not the case.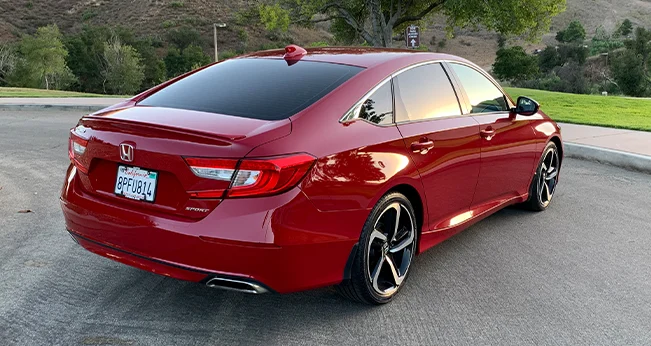 The Accord is a different story. Handling and braking feel are among the best you'll find in a sedan this size. There's also plenty of power from the optional turbocharged 2.0-liter engine. As well, the CVT is surprisingly smooth while the optional 10-speed automatic is even better. The steering is slightly underwhelming given the Accord carries such high expectations, but the handling and braking feel are the best you'll find in a sedan this size.
Ryan's take: The Accord is simply better to drive. Many sedans feel loose or overly light, but the Accord isn't one of them. Even if you take an easygoing approach on the road, you'll likely appreciate how the Accord responds quickly when you want to make a turn or accelerate. This isn't a sport sedan, but it is more enjoyable to drive than the Sonata.
Two great choices
The Hyundai Sonata offers a satisfying experience at a great price. The Sonata has room to improve in some areas, while in others it goes above and beyond expectations. Meanwhile, the Honda Accord is a proven commodity. It has the basics of space and comfort down pat, and spirited drivers will appreciate its quick reflexes. Despite a few small flaws, we consider the Accord the most well-rounded midsize sedan on the used market—though it comes at a higher price on average than the Sonata.
Both of these vehicles provide a comfortable ride for solo commuters or larger groups, and we like the assortment of standard and optional features that enhance the ownership experience. When searching for midsize sedans that are worth the money, the Sonata and the Accord are two great places to start.
Ryan ZumMallen has written automotive news and buying advice for nearly a decade. As an automotive reviews editor for Edmunds, ZumMallen examines trends in both the new and used markets with a focus on sporty, affordable cars, off-road trucks, and SUVs.