Ask the Expert: Should You Buy a Honda Accord or Toyota Camry?
---
PUBLISHED FRIDAY, SEPTEMBER 10, 2021

BY EDMUNDS EDITORS
We help you choose between these two go-to family sedans.
With thousands of vehicles in our inventory, we're here to help make car research easier for you. We've partnered with car-review experts from Edmunds to weigh in on what matters most when you're looking to buy a car.
***
Vehicles Reviewed
2020 Toyota Camry XSE
2020 Honda Accord Sport
In the search for a practical and comfortable family sedan, you're likely to come across the Honda Accord and Toyota Camry. You'll find numerous examples of both vehicles on the used market. But while both are roomy and packed with features, each goes about its business in a different way.
In this article we'll outline the basic differences between the Camry and the Accord to help you decide between them, and we'll dive into more detail to help you make an educated choice. Edmunds' Ryan ZumMallen brings his experience with both models to this comprehensive guide, complete with personal recommendations.
What are your options?
In 2018, Honda released a redesigned Accord with sleek styling and high-tech features. This current generation comes with a spacious interior and one of two turbocharged engines. Every Accord has four doors and seats five passengers.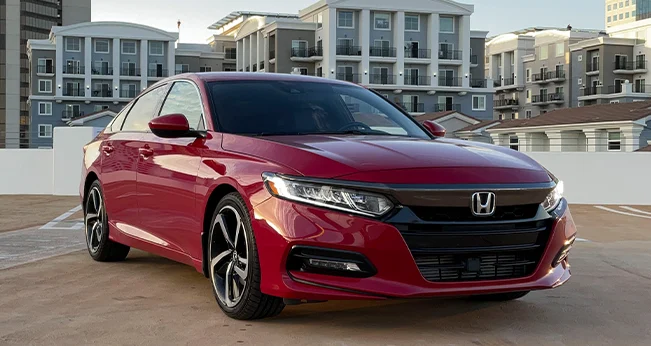 The 2020 Honda Accord we're examining here is sold in five trim levels: the LX, Sport, EX, EX-L, and Touring. The Accord LX is the base model. The Sport comes with more standard equipment and unique styling elements, and the EX and EX-L bring other niceties to the table. Finally, the Touring model is loaded with all the features the Accord offers.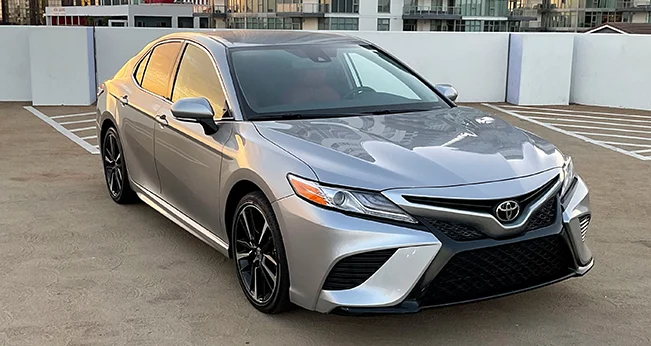 The current-generation Toyota Camry also debuted in 2018. Like the Accord, it has four doors and seating for five. Trim levels for the 2020 Camry include the L, LE, SE, XSE, XLE, and the new-for-2020 TRD. The Camry L kicks things off as the base version. Upgrading to the LE includes a few quality-of-life improvements, and the SE is the sport-themed model with distinctive styling upgrades. The XSE and XLE are similar to the SE and LE, respectively, but add more features. You can choose between a standard four-cylinder engine or a more powerful V6, though the performance-oriented TRD is only available with the V6.
Both the Accord and the Camry offer hybrid-powered versions with improved EPA-estimated fuel economy. However, this article will focus on the more common non-hybrid models.
Engines and fuel economy
In the 2020 Accord, you'll find one of these two engines:
Accord LX, Sport, SE, and EX-L: turbocharged 1.5-liter four-cylinder (192 hp)

Accord Sport 2.0T, EX-L 2.0T, and Touring: turbocharged 2.0-liter four-cylinder (252 hp)
Every Accord is front-wheel-drive, and nearly all have an automatic transmission. A six-speed manual is optional on the Sport trim. Here are the EPA fuel economy estimates for Accords with automatic transmissions:
Turbocharged 1.5-liter engine with CVT automatic: 33 mpg combined

Turbocharged 1.5-liter engine with CVT automatic (Sport): 31 mpg combined

Turbocharged 2.0-liter engine with 10-speed automatic (EX-L): 27 mpg combined

Turbocharged 2.0-liter engine with 10-speed automatic (Sport and Touring): 26 mpg combined
Here is what you'll find under the hood of the 2020 Camry:
Camry L, LE, SE, XSE, and XLE: 2.5-liter four-cylinder (203 hp for most trims and 206 hp on the XSE)

Camry TRD (optional on XLE and XSE): 3.5-liter V6 (301 hp)
An eight-speed automatic is the only transmission available. Front-wheel drive is standard, but, beginning with 2020 models, you may find that some Camrys with the four-cylinder engine are also equipped with all-wheel drive.
Here's how the front-wheel-drive 2020 Camry stacks up at the pump by EPA estimates:
2.5-liter four-cylinder engine (L): 34 mpg combined

2.5-liter four-cylinder engine (LE/SE): 32 mpg combined

2.5-liter four-cylinder engine (XLE/XSE): 31 mpg combined

3.5-liter V6 engine (XLE/XSE): 26 mpg combined

3.5-liter V6 engine (TRD): 25 mpg combined
Camry models with all-wheel drive have slightly lower EPA estimates than those listed above.
Ryan's take: Both the Accord and the Camry offer a more powerful optional engine that packs quite a bit of punch. These are good options if you like to feel some muscle under your foot. But they aren't necessities. For the vast majority of drivers, the standard engine in both models produces plenty of power. And what's more, you'll save at the pump too. The four-cylinder engine in the Camry is smooth and easygoing, though the turbocharged 1.5-liter in the Accord is a little more zesty. Whichever you choose, the base engine is a good option over the bigger, pricier motors.
Interior and utility
One thing these cars have in common is ample interior space. The Camry provides a lot of room for passengers, and the seats are positioned at a height where most folks can easily slip inside. There's an abundance of headroom in the front row, and enough legroom for 6-foot-tall folks to stretch out in the back. This spacious cabin is not the most up-to-date, however—the interior styling is a little drab compared to more recently redesigned rivals. There are also large plastic pieces throughout that might feel cheap to some. Still, the Camry provides a comfortable respite from the outside world.
The Accord is similarly spacious, though taller people will need to duck under the swept roofline to get into the back. Once inside, the driver and passengers will find well-shaped seats and convenient controls that make the Accord extra user-friendly. Also bolstering the argument for the Accord is its elevated level of refinement in comparison to the Camry. A liberal use of soft surface materials and fewer obvious hard plastic pieces give the Accord a more upscale presence.
When it comes to trunk space, the Camry offers a cargo area with 15.1 cubic feet of maximum capacity. This is about average for a midsize sedan, and it's plenty of room for luggage or an assortment of recreational equipment. But the Accord comes out on top, with a wide trunk opening that makes it easy to load things into its impressive 16.7-cubic-foot cargo area.
Ryan's take: Take one look inside and you should immediately know which sedan you prefer. The interior of modern Camrys has an eye-catching design and large swaths of soft surfaces—it's a marked improvement over older models. Add in some wide, cushy seats and the Camry sometimes feels more like a living room recliner than a car. By contrast, the Accord is less bombastic but more orderly. Everything is thoughtfully placed with the slightest hint of elegance, like a tenured professor's home study. Both trunks are perfectly sizable, so don't get hung up on cargo space unless you have specific hauling requirements.
Technology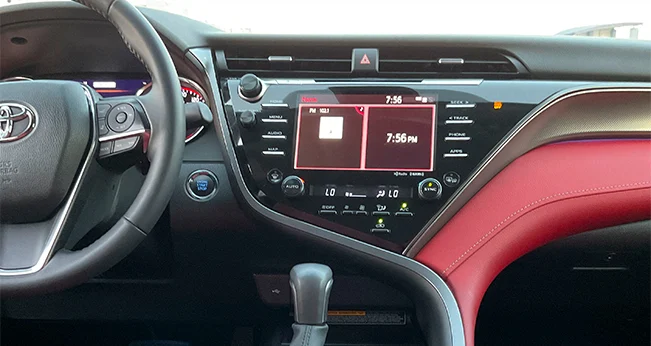 When it comes to technology, the Camry has a lot to offer thanks to a few important upgrades over the years. All models since 2018 have at least a 7-inch touchscreen, with upper trims or optional packages adding an 8-inch screen (which grows to 9 inches on 2021 models). Some Camrys have an integrated navigation system and a nine-speaker sound system, and those with the optional Driver Assist package will even have a surround-view camera (gives you a top-down view of the Camry and its surroundings for tight parking situations) and a head-up display. If it's smartphone integration you seek, Toyota added Apple CarPlay® as standard equipment in 2019 and Android Auto™ arrived in 2020.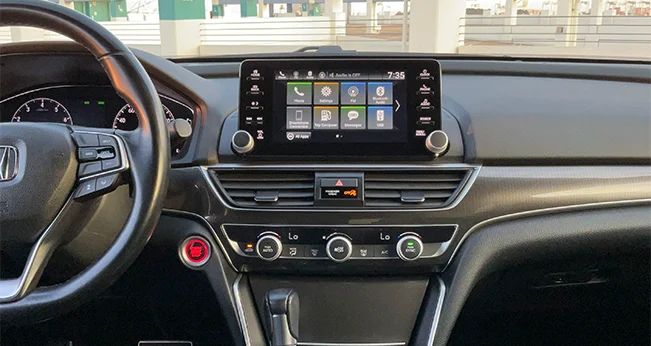 Like the Camry, base-level Accords from 2018 to 2020 have a 7-inch touchscreen—but only on the introductory LX model. Every other trim comes with an 8-inch screen equipped with both Apple CarPlay and Android Auto, plus an upgraded eight-speaker stereo system. Find an Accord EX-L and you'll get a 10-speaker stereo, and some of them may have navigation. But if you really want tech goodies, get the top-line Accord Touring. It has all of that equipment standard and adds front and rear parking sensors plus a head-up display, an available Wi-Fi hotspot (though you'll need a data plan to use it), and a wireless phone charger.
Both sedans come with a similar selection of advanced driving aids. The following features are standard on all versions of the Camry and Accord from 2018 and on:
Adaptive cruise control (can maintain a driver-set distance between your vehicle and the car in front)

Forward collision mitigation (warns you of an impending collision and applies the brakes in certain scenarios)

Lane-keeping assist (steers the sedan back into its lane if it begins to drift over the lane marker)
Ryan's take: There's some good and some bad on both models. It's nice that Toyota added equipment to the Camry with each passing year, but that means you'll have to shop selectively. Make sure, for instance, that you're getting the model that's compatible with your smartphone. And even then, the touchscreen in the Camry—as in most Toyotas—tends to wash out in direct sunlight, which quickly becomes frustrating. The Accord is a more straightforward choice because it launched fully formed in 2018, so any model above the Accord LX is surely well equipped. Just be aware that its driver aids are sensitive and might set off warnings too often.
What they're like to drive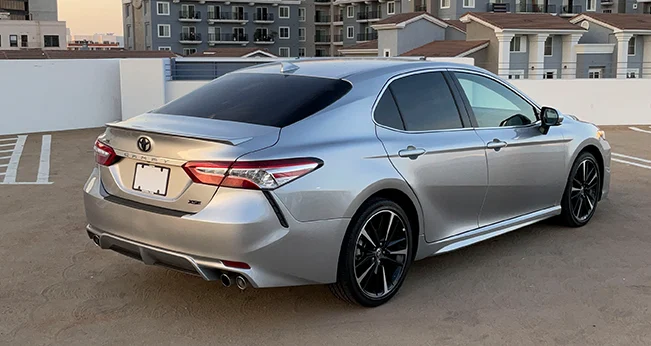 There is plenty of power under the hood of the Camry—did you notice its V6 engine develops more than 300 horsepower? That's a lot of muscle. But in this sedan, that power doesn't equate to sporty driving. The Camry prefers to amble along. It reacts slowly to your commands, whether that's through the steering, accelerator, or brakes. This attribute makes it feel big and boat-like. If you value a comfortable ride above all else, the smooth gear shifts and floaty ride comfort might be to your liking. Take a leisurely drive in a straight line, and the Camry is your friend.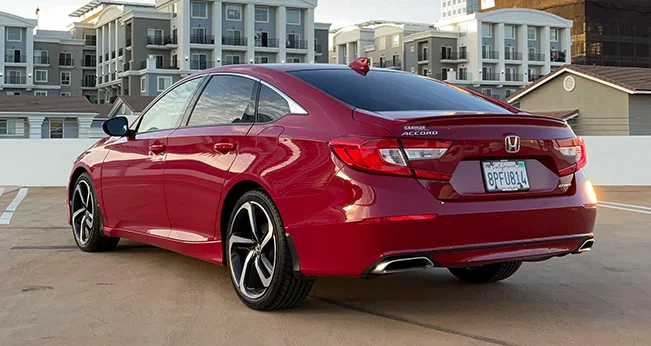 The Accord rolls a little differently. Both of its engines are less powerful, but they pack a bigger punch because they react much more quickly to commands. The same goes for the steering and braking, which feel sharp and at the ready. These qualities make the Accord fun to drive on curvy roads. Even on your daily commute, its reflexes will make you feel confident behind the wheel. Another strong point is its suspension refinement, which helps the Accord stay composed over different types of road surfaces. When the going is smooth, the Accord almost drives as nicely as a luxury car.
Ryan's take: The Accord's deft handling and responsive engines seal the deal for many buyers. I'm inclined to agree. It feels great to know that when you want the Accord to do something, it does it. By comparison, the Camry is a step or two slower—but it does deserve some credit. It's smooth, comfortable, and easy to operate in nearly all situations. Just don't expect much driving excitement.
Two great choices
There are plenty of reasons to love either of these cars. The Toyota Camry is nearly the total package—it has space, technology, and strong EPA fuel economy estimates. You can feel confident in the Camry's ability to handle the most important duties of a family sedan this size.
The Honda Accord matches those abilities and then raises the bar. This is the sedan for those who relish having a little more trunk space, a little more rear legroom, and a little more fun behind the wheel. You might need to prepare yourself to pay a little more money, though.
Your search for the right midsize sedan should begin with vehicles that provide modern comfort and space. In the Honda Accord and Toyota Camry, you have two excellent starting points.
Ryan ZumMallen has written automotive news and buying advice for nearly a decade. As an automotive reviews editor for Edmunds, ZumMallen examines trends in both the new and used markets with a focus on sporty, affordable cars, off-road trucks, and SUVs.