Ask the Expert: Should You Buy a Honda Odyssey or Toyota Sienna?
---
PUBLISHED MONDAY, OCTOBER 25, 2021

BY EDMUNDS EDITORS
Here's the lowdown on these two loaded minivans.
With thousands of vehicles in our inventory, we're here to help make car research easier for you. We've partnered with car-review experts from Edmunds to weigh in on what matters most when you're looking to buy a car.
***
Vehicles Reviewed
2019 Honda Odyssey EX-L
2020 Toyota Sienna XLE
Two popular minivans on the used market are the Honda Odyssey and Toyota Sienna. Each has a spacious interior and loads of features. But they also have specific attributes that might make one a better choice than the other for you. This article is here to help you make sense of your many options and points out the biggest things you should know when considering an Odyssey or a Sienna. Edmunds expert Ryan ZumMallen provides insight and personal experience with both models in this comprehensive guide.
What are your options?
The current-generation Honda Odyssey debuted for the 2018 model year. It has front-wheel drive, a V6 engine, and a whole lot of space inside. You can seat up to seven or eight passengers, depending on the particular trim level.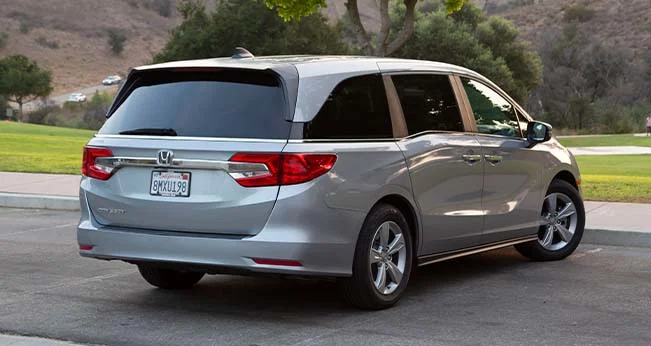 Speaking of trims, this generation Odyssey offers six to choose from:
LX

EX

EX-L

EX-L with Navigation and Rear Entertainment System (2018 and 2019 only)

Touring

Elite
The Odyssey LX is the base model and comes with only a few necessities. The EX offers more comfortable features, while the EX-L gets more premium trimmings. Moving upscale, the Touring and finally the Elite are generously appointed. There's seating for seven passengers in the LX and eight passengers in everything else.
The latest-generation Toyota Sienna launched for the 2021 model year but there aren't too many of these vans out yet on the used market. As such, you'll likely end up shopping for a prior-generation Sienna from 2011 to 2020. In this article, we focus on the 2017-2020 Sienna that has an updated engine and transmission for quicker acceleration. Seven-passenger seating is more widely available in the Sienna, though the SE trim level comes with eight seats as standard.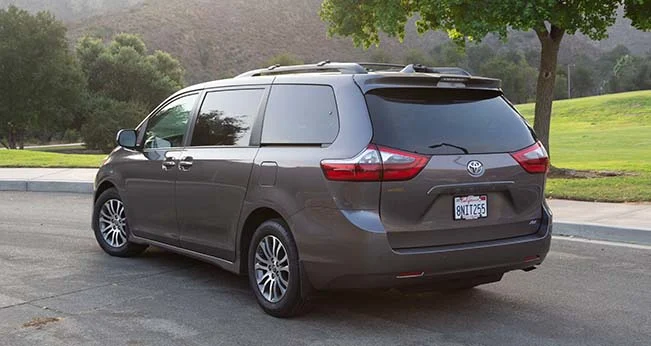 This Sienna has five main trim levels:
The Sienna L is the base version and comes with a sparse selection of standard features. The LE has more convenience features such as power-sliding rear doors and roof rails. The SE has a sportier look and even comes with a sport suspension that firms up the van's handling. The XLE and Limited return to the standard suspension and add upgraded tech and interior materials.
The Sienna also uses a V6 engine and front-wheel drive. As an added bonus, all-wheel drive is an option on all trim levels except the base L. 
Engines and fuel economy
In the 2018-2021 Odyssey, there is only one engine:
●  3.5-liter V6 (280 hp)
Every Odyssey is front-wheel-drive. However, you can choose between a nine-speed automatic transmission or a 10-speed automatic. The 10-speed only came on the Touring and Elite trim levels until 2020 when it became standard on all versions.
Here are the EPA fuel economy estimates for the 2018-2021 Odyssey:
●  3.5-liter V6 engine with nine-speed automatic: 22 mpg combined
●  3.5-liter V6 engine with 10-speed automatic: 22 mpg combined
Here is what you'll find under the hood of the 2017-2020 Sienna:
●  3.5-liter V6 engine (296 hp)
An eight-speed automatic is the only transmission available. As noted above, the Sienna comes with front-wheel drive or optional all-wheel drive.
Here's how the Sienna stacks up at the pump by EPA estimates:
●  3.5-liter V6 engine with FWD (2017-2019 models): 22 mpg combined
●  3.5-liter V6 engine with FWD (2020 models only): 21 mpg combined
●  3.5-liter V6 engine with AWD: 20 mpg combined
Ryan's take: It's nice that both Honda and Toyota take the guesswork out of your shopping. No need to cross-check different engines and transmissions and so on—each vehicle gets one engine that's capable of getting up to speed and that's pretty good on gas, considering their size. Both of these vans offer horsepower that's right in line for the class too. There are a lot of reasons to prefer the Odyssey or the Sienna over the other, but powertrains aren't one.
Interior and utility
Both of these minivans are masters of space and utility. You can fold their third-row seats down into the floor, or remove the second rows completely to create a cavernous storage area inside.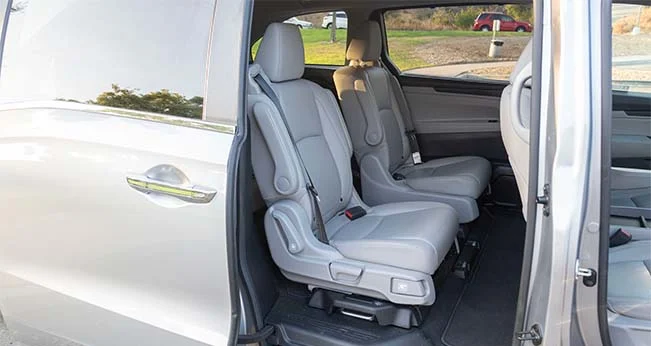 The Odyssey has 38.6 cubic feet of space behind the third row, which is very good among rivals. If you fold the third row down and remove the second row, it opens up to 158 cubic feet. However, we've found it difficult to do this and don't recommend planning to remove and reinstall the seats on a regular basis.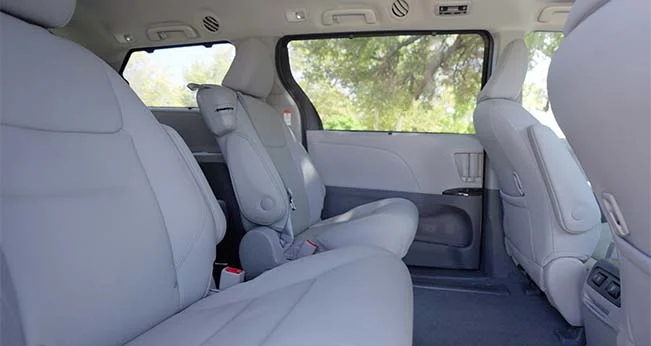 Similarly, the Sienna has 39.1 cubic feet behind the third row. This is another example of great storage space. If you remove the second row there is 150 cubic feet of capacity. Though it's less than the Odyssey, there's still plenty of room, plus the Sienna's seats come out more easily.
Each minivan has a clever trick when it comes to seating too. In all Odyssey trims except the base LX, the second row of seats can slide laterally, or side to side. This allows easy access for people who are climbing all the way into the third row.
In the Sienna, the second row of seats can slide forward and backward with a greater range than those in the Odyssey. This is helpful for putting passengers in the back, but it also creates a large loading area that is easily accessible from the sliding side doors. It's a neat feature in a van that is already very versatile.
Ryan's take: It's a real toss-up here. Sure, the Odyssey offers a tad more space inside, but the difference is negligible because the Sienna is also very generous when it comes to cargo capacity. This decision comes down to how you plan to use the space. If you're hauling people, I like the Odyssey because its lateral-sliding second-row seats on most trim levels really do improve third-row access. If you're hauling cargo, gear, construction equipment, etc., I prefer the Sienna because the second-row seats are easier to remove. You might also be surprised how much fits inside when you slide the second row back all the way.
Technology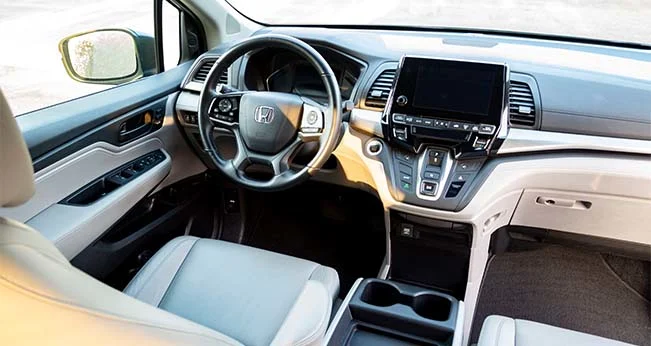 In the Odyssey, you get a 5-inch central screen on the base LX trim. Every trim after that comes with a larger 8-inch touchscreen. That unit also comes with Apple CarPlay® and Android Auto™ smartphone integration as standard. The snappy infotainment system reacts quickly to your touch. In the past, we've noted some hiccups with the screen glitching or blacking out in other vehicles that use the same screen. Honda issued a fix, but it's best to be aware of this possibility.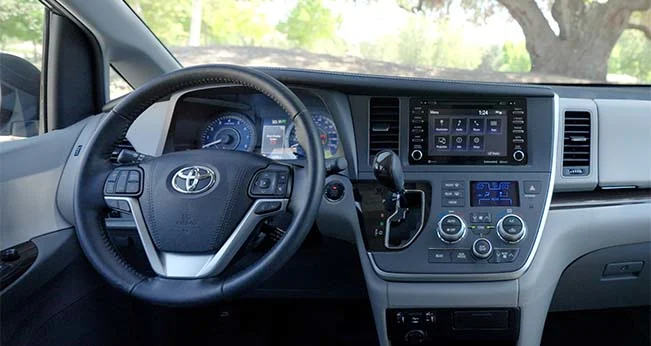 In the Sienna, the base model in 2017-2018 came with a 6.1-inch touchscreen, while all other trim levels received a 7-inch unit. In 2019, Toyota made the larger unit standard across the range. That screen didn't offer Apple CarPlay until 2019. (Note: You may find some 2018 models that have been retrofitted with the system.) Likewise, Android Auto never made it to this generation of the Sienna at all. So it's likely to be more difficult to find your favorite smartphone system in the Sienna than the Odyssey.
Odysseys from the 2018-2020 model years do not offer advanced driving aids on the base LX trim. You must find an EX or above, which have standard automatic emergency braking, blind-spot monitoring, and adaptive cruise control. This equipment is standard on all 2021 models. However, the Odyssey's aids can often feel overly sensitive. You may notice overly eager alerts or unrefined operations that detract from the experience a bit.
If you want easy access to advanced driving aids in the Sienna, look for one from 2018 or later. That's when Toyota added a standard package that includes forward collision warning, automatic emergency braking, lane departure warning, lane-keeping assist, and adaptive cruise control.
Ryan's take: Beware the Sienna's touchscreen. In my experience it can quickly wash out in direct sunlight, making it difficult to see. That said, the Honda's system can be glitchy as well. And, broadly, the Sienna offers more standard advanced driving aids that work more smoothly in everyday driving. That's a big win in my mind. Now, if using Apple CarPlay or Android Auto often is a high priority for you, the Odyssey makes them far more widely available. There are reasons to go with the Odyssey here. Otherwise, though, the tech features in the Sienna will likely serve your needs well. 
What they're like to drive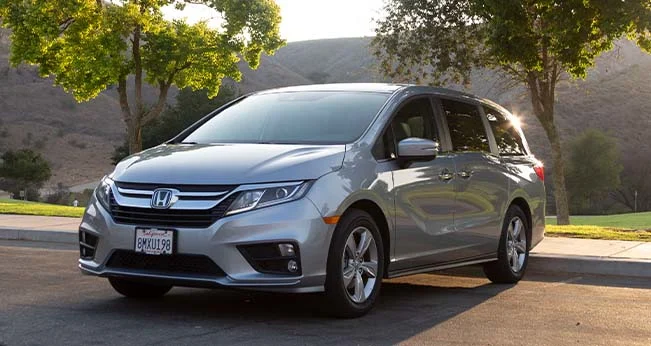 These two are closely matched in terms of power but not in terms of the overall experience. Despite having less horsepower, the Odyssey feels more direct and responsive at all times. It's slightly quicker than the Sienna to 60 mph and feels more responsive around turns than even the sport-tuned Sienna SE. The downside is a suspension that feels rough compared with the cloud-like ride of a Sienna—this is especially noticeable if you regularly drive over bumps and cracks on the road.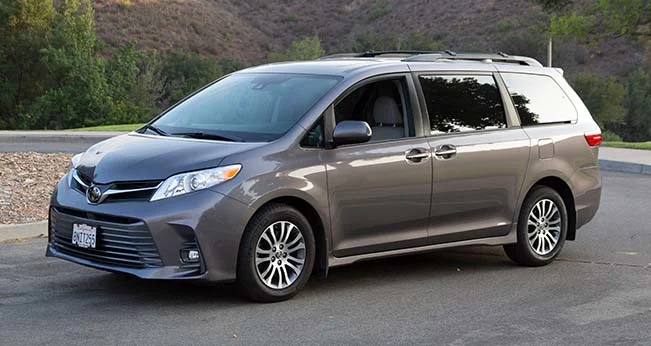 The Sienna is similarly strong. Only a fraction slower to 60 mph than the Odyssey, the Sienna ditches the old minivan cliche in a hurry. The trade-off here, and it's a big one, is that the Sienna has light and rather vague steering that doesn't inspire much confidence. It makes the van feel big and wafty. Still, this might not matter much to the average family hauler. In fact, the Sienna has a comfortable ride that might even tip the scales in its favor. Just keep it moving in smooth, straight lines and allow plenty of room for braking. It is still a minivan.
Ryan's take: Driving matters to me—it just does. So that makes the Odyssey my choice here. I like the way it feels from behind the wheel, which is much more cohesive and crisp than a typical minivan. It's not easy to make something this large feel smaller on the road, but Honda has managed to do it with deft handling and responsive brakes. The Sienna has a more comfortable ride than the Odyssey. It's also nice and easy to drive at low speeds. But once you're up to speed it feels mushy and lazy—you know, like a minivan.
Conclusion
Both of these minivans are like giant suitcases on wheels. Picking one or the other just depends on how you prefer the style and storage compartments in your luggage. The Honda Odyssey is slightly more spacious, with laterally sliding seats in most trims and a sharp drive. The Toyota Sienna is large too, with a comfortable ride and front-and-back sliding seats.
If you need all-wheel drive, it becomes a simple decision. The Sienna offers it and the Odyssey doesn't. There are also other reasons to pick the Sienna, such as its strong engine and numerous storage spaces.
However, for the majority of shoppers, the Odyssey is a more versatile fit. It's more enjoyable to drive, and the style and comfort of the interior are a step up from its rival. It's a more impressive overall package than the well-rounded Sienna. But a minivan, more than most other vehicles, is made to serve your specific demands. Consider your needs first and you'll likely be pleased with either choice. 
Ryan ZumMallen has written automotive news and buying advice for nearly a decade. As an automotive reviews editor for Edmunds, ZumMallen examines trends in both the new and used markets with a focus on sporty, affordable cars, off-road trucks, and SUVs.