Ask the Expert: Jeep Cherokee vs. Grand Cherokee
---
PUBLISHED FRIDAY, JANUARY 7, 2022
Two capable and comfortable SUVs with off-road chops.
With thousands of vehicles in our inventory, we're here to help make car research easier for you. We've partnered with car-review experts from Edmunds to weigh in on what matters most when you're looking to buy a truck or car.
***
Vehicles Reviewed
2020 Jeep Cherokee      
2018 Jeep Grand Cherokee
Jeep is the aspirational brand of choice for many who enjoy the rugged outdoors. But which one to pick? Both the Jeep Cherokee and the Jeep Grand Cherokee provide impressive levels of comfort and off-road capability in different-size packages. In this article, Edmunds' Ryan ZumMallen compares and contrasts these two crossover SUVs.
What are your options?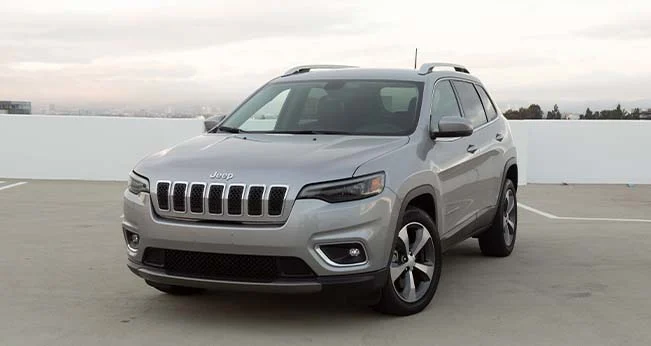 Jeep made a splash in 2014 when it brought back the Cherokee from a 13-year hiatus. From the beginning, these early models exhibited a refined ride and impressive off-road capability. However, in 2019 the Cherokee received distinct new styling, so you'll notice newer models look quite different from those made for 2014-2018. Regardless of the model year, all Cherokees are compact SUVs with seating for up to five passengers.
In the name of simplicity, this article focuses on the 2020 Cherokee. However, much of the content applies to earlier models as well.
The base Cherokee model is called the Latitude, and the Latitude Plus comes with more standard features and luxury appointments. The Limited trim boasts upgraded tech, and the top-line Overland is stuffed with plush amenities for the class. Finally, the Trailhawk trim is a bona fide off-roader with upgrades to the suspension, tires, and four-wheel-drive system.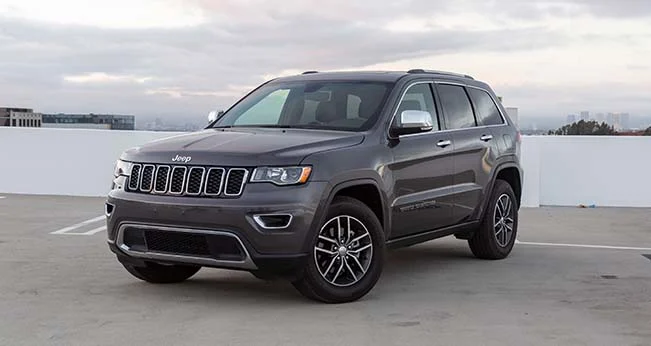 As for the Jeep Grand Cherokee, this SUV is one size larger than the Cherokee, with more spacious seating for up to five passengers. Jeep made the fourth-generation Grand Cherokee from 2011 until 2022, when a redesigned version made its debut alongside a three-row Grand Cherokee L. Those models will likely not reach used vehicle lots for some time.
For the purposes of this article, we'll focus on the 2018 Grand Cherokee. It represents all 2011-2021 fourth-generation models accurately in terms of size and cargo space, and it also offers modern technology and other desirable features.
The base models for the 2018 Grand Cherokee are the Laredo and the Limited. For extra luxury, look for the Overland or the Summit trim. The Grand Cherokee also offers an off-roading Trailhawk model, and there are high-performance SRT and Trackhawk trims, too.
Engines and fuel economy
Every 2020 Jeep Cherokee is equipped with one of the following:
Standard on most models: 2.4-liter four-cylinder engine (180 horsepower)

Optional but standard on Trailhawk: 3.2-liter V6 (271 hp)

Optional: turbocharged 2.0-liter four-cylinder (270 hp)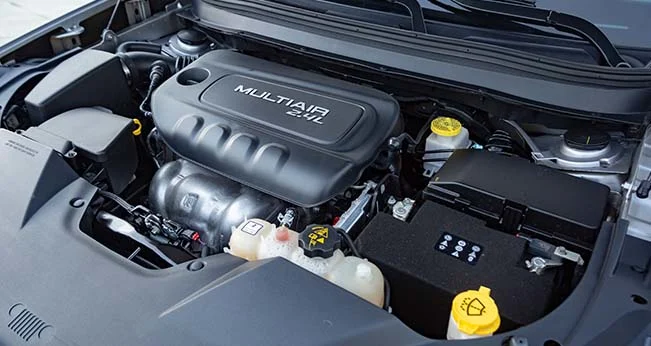 All engines are available with an optional four-wheel-drive system. The 3.2-liter V6 and the turbocharged 2.0-liter four-cylinder can also be equipped with an advanced four-wheel-drive system called Active Drive II.
When it comes to fuel economy, here are the EPA estimates you'll find:
2.4-liter four-cylinder: 25 mpg combined (FWD) or 24 mpg combined (4WD)

3.2-liter V6 (with FWD): 23 mpg combined

3.2-liter (with 4WD): 22 mpg combined

3.2-liter (with advanced 4WD): 21 mpg combined

Trailhawk with 3.2-liter (4WD only): 21 mpg combined
Turbocharged 2.0-liter four-cylinder (with FWD): 26 mpg combined

Turbocharged 2.0-liter (with 4WD): 24 mpg combined

Turbocharged 2.0-liter (with advanced 4WD): 23 mpg combined

Trailhawk with 2.0-liter (4WD only): 22 mpg combined
As for the 2018 Jeep Grand Cherokee, here are the engines you can expect to find:
Standard on most models: 3.6-liter six-cylinder (295 hp)

Optional: turbocharged 3.0-liter diesel engine (240 hp)

Optional: 5.7-liter V8 (360 hp)

Standard on SRT: 6.4-liter V8 (475 hp)

Standard on Trackhawk: supercharged 6.2-liter V8 (707 hp)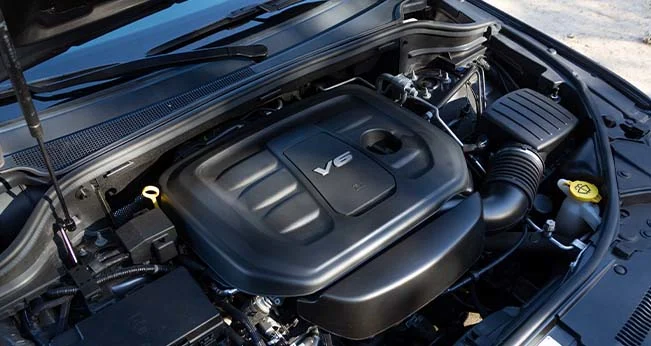 The Grand Cherokee comes standard with rear-wheel drive. A four-wheel-drive system is optional on certain models and comes standard on the Trailhawk. The SRT and Trackhawk trims come with a specialized all-wheel-drive system.
The EPA fuel economy estimates for the 2018 Grand Cherokee are as follows:
3.6-liter six-cylinder (RWD or 4WD): 21 mpg combined

Turbocharged 3.0-liter diesel: 25 mpg combined (RWD) or 24 mpg combined (4WD)

5.7-liter V8 (4WD only): 17 mpg combined

6.4-liter V8 (AWD only): 15 mpg combined

Supercharged 6.2-liter V8 (AWD only): 13 mpg combined
Ryan's take: The optional turbocharged 2.0-liter engine in the Cherokee earns the rare distinction of having both the highest horsepower and the highest fuel economy in the lineup. It may be harder to find than the other engines, but if you can swing it, I say treat yourself. As for the Grand Cherokee, it really depends on what kind of driving you plan to do since each available engine offers a wildly different experience. You can go hypermiling with the turbodiesel or legitimately win drag races with the supercharged Hellcat V8. In my experience, though, the standard V6 is tried-and-true. Stick with that for everyday duties.
Interior and comfort
You'll have to keep in mind the Cherokee competes in a smaller size class of SUV than the Grand Cherokee, so its interior is less spacious. However, for its class, the Cherokee holds its own. Even taller adults will find ample headroom and legroom, as well as a good range of possible adjustments in the front seats. This makes it easy to find a comfortable driving position, and once you're inside, the thin pillars and large windows make for excellent outward visibility.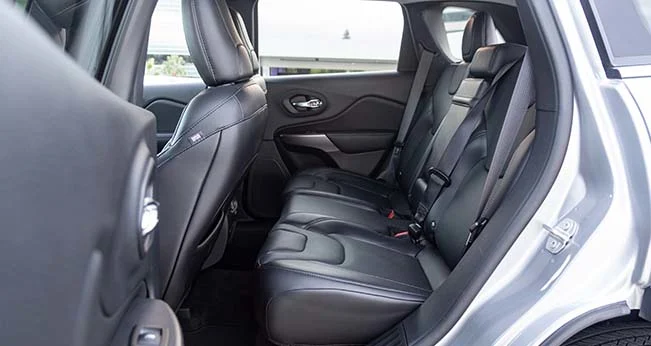 Compared to rivals like the Honda CR-V and Mazda CX-5, the Cherokee has an appealing interior design. The control layout is easy to understand and use. But the materials —such as buttons, dials, and dash trim—are more utilitarian and less refined than those in top competitors.
As for the larger Grand Cherokee, room is the name of its game. This SUV is massive inside with loads of space for passengers in both rows. There are downsides to all that mass, though: It has large doors that create openings for easy access, but they can be cumbersome, and the sheer size of the Grand Cherokee leads to multiple blind spots. Using the rearview camera is a must.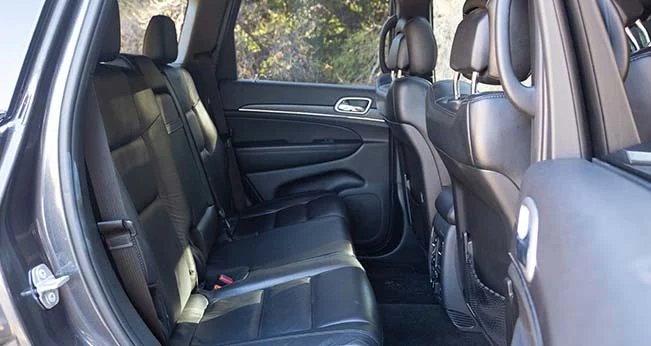 The Grand Cherokee takes the upper hand in its level of refinement. There are excellent materials throughout the cabin, the controls are easy to use and pleasing to the touch, and in higher trim levels the seats are soft, plush, and supportive. On top of that, the interior is well sealed to provide a calm and quiet ride on the road.
Ryan's take: Stepping inside the Grand Cherokee is always a pleasure. For a vehicle that was first designed a decade ago, it's remarkable the interior has managed to keep up with the times. The control layout just works, the steering wheel and gear shifter feel premium to the touch, and some trims add an extra dash of richness or eccentricity that keeps things fun in a midsize SUV—no small task. You just have to be aware of its size at all times. The smaller Cherokee follows the same formula but doesn't pull it off with quite the pizzazz. It is an attractive but average interior, with a lot of plastic pieces that fall short of feeling premium. Of course, that means you probably won't mind getting it dirty as much.
Technology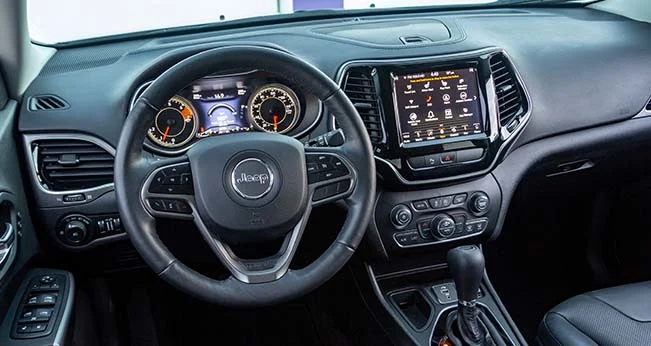 Front and center in the Cherokee is a 7-inch touchscreen. This unit is fine to use, and it comes with standard Apple CarPlay® and Android Auto™ smartphone integration. Still, we recommend searching for a model with the larger 8.4-inch unit that is much easier to see clearly. It comes standard on the Limited trim and up, and it uses the excellent Uconnect® infotainment system.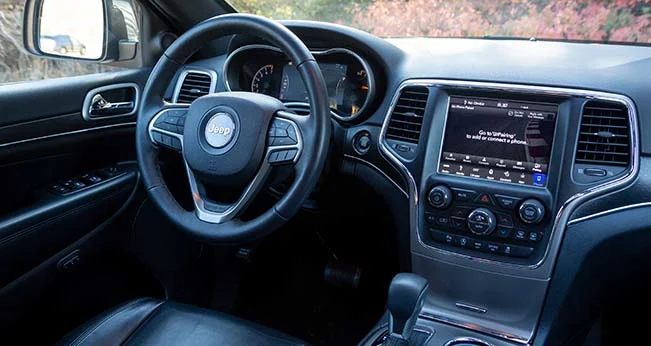 The Grand Cherokee also comes standard with a 7-inch touchscreen with Apple CarPlay and Android Auto. Again, we recommend upgrading to the 8.4-inch screen with Uconnect. It may be tricky to find on the 2018 Grand Cherokee since Jeep mostly included it in specific packages at the time. However, on newer models beginning in 2020, it comes standard on the Limited trim and up.
The Cherokee doesn't deliver a wide array of standard driver aids. Look for the Latitude Plus to net a blind-spot monitor with rear cross-traffic alert and rear parking sensors. But you'll need to find a Cherokee equipped with the optional Technology package to get forward collision warning, adaptive cruise control, lane departure warning, and more.
It's the same story with the Grand Cherokee. You can look for an Overland model with the optional High Altitude package, or simply upgrade to the Summit trim. Some of the available driver aids include parking sensors, adaptive cruise control, blind-spot monitoring with rear cross-traffic alert, a forward collision mitigation system with automatic emergency braking, and lane departure warning.
Ryan's take: To echo the above, the Uconnect system on the 8.4-inch touchscreen is where it's at. Sure, you could stick with the smaller 7-inch screen and simply use Apple CarPlay or Android Auto without trouble. But the larger screen is a big help for finding what you need and following maps accurately. Speaking of maps, Jeep has a strong navigation system with clear turn-by-turn directions that is especially handy when you're in areas without a strong cell signal. Having gotten lost in the wilderness in Jeeps before, I feel confident recommending it. Just be sure to test Uconnect before you make a decision because there are a lot of menus that can make it hard to find specific commands in a hurry.
What they're like to drive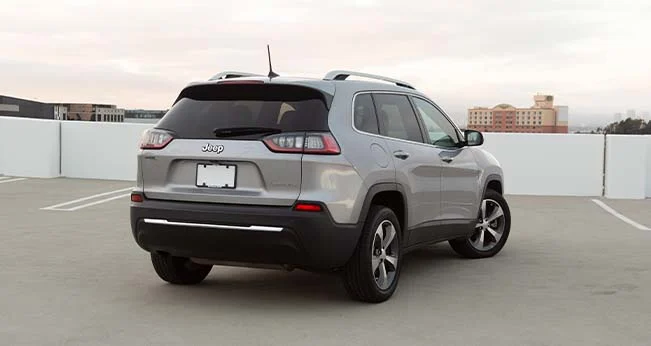 Both the standard 2.4-liter four-cylinder and the 3.2-liter V6 provide the Cherokee with good power, but the lethargic nine-speed automatic transmission means the driving experience is none too exciting. If you can, try the turbocharged 2.0-liter engine to liven things up. It pairs well with the Cherokee's sharp handling, which is rare for an SUV its size. Even better is the off-road chops in the Trailhawk trim, which provides stellar capability for the class.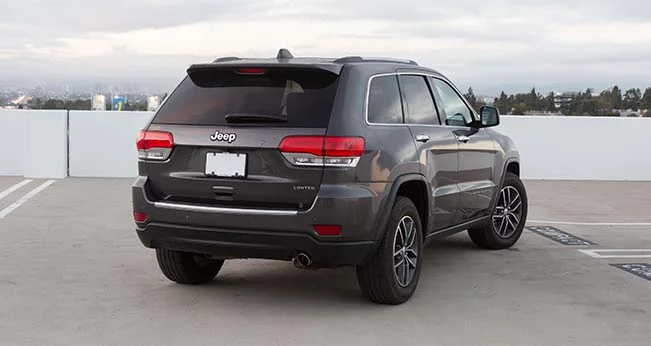 In its lower trims, the Grand Cherokee is also rather plodding with its standard V6 engine. Unlike the Cherokee, though, the Grand Cherokee often feels heavy going around turns, and its optional air suspension doesn't feel as cushy as we would like. Still, there's no denying the off-road prowess of the Trailhawk trim and its excellent four-wheel drive, or the intoxicating power from any of the three—count 'em, three—available V8 engines.
Ryan's take: Here's where the Cherokee's smaller size comes in handy—its exterior dimensions, including a short nose and a smaller wheelbase, provide a big advantage when you're traversing paths with rocks or branches. But even if you're not heading off the grid, the Cherokee is surprisingly fun to drive thanks to its tight handling and responsive throttle pedal. It's true that the transmission holds back the fun, though. I like driving the Grand Cherokee too, though it's a different experience. Think luxury cruise liner. Unless, that is, you choose one with any of the available V8 engines—then think luxury speedboat.
Conclusion
We expect a lot from Jeep SUVs. First and foremost, we expect sturdy and aggressive styling to go with off-road-readiness. Both the Cherokee and Grand Cherokee deliver on those fronts, and they add some surprising excitement on top of it.
For the Cherokee, that means sharp handling and plenty of space for a compact SUV. When you factor in the lower price of the smaller Cherokee, it's an appealing package. And for the Grand Cherokee, it means available earth-shaking power mixed with an elegant interior. It's more expensive, but the distinctive charisma in certain trims is undeniable.
Ryan ZumMallen has written automotive news and buying advice for nearly a decade. As an automotive reviews editor for Edmunds, ZumMallen examines trends in both the new and used markets with a focus on sporty, affordable cars, off-road trucks, and SUVs.