Toyota 4Runner vs. Subaru Outback: What to Know When Buying Used
---
PUBLISHED MONDAY, NOVEMBER 22, 2021

BY EDMUNDS EDITORS
Which midsize SUV fits your needs?
With thousands of vehicles in our inventory, we're here to help make car research easier for you. We've partnered with car-review experts from Edmunds to weigh in on what matters most when you're looking to buy a truck or car.
***
Vehicles Reviewed
2020 Subaru Outback
2019 Toyota 4Runner
 If you're looking for a bit of adventure or just a capable and comfortable SUV to fit the family, you might be considering the Subaru Outback or the Toyota 4Runner. Both are classified as midsize SUVs, but they excel at different tasks. One prioritizes comfort and the other prioritizes off-road performance.
In this article we'll compare the Outback and the 4Runner, going over their strengths and weaknesses, to help you decide which one is the right choice for you. Edmunds' Travis Langness brings his experience with both models to this detailed guide, complete with personal recommendations.
What are your options?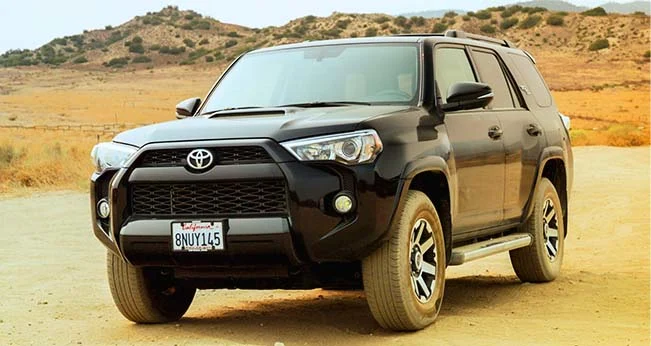 The Toyota 4Runner is a traditional-style SUV that's built like a truck. What does that mean? Well, it has a robust frame that allows it to tow and haul large loads, plus plenty of ground clearance and a four-wheel-drive system that allows it to take on serious off-road obstacles.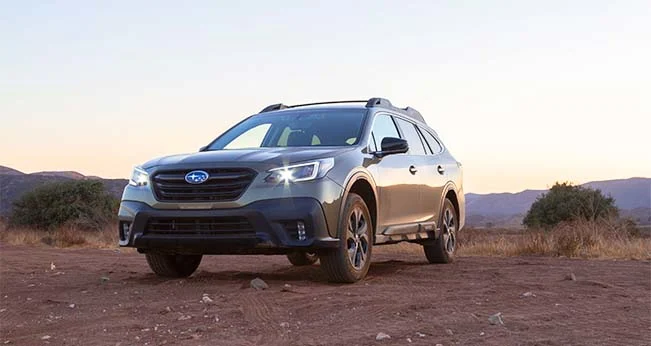 The Subaru Outback is what you could say is a crossover SUV. It's built on a car-like unibody structure but has many SUV traits that are great for outdoor-adventure types. These include a lifted ride height to provide more clearance underneath and a sophisticated all-wheel-drive system that expertly manages traction in slippery situations.
The Subaru Outback was completely redesigned in 2020 with new styling, more power, and a long list of high-tech features. The Toyota 4Runner was last redesigned in 2010. Toyota has made some cosmetic changes and added technology features over the years, but these 4Runners are all pretty much the same underneath. For the purposes of our comparison here, we'll be considering a 2019 4Runner.
These two SUVs offer different approaches to similar tasks. They are exactly the same length from bumper to bumper, but passenger space, cargo space, available powertrains, and available in-car tech are all unique. They might both be adventure-focused, but what kind of adventuring you plan on doing will factor big into which one you choose.
Engines and fuel economy
The Toyota 4Runner comes with one engine across the lineup. Some trims are available with rear-wheel drive, but most 4Runners come with standard four-wheel drive. The Subaru Outback has all-wheel-drive on all models and a choice between two engines.
The 2019 Toyota 4Runner has:
A 4.0-liter V6 engine (270 horsepower, 278 lb-ft of torque)

A five-speed automatic transmission
The EPA estimates fuel economy for the 4Runner at:
18 mpg combined with both rear- and four-wheel drive
The 2020 Subaru Outback gets:
A base 2.5-liter four-cylinder engine (182 hp, 176 lb-ft of torque)

An optional turbocharged 2.4-liter four-cylinder engine (260 hp, 277 lb-ft)

Both engines use a continuously variable automatic transmission (CVT)
The EPA estimates fuel economy for the Outback at:
29 mpg combined with the 2.5-liter engine

26 mpg combined with the 2.4-liter engine 
While the 4Runner makes a bit more power with its V6 engine, the Outback offers a choice of engines. It also beats the 4Runner when it comes to EPA-estimated fuel economy. 
Travis' take: It's more than just numbers here. The Toyota 4Runner's engine revs pretty high at freeway speeds. There's a lot of noise as a result, and it's not a very enjoyable experience. It's also slower despite having more power. In Edmunds' testing, the Outback with the optional turbocharged 2.4-liter engine went from 0 to 60 mph in 6.1 seconds, and the 4Runner took 8.4 seconds. That's a difference you'll feel when you need to quickly accelerate onto the highway or pass a slow-moving car.
Utility and interior
Both the Outback and the 4Runner are spacious enough for five passengers. The Toyota also comes with a third-row seat in some configurations to seat seven people total. Just know the third row is cramped and is best reserved for small children.
A five-passenger 4Runner offers 46.3 cubic feet of cargo space behind its rear seats. The Subaru only has 32.5 cubes of cargo space. This difference is enough to accommodate a few more small suitcases in the trunk of the 4Runner.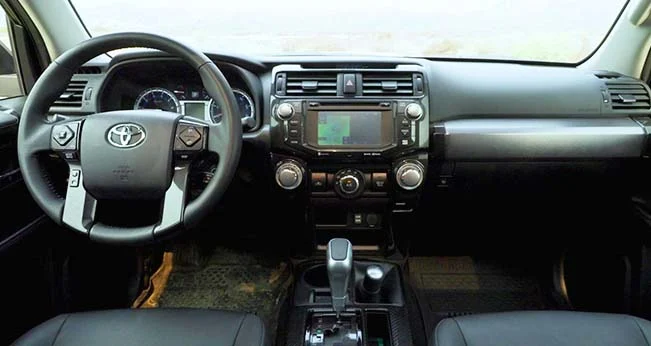 The 4Runner wins out again for towing. It has a maximum towing capacity of 5,000 pounds when properly equipped, while the Outback maxes out at 3,500 pounds. With the Toyota, that's enough for a small car trailer or a boat. In the Subaru, you'll probably want to stick with lighter trailers only.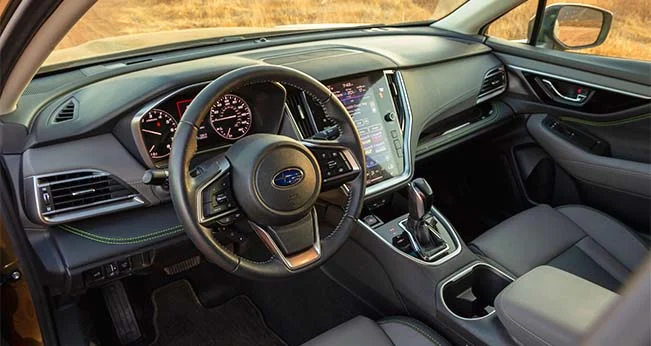 When it comes to cabin design and quality of materials, the Subaru has the advantage. A larger, crisper center touchscreen is the main party piece on the inside, with high-quality dashboard and center-console materials. What's more, though it's shorter than the 4Runner, the Outback still feels roomy and spacious, with plenty of headroom for adults. The 4Runner's interior values function over form, with large, sturdy knobs. There's quite a bit of hollow plastic used in the construction, however, so it doesn't feel as upscale.
Travis' take: Want a more modern design and fancier materials? Then the Subaru is your best bet. Want more cargo space? Go with the Toyota. For most buyers, the Subaru will have plenty of space for a cabin full of passengers and a trunk full of camping gear. It'll even tow a small trailer. But there's no denying the 4Runner's utility advantages here.
Technology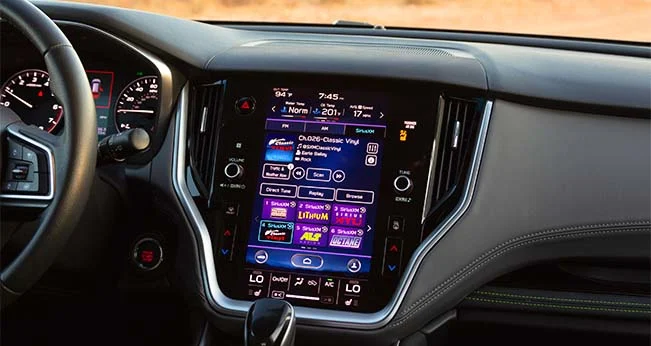 The infotainment interfaces in these two SUVs take different approaches. Most Subaru Outbacks come with a 11.6-inch center touchscreen. Its crisp graphics are appealing to the eye, but the learning curve is steep. Buttons can be difficult to find, and the voice command system has a hard time understanding natural language.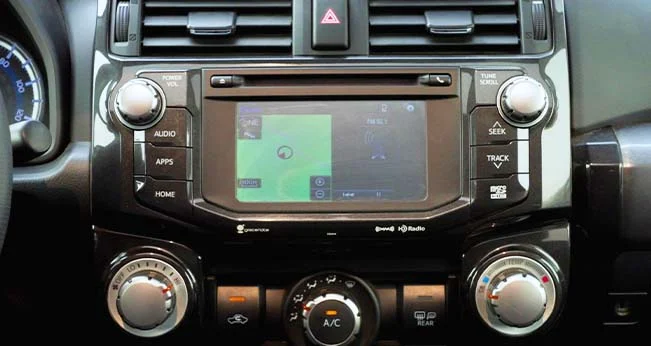 The 4Runner's infotainment system is more bare-bones. The 2019 4Runner has but a tiny 6.1-inch screen with low resolution and poor graphics. Thankfully, 2020 and newer models get a larger and more fully featured screen. Whatever year 4Runner you're looking for, the audio controls are large and easy to use.
It's a similar story when it comes to standard and optional driver aids. Older 4Runners, those built 2019 or earlier, lack many driver aids such as lane departure warning and adaptive cruise control. Thankfully, Toyota finally added them in 2020 as standard equipment. These driver aids are standard on the 2020 Outback. The Subaru also has a slight advantage thanks to an excellent adaptive cruise control system that responds slightly quicker than the system in the 4Runner.
Travis' take: I prefer the Subaru's infotainment screen even though it takes a bit more time to learn. The graphics and resolution are far superior. Still, the 4Runner has a certain no-nonsense appeal because of its big chunky knobs and simple layout of the dashboard.
What they're like to drive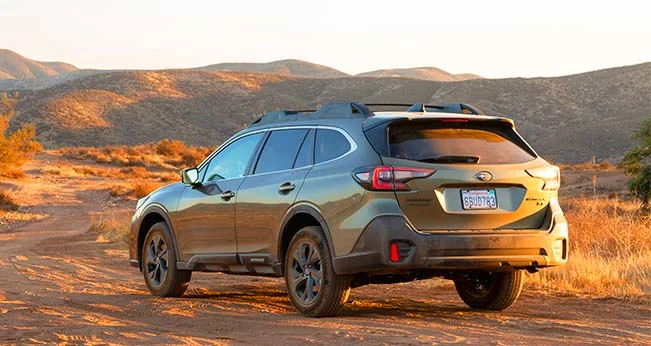 On the road, the Subaru Outback is quieter and more comfortable than the Toyota 4Runner. Its steering and handling are more precise too. The Toyota is less fun in windy scenarios and it has a looser steering feel at highway speeds. The Subaru's seats are soft and supportive, which means they're excellent on long road trips. By comparison, the Toyota's seats are a bit flat. They'll still be just fine for daily commutes, but road-trip fatigue can set in over time.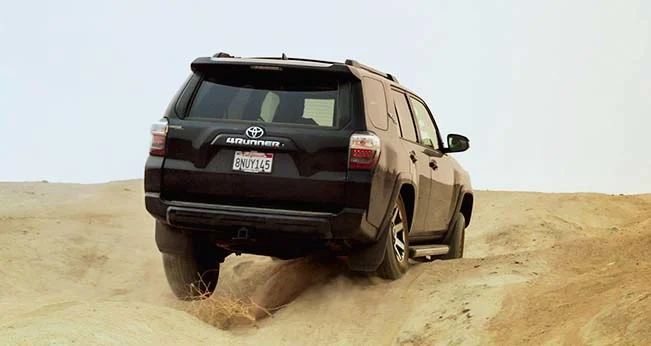 Off-road, the tables turn. The Outback has impressive ground clearance and it can easily tackle a dirt road filled with big ruts and bumps. All-weather traction is excellent. But the Toyota is better equipped for traveling even deeper into nature. It has better wheel articulation, which means the ability to keep all four wheels on the ground while climbing over big rocks. All four wheels on the ground means more traction. The 4Runner's available four-wheel-drive system is also better suited for putting power down on very rough terrain.
Travis' take: How much you value hardcore off-roading ability will be a big factor in your decision. Most off-road adventures won't require the kind of capability the 4Runner offers, so to me, it's not worth the trade-off in comfort and driving precision. I enjoy the curvy mountain road on the way to the off-road trail as much as I enjoy the trail itself, and for me, the Outback strikes a much better balance between the two.
Conclusion
The Subaru Outback and the Toyota 4Runner are both versatile, spacious, and user-friendly in their own ways. The Subaru wins out when it comes to comfort, technology, and upscale interior fittings, while the Toyota is the champ for off-roading, towing, and cargo space. A choice between these two will come down to your daily-driving priorities and just how far you want to go off the beaten path on the weekend.
Travis Langness is an automotive reviews editor for Edmunds.com. As a lifelong car-and-truck enthusiast, Travis has a deep passion for cars. Through instrumented testing, off-roading, epic road trips, and local commuting, the Edmunds team tests and writes about new and used vehicles to help car shoppers make informed decisions.