Ask the Expert: Jeep Grand Cherokee vs. Ford Explorer
---
PUBLISHED MONDAY, NOVEMBER 15, 2021

BY EDMUNDS EDITORS
These two distinctive SUVs offer a lot of personality.
With thousands of vehicles in our inventory, we're here to help make car research easier for you. We've partnered with car-review experts from Edmunds to weigh in on what matters most when you're looking to buy a truck or car.
***
Vehicles Reviewed
2018 Jeep Grand Cherokee Limited
2020 Ford Explorer XLT
You need space. And possibly lots of it. But how much, really? And how important are qualities such as comfort, technology, and driving feel to you? The answers to these questions will help guide you in choosing between the Jeep Grand Cherokee and the Ford Explorer, two well-known midsize SUVs with heritages dating to the 1990s. Edmunds' Ryan ZumMallen takes a closer look at both models and provides personal recommendations.
What are your options?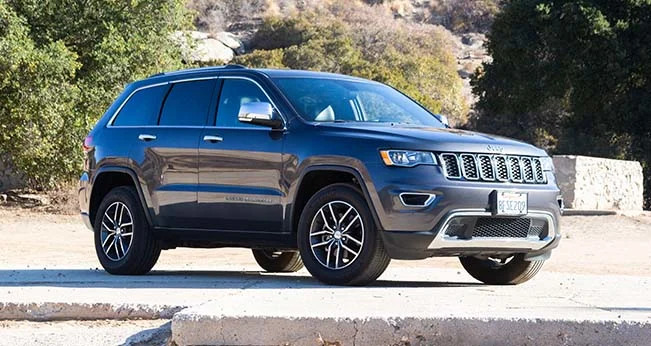 The version of the Jeep Grand Cherokee you're most likely to find on the used market is the fourth generation, which first went on sale in 2011. It's a spacious midsize SUV with two rows of seats that can fit up to five passengers. Jeep made this Grand Cherokee continuously with only minor changes over the years, right up until 2021. A brand-new model debuted for 2022, including a new three-row model called the Grand Cherokee L, but it may take some time before they reach the used market.
For this article, we'll be using a 2018 Jeep Grand Cherokee as our generational representative. But know that much of our content also applies to other model years for this fourth-generation Grand Cherokee.
There are several trim levels to choose from when it comes to the 2018 Grand Cherokee. The Laredo and Limited are reasonably well equipped, while the Overland and Summit pack on more standard luxury features. There is also the off-road-ready Trailhawk trim and the high-performance SRT and Trackhawk trims.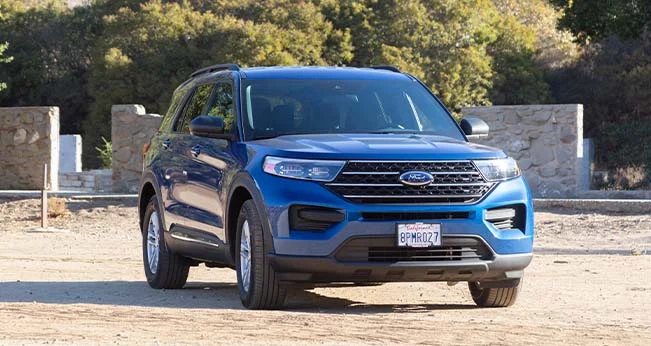 As for the Ford Explorer, this popular SUV reemerged with a brand-new look and feel in 2020. Every Explorer comes with three rows of seats as standard and they're designed to comfortably seat six passengers—but in a pinch, you can squeeze seven inside too.
The lineup starts with the base Explorer trim. The XLT trim adds several more helpful features. There is also the Limited with a standard leather interior and a plush Platinum model too. The sporty one in the bunch is the 400-horsepower ST.
To keep things simple, this article will focus on the gasoline-powered 2020 Explorer. There are also hybrid models available, but at the moment they are more difficult to find on the used market.
Engines and fuel economy
The 2018 Grand Cherokee is equipped with one of four engine choices: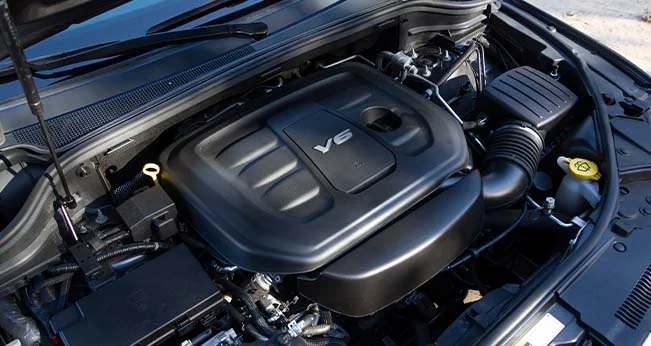 Standard on most models: 3.6-liter V6 (295 horsepower)

Optional on Limited, Overland, and Summit: 5.7-liter V8 (360 hp)

Also optional on Limited, Overland, and Summit: turbocharged 3.0-liter diesel-powered V6 (240 hp)

SRT: 6.4-liter V8 (470 hp)

Trackhawk: supercharged 6.2-liter V8 (707 hp) 
What about fuel economy? You'll get these EPA estimates for a 2018 Grand Cherokee in combined city/highway driving:
Diesel V6: 25 mpg (RWD) or 24 mpg (4WD)

V6: 21 mpg combined

5.7-liter V8: 17 mpg combined

6.4-liter V8: 15 mpg

Supercharged 6.2-liter V8: 13 mpg 
As for the 2020 Ford Explorer, it comes with: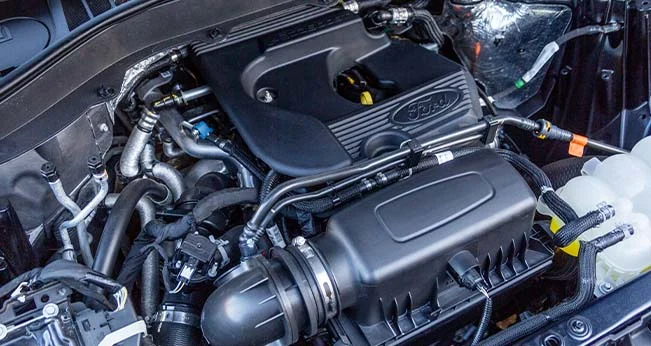 Base, XLT, and Limited trims: turbocharged 2.3-liter four-cylinder (300 horsepower)

ST, King Ranch, and Platinum trims: turbocharged 3.0-liter V6 (400 hp)
The EPA estimates you'll get with those engines:
Turbocharged four-cylinder: 24 mpg (RWD) or 23 mpg combined (AWD)

Turbocharged V6: 21 mpg (RWD) or 20 mpg combined (AWD)
Ryan's take: There are few driving experiences like getting behind the wheel of a Grand Cherokee SRT or Trackhawk. If you're considering one, just go ahead and buy it. You won't be disappointed. As for the rest of us, the widely available V6 engine is a workhorse engine in the Grand Cherokee and serves it well. But it's outclassed by the standard turbocharged 2.3-liter engine in the Explorer, which is more powerful and has better EPA-estimated fuel economy. Seriously—it's not often you can say that about a vehicle with a whole extra row of seats.
Interior and comfort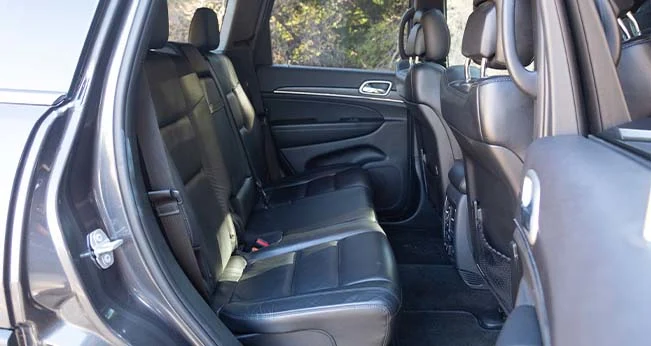 The Grand Cherokee is all about refinement. Even in lower trim levels, you'll find evidence of attention to detail, with the interior panels and pieces fitting together nicely. In higher trims, the materials include plush leathers and authentic metal or wood trim. The Grand Cherokee also offers a lot of space for passengers. The controls are easy to reach, and the cabin is well isolated from outside noise.
We haven't been quite so impressed with the Explorer's interior. Sure, it has more interior space, but that space isn't always easy to use. Passengers in the middle row might find cramped legroom compared to what's available in other three-row crossovers. Also, the third-row seats can be difficult to access due to the tight space. The Explorer also has more hard plastic used in its interior than the Grand Cherokee, and it's not as quiet on the highway.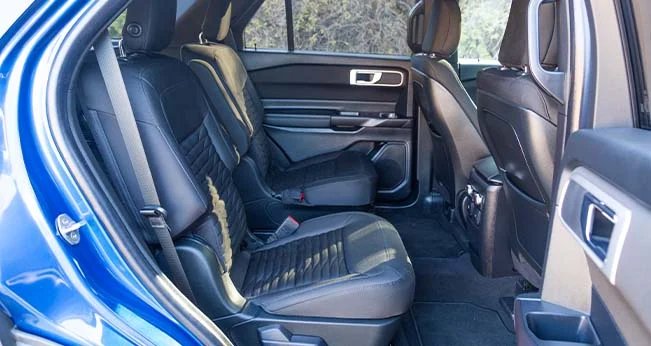 The Grand Cherokee leaves something to be desired in regards to cargo space. Behind its second row of seats is 36.3 cubic feet of room. That's enough for standard sports equipment or camping gear, but it's far less than some rivals in its class. It's even less than some smaller SUVs.
The Explorer is much better in this regard. It has 18.2 cubic feet of space behind its third row of seats, which is enough for grocery bags and duffel bags. But fold that third row down and you'll find 47.9 cubic feet behind the second row. Remember, that's quite a bit more than the space behind the second row of a Grand Cherokee.
Ryan's take: For me, this isn't close. The Grand Cherokee simply outshines the Explorer inside. Climbing inside the Grand Cherokee and getting accustomed always feels like an experience due to the array of different materials and interesting touchpoints. In contrast, the Explorer's cabin design is uninspired and has less premium-feeling materials. For me, the Jeep's advantage is significant enough that it easily compensates for its relative lack of storage space.
Technology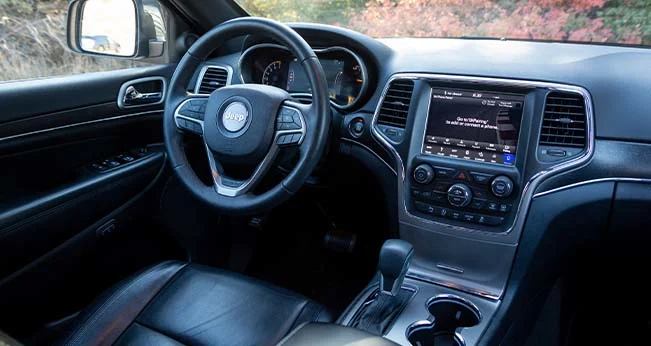 If technology is a high priority on your list of shopping demands, look for a Grand Cherokee with the 8.4-inch touchscreen infotainment system. This larger screen—it looks bigger and more square than the other touchscreens used in the Grand Cherokee—looks great and is easy to learn and use. To snag a Grand Cherokee with either Apple CarPlay® or Android Auto™ smartphone integration, look for a 2018 model or newer. Both systems are standard on those vehicles.
Seeing as how the Explorer we're discussing was introduced in just 2020, it's understandable that it features splashier technology. An 8-inch touchscreen is standard on all models, and it comes with both CarPlay and Android Auto. The screen has a straightforward operating system and is pleasing to use overall. But we've noticed it can have inconsistent responses to your touch and some controls are difficult to locate. You may not feel the same way about the optional 10.1-inch screen, which is mounted vertically and resembles a tacked-on tablet. The smaller width actually makes CarPlay and Android Auto more difficult to see.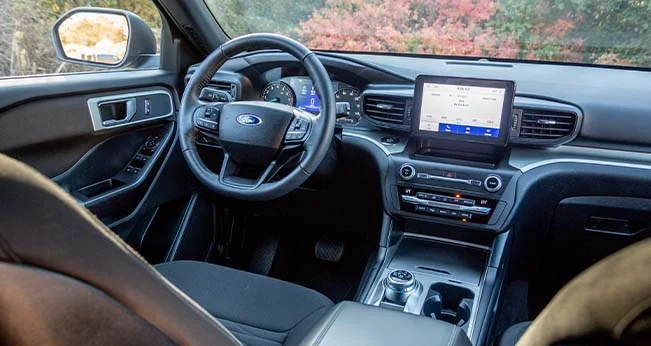 It's possible to get a 2018 Grand Cherokee with advanced driving aids, but not every trim comes standard with them. These include traffic-adaptive cruise control (maintains a set distance between you and the vehicle ahead), blind-spot monitoring (alerts you to other vehicles), and a forward collision mitigation system with automatic braking that can apply the brakes to avoid or minimize a collision.
Again, because the Explorer is newer, it is more generously equipped with standard driving aids. A series of standard features includes automatic emergency braking, blind-spot monitoring, and lane-keeping assist to automatically steer you back into your lane if the vehicle drifts out. Traffic-adaptive cruise control is an option.
Ryan's take: Technology is not the main reason you should choose either of these vehicles over the other. Both of them have competent infotainment systems that won't take you long to learn how to use. There are some minor issues for both SUVs—the larger vertical touchscreen in some Explorers is a real disappointment as far as user-friendliness, and some of the advanced driving aids in the Grand Cherokee are a touch too sensitive for my tastes—but overall you're getting a pleasing amount of tech here.
What they're like to drive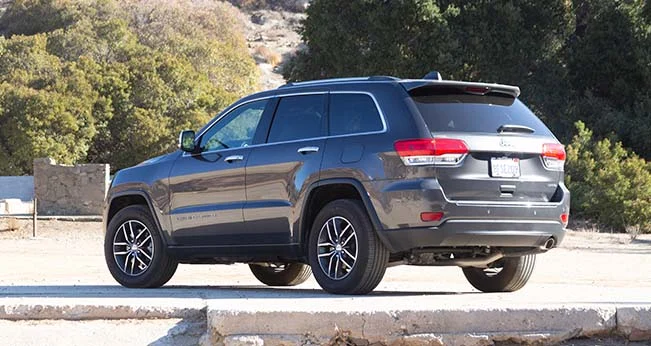 Are you planning to buy a Grand Cherokee with one of its available V8 engines? Congratulations: You own a Jeep-shaped rocket ship. But the more sensible 3.6-liter V6 provides a smooth and consistent ride with steady power under your foot. The V6 does a good job of balancing muscle with better ride comfort and fuel economy than you might expect from a rugged vehicle. Handling-wise, the Grand Cherokee feels quite heavy going around turns. But keep in mind that it excels off-road due to its exterior shape and a stellar four-wheel-drive system, if you plan on getting it dirty often.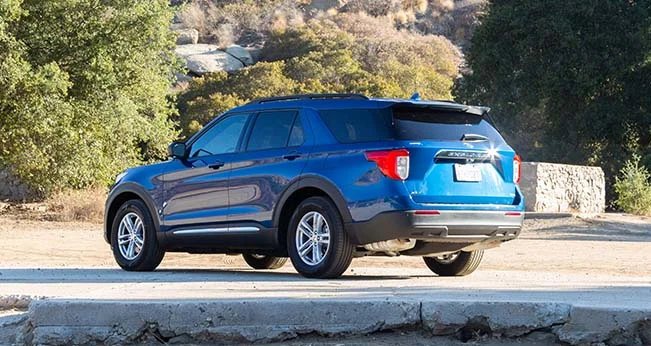 By contrast, the Explorer is physically larger, but dynamically it has much lighter feet. For its 2020 redesign, the Explorer adopted a rear-wheel-drive structure with the main intention of improving the driving experience. And it's proven a success. With either of its engines, the Explorer offers excellent balance and has no trouble going around sharp turns at speed. The steering feels well connected to the rest of the car, which is a rare compliment to give a three-row SUV of this size. The standard turbocharged four-cylinder engine is another strong point, with plenty of power to keep the big crossover moving and quick shifts from the 10-speed automatic transmission. The turbocharged V6, unsurprisingly, is even more lively.
Ryan's take: Driving the Explorer is enjoyable. It's surprisingly quick and composed when thrown into a turn, and both of the turbocharged engines provide enough juice to get the big SUV going in a hurry. If you want a three-row that handles well, the Explorer is for you. Of course, it's no match for the sheer hilarity of a Grand Cherokee when equipped with the monstrous 707-horsepower V8 option, or even the 470-hp one. But the Grand Cherokee does have a lot more off-road capability than the Explorer.
Conclusion
The Jeep Grand Cherokee and Ford Explorer take two different routes in order to answer one question: What's the best approach to hauling loads of people and equipment around? One is rugged and well appointed; the other is spacious and sporty. The choice you make likely depends on your daily habits and intentions.
However, based on our extensive testing, the Grand Cherokee more successfully meets or exceeds expectations. While it's true that the Explorer excels in specific areas such as cargo space and driving excitement, you should consider the Jeep more highly recommended. After all, the Grand Cherokee offers a buttoned-up interior and serene ride at a more friendly price.
Ryan ZumMallen has written automotive news and buying advice for nearly a decade. As an automotive reviews editor for Edmunds, ZumMallen examines trends in both the new and used markets with a focus on sporty, affordable cars, off-road trucks, and SUVs.