12 Reasons to Buy a Kia Soul
---
PUBLISHED FRIDAY, JULY 7, 2017
This Kia Soul review gives a dozen reasons why the small SUV embodies compact cool.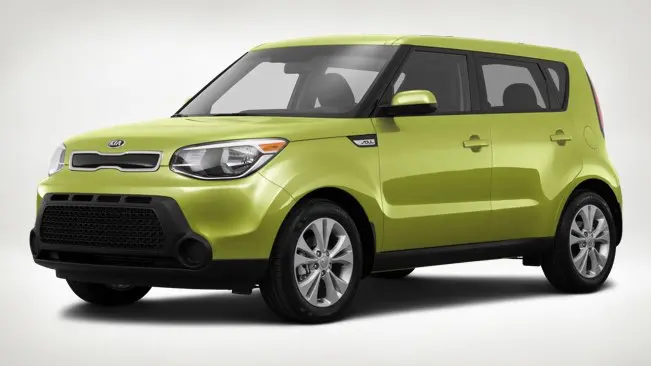 When the Kia Soul debuted in 2009, there wasn't much else like it on the road. It was a box on wheels, a rolling square with its edges sanded off, an edgy cube with comfy seating for five. But as a compact SUV, it was anything but square — it was actually really cool. Its styling cues caught the attention of buyers seeking uniqueness and fun, and it does so to this day.
Like we said in our head-to-head review of the Honda Fit vs. Kia Soul, this small SUV gives you a lot of usable space for its size; customers are often surprised by the Soul's interior cabin capacity. And by all of its cool interior features!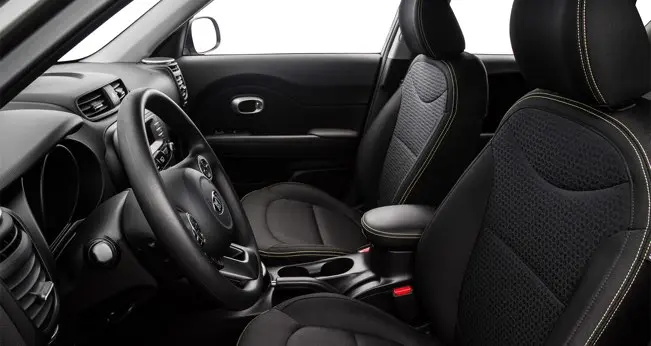 Whether you prefer the rounded body style of the first-gen Soul or the sharper, geometric design of the latest models, this crossover, compact SUV has a long list of qualities that give you lots to like. Here are 12 reasons to buy a Kia Soul.
Stand-out-in-a-crowd looks
The Soul's designers really had a party making this car. It's just flat-out a really unique shape and doesn't look like anything else on the road. The story goes that Kia's design team came up with the squared-off-yet-flowing, liquid-lines look after watching a wildlife documentary led to a freewheeling sketch session full of wild boars wearing backpacks.
Kia Soul colors include some trippy hues.
Mysterious Blue and Alien 2 Green. Caffeine Brown. Wild Orange. Late-model Souls come in colors that are as funky and offbeat as all the cool goodies you'll find inside them. And in case you like to roll in gray-scale, the Soul's color palette choices include Clear White, Bright Silver, Titanium Gray, and Shadow Black.
With 200 horsepower under the hood, the Soul Turbo has guts.
The 2017 Soul Turbo has some real power under the hood, making it a small family hauler with serious giddy-up. It beats a base-model Porsche in a straight-line acceleration test.
High-intensity exterior lighting to show the way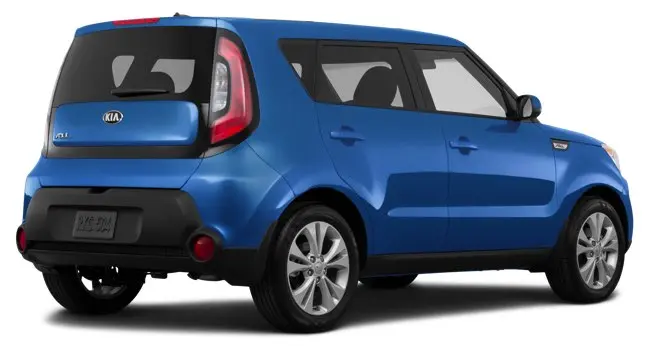 With the Kia Soul's high-tech exterior illumination, you can cruise through the night with plenty of light. Ultra-bright, high intensity discharge (HID) headlights make for easier navigation. Attractive LED taillights add an impressive bit of shine at either side of the rear liftgate.
Customize your Soul with lots of options.
If you want to customize your Soul, pick one that's equipped with your trim package of choice. While the base model has plenty of power and comfort amenities, the Plus trim package offers boosted power, fine-tuned suspension components, and upgraded interior features like leather seats and an Infinity® sound system. There's also a sunroof you can pop open to enjoy the cool breeze and gaze at the stars. If your hands get cold, flick a switch to heat the steering wheel. For a complete upgrade across the board, check out the Kia Soul Exclaim; along with even more interior upgrades, this model comes with a seven-speed, twin-clutch transmission and a 1.6L turbocharged engine.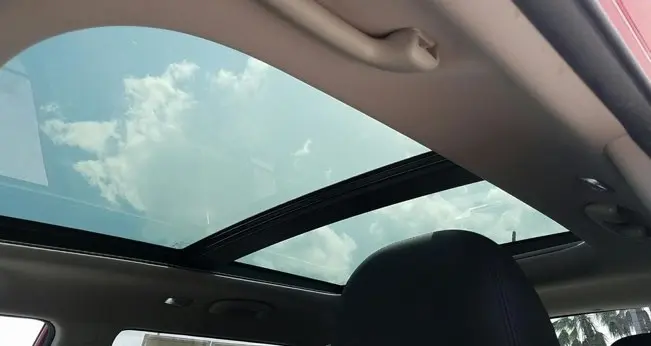 Get super-exclusive with the Denim and Shadow Dragon models.
For an even more eye-catching take on the Soul, consider searching for one of the two distinctive, special-edition Kia Soul models that were introduced in 2010. A limited run of 1,200 Denim edition vehicles features sporty racing stripes and side mirrors painted to match. The Shadow Dragon edition models give their drivers leather seats, dragon decals, and 18-inch wheels. Both of these special editions are hard to find, but they're worth the search if you want a unique ride.
Interior lighting really lets you set the mood.
Want to set the mood? The Kia Soul Sport, along with other trim packages and special editions, has the right tools. The interior lighting array lets you customize your cabin's color (warm or cool!) and brightness. A high-performance audio system synchs up to your interior lighting so the LEDs can pulse along to the beat!
Total app connectivity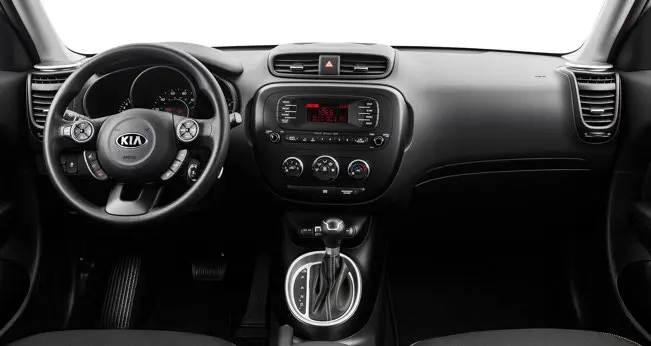 Love apps? So does Kia. In addition to bringing traditional radio and SiriusXM® right to your fingertips, the stock audio system in the AWD Kia Soul connects to the apps you use with your Android® and Apple® devices. Once you're connected, you can choose your radio stations, stream your music, and even upload files from your device to your vehicle. This connectivity can also help you locate your parked vehicle in a parking lot and transfer interesting places you find to the Soul's navigation system.
Race-inspired start button
The spirit of a race car is alive and well in the Soul with a motorsports-inspired start button on the center console, so you can quickly start the engine and hear it purr away as it warms up. If you want to flex your motorsports muscles from afar, you can fire it up with your key fob from the comfort of your couch. From the interior, the startup button supports accessory mode, so you can chill and use your apps or listen to music without running the engine.  
Comfortable, heated seats (both front and rear!)
Another standout feature for the Soul: both front and rear heated seats (heated rear seats still aren't all that common these days). In addition, the front seats are ventilated to keep you and your side-seater cool.
Ditch the gas engine and go EV.
If efficiency revs you up, the all-electric Soul EV might just spark you into action. The Kia Soul EV packs a fast-charging lithium-ion battery that lets you travel up to 93 miles on electric power. After that, just plug in to refill the vehicle's battery. A quick-charger lets you top off in less than six hours — pretty quick for an EV.
Expandable cargo space
As a compact crossover SUV, this vehicle can hold plenty of gear and equipment. Kia Soul competitors, like the Honda Fit and the Toyota RAV4, share a boxy design that gives you a lot of storage and carrying capacity. But you can quickly fold down the rear 60/40 bench seat and grow the Soul's cargo space from 24 cubic feet to an impressive 61 cubic feet. An optional cargo tray helps to keep all your gear organized.
Modern cars, especially compact SUVs, tend to look pretty similar. Not the Soul; its mix of features appeals to younger families looking for a standout vehicle. If you're Soul-searching, you've got a lot of choices for making your Soul unique!
Product and company names may be trademarks™ or registered® trademarks of third-party entities. Use of them does not imply any affiliation with or endorsement by these entities.