1. Unique and modern styling
Most people know about the Veloster's unique three-door configuration: two on the passenger side and one on the driver side. But the 2019 Hyundai Veloster is also known for its unique shape and style, as well. That design adds flair and character to its hatchback practicality and functional interior. From its sporty roofline to its aggressive grille and slim headlights, the Veloster looks ready for fun and function. Add to that a contrasting roofline for the 2019 turbo models, and the Veloster shows off its sporty side.
2. Fun-to-Drive experience
A multi-link suspension and stiff body structure give the 2019 Hyundai Veloster distinct handling capabilities. Add to that a firm (but comfortable) ride, and you might start looking for tight corners and twisty drives to try out on your daily commute—with two turbo engines to choose from, you're sure to have a fast and fun time doing so. There are the 1.6L four-cylinder turbo and the 2.0L turbo that comes with the 2019 Hyundai Veloster N. Those engines can be matched with a standard six-speed manual transmission, six-speed automatic, or a seven-speed dual-clutch transmission with the turbo.
3. Refined and comfortable interior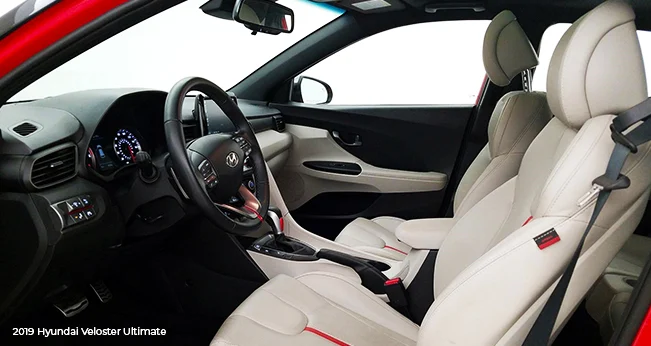 The crown jewel of the 2019 Hyundai Veloster's interior is the sizable infotainment touchscreen in the center stack. Seven-inches is standard while an eight-inch touchscreen is optional. There's also piano black trim and excellent interior materials. Up front, seats are ample and legroom measures 38.1 inches. Also, while base models offer cloth seats, the turbo DCT trim includes leather upholstery.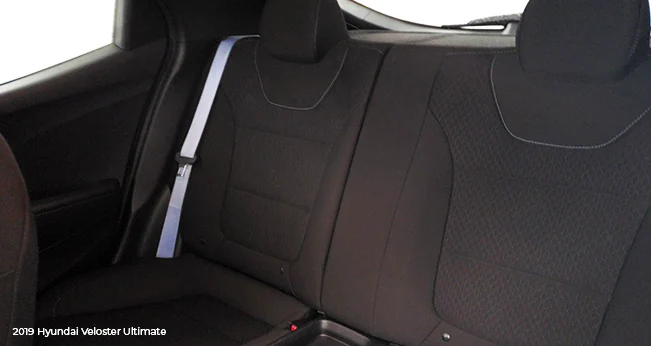 4. Lots of tech features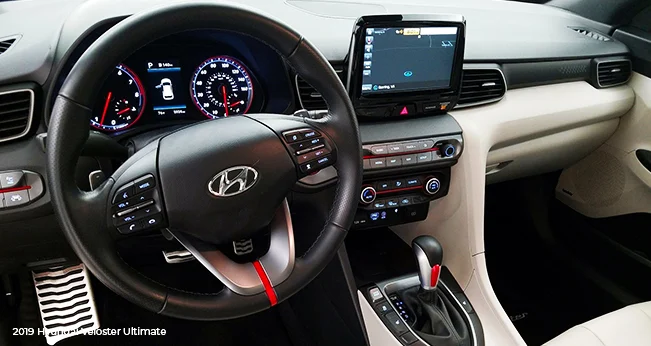 Technology is an important part of the 2019 Hyundai Veloster experience. Even on the base 2.0 trim, infotainment and connectivity features are numerous. There's Bluetooth®, a seven-inch touchscreen, Apple CarPlay® and Android Auto™, and more. Performance tech includes drive settings as standard, while the automatic transmission features Normal, Sport, and Smart modes. Manual transmissions get Normal and Sport modes only.
5. Plentiful power options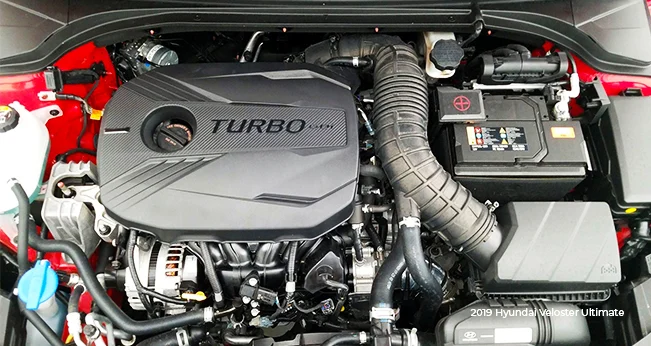 The base model 2019 Hyundai Veloster is slightly more powerful than the previous model years. The 2.0L four-cylinder engine is rated at 147 horsepower and 132 lb.-ft. of torque—15 horsepower more than the 2017 model. And power options don't stop at the base model; the 2019 Hyundai Veloster also offers two turbocharged engines: a 1.6L turbo four-cylinder engine, making 201 horsepower and 195 lb.-ft. of torque and a 2.0L turbo four-cylinder that generates 275 horsepower and 260 lb.-ft. of torque, exclusive to the 2019 Veloster N.