9 Best Pickup Trucks under $25,000
---
PUBLISHED MONDAY, NOVEMBER 23, 2020
Hardworking pickup trucks on a budget.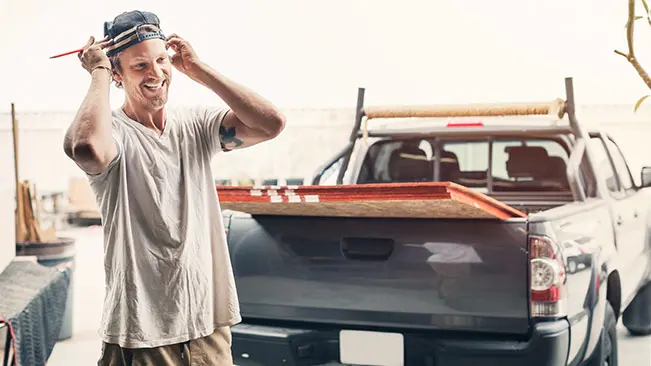 Pickup trucks have long had a reputation for being tools of the trade — vehicles that are a means to an end. Rugged and tough, they're purpose-built for difficult jobs that require durability and strength. As pickup trucks have evolved over the years, they have retained those qualities and also assimilated the refined attributes of their luxury car and SUV counterparts.
It's hard to find something on four wheels that can do what a pickup truck can, especially if you're looking for both utility and luxury. Trucks can be so comfortable and well equipped, you'll be happy to call one your daily driver. And if you value utility and practicality, pickup trucks are a great choice.
To help you on your search, we've compiled a list of the 9 best pickup trucks under $25,000, based on CarMax vehicle and sales data from April 1, 2020 through September 30, 2020.1 Please be aware that certain model years and upper trim configurations could bring the prices of some of these trucks over $25,000.
At the top of this list you'll find the trusty Nissan Frontier SV. The Frontier has soldiered on with only minor changes for more than a decade. The SV trim sits in the middle of the lineup and for 2019 comes with some nice creature comforts, such as dual-zone climate control and heated front seats. Pair that with the available V6 engine and four-wheel drive, and the Nissan Frontier SV is a solid choice for a well-rounded pickup truck.
Appearing twice on our list, the Ram 1500 is available in a wide variety of trim packages, helping you find one that suits your needs. The Tradesman, for example, is built to be a workhorse and is well-equipped to do the dirty work. The Ram 1500 debuted a new body style in 2019, but if you're a fan of the previous generation, the Ram 1500 Classic is a great choice.
The twice-listed Toyota Tacoma is known for its expert approach to tackling the duties you'd expect from a truck. While many trims of the Tacoma are available with 4x4, the Toyota Tacoma PreRunner is RWD but still retains the elevated ride height of its 4x4-equipped siblings.
From no-frills rugged work trucks to decked-out trims reminiscent of the finest luxury cars, there is a pickup truck setup for just about any preference. Whatever your needs, you can use this list to find a pickup that suits you best. Need more information before making a decision? Check out these related articles:
1
Based on prices on carmax.com from April 1, 2020 through September 30, 2020. Actual prices may vary based on your selected model year, features, and trim packages. Prices do not include taxes, tags, titles, and any applicable fees.