Hurricane Florence And Your Car
---
PUBLISHED WEDNESDAY, SEPTEMBER 26, 2018
Recovery following Hurricane Florence.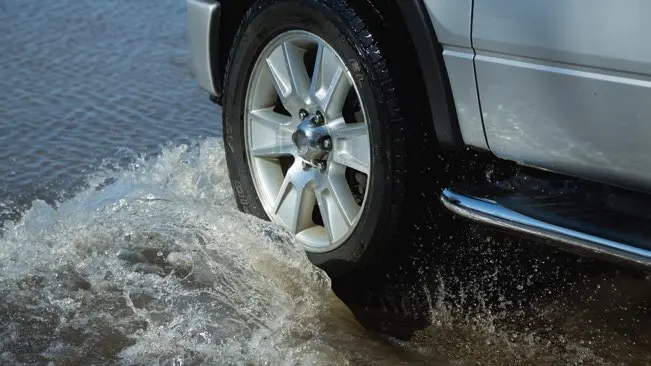 Thousands of people in the southeastern US have been affected by Hurricane Florence, and CarMax wants to help by providing valuable information to owners of flood-damaged cars. Keep these tips in mind so you'll know how to assess damage and avoid those cars when it's time to buy a replacement.
Suspect flood damage? Don't start your car!
If you think your vehicle may have water damage, do not attempt to turn it on or operate it until you've informed your insurance company. Your provider should advise you on when and how to start your vehicle, and where to take it for inspection, or if an inspector will come to you to formally assess any damage.
We can't stress this enough: use extreme caution when determining the extent of the damage and contact your insurance provider as soon as possible.
How to check for flood damage
If you're sure the water did not reach the level where your car door opens, it's probably safe to drive. You should still have it inspected by a mechanic as soon as possible. Some makes and models have their batteries and other sensitive electronic components housed at a low point in the car's frame, like the lower part of the engine or near the spare tire compartment in the trunk.

If you suspect or see evidence that water has risen above your door openings, do not start your vehicle. Even if it doesn't start, any attempt to get your car running could cause further damage. Have your vehicle towed to a mechanic for inspection.

If you suspect water damage, have a mechanic check all the fluids. "For example, if your oil indicator is high, that may be a sign that there's water in your engine," says Mark Royer, a master technician for CarMax in Charlotte, North Carolina. Water can contaminate fluids which can lead to expensive repairs down the road.
Flood-damaged vehicles are often neither mechanically, nor structurally sound. Water damage reveals itself in several ways.
In the short term, electrical issues are commonly the first to become apparent

Longer-term problems can include rust and corrosion, which could affect a vehicle's structural integrity
How to avoid buying a flood-damaged car
Here are four things you can do to avoid purchasing a flood-damaged vehicle:
Watch for excessive condensation on the interior of windows and windshields. Especially on warm days, condensation can indicate that there's excessive moisture inside the vehicle.

Check behind the front seats and inside the spare tire well. Both are common areas for sitting water to pool and cause damage.

Inspect for rust. Excessive rust in the spare tire well, engine compartment, or undercarriage of the vehicle can be an indication of flood damage.

Check the Vehicle History Report. Using the VIN, you can see whether a flood claim has been filed, or if a salvage title has been issued.
For more precautions you can take, see our full article How to Identify and Avoid Flood Damaged Cars.
CarMax does not sell flood-damaged vehicles, but we do see these vehicles in the marketplace. We've bought and sold more than 8 million cars over the years, so our nationwide team knows what to watch out for.
You can see a free vehicle history report on every car on carmax.com®. Learn more about understanding vehicle history reports in our article Do You Know Your Car's History?
CarMax American Red Cross Partner
CarMax is a national American Red Cross Disaster Responder Partner, annually donating $250,000 to ensure immediate response to those affected by disasters big and small. This support enables the Red Cross to help people affected by disasters like storms and countless other crises. CarMax is encouraging associates to donate to the Red Cross. For every dollar an associate donates, The CarMax Foundation will donate two dollars.