Free VIN Check Vs. Free Vehicle History Report
---
PUBLISHED THURSDAY, MAY 3, 2018
What's the difference?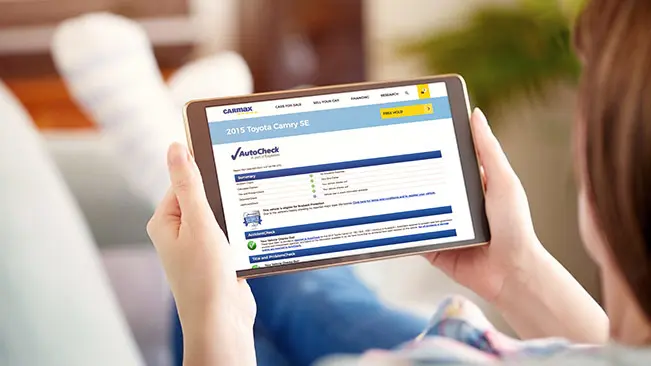 Vehicle Identification Number (VIN) checks and vehicle history reports are terms that are often used interchangeably. But there's actually a difference.
What's the difference between a free VIN check and a free vehicle history report­­?
Free VIN checks, like the service offered by the National Insurance Crime Bureau, let you enter a vehicle's VIN to learn if it has been reported as stolen (but not recovered) or listed as a salvage vehicle by select insurance companies.
CarMax doesn't offer a free VIN check on the cars we sell — we go one step further. When you're considering a vehicle from CarMax, you'll get a free vehicle history report from AutoCheck on every car, truck, SUV, or van in our inventory, up front, while you're still shopping.
A vehicle history report uses a car's VIN to access information reported to government agencies, manufacturers, vehicle auctions, repair facilities, and other third parties with whom the history report provider has contracted. A vehicle history report can tell you if one of these groups is reporting an accident or flood damage on a vehicle. It could also indicate whether the history report provider has received reports of damage by fire or reports that the vehicle was totaled.
While it may not be possible for a used car's complete history to be known, AutoCheck reports can help you avoid surprises, as well as potentially expensive repairs down the road!
What's a VIN?
A car's VIN is a unique set of 17 characters that can contain capital letters in addition to numbers, without symbols or spaces. Each car has only one VIN, which cannot be altered, changed, or removed without permission from the manufacturer, or, in some instances, from state/local officials.
VINs were standardized as a 17-digit series in 1981 by the National Highway Traffic Safety Administration (NHTSA). No VIN can be reused more than once every 30 years.
Where can you find a car's VIN?
The main location for a vehicle's VIN is on the dashboard, where you'll find it on a metal plate.
Other common VIN locations can include:
On the door frame/door post of the front door (usually the driver's side)

On the engine

On the car's firewall

In the left-side inner wheel arch

On the steering wheel/steering column

On the radiator support bracket
What's included in a free AutoCheck Vehicle History Report from CarMax?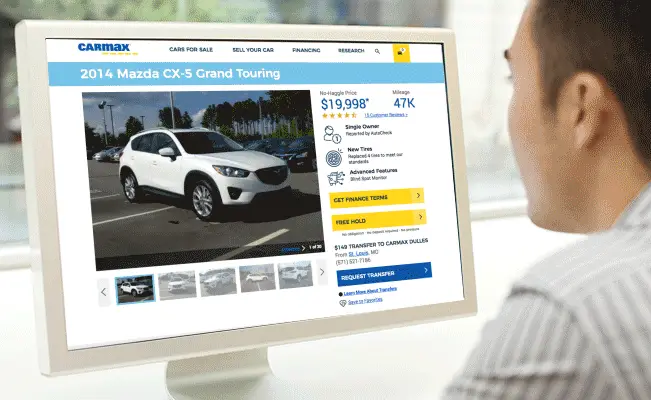 You can get a free AutoCheck Vehicle History Report on any CarMax vehicle page. Just click the free AutoCheck Report button on a specific vehicle's page to get that car's free vehicle history report, so you'll know:
If AutoCheck is reporting any prior accidents. Collisions can damage the framework and moving parts of used vehicles, including vehicles with unibody construction, such as the Honda Odyssey. The Accident Check feature on your car's AutoCheck report reveals reported collisions. Accidents left unreported to the police may not show up on the report. While no report is perfect, it can give you a better sense of a car's history.

If there's been any reported frame, fire, or water damage. CarMax does not sell vehicles with histories that include flood damage or fire damage, nor do we sell frame-damaged cars or trucks.

The status of its title. The title verification section reflects historical title events and, at times, even the cause of any change to its designation. After a serious collision or natural disaster, a vehicle may be reported as salvaged to state agencies. Repairing the damage does not fully restore the title to its prior state, and it will usually be reflected as "rebuilt" or "salvaged" on future reports. A rebuilt title can dramatically drop the vehicle's value despite a lack of noticeable damage or defects.

Whether the odometer has been illegally manipulated. The odometer section of an AutoCheck report lets you review a history of reported readings for comparison to the numbers displayed on the dash. Discrepancies in this area can reflect tampering with the odometer, which can have a detrimental effect on your car ownership experience. CarMax does not sell vehicles whose odometers have been "rolled back."

If it was a rental or fleet vehicle. See the Vehicle Use and EventCheck section for this information. CarMax doesn't sell vehicles that have seen use as taxis; however, we do sell cars and trucks that were once used as fleet and rental vehicles.
AutoCheck also calculates an estimate of how many previous owners a car has had.
Of course, whenever you're shopping for a used car or truck, you'll want to gather as much information as possible, in addition to checking out its vehicle history report. Be sure to do plenty of research, including test drives. If you're considering a used car from a private seller, you can purchase an AutoCheck Vehicle History Report on the car. There are many AutoCheck subscription options to meet your needs.
Looking to learn more? Check out these 12 smart tips for buying the right used car.