Car Titles Explained
---
PUBLISHED MONDAY, MARCH 23, 2020
Your questions, answered.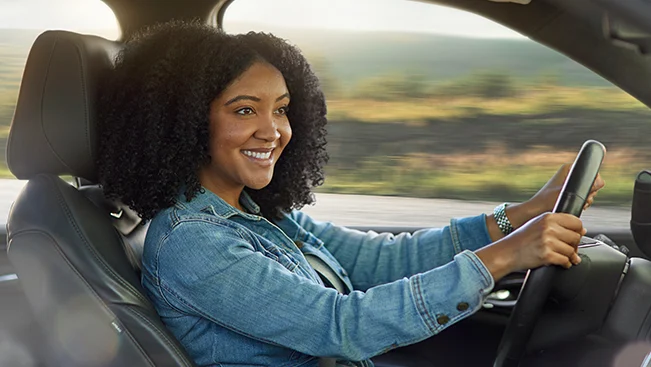 Shopping for a car can be a lot of fun! It definitely pays to be well-informed and to do your research, especially when it comes to buying a used car. For starters, when you think you've found the right car, it's always a best practice to get a vehicle history report. A vehicle's history may reflect the state of its title. There are plenty of nuances on how vehicle titles work depending on the state you live in. To take some of the guesswork out of this process, we've compiled a helpful list of frequently asked questions about car titles straight from our customers.
Read on to learn more about car titles and the types of titles you may encounter while shopping for a used car. Please note that car title practices and requirements vary by state, so it's always best to check with your local DMV if you have questions.
What is a vehicle title?
A vehicle title is a legal document showing proof of ownership of a vehicle.  It contains important information about the vehicle and it is necessary that all of the information on the car title is complete and accurate.
Why is a title important?
Having a title for your vehicle is essential because it serves as official proof that you own your vehicle.
What's on a vehicle's title?
A car title is home to much of the key information related to that car and who owns it. In the United States, a vehicle's title is issued by the state where the car is registered. Generally, the first piece of information on the car's title is the vehicle identification number (VIN). Also included are the year, make, and model of the car and the car's odometer reading at the time the title was issued. The owner's (or owners') full name and address are also found on the title and, if there's a lien on the vehicle, information for the financial institution involved. If there is a brand on the title, it will be noted as well.
Your title also includes a section for you to sign if you sell the car, noting the current odometer reading of the car. The buyer will then sign this to transfer the title.
What does "and/or" mean on a car title?
Sometimes a car can have multiple owners. There are several scenarios where multiple people can have ownership of the car. If "or" is used on the title, then it usually means either owner of the car can sign the title to sell the vehicle. When "and" is used, it typically means that both owners of the vehicle need to be involved with the sale and must sign the title before ownership can be transferred.
If "and/or" is used, then in most cases, both owners will need to sign.
What is a lienholder?
A lienholder is most often the financial institution that holds the title on a car if the purchaser financed their vehicle purchase—rather than paying cash. It can differ by state, but usually, your financial institution will hang on to the title until the balance of the loan is paid off. In addition to finance companies, liens on cars can also be present when the owner used the car as collateral for cash (which is called a title loan) or if a someone used the vehicle to secure a debt (such as for unpaid bills to a mechanic or a towing company). When buying a used car, it's important to confirm that all liens have been paid before you buy it.
What are the different types of titles?
There are many different types of titles. You will find an explanation of some common types below, which include clean titles, clear titles, out of state titles, and branded titles. Again, this may vary by state, so check with your local DMV for more information.
Clean vs. Clear
When people start talking car title lingo, both clean title and clear title get thrown around a lot, often interchangeably. What is a clean title? While this definition can vary, at CarMax, when we say "clean title," we mean that the title doesn't have any brands that relate to prior damage and that there are no outstanding liens. However, just because a vehicle may have a clean title, this does not mean that it has never been in an accident. It's very common to have a vehicle history report done on a car that has a clean or clear title and still find an accident in its history. "Clear title," usually means that there is a clear chain of vehicle ownership.
Out of State Titles
Whether you own your vehicle outright or have a lien on your car, a vehicle title will be issued by your home state. When purchasing a used vehicle, it could be that the car you're looking at is in a neighboring state—or on the other side of the country.
The procedure for transferring an out-of-state title to a new owner can vary from state to state. It's always a good idea to do some research to find out what the exact rules are in your state before purchasing a used car from a private owner with an out-of-state title. Contacting your local DMV is a great place to start because the requirements can vary from state to state.
What are branded titles?
A title brand lets you know information about a vehicle's history. Brands vary state-by-state, but some common ones include damage related brands (such as salvage or flood), brands indicating a problem with the odometer (such as not showing the actual mileage), or a brand that indicates that the vehicle is exempt from a mileage disclosure requirement. While each state defines certain title brands differently, below are some of the most common branded titles out there but you may come across others.
Salvage Title: Generally, salvage-title vehicles have been in a serious accident to the point where the cost of repairs exceeded a certain threshold set by the state.

Rebuilt Title: Generally, a vehicle with a rebuilt title was previously a salvage vehicle that has been repaired.

Flood/Water Damage Title: You will often find vehicles with this type of title near coastal regions where hurricanes are a common occurrence but water-damaged cars can show up closer inland years later when they go up for sale as well.

Lemon Title: On rare occasions, a bad egg will roll off the assembly line and cause nothing but trouble for its new owner so the manufacturer bought it back due to the vehicle's problems. This definition varies by state.

Odometer Rollback Title: Not Actual Miles" or "True Miles Unknown" brands indicate that a previous seller knew or had reason to suspect that the vehicle's odometer was tampered with to show miles less than what were actually driven.

Miles Exempt Title: Unlike the other brands, this brand does not show that an event occurred in the vehicle's history. Miles Exempt brands simply mean that the vehicle is over 10 years old and is now exempt from mileage disclosure. Some states automatically brand a car "exempt" at 10 years old, others allow the exemption to occur, while some states never use the brands. This brand is one of the few that you will ever see on a CarMax car.
What is title washing?
It is possible for a car to have a branded title in one state and not in another after the title has been transferred. This is referred to as "title washing." There are multiple scenarios where the previous owner of a vehicle can get a brand removed from the vehicle's title. This can be done by moving a car to a different state and withholding information at the time of re-title or tampering with the car's existing title. The term "title washing" can also be used to refer to people omitting a lender's name when they transfer the title. Whatever the method, title washing is illegal.
How do I find my title?
If you don't have your title, you may need to contact your vehicle finance company. If the title is not with them, you can request a duplicate title from the DMV. The process for this can vary from state to state but you should start by calling your local DMV office. Usually, you'll need to fill out a duplicate-title application and pay the relevant fee in order to get the title that proves you have ownership of a vehicle.
It's still worth doing your due diligence when buying a used car as even those with a clean or clear title may have something in the history that's worth knowing about. A vehicle history report will help you make the right buying decision when presented with additional facts.
Need to do some more research before buying a used car? Below you'll find some helpful articles: