Ask the Expert: Mini Cooper vs. Volkswagen Golf
---
PUBLISHED MONDAY, MAY 10, 2021
These two small hatchbacks are big on style and driving fun.
With thousands of vehicles in our inventory, we're here to help make car research easier for you. We've partnered with car-review experts from Edmunds to weigh in on what matters most when you're looking to buy a truck or car.
***
Vehicles Reviewed
There is something about hatchbacks that can quickly put a smile on your face. Take the Mini Cooper and Volkswagen Golf, for example. They're fun to drive but also surprisingly practical. But they do have some differences. The four-door Volkswagen Golf is more refined and spacious, while the two-door Mini is more playful and spirited. Choosing one or the other can be difficult.
Let's take a closer look to see which one fits you best. Edmunds' Ryan ZumMallen walks you through the details and makes specific recommendations.
What are your options?
The current-generation Mini Hardtop has been on sale since 2014. It comes as a two-door coupe hatchback, a two-door convertible, and, since 2015, a four-door hatchback. Note that Mini called it the Cooper from 2014 to 2016 and then renamed it to be the Hardtop for the hatchback (2 Door or 4 Door) or Convertible starting for 2017.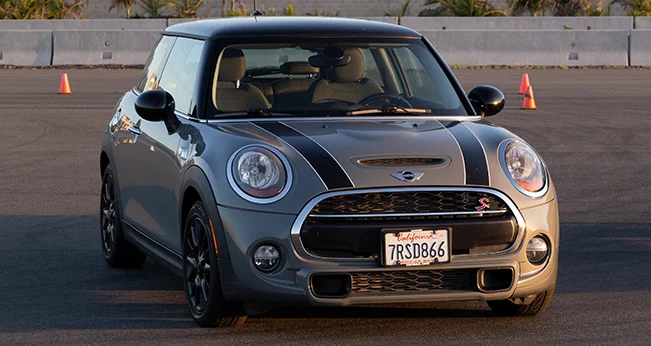 The current-generation Volkswagen Golf debuted in 2015. It comes as a four-door hatchback and, from 2015-2016, a two-door as well.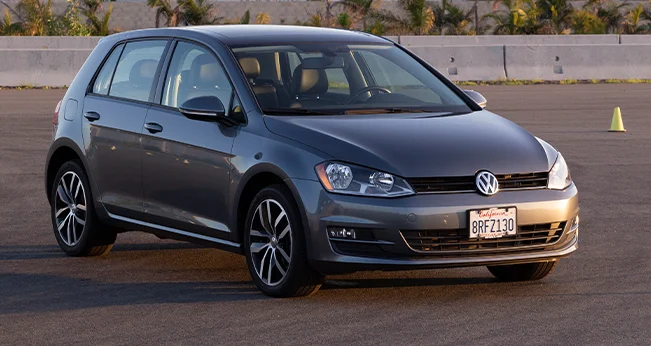 There are a few versions of the Mini from which to choose. The Mini Cooper Hardtop 2 Door comes in the base form or the quicker S, plus the high-performance John Cooper Works. There is even an electric Cooper SE starting for the 2019 model year.
The Golf also has a number of variants. Besides the standard model, there is the performance-focused Golf GTI and the top-dog, all-wheel-drive Golf R built from 2015 to 2019. You might also come across the electric version called the e-Golf made from 2015 to 2019.
For simplicity, this article only relates to the Cooper Hardtop 2 Door and four-door Golf.
Engines and fuel economy
The Mini's engine lineup for this generation includes: 
Base Cooper: Turbocharged 1.5-liter three-cylinder (134 horsepower)
Cooper S: Turbocharged 2.0-liter four-cylinder (189 hp)
John Cooper Works: Turbocharged 2.0-liter four-cylinder (2015 and newer: 228 hp)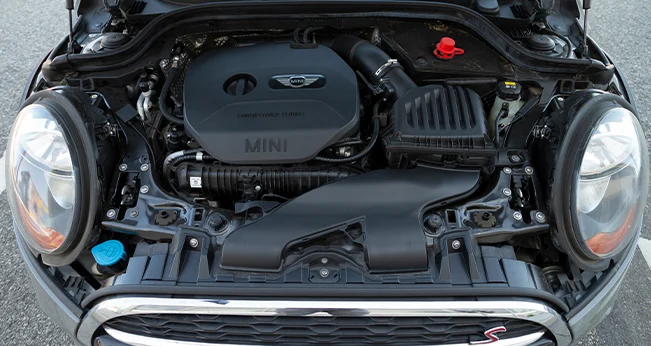 What you find under the hood of the Golf depends on the year:
2015-2018 Golfs: Turbocharged 1.8-liter four-cylinder (170 hp)
2019-2021 Golfs: Turbocharged 1.4-liter engine (147 hp)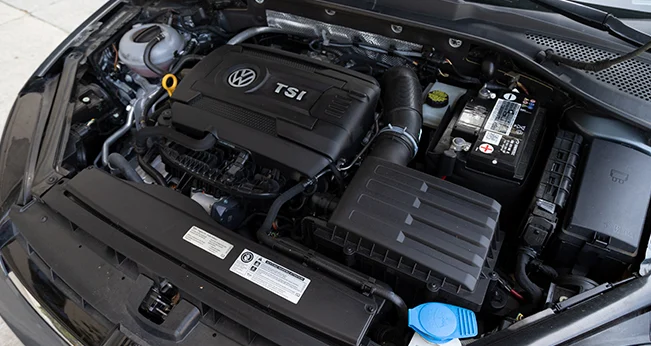 EPA fuel economy estimates for both vehicles vary depending on factors including the year, trim level, and powertrain. But for a general comparison, consider the 2017 model year.
The EPA estimates a base 2017 Mini Cooper with the automatic transmission gets 30 mpg in combined city/highway driving; manual transmission-equipped cars get an EPA-estimated 32 mpg combined. Meanwhile, the Cooper S gets an EPA-estimated 26 mpg combined with the manual and 28 mpg combined with the automatic.
For our 2017 example year, the EPA estimates the Volkswagen Golf gets 29 mpg combined with either the manual or automatic transmission.
Ryan's take: Both the Cooper and the Golf use small engines that pack a lot of performance inside. But my favorite is the 2.0-liter four-cylinder in the Mini Cooper S. It responds to the gas pedal with remarkable quickness and makes driving a thrill—yet it also gets an EPA-estimated fuel economy similar to the Golf. This is one case where the engine feels like a powerhouse and a bargain at the same time.
Interior and utility
The Mini is full of personality. It has eye-catching design with a center control stack the size and shape of a dinner plate. Mini uses soft surfaces and authentic metal accents to give the cabin an upscale vibe, and the supportive seats provide an excellent driving position. The Mini's biggest drawback is also its most obvious—the rear seats are cramped for almost any passenger.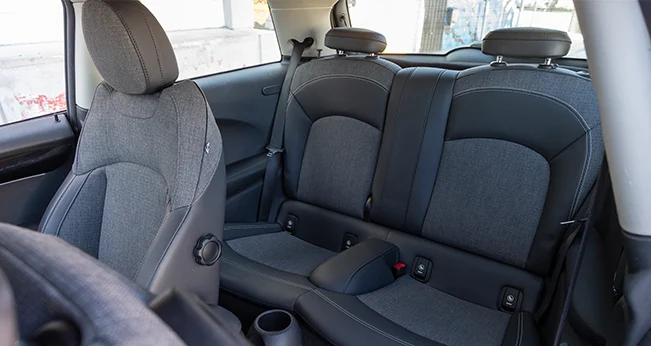 The Golf's design, by contrast, is more conservative. Its materials are a step above those used by competitors. It offers more leather and cushioning compared to the Mini, creating a comfortable and airy atmosphere. The front seats are supportive, and there's plenty of both headroom and legroom in the rear.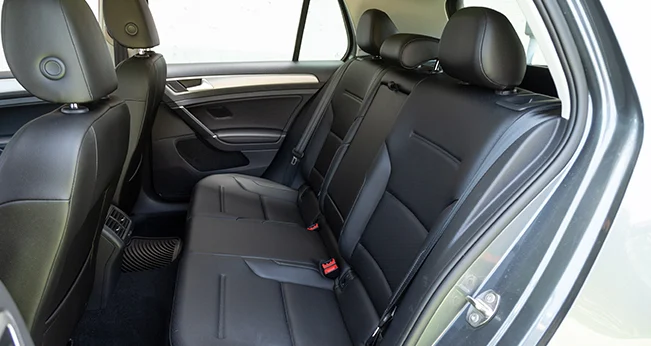 Both of these cars have a boxy profile that enhances cargo-carrying utility. But in the case of the Mini, its boxy shape can't fully overcome the car's diminutive size. It has a slim rear cargo area even if you fold down the second row. The Golf is a comparative champion of cargo room.
Ryan's take: It's easy to fall in love with the Mini's style, but the Golf is so useful that it can't be ignored. Compared to the Mini's cargo area, the Golf's is downright cavernous when you fold down the rear seats. Hoisting large items inside is no problem thanks to the large doors and low loading floor. Whether you're hauling luggage, camping gear, or sports equipment, you might need to step back and take a walk around to make sure the Golf isn't actually an SUV in disguise.
Technology
Mini makes many of the Cooper's technology features optional. This can be good for the original buyer and allow for customization. But if you're looking at a used Cooper, you might find it difficult to locate a vehicle with a particular feature such as a central display screen or an integrated navigation system. Note that Apple CarPlay®, which neatly integrates many of your phone's apps into the vehicle's main display, did not become available until 2019. Android Auto™ smartphone integration remains unavailable.
You'll find a standard central touchscreen with Apple CarPlay and Android Auto starting with the 2016 Golf.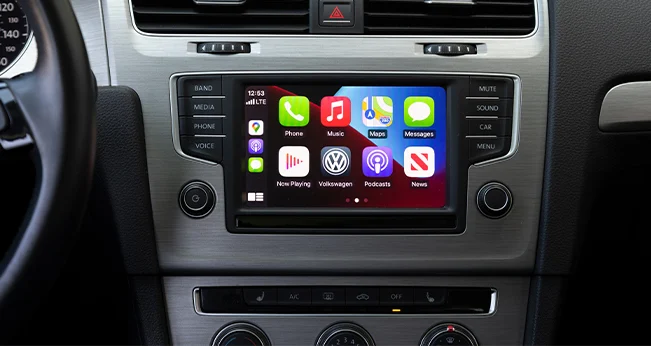 As for advanced driving aids, Mini offered adaptive cruise control (can help maintain a driver-set distance between your vehicle and the car in front) and forward collision mitigation (can help warn you of an impending collision and can apply the brakes in certain scenarios) starting with the 2014 model year.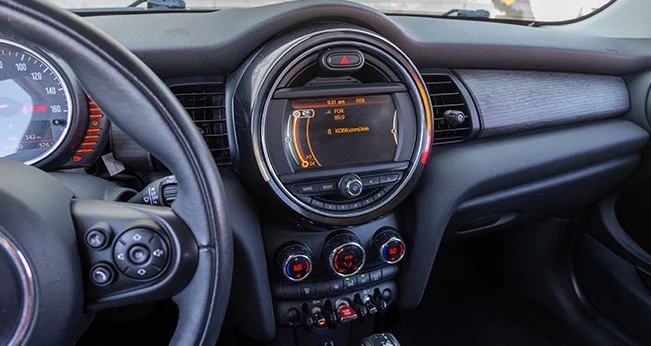 Volkswagen introduced blind-spot monitoring, adaptive cruise control, and forward collision mitigation as available features starting with the 2016 model year. However, adaptive cruise control only lasted that first year. VW discontinued it starting in 2017.
Ryan's take: The Golf is the superior vehicle for in-car technology features. Apple CarPlay and Android Auto are well integrated, and the VW's touchscreen menus are simple to navigate. By contrast, the Hardtop's infotainment system is more distracting to use. It's true that the Golf is limited to a 5-inch or 6.5-inch screen (depending on the year and configuration), while some versions of the Mini come with an 8.8-inch unit with impressive-looking graphics. However, it's better to have a small screen you can use than a larger one that annoys you.
What they're like to drive
You'll find a lot to like when you're behind the wheel of the Mini. It has direct, responsive handling that makes it fun to zip around turns. The turbocharged engines also offer an impressive punch when you step on the accelerator. The Cooper S, in particular, is an exciting vehicle to drive with its additional power.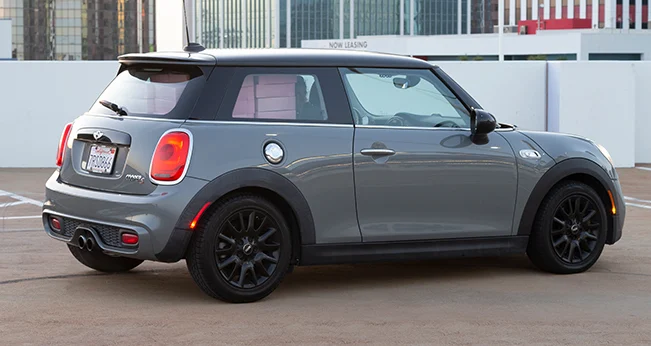 You should know, however, that the Mini can feel stiff and jittery over some road surfaces. Its suspension is tuned for sporty driving, but the trade-off is a lack of smoothness. If your emphasis is on driving fun, this won't be a problem. We recommend seeking out a Cooper with the manual transmission to benefit from a more engaging driving experience.
Comparatively, the Golf is more reserved on the road. It has a smooth and relaxed demeanor compared with the darty Mini. Still, the Golf offers direct steering response and stable handling ability on curvy roads. We also like the consistent pull of the turbocharged engine.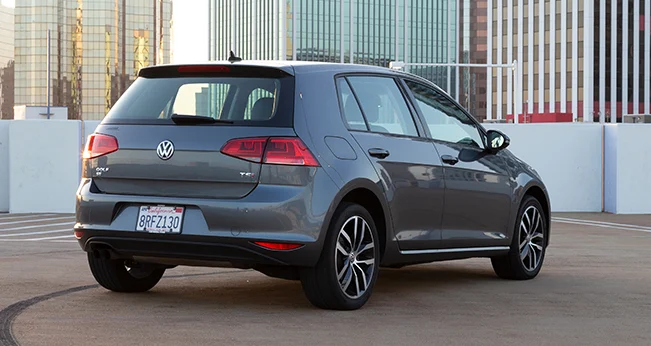 Ryan's take: Both of these cars feel excellent from behind the wheel, albeit in different ways. Everything good you've heard about driving a Mini is true—in two-door guise especially, the Cooper is a blast due to its quickness and tight handling. Don't be surprised to catch yourself smiling from ear to ear. And the Golf is no slouch. It has communicative steering that will make you feel confident taking a corner with some speed. There's also another layer of comfort and refinement on top of its sportiness. If anything, these two models complement each other and show the versatility that sporty hatchbacks bring to the table.
Conclusion
Both the Mini Cooper and the Volkswagen Golf exhibit the best qualities that hatchbacks have to offer. The Mini is compact and thrilling, while the Golf is elegant and roomy. The Golf will suit more buyers due to its size and on-road comfort, and it demonstrates the usefulness of hatchbacks over smaller sedans or thirstier SUVs. The Mini is simply a blast to drive, plus it bursts with personality. Either one is an excellent reason to enter the world of hatchback ownership.
Ryan ZumMallen has written automotive news and buying advice for nearly a decade. As an automotive reviews editor for Edmunds, ZumMallen examines trends in both the new and used markets with a focus on sporty, affordable cars, off-road trucks, and SUVs.