Ask the Experts: Should You Buy a Hyundai Elantra or Hyundai Sonata?
---
PUBLISHED THURSDAY, JUNE 10, 2021

BY EDMUNDS EDITORS
Your guide to two sedans jam-packed with modern features.
With thousands of vehicles in our inventory, we're here to help make car research easier for you. We've partnered with car-review experts from Edmunds to weigh in on what matters most when you're looking to buy a truck or car.
***
Vehicles Reviewed
2020 Hyundai Elantra Value Edition

2020 Hyundai Sonata Limited
Hyundai is a great place to start if you want a car with more value than initially meets the eye. Specifically, check out the Elantra and the Sonata. These two sedans are stylish, sensible, and packed with technology and convenience features. But which one is right for you?
Let's explore recent versions of these cars to find out. Edmunds' Ryan ZumMallen brings his experience with both models into this detailed guide, complete with personal recommendations.
What are your options?
Hyundai sold its sixth-generation Elantra for the 2017-2020 model years. The early 2017-2018 versions have a smooth and elegant body style, while the refreshed 2019-2020 models look more aggressive and angular. These 2019-2020 models also have an improved interior design and expanded availability of advanced driver aids. All Elantra sedans of this vintage have seating for five passengers.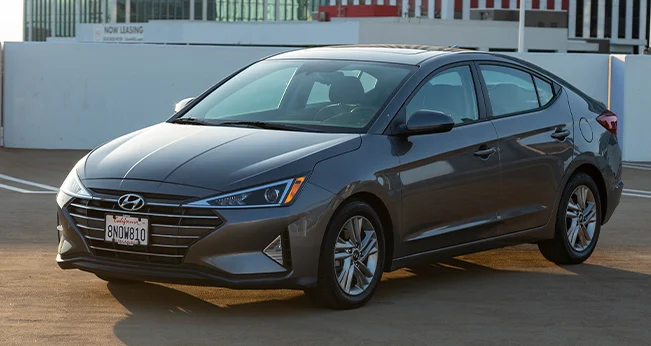 When shopping for them at CarMax, you'll encounter trim levels such as SE, SEL, Value Edition, Limited, Eco, and Sport. The SE is the basic version, while the Limited comes with the most standard features.
This article focuses on the Elantra sedan. However, there is also an available Elantra GT hatchback if you value more storage space. Hyundai introduced a redesigned Elantra for the 2021 model year, which we'll cover later as used models become more readily available.
On the other hand, the current-generation Hyundai Sonata debuted in 2020. It also has four doors, seating for five, and is available in the following trim levels: SE, SEL, SEL Plus, and Limited. The SE is the base version, and the Limited comes nearly fully loaded.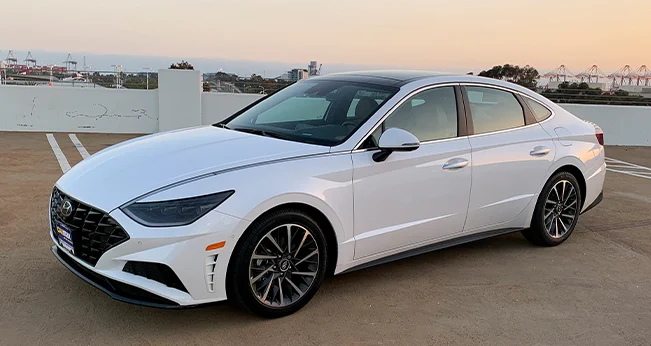 This article focuses on the gasoline-powered Sonata, but note there are Sonata Hybrid versions too.
Engines and fuel economy
For the 2017-2020 Elantra, you can choose from these engines: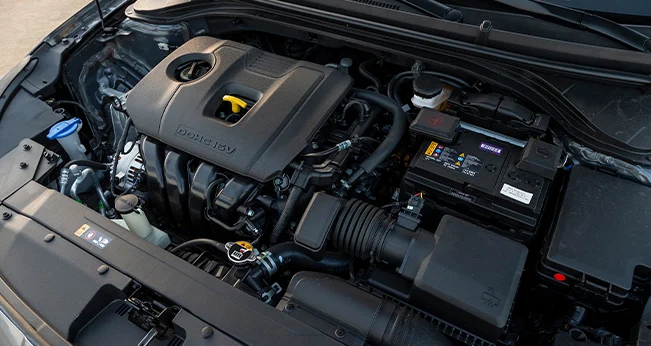 Elantra Sport: turbocharged 1.6-liter four-cylinder (201 horsepower)

Elantra SE/SEL/Value Edition/Limited: 2.0-liter four-cylinder (147 hp)

Elantra Eco: turbocharged 1.4-liter four-cylinder (128 hp)
The EPA's estimated fuel economy for the Elantra varies depending on the year, engine, and transmission. To get an idea of what to expect, here's the 2020 Elantra's EPA estimate for combined fuel economy in city/highway driving in models with the automatic transmission.
1.6-liter engine: EPA-estimated 29 mpg combined

2.0-liter engine: EPA-estimated 34 mpg combined

1.4-liter engine: EPA-estimated 36 mpg combined
The Elantra offers a manual transmission on all engines except the 1.4-liter. However, those models have a lower EPA estimate than the automatic-equipped versions.
Under the hood of the 2020-2021 Sonata you'll find:
Sonata SE/SEL: 2.5-liter four-cylinder (191 hp)

Sonata SEL Plus/Limited: turbocharged 1.6-liter four-cylinder (180 hp)
Fuel economy estimates for the 2020 Sonata are more straightforward:
Turbocharged 1.6-liter engine: EPA-estimated 31 mpg combined

2.5-liter engine: EPA-estimated 31 mpg combined

2.5-liter engine and engine stop-start system: EPA-estimated 32 mpg combined
The Sonata does not offer a manual transmission as an option.
Ryan's take: Even if you choose the Elantra Sport with more horsepower, it's still not a fast or exciting car. For that reason, I recommend the 2.0-liter engine because it suits the Elantra's leisurely personality and gives you more trims to choose from. On the Sonata, both available engines feel lively. There's not much difference in rated power or fuel economy, but I have found the turbocharged 1.6-liter to be a little punchier around town.
Interior and utility
Inside, the Elantra meets the basic needs of a small-car buyer. It offers spacious seating and easy-to-use controls. The cabin design has a friendly look, and Hyundai uses soft materials on parts you will frequently touch. However, this is still an economy sedan. You'll notice plenty of cheap-looking plastic, and the front seats feel flat after you spend some time behind the wheel. Function over form is the name of the game in the Elantra.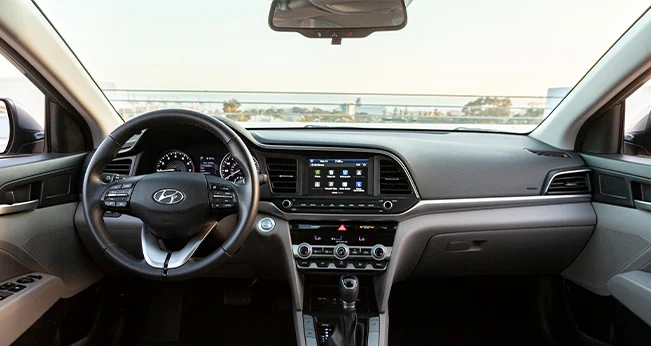 The Sonata is a newer design and immediately looks and feels more chic. The materials are a step above those in the Elantra, with soft surfaces throughout the cabin. Due to the roofline's slope, taller passengers have to duck to enter the back seat. But once there, you'll discover  an abundance of legroom. Our biggest gripes are some materials that appear more upscale than they actually are, such as fake aluminum on the steering wheel and glossy black plastic that easily shows finger smudges.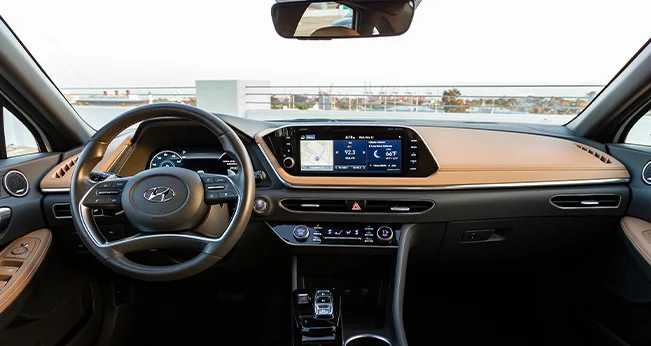 When it comes to cargo, the Elantra has average total capacity for a car its size. While the trunk isn't very tall inside, it has a wide opening and extends quite deep until you hit the second row of seats. By contrast, the Sonata's utility is well above average for its class. The opening is very wide, and the long roofline allows for an extra-deep cargo area. You'll be able to lay several overhead suitcases down flat with room to spare.
Ryan's take: Hyundai does an excellent job with first impressions. Considering the price of the Elantra, its interior has more personality than you might expect. I particularly like the fun button designs and swooping dashboard styles—to me, they make up for the plentiful plastic surfaces. Interior style is the Sonata's sweet spot, however. It's a newer car, so the style is refined and even fashionable. You will notice some blemishes over time, like plastic disguised as metal, but there are more pros than cons. Plus, all that cargo space!
Technology
Base versions of the Elantra are sparse when it comes to tech features. We recommend you look for the SEL or Value Edition trim to get a 7-inch touchscreen with Apple CarPlay® and Android Auto™ smartphone integration included as standard. Find a top-trim Elantra Limited and you'll get an upgraded stereo system, dual-zone automatic climate control, and, possibly, an 8-inch screen and integrated navigation system.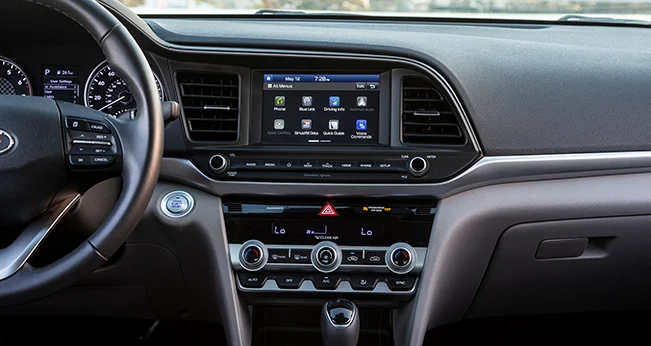 The Sonata represents a step up in this department. Both Apple CarPlay and Android Auto come standard on every trim level, and an 8-inch touchscreen is included too. If you'd rather upgrade to a 10.25-inch screen, look for the SEL Plus model with the optional Technology package or scoop up the top-level Limited trim. You'll get an integrated navigation system, a premium audio system, and a panoramic sunroof.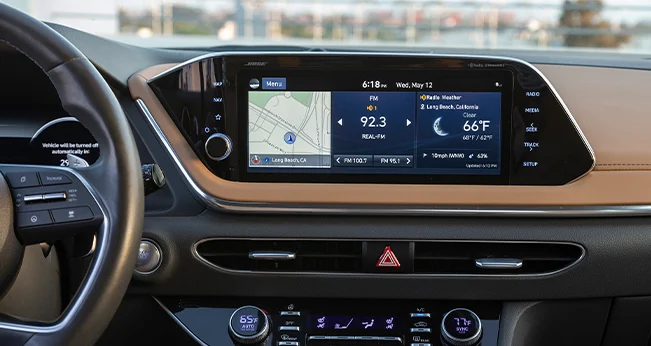 As for advanced driving aids, the best way to get them in the 2017-2018 Elantra is to find a Limited with the optional Ultimate package. But Hyundai changed things up in 2019. That's when all trims except the base SE began to include:
Forward collision mitigation (can warn you of an impending collision and automatically apply the brakes in certain scenarios)

Blind-spot monitoring (can alert you if a vehicle in the next lane over is in your blind spot)

Lane-keeping assist (steers back into its lane if the Elantra begins to drift over the lane marker)
Driver aids are another strong point for the Sonata. All versions of the current generation of Sonatas come standard with:
Forward collision mitigation

Lane-keeping assist

Adaptive cruise control (can maintain a driver-set distance between your vehicle and the car in front)
Every Sonata except the base SE also has a blind-spot monitoring system.
Ryan's take: Both cars have an easy-to-understand infotainment system. The large, vivid screen on the Sonata will be reason enough to choose this car for some shoppers—it makes a difference when it comes to providing a modern, almost luxurious feel. The Sonata also offers the innovative Remote Smart Parking Assist system that can move the Sonata in and out of tight parking spaces without anyone inside. But unless you find yourself in this situation on a regular basis, skip it and enjoy the Sonata's set of proficient tech features instead.
What they're like to drive
Behind the wheel of the Elantra, you'll notice a lack of speed right away. Even the optional turbocharged engines are slow to accelerate. The best way to drive the Elantra is with a focus on being smooth. At easygoing speeds, whether in the city or on the highway, it feels right at home—the steering is accurate and the brakes are responsive to the touch. This mellow driving style will also make the most of the Elantra's excellent fuel economy ratings.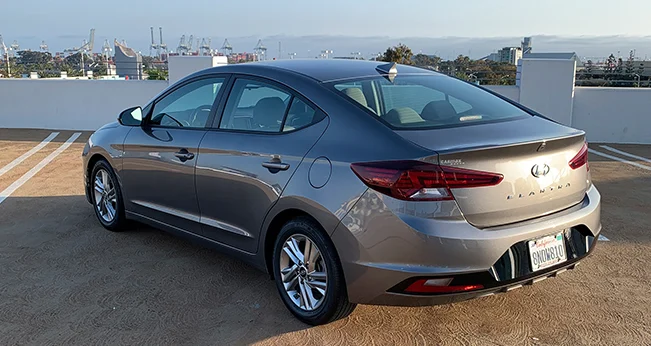 The Sonata feels quicker. Both of its available engines are strong enough to keep pace with competitors. Oddly, the Sonata is not as relaxed as the smaller Elantra on the road. It has a firm ride for a midsize sedan, transmitting more bumps and vibrations from the pavement into the cabin. At times, the brake pedal can also feel somewhat jerky, detracting from what should be a smooth drive. The ride is not uncomfortable, but it doesn't match the modern look and feel inside.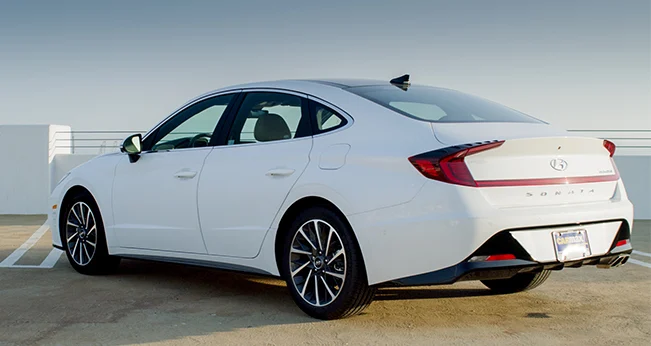 Ryan's take: If the Sonata had a more plush ride, it would be my top pick out of all midsize sedans, hands down. As it stands, the busy suspension distracts from what should be a near-executive level experience. The Elantra is more enjoyable to drive every day. Sure, it's slow, but we don't expect speed from these Hyundais, and you shouldn't either. With the Elantra you get a polished and consistent drive every time.
Conclusion
Hyundai is an excellent choice when you want a sedan that will maximize your dollar. The Elantra provides strong EPA-estimated fuel economy and comes with features typically found on pricier competitors. Meanwhile, the Sonata is impressively spacious with a lot of advanced technology that will make everyday driving more enjoyable.
We also recommend you check the details. Hyundai offers generous warranties on new vehicles, including the Elantra and Sonata, and has added new guarantees such as extended free maintenance on some vehicles in 2020. The coverage can possibly extend to used vehicles you may find.
There are many good reasons to consider a Hyundai sedan. The Elantra and Sonata offer distinct advantages that meet the needs of a wide variety of drivers. Both provide pleasing practicality and character owners can enjoy for years to come.
Ryan ZumMallen has written automotive news and buying advice for nearly a decade. As an automotive reviews editor for Edmunds, ZumMallen examines trends in both the new and used markets with a focus on sporty, affordable cars, off-road trucks, and SUVs.