Ask the Experts: Should You Buy a Hyundai Elantra or Toyota Corolla?
---
PUBLISHED MONDAY, SEPTEMBER 27, 2021

BY EDMUNDS EDITORS
These two sedans provide excellent comfort and practicality.
With thousands of vehicles in our inventory, we're here to help make car research easier for you. We've partnered with car-review experts from Edmunds to weigh in on what matters most when you're looking to buy a truck or car. 
***
Vehicles Reviewed
2020 Hyundai Elantra Value Edition
2020 Toyota Corolla SE
Small sedans such as the Hyundai Elantra and Toyota Corolla are all about smart use of space. These two aren't as big as their larger counterparts, the Hyundai Sonata and Toyota Camry, but they're sufficiently roomy inside. Fully loaded versions also come with plenty of the latest technology features and advanced driver aids. So does the Elantra or the Corolla fit your needs the best?
Below is a full breakdown of the two models and their strengths and weaknesses. Edmunds' Ryan ZumMallen brings his experience with both models into this detailed guide, complete with personal recommendations.
What are your options?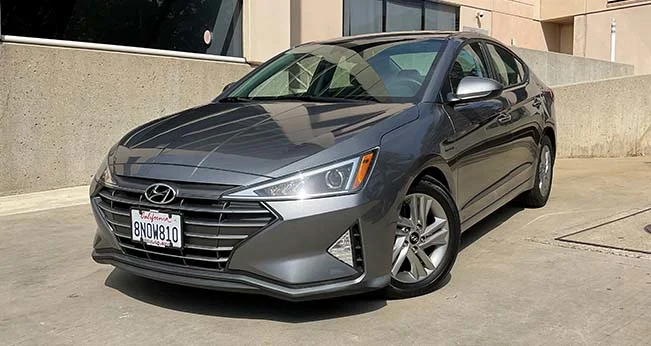 Hyundai introduced the sixth-generation Elantra in 2017. When shopping for one, you'll likely notice slightly different styling. Models from 2017 and 2018 have a more flowing exterior design, while restyled Elantras from 2019 and 2020 have a sharper and more pointed look. But all Elantra sedans have seating for up to five passengers.
Expect to find this generation Elantra in trim levels such as SE, SEL, Value Edition, Eco, Sport and Limited. The SE is equipped with the basics, while the SE and SEL add more technology features. The Eco has the highest EPA-estimated fuel economy of the group, the Sport gets more power and the Limited is jam-packed with modern equipment.
This article focuses on the popular Elantra sedan. In addition, you may also choose to target a hatchback version called the Elantra GT for more storage capacity. In 2021, Hyundai introduced a redesigned seventh-generation Elantra that's not yet widely available on the used market.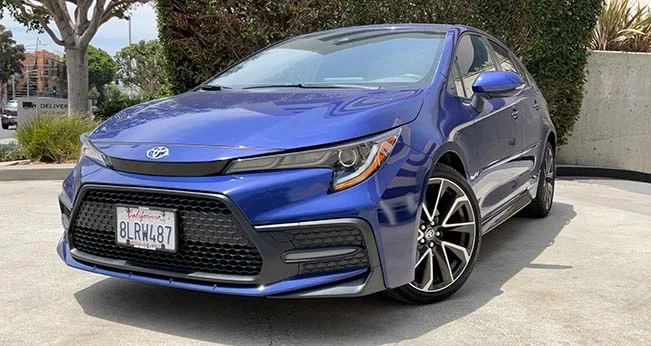 By contrast, the current-generation Toyota Corolla only debuted in 2020. Compared with previous versions, this Corolla has a refined exterior style and vastly improved interior. Like the Elantra sedan, the Corolla sedan seats up to five passengers.
You'll find a similar spread of trim levels for the Corolla. They include the Corolla L, LE, SE, XLE, and XSE. The L is the most basic version, while the LE and SE introduce helpful features. The XLE is a more premium version of the LE, and the XSE builds upon the sporty attitude of the SE.
This article focuses on the Corolla sedan. Like the Elantra, the Corolla is also available as a hatchback that can carry larger items inside its cargo hold. There is a gasoline-electric version called the Corolla Hybrid as well.
Engines and fuel economy
The 2017-2020 Elantra's trim levels determine what engine you get: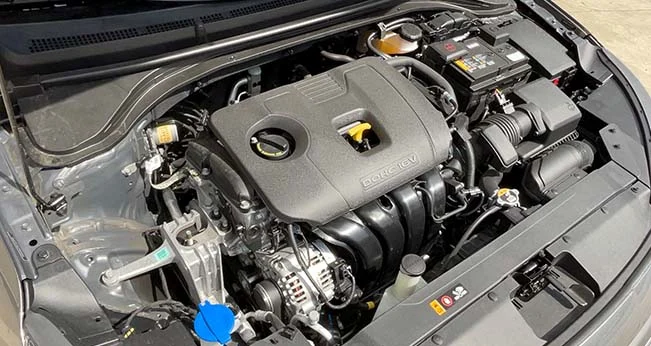 Elantra Sport: turbocharged 1.6-liter four-cylinder (201 horsepower)

Elantra SE/SEL/Value Edition/Limited: 2.0-liter four-cylinder (147 hp)

Elantra Eco: turbocharged 1.4-liter four-cylinder (128 hp)
The EPA's estimated fuel economy for the Elantra varies depending on the year, engine, and transmission. To get an idea of what to expect, here are the 2020 Elantra's EPA estimates for combined fuel economy in city/highway driving in models with the automatic transmission:
1.6-liter engine: 29 mpg combined

2.0-liter engine: 34 mpg combined

1.4-liter engine: 36 mpg combined
The Elantra offers a manual transmission on all engines except the 1.4-liter. However, those models have a lower EPA estimate than the automatic-equipped versions.
Under the hood of the 2020 Corolla you will find: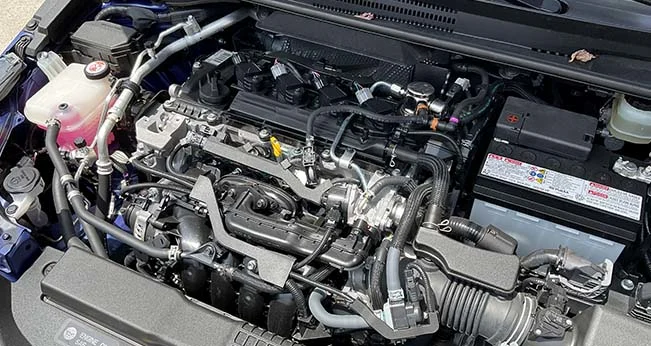 Corolla L, LE, XLE: 1.8-liter four-cylinder (139 horsepower)

Corolla SE, XSE: 2.0-liter four-cylinder (169 hp)
EPA estimates for the automatic-equipped 2020 Corolla are as follows:
1.8-liter engine: 33 mpg combined (32 mpg combined in XLE trim)

2.0-liter engine: 34 mpg combined
You may also find manual-transmission versions of the Corolla. Those with the manual and 2.0-liter engine fall to 32 mpg combined.
 Ryan's take: The 2.0-liter engine available in both vehicles is the way to go. In the Elantra this engine provides the extra muscle you need and still earns high EPA estimates. In the Corolla it not only breathes some life inside the hood, but it also gets the highest EPA estimates available in the model range. Truthfully, neither engine makes its respective car feel very fast. But they strike the best balance, which goes a long way in a small car.
Interior and utility
The 2020 Elantra has a friendly and well-thought-out cabin. Drivers and passengers alike will find a suitable amount of space and controls that are easy to locate and reach. Given that this is still an affordable car, the Elantra has its share of cheap-looking plastic parts. But the parts are designed with a hint of elegance, which adds character that is rare in its class. Some downsides include seat bottoms that feel flat compared to those in rivals, and a sloped roofline that will force taller passengers to duck when entering the rear. But once they're inside, they'll find an extra inch of legroom compared to the Corolla.
When it comes to the Corolla, there is a definite improvement in 2020 models over previous models. It has a more inviting atmosphere, with interesting design elements and attractive surfaces. But Toyota cannot quite shake some of its more stale components, with an abundance of large plastic panels in comparison with the Elantra. But in total, the Corolla offers spacious seating for passengers. The vehicle's height and large door openings make it easy to access from any angle, and drivers will find clear sight lines of the road ahead.
In terms of cargo, the 2020 Elantra has the more spacious trunk. Its wide opening and deep storage area elevate it to an above-average standing for the class. We also like the pull levers that allow you to easily fold down the rear seats. The 2020 Corolla has less storage space, but only by a little. It still works fine for everyday shopping and hauling needs. But there is noticeably less room to store small items inside the cabin, and it would be nice to have trunk levers to fold the rear seats as in the Elantra.
Ryan's take: I find the Elantra to have the better-designed interior. While lower-level trims certainly have an abundance of hard plastic, this remains an economy car with a thoughtful approach. Hyundai hides the frugality well with a combination of mixed materials and interesting design. And for someone who's always packing small items inside their car like me, the many in-cabin storage spaces come in extra handy. That said, the Corolla is a perfectly valid choice if its superior seat adjustability and overall ease of use sway your opinion.
Technology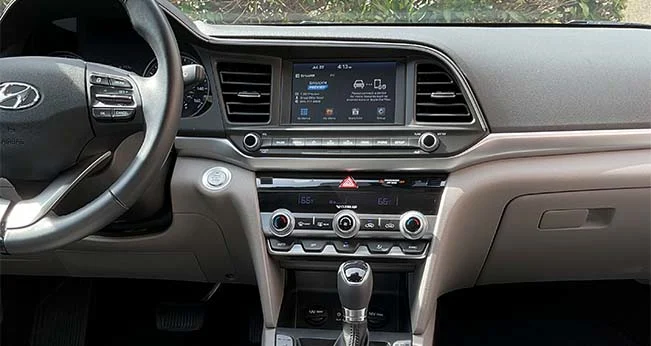 The 2020 Elantra is a solid choice if tech features are important to you. Skip the base SE and go straight to the SEL or Value Edition. Those come with a 7-inch touchscreen and both Apple CarPlay® and Android Auto™ smartphone integration. For the best tech features in an Elantra, pick the Limited trim. It has an upgraded stereo and wireless charging pad for your phone. Some versions of the Limited and Sport trims may have an 8-inch screen as well.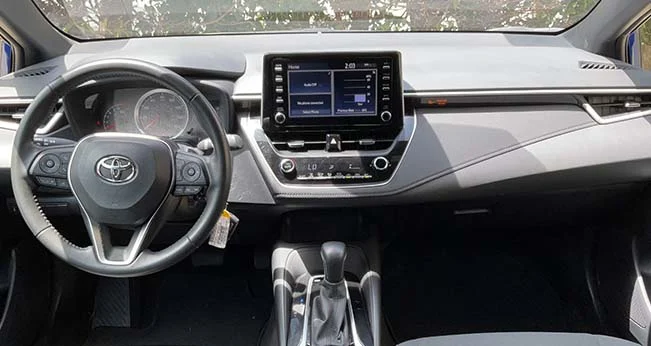 Even the base 2020 Corolla L has a 7-inch touchscreen and Apple CarPlay®. If you're looking for Android Auto, however, look elsewhere. It doesn't come on any Corolla until the 2021 model year. It's much easier to find a larger 8-inch touchscreen, which is standard on the LE and SE trims. Look for a Corolla XLE or XSE with the Connectivity Package to get nine speakers and an upgraded navigation system, or the Advanced Lighting Package for adaptive headlights and ambient interior lighting.
Both the 2020 Elantra and Corolla come standard with a few helpful driver aids. They include:
Forward collision mitigation (can warn you of an impending collision and automatically apply the brakes in certain scenarios)

Lane-keeping assist (steers the vehicle back into its lane if it begins to drift over the lane marker)
If you'd like extra driver aids, look for the 2020 Elantra SEL or higher trim to get:
Blind-spot monitoring (can alert you if a vehicle in the next lane over is in your blind spot)

Lane departure warning (alerts you if the vehicle begins to drift out of its lane)

Rear cross-traffic collision warning (warns you if a vehicle behind you is about to cross your path while you're in reverse)
With the Corolla, this equipment is not so widely available. All 2020 Corollas come with adaptive cruise control (maintains a driver-set distance between the car and the vehicle in front), while adaptive cruise may or may not be equipped on the Elantra's highest Limited trim. So that's a win for the Corolla. On the other hand, blind-spot monitoring only comes standard on the 2020 Corolla if you find an XLE or XSE trim. That's a plus in the Elantra's column.
 Ryan's take: I'm torn. The Elantra has a strong selection of tech features, even in lower trims, and I find its infotainment system easier to use. On the other hand, the Corolla comes with standard adaptive cruise control. That almost seals the deal for me because I find adaptive cruise to be the most helpful feature in modern cars today. I would not blame anyone for choosing the Corolla based on that fact alone. The Elantra only has it on the Limited trim, and even then it might prove difficult to find.
What they're like to drive
Put plainly, the Elantra is slow. Models other than the Sport take their time to accelerate and aren't particularly zippy around town. That's OK since you get a nice payoff at the pump. And if you drive the Elantra with the intention of being smooth, you'll be much more satisfied. The steering and brakes are easy to manipulate with only a light touch. Inside the cabin, the ride is only somewhat comfortable and quiet even for an affordable economy car. But there is nothing offensive about the Elantra. Take a leisurely approach and you won't be disappointed.
Likewise, the Corolla is far from fast. Both of its four-cylinder engines prefer to focus on fuel economy rather than outright acceleration. But compared with the Elantra, the Corolla does feel a bit sharper in the turns. You can handle a corner with more excitement and be rewarded with quick steering and braking for an economy sedan. The ride is also more smooth and relaxed over bumpy surfaces, which helps boost driver confidence. You won't be going very fast, but the Corolla gives you a bit more in the driving-fun department.
 Ryan's take: The Corolla feels a little sportier around turns. But these aren't performance cars. I prefer the balanced and stable way the Elantra drives. The car rewards you for being smooth and intentional with your movements. Either one will make an excellent commuter. So climb behind the wheel of both to see which one matches your preferences the best.
Conclusion
Both of these small sedans are optimized for comfortable, practical commuting. The biggest difference between them comes down to getting the features you want at the right price. 
For that reason, we find the Hyundai Elantra is the right pick for most people. Though this generation debuted back in 2017, the Elantra still keeps pace with modern rivals in terms of comfort and driving feel. And you can find one at a lower price than the Corolla on average, which makes its superior storage space and numerous standard features even more appealing.
The Toyota Corolla is also an excellent choice for economical cruising. Though it's slightly more exciting to drive than the Elantra, the Corolla's real appeal is its undeniable ease of use. It also has a smoother ride and better response time to your commands. There's a reason the Corolla is so popular with many buyers. But whichever compact sedan you ultimately choose, it's a good idea to use either of these two vehicles as your guide. 
Ryan ZumMallen has written automotive news and buying advice for nearly a decade. As an automotive reviews editor for Edmunds, ZumMallen examines trends in both the new and used markets with a focus on sporty, affordable cars, off-road trucks, and SUVs.