Which SUV? Jeep Grand Cherokee vs. Ford Explorer
---
PUBLISHED MONDAY, JUNE 12, 2017
The Grand Cherokee and Explorer tackle the needs of on-the-go families, all-terrain style.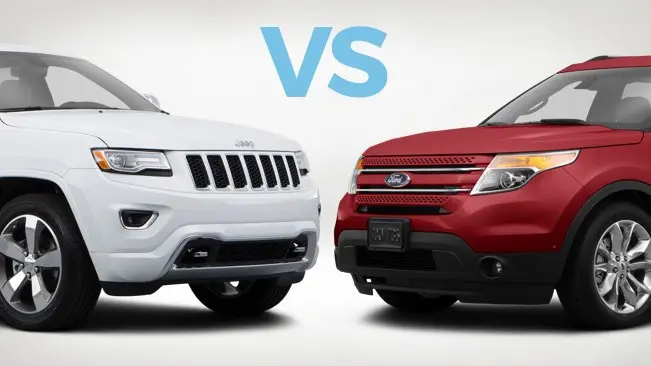 There are plenty of reasons to choose an SUV for your next used vehicle purchase. Not only do SUVs provide ample seating and cargo space for whatever life throws at you, but they're also built to be rugged and durable in unforgiving driving conditions. If you're in the market for an SUV, there's a good chance the Jeep Grand Cherokee and the Ford Explorer are blips on your radar. These top-selling SUVs have a lot to offer at a great value, and both models have a long-standing reputation. Still, depending on your specific needs and lifestyle, one of these vehicles will be a better decision for you. Here are some of the best features of each of these SUVs below. Weigh them against your own wants and needs to help you make your next move!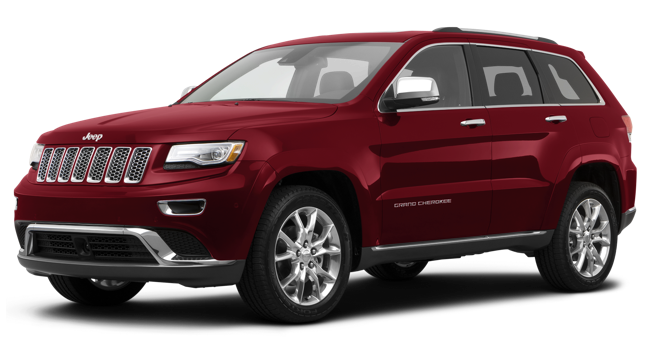 Jeep vehicles have a cult-like following, and the Grand Cherokee is no exception. In recent years, Jeep released its Grand Cherokee Trailhawk model, which caught on very quickly with Jeep fans. The Grand Cherokee comes in five different trim packages, and each is available in two-wheel or four-wheel drive. This wide selection of trim options makes it easy for drivers to customize their purchase to end up with a vehicle they'll absolutely love.
Where it shines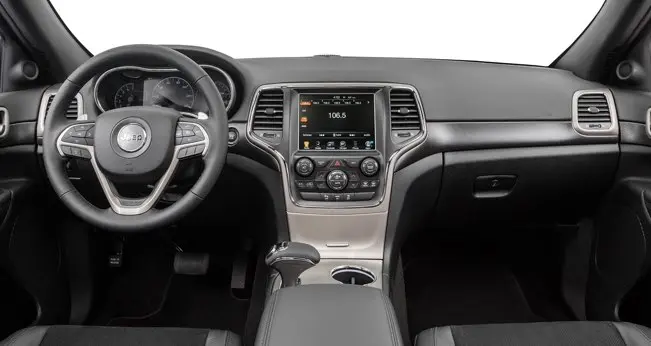 Off-roading capabilities
True to the Jeep name, the Grand Cherokee excels at off-roading and in rugged road conditions. Drivers should have no problem navigating tough terrain, thanks to this SUV's Quadra-Drive II four-wheel-drive system and height-adjustable air suspension. That's right — this Jeep rides on air suspension with settings you change yourself, depending on road (or no-road!) conditions.
Above-average tow ratings
For an SUV, the Grand Cherokee has impressive tow ratings, especially when compared to other vehicles in its class and price range. Specifically, the Hemi® V8 and EcoDiesel engines boast a tow rating of 7,200 pounds, and even the V6, two-wheel drive trims can pull up to 6,200 pounds. This applies not just to the 2017 Grand Cherokee, but older model years (including the 2016 Grand Cherokee) as well.
Engine choices to match your needs
The Grand Cherokee offers a number of engine options to meet your needs. In recent model years, the base engine has been a 3.6-liter V6, though there's also a turbocharged diesel option available in the 2014-and-newer releases. This engine offers a modest increase in fuel economy — but it really gives you a good bit of grunt that comes in handy for towing. There's also a powerful V8 available in most model years. Depending on whether power, towing capacity, or fuel economy is most important to you, you can choose an engine that delivers.
Where it falls short
There are just a few characteristics of the Grand Cherokee that may not appeal to some drivers, and it's because the Grand Cherokee is, at its heart, a truck-like SUV.
Ride quality
The Grand Cherokee has some noticeable road noise and more truck-like steering/handling and maneuverability. While its rugged design lets it tackle tough terrain, passengers may feel a bit of jostling despite the air suspension system. Remember, the Cherokee isn't a performance car; drivers want a Cherokee for its mix of on-and off-road capabilities.
Noisy diesel engine
Drivers have reported unusually high engine noise in the Grand Cherokee diesel models, particularly at low speeds or even while idling. If this is a potential deal breaker, it might be better to choose the gas-powered, turbo V6 or other engine alternative to cut back on noise.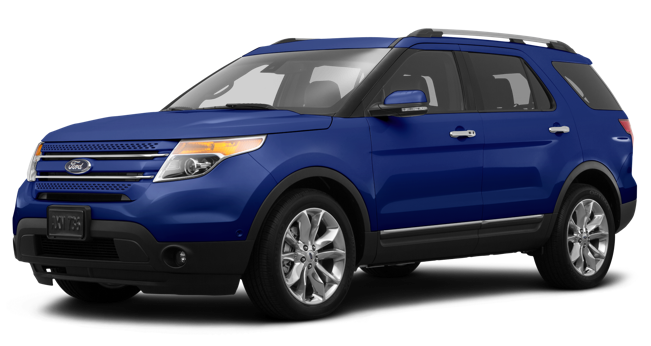 The Ford Explorer is probably one of the most versatile vehicles on the market today; if you go this route, you can customize your ride to make it just as swanky as some of the top luxury SUVs on the market.
Where it shines
Quiet, smooth ride
If a quiet and comfortable ride is most important to you, check out the latest Explorer. Its acceleration is smooth and strong, and its steering and handling have the edge on the Grand Cherokee here. That's not to say the Explorer slouches in the off-road department; some models are equipped with Ford's Intelligent Four-Wheel Drive system, which kicks in automatically when the vehicle senses a need for extra traction. Two-wheel drive models put power to the front wheels and are equipped with traction control.
Third row seat lets the Explorer carry seven passengers
The Explorer has three rows of seats for up to seven passengers, and seating can be removed or configured for different cargo-carrying setups.
Generous cargo space
The Ford Explorer offers some of the most generous cargo space in the SUV/crossover market, with around 80 cubic feet (this can vary by a couple feet one way or the other, depending on the model year you select). For comparison, the 2017 Jeep Grand Cherokee offers only about 70 cubic feet of space. The Explorer has cleverly-positioned storage compartments all over the place; you'll find a large center console for added storage, extra-long door pockets, and anti-tip cup holders.
Tricked-out tech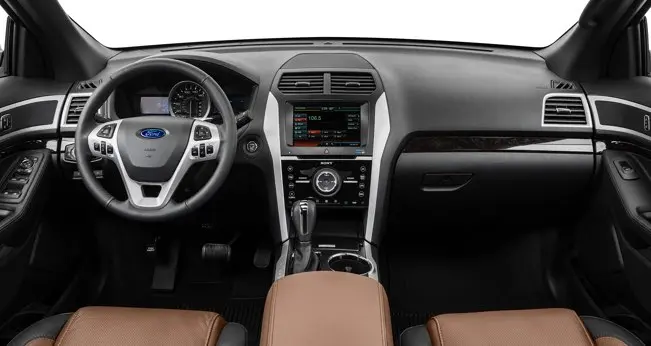 Ford has really stepped up its game in recent years when it comes to tech features in its vehicles. Depending on the model year of Explorer, yours may be equipped with either the MyFord Touch System or The Ford Sync 3 infotainment system. Both offer a variety of impressive features that will keep you and your passengers informed and entertained, anywhere you're headed. The Explorer also features parking assist and a panoramic sunroof.
Where it falls short
But the Explorer has a couple of drawbacks, such as the two below.
Unimpressive leg room
Despite generous cargo and storage space, passengers in the second and third rows of the Explorer may feel a bit uncomfortable on longer car rides. This is especially true for taller passengers, as leg room is somewhat limited — particularly in the third row seat area. The second row, at least, has bucket seats and plush arm rests for some added comfort. However, this may not make up for the lack of leg room.
Base models are … basic
Like the Grand Cherokee, the Ford Explorer comes in five different trim packages. This includes the base model, the XLT, the Limited, the Sport, and the packed-with-features Platinum trim. Most drivers who consider the base model should treat it as a choice they'd make for budgetary reasons, because it lacks features that would probably come standard in other base-model SUVs.
Side-by-side comparison
Overall, the Grand Cherokee and Explorer are solid choices for most customers who seek an SUV for moving their families, plus their luggage and gear. However, the SUV that's right for you will depend on what's most important to you. If you plan on using your car as a true utility vehicle (that is, doing a fair amount of towing and off-roading), then the Grand Cherokee is your best bet, although you'll sacrifice some comfort and ride quality. The Cherokee also offers a fair amount of cargo space, so you'll have plenty of room for the equipment you'll bring with you on your adventures. 
One of our sales consultants says the Grand Cherokee is more appealing to outdoorsy types — customers who like a little bit of luxury but also look forward to putting its four-wheel-drive abilities to the test. Also, our sales consultants point out that the Jeep can be had with a beefy, extra-powerful Hemi® V8 that's great for towing boats.
On the other hand, if you plan on using your vehicle for your daily commute and the occasional joy ride, then you may be better served by the Ford Explorer. With the Explorer, you'll enjoy a smoother and more responsive ride. Some late models pack a twin-turbo V6 that's good for 365 horsepower, and other models have ventilated front seats to help keep passengers cool. And for families, the Explorer's Premium trim option with the rear-seat entertainment system may be a life-saver on longer drives. Just be sure to find the right trim level that suits your needs and take a good look at the list of features for each trim option to make sure it's got everything you need.
Before you make a decision, however, take some time to weigh the advantages and potential drawbacks of each vehicle. And of course, it's never a bad idea to test drive some Grand Cherokees and Explorers yourself!
Product and company names may be trademarks™ or registered® trademarks of third-party entities. Use of them does not imply any affiliation with or endorsement by these entities.