Ask the Experts: Should You Buy a Kia K5?
---
PUBLISHED MONDAY, FEBRUARY 21, 2022

BY EDMUNDS EDITORS
Here's why the comfortable Kia K5 is a surprise favorite.

With thousands of vehicles in our inventory, we're here to help make car research easier for you. We've partnered with car-review experts from Edmunds to weigh in on what matters most when you're looking to buy a truck or car.
***
Vehicle Reviewed
2021 Kia K5 EX 
The Kia K5 stands out in the midsize sedan class by virtue of its distinctive styling, comfortable ride quality, and generous amount of standard and optional technology features. Does that make the K5 the right choice for you? Edmunds' Ryan ZumMallen highlights the biggest pros and cons you should know if you're thinking of shopping for the K5 .
What do I need to know about the K5?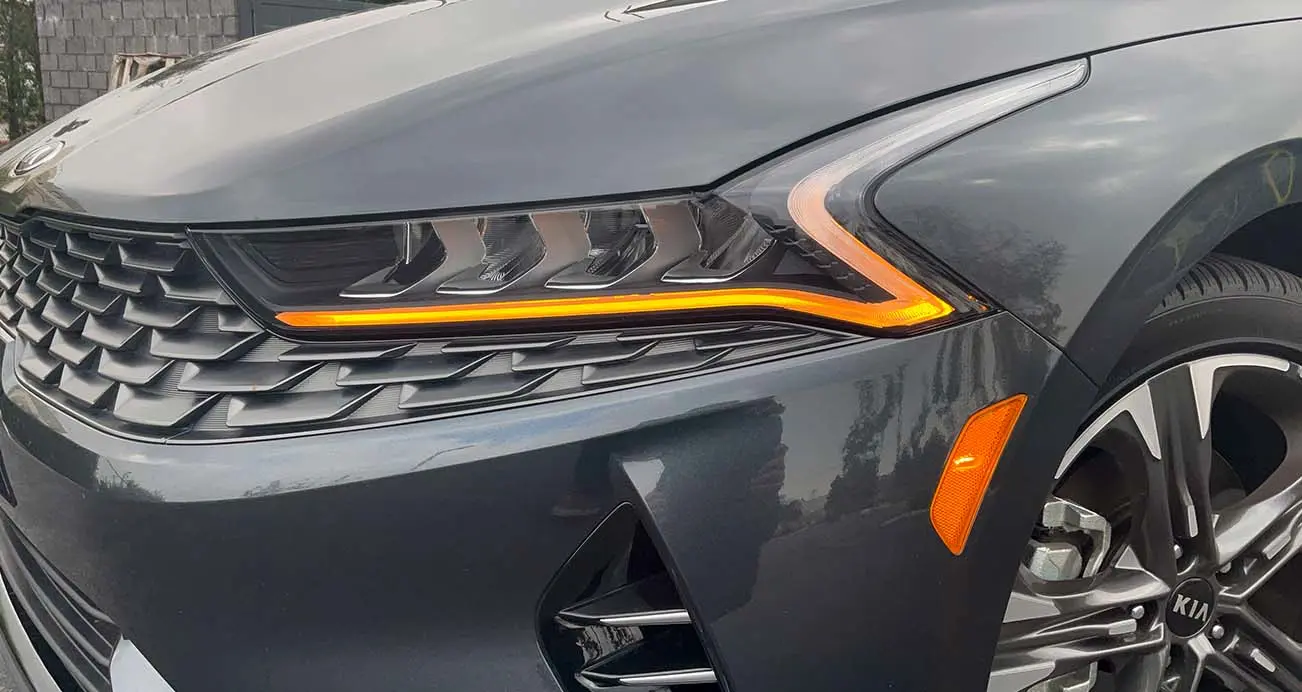 Kia introduced the K5 for the 2021 model year as a replacement for the long-running Optima sedan. Its sleek and muscular styling is certainly a highlight, especially if you find other midsize sedans to be a bit too traditional looking. Compared to other four-door family sedans, the K5 also offers a thoughtfully designed interior with easy-to-use controls. You can choose from five trim levels: the LX, the LXS, the GT-Line, the EX, and the GT.
What engines does the K5 come with?
The K5 comes with your choice of two engines. Most K5s have a turbocharged 1.6-liter four-cylinder under the hood that produces 180 horsepower. Exclusive to the K5 GT is a larger turbocharged 2.5-liter four-cylinder making 290 hp.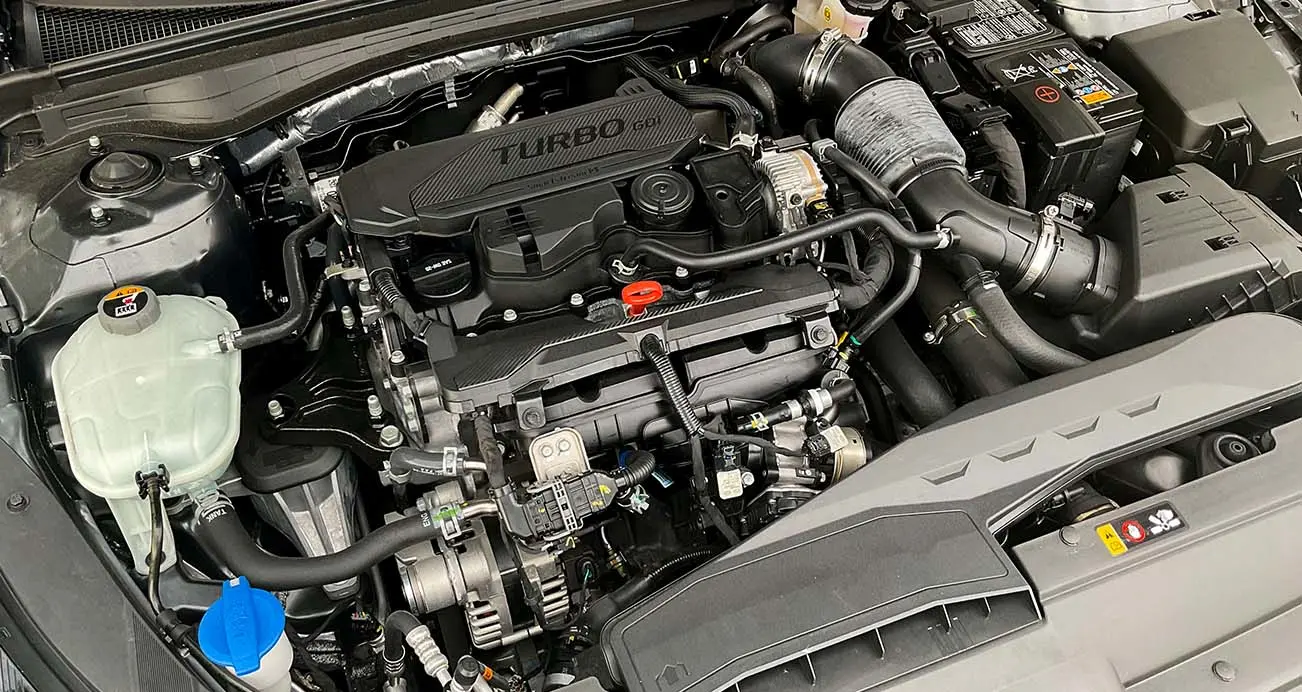 Both engines are paired to an eight-speed automatic transmission, though the GT's is a sportier version that can shift quicker. Front-wheel drive is standard, and all-wheel drive is optional for the LXS and GT-Line trims.
Here's how the two engines measure up in terms of their EPA-estimated fuel economy ratings for a 2021 Kia K5:
Turbocharged 1.6-liter four-cylinder: 32 mpg combined

Turbocharged 1.6-liter four-cylinder (AWD): 29 mpg combined

Turbocharged 2.5-liter four-cylinder: 27 mpg combined
Ryan's take: The base engine's 180 hp is on the low end for what you can expect for this class of vehicle. For example, the Toyota Camry's four-cylinder engine packs 203 hp. But in normal driving you won't notice the difference. It's also cool that Kia gives you the option of getting the more powerful engine or optional all-wheel drive; not all midsize sedans do that. But of the two engines, I prefer the base engine because it feels better suited to the car's relaxed driving demeanor and gives you higher fuel economy estimates.
What is the K5's interior like?
The interior is a strong point for the K5. The cabin feels premium for the class, especially on higher EX and GT trims. Most of the surfaces that you touch—like the steering wheel, armrests, and gear shifter—feel nice and soft. Then there are plenty of convincing metallic accents that lend an upscale presence. Compared with other sedans that are in a similar price range, riding in the K5 is a classy affair.
There is plenty of space in the K5, even for taller drivers. There's also a wide range of adjustability in the front seats, which makes it easy to find a comfortable seating position. Forward outward visibility is excellent—a big help when you need to spot pedestrians or when driving around curves. Rear seat entry can be a little tricky for taller passengers because of the K5's sloped roofline, but that's the car's only significant drawback.
Ryan's take: I would heartily recommend the K5 for a family road trip. There's plenty of space to stretch out and lots of ways to adjust the front seats if you need a nap. If most of your miles are done during the daily commute, this is a relaxing place to start or end a long workday. When you compare the K5 interior to those of other midsize sedans, you'll notice a difference right away. Kia simply paid a great deal of attention and care into the cabin .
What's the K5 like to drive?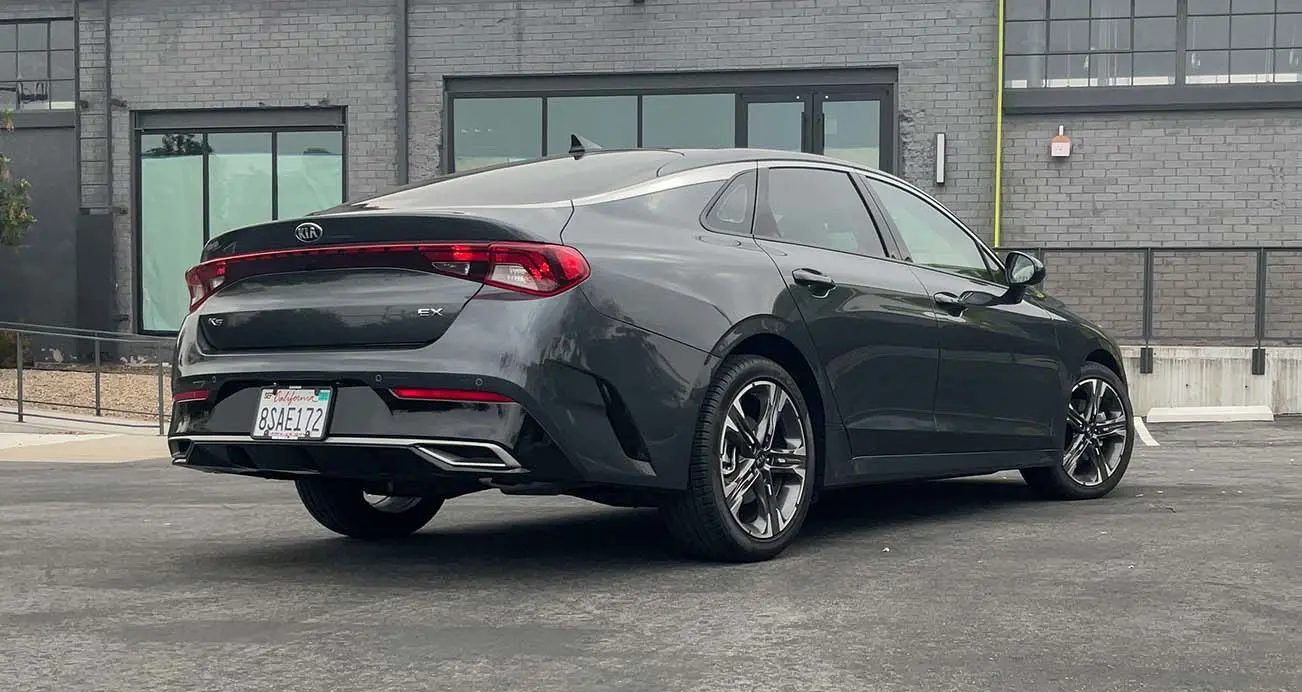 Driving impressions usually center around the engine. But in the case of the K5, it's all about the transmission. The eight-speed automatic in the K5 is silky smooth. It makes the power feel great because you get consistent muscle without hard interruptions. 
The other thing you'll notice about the K5 is how comfortable it feels. That's because the suspension can expertly manage bumps and cracks in the road without making the car bounce around. Combine this with the smooth transmission and you have an excellent setup. Handling feels confident around corners, and the braking is composed and trouble-free.
Ryan's take: The K5 is a great all-around car, but the actual driving experience isn't at the top of its list of strengths. In fact, the K5 looks much more athletic than it drives. Normally that would bother me, but I find so much value in other areas of the car that the snoozy drive doesn't matter so much. Try to expect comfort, not speed, and you won't be disappointed.
What is the K5's technology like?
You've got to love the tech in here. First of all, both Apple CarPlay® and Android Auto™ smartphone integration come standard—and they're both wireless-capable with the standard 8-inch touchscreen. That means that once you've set up your phone, the K5 can automatically start mirroring select apps and features from your phone right on the touchscreen every time you start the car; there's no need to connect your phone with a USB cord. Some models also have a wireless charging station that can hold your phone in place.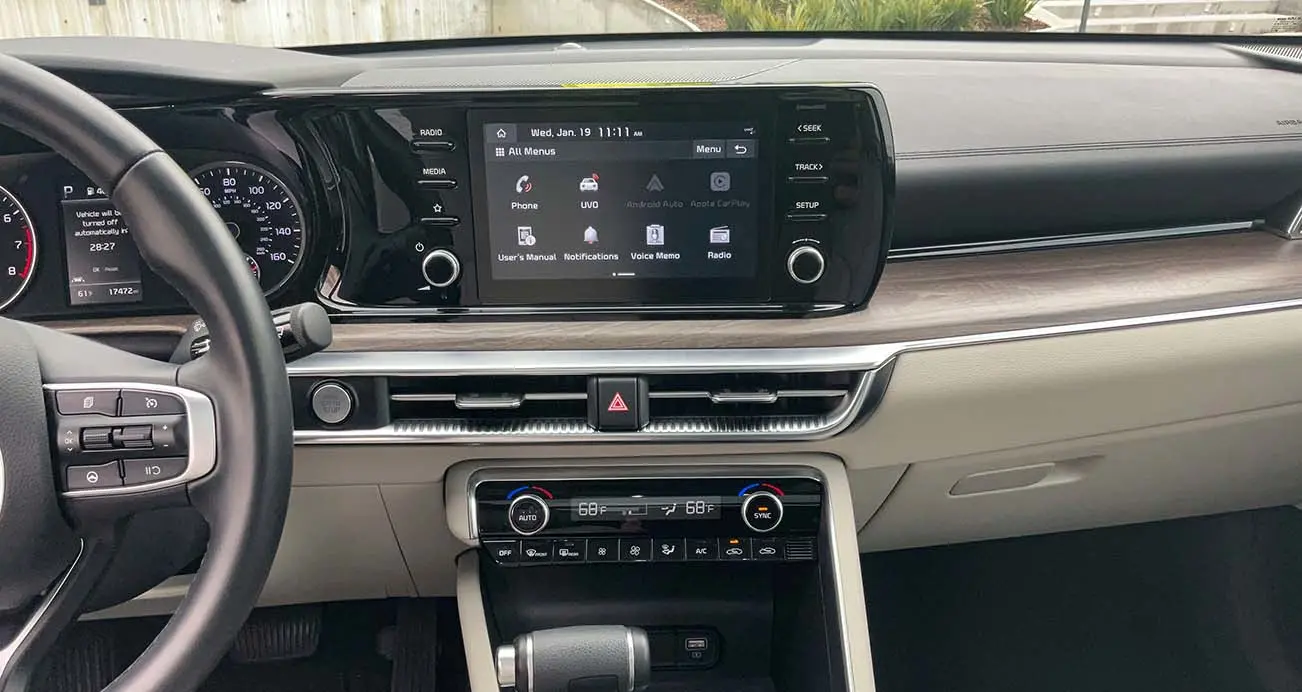 There is a caveat, however: Kia doesn't currently add wireless connectivity for the bigger 10.25-inch touchscreen that comes on the GT-Line, EX, and GT trim levels. But the touchscreens are easy to use, although the 8-inch screen has helpful hard buttons while the optional 10.25-inch screen uses flat capacitive touch sensors that look sleek but can sometimes require a little more of your attention to make sure you actually have pressed them.
The driver aids that come with the K5 are another big plus. Here are the features that come standard on every model:
Forward collision mitigation (warns you of an impending collision and applies the brakes in certain scenarios)

Lane-keeping system (makes minor steering corrections to help keep the vehicle centered in its lane)

Driver attention warning (issues an alert if sensors determine you are becoming fatigued)
We also like these optional driver aids that come with higher trim levels:
Blind-spot monitor (alerts you if a vehicle in the next lane over is in your blind spot)

Rear cross-traffic alert (warns you if a vehicle behind you is about to cross your vehicle's path while in reverse)

Adaptive cruise control (maintains a driver-set distance between the K5 and the car in front)

Rear automatic braking (brakes if sensors detect an imminent collision with an object behind the vehicle)
Not only is this a good selection of features to include, but the features also work well on the K5 compared to other sedans. Their operation is smooth and confidence-inspiring, while the systems on some rivals can be abrupt or react alarmingly to normal situations.
Ryan's take: Once again, technology is further evidence that Kia thought of everything when designing the K5. It has plenty of tech features competitors include as optional add-ons. Kia saw that and seemingly asked, "Why not just make them standard?" An excellent question! What that means for you, the buyer, is that you can expect all kinds of desirable features to come on every K5. Other sedans may or may not have them. Big win for you.
How capable is the K5?
What about trunk space? Well, you may have noticed the sharp roof design that creates a flat, almost duck-like vertical tail end. That actually helps in this department because it gives the K5 more space for lugging large equipment around. The trunk's maximum capacity is 16 cubic feet, which is good for a sedan of this size.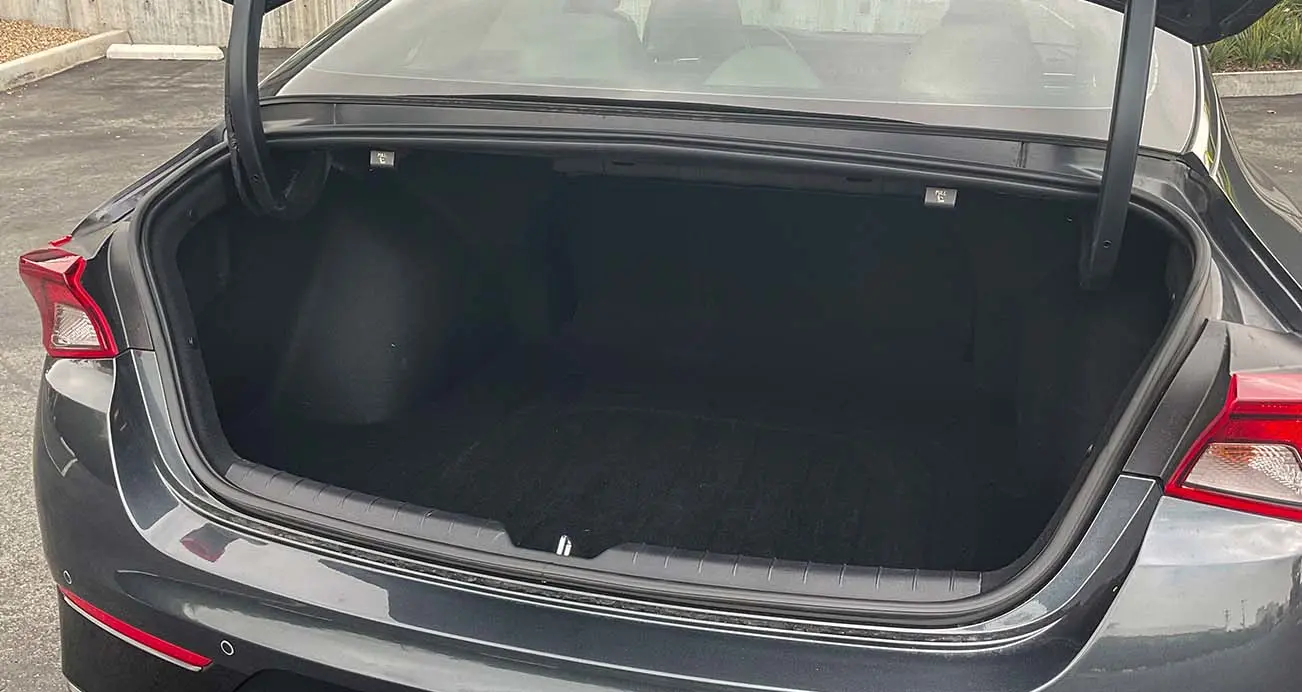 Even better, the K5 trunk has a wide opening and low floor. That makes it easier to maneuver awkward items like electronics or furniture, plus you don't have to lift anything very high to place inside. It might not be the biggest trunk in the class, but the K5 does its best to make things easy on you, which is definitely worth noting.
Ryan's take: The K5's trunk space is suitable for most of the stuff you'll probably need to put back there, whether grocery bags or luggage. And as noted above, the wide opening and low floor are a bonus for helping you make the most of the available space.
What else should I consider?
The list of K5 rivals is long. Depending on what you're looking for, there are a couple that you should cross-shop. For instance, to match the K5's near-luxury feel, you can try out the Honda Accord or Hyundai Sonata. Both are well appointed and feel solidly built on the road. If you need more model years to choose from, check out the Toyota Camry or Nissan Altima. Both are hot sellers, so you can expect to find lots of them on used car lots.
Ryan's take: Savvy sedan shoppers should definitely consider buying a K5. It's a newcomer to the scene compared to established rivals such as the Honda Accord and Toyota Camry, but it's undoubtedly one of the top choices. It has a distinct character and upscale feel that is rare in the class, yet it's still sensible and practical.
If I decide on a K5, which one should I buy?
All of the K5 trims are appealing, so you should be able to pick freely based on your budget and what's available. But do consider singling out the EX trim if you can. This version of the K5 comes with a great selection of extra features that make the K5 more luxurious, such as a panoramic sunroof, simulated leather upholstery, and ventilated front seats to help keep you cool on hot days. Some models will have the additional EX Premium package that comes with additional driver aids, a premium stereo, and heated steering wheel.
Ryan ZumMallen has written automotive news and buying advice for nearly a decade. As an automotive reviews editor for Edmunds, ZumMallen examines trends in both the new and used markets with a focus on sporty, affordable cars, off-road trucks, and SUVs.