1. Luxury is standard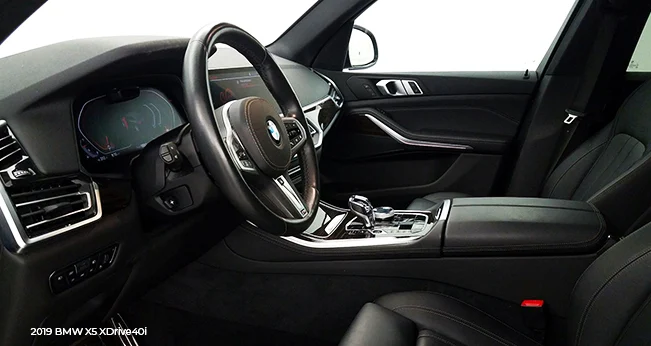 If you're looking for a used car, you might want to consider stepping up from the base model to get more features. That said, the base model sDrive40i is anything but basic. The list of standard features on the 2019 X5 is long, including items such as Apple CarPlay, heated seats, a panoramic moonroof, Comfort Access™ keyless entry, and a variety of driver aids. All X5 models are also available with a number of packages that add additional features to the vehicle, designated as Convenience, Premium, and Executive. Each pre-packaged option adds some of BMW's most popular features; 2019 X5 models that are equipped with the convenience package, as an example, come with wireless device charging, four-zone climate control, and satellite radio, among other things.
2. Hands-free driving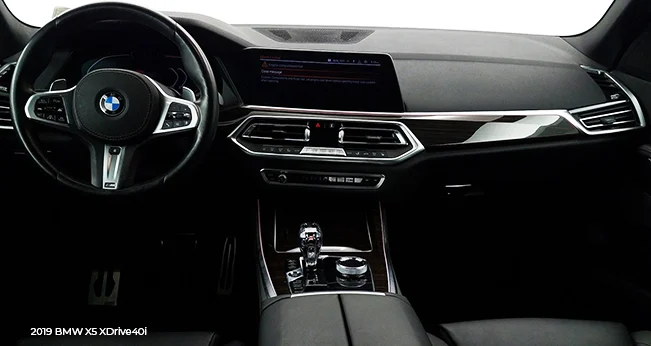 Distracted driving is never good, and automobile manufacturers have been adding features for years to help minimize driver distractions. While most late-model cars come standard with a Bluetooth® interface to allow hands-free phone calls, the 2019 BMW X5 takes things a step further. Available as an option on all 2019 X5 models is a Gesture Control™ feature. When equipped with this feature, the BMW X5 can recognize five distinct hand gestures from a dash-mounted detection field, allowing the driver to change radio stations, adjust volume, accept or reject phone calls, and access a 360-degree view around the SUV, all with a flick of the wrist.
3. Climate control
Road trips or commutes to the office with multiple occupants can be tricky when it comes to climate control. You might want it cool while your passenger likes it hot and it's never fun fighting over the temperature control. Luckily, the 2019 BMW X5 is a cool companion when it comes to keeping its occupants comfortable. Dual-zone climate control is standard, allowing the two front passengers to adjust the temperature to their liking. Four-zone climate control is also an option across the board, extending that temperature customization to four separate passengers.
4. Easy exit, easy access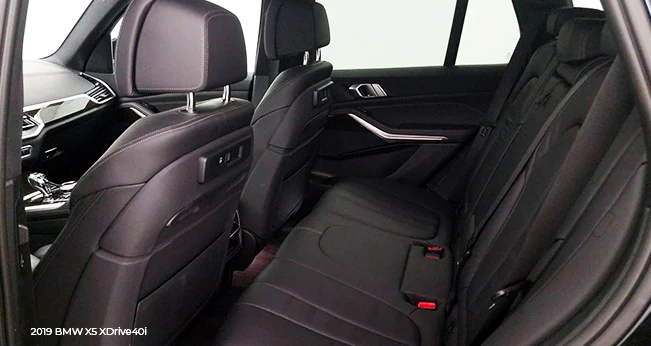 The 2019 BMW X5 has its bases covered when it comes to hands-free driving, and that convenience is extended to getting in and out of the X5 as well. Standard across all models of the 2019 BMW X5 is a power liftgate, which makes loading up the rear cargo area with luggage, groceries, or golf clubs a breeze, even when you have your hands full. Also available on the 2019 X5 as an option are soft-close automatic doors—when equipped with this feature, the X5 closes a partially closed door the rest of the way with the aid of a small electric motor.
5. Weather ready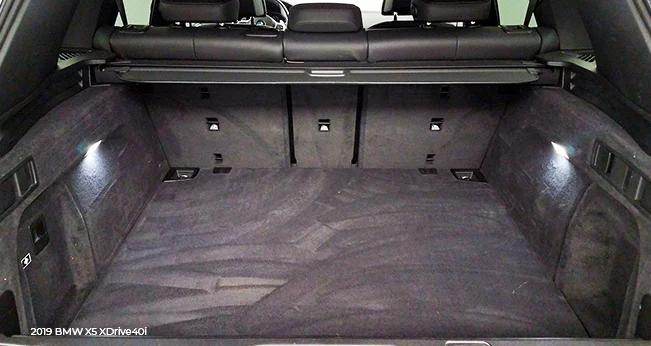 All-wheel drive comes standard on all BMW X5s for 2019 when in xDrive trims. 2019 X5s are standard with hill descent control and dynamic traction control, allowing the X5 to navigate through inclement weather with ease. An off-road package is also available which adds air suspension and multiple driving modes that can be selected based upon desired ride height and terrain. Heated seats are standard and if your inner Goldilocks needs your beverage temperature to be just right, heated and cooled cupholders are available as an option as well. 2019 BMW X5s that are equipped with the off-road package also come standard with front and rear differential locks for maximum off-road traction.