1. A quiet ride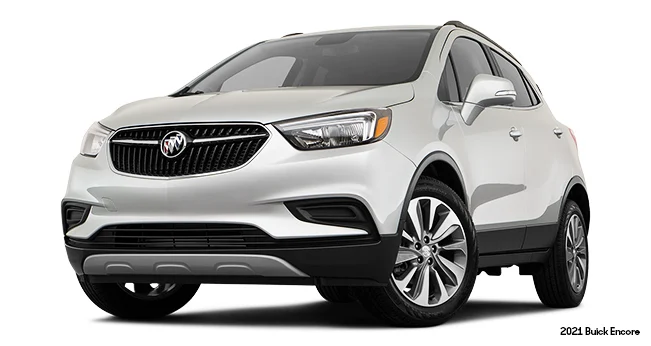 Buick has taken on the challenge of creating a peaceful in-cabin experience, by applying their own QuietTuning™ technology. Reducing the intrusions that could disturb the Encore's peaceful interior are triple-edged door seals and acoustic laminated glass in the front windshield and side windows, which combine to block out, reduce or absorb unwanted audible intrusions. What can you do with that cool and calm atmosphere? Enjoy the Encore's standard six-speaker sound system of course.
2. Driver-Assistance package options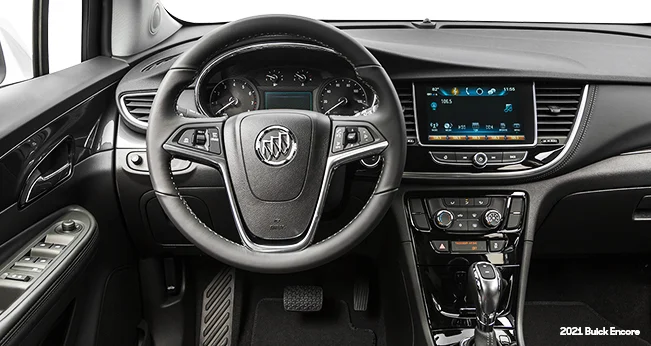 In addition to such standard features as daytime running lights, child seat anchors, and traction control, the 2021 Buick Encore's upper-level trim has two optional driver assistance packages, full of useful tools for any Encore driver. The Preferred trim's first driver-assistance package adds blind-spot monitoring and rear cross-traffic alert, while the second optional package adds forward collision alert, lane departure warning, parking sensors, and rain-sensing wipers. For drivers stepping up to a larger vehicle for the first time, these could be a welcome option, and worth considering as you decide on the features you are looking for.
3. StabiliTrak® technology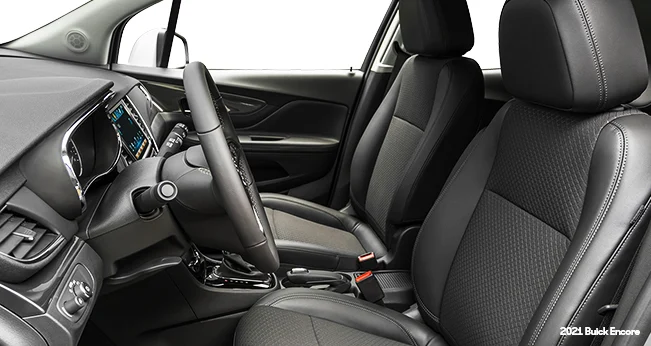 The 2021 Encore has plenty of behind-the-scenes technology. This includes StabiliTrak, a computer-controlled stability assistance system that comes into its own when your vehicle is faced with challenging driving conditions such as ice-covered, wet, or uneven roads. StabiliTrak intervenes when it detects a loss of traction, assisting with selective braking and torque adjustment to maintain your road position.
4. Impressive infotainment features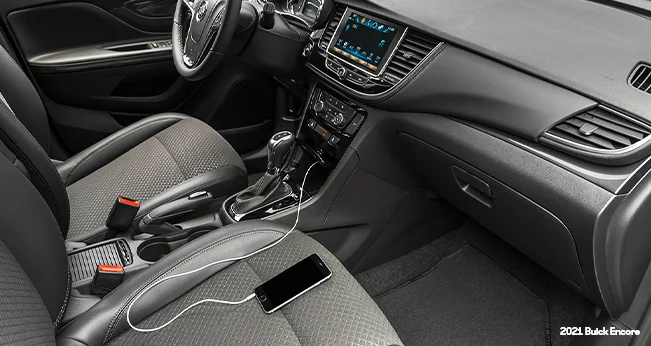 On longer trips or your daily commute, the Encore's available entertainment tech can make or break your journey. Once its service is activated, the available 4G LTE Wi-Fi hotspot is a passenger pleaser - simply sign in via the seven-inch infotainment touchscreen and allow your passengers to get online with their compatible devices.
Want some company on a solo trip? Enjoy an audiobook, or listen to your favorite podcast via the standard Apple CarPlay or Android Auto integration.
5. Subcompact sizing with a twist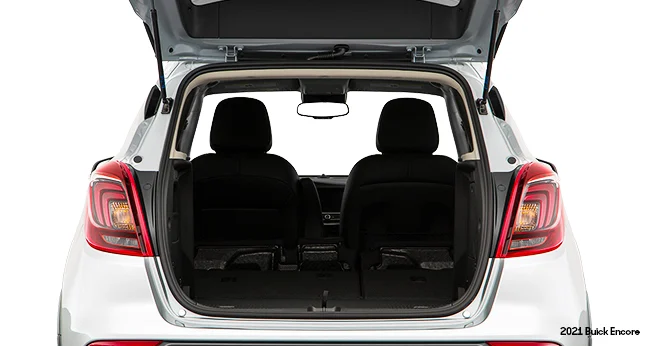 If you've got a full set of passengers, the 2021 Encore can still provide 18.8 cu-ft of cargo storage, enough for everyone's weekend-away luggage. Trip for two? Flip the rear seats down for 48.4 cu-ft of storage that lets you pack for a cross-country adventure, including your golf clubs. There's one more twist to the 2021 Encore - the front passenger seat flips down to allow cargo up to eight-feet long.