1. Long range
The 2019 Chevrolet Bolt EV can drive for an EPA-estimated 238 miles on a single charge.
This will take you far if you're running errands or going on a day trip. If range-anxiety has kept you from making the leap to electric, the Bolt is a good option for making the switch from a traditional vehicle.
2. Available features
The 2019 Chevy Bolt EV offers plenty of features to help you get where you're going. It comes standard with a rearview camera and teen driver technology, which is designed to set speed and volume limits. The Premier trim level comes standard with blind-spot monitoring, lane-change alert, cross-traffic alert, and rear parking sensors, all of which are also optional on the base LT trim. Lane-keep assist and automatic emergency braking are available options on both trims.
3. Connectivity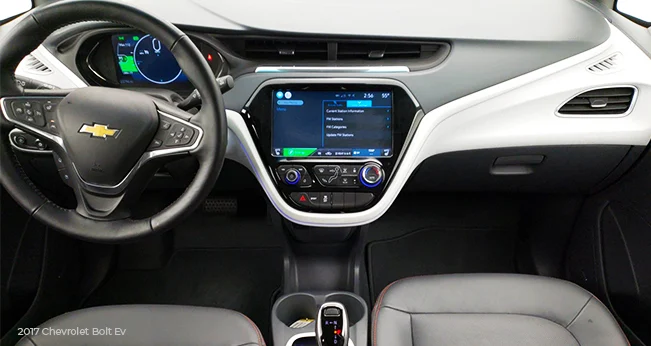 The 2019 Chevrolet Bolt EV keeps drivers and passengers connected while they're on the road. The Bolt has a 10.2-inch display screen with Apple CarPlay and Android Auto as standard. The Bolt is also available with SiriusXM® Radio and WiFi hotspot.
A six-speaker audio system with an optional Bose
®
premium audio system is available on the Bolt's Premier trim.
4. Instant torque
When you're driving the Bolt you won't hear the engine roar but you'll definitely feel its power. Like most electric vehicles the Bolt has zippy handling. The one-speed transmission means that you can accelerate quickly since the electric motor doesn't need to switch through various gears. Instead, it gives you instant torque that will make accelerating a thrill. When you want the power, it's available as soon as you put the pedal down.
5. Cargo space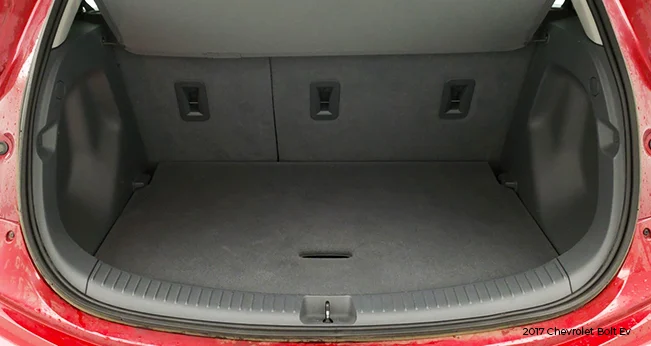 The Bolt is a small car; however, it has a surprising amount of space, especially if you choose the hatchback design. With the rear seats in place, the 2019 Bolt EV has 16.9 cubic feet of cargo space. However, if you need more room you can fold down all or some of the back seat, which has a 40/60 split. With the rear seat folded entirely flat, the Bolt has 56.6 cubic feet of cargo space. That's enough to carry suitcases, boxes, and similar items that you might need to transport.