5 reasons to buy the 2019 Chevrolet Cruze
1. Body style options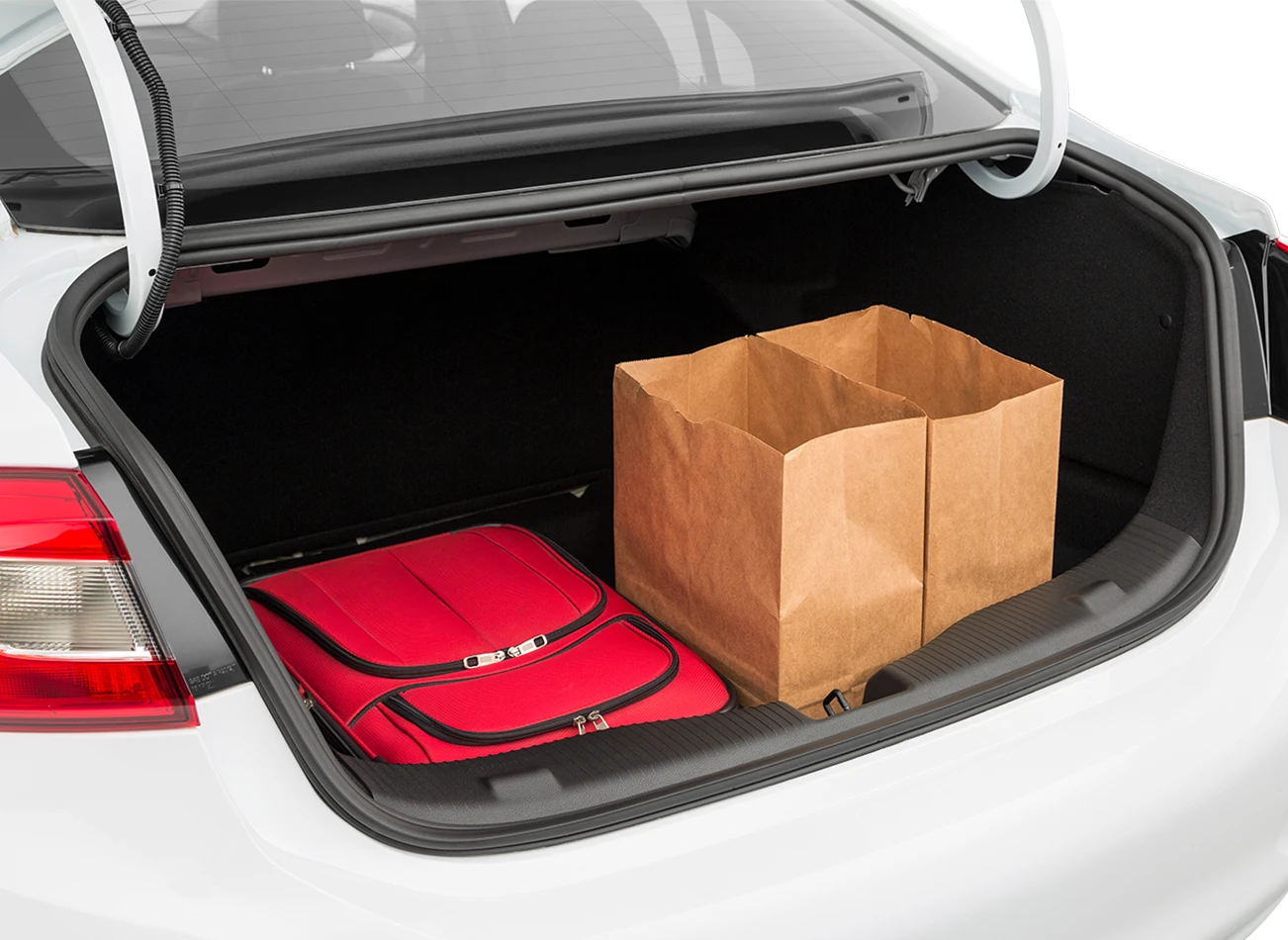 The Cruze has a model for every stage in your life. Focusing on your personal and professional goals? The Cruze sedan is a practical commuter with classy road manners. Adding to this, 2019 models have revised exterior styling compared to the previous model year and plenty of space for colleagues to ride with you.
If adventures with friends and family are your priority, the Cruze hatchback has the space you need for camping equipment, strollers, and road trip luggage. Inside the hatchback you'll find 22.7 cu-ft of standard cargo space, but flip the rear row down, and you've got 47.2 cu-ft. When adventure comes calling, the Cruze hatch is up to the challenge.
2. The available RS package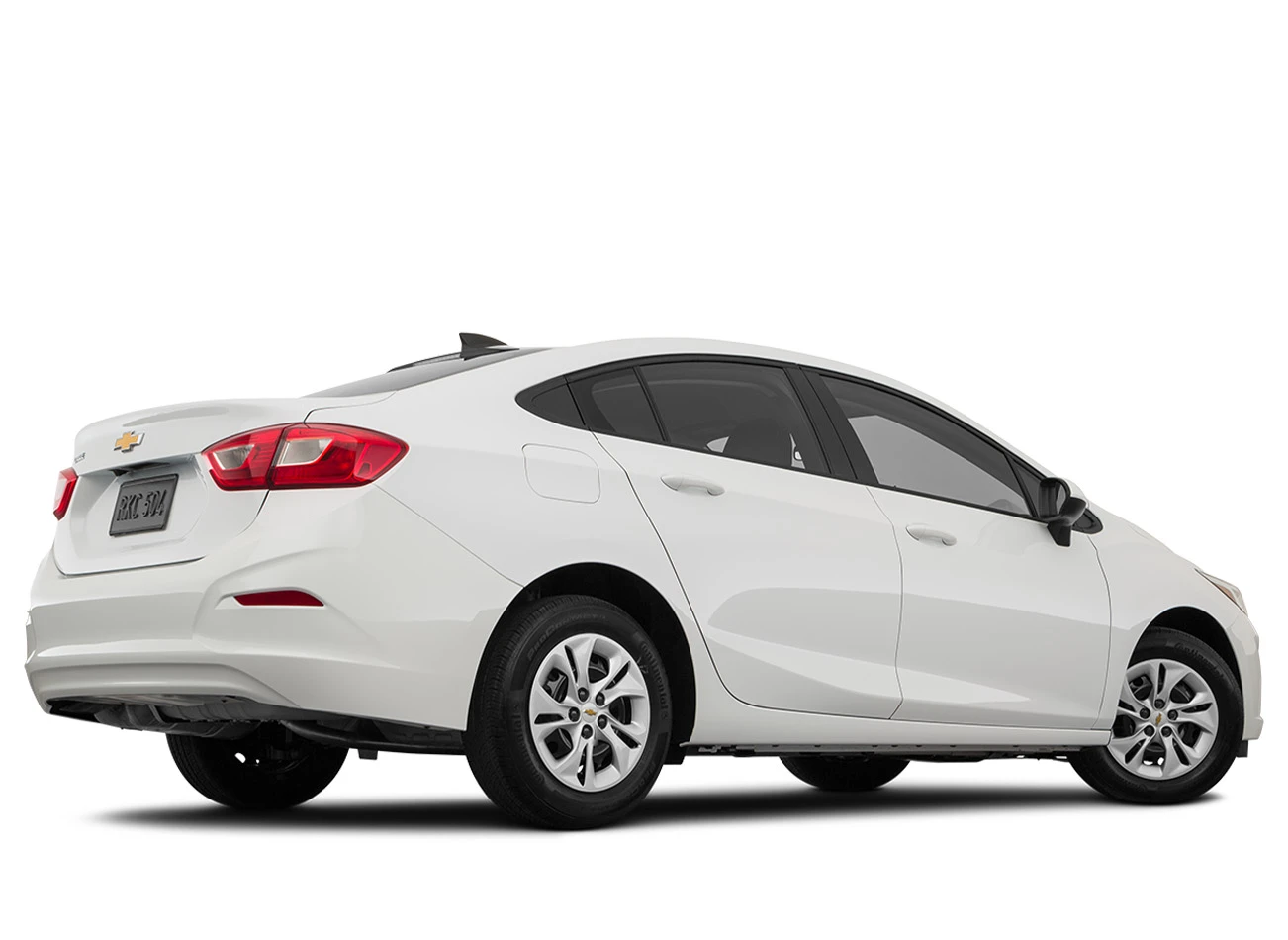 Thanks to some pleasing colorway options inside and out, the 2019 Cruze, in any guise, is a stylish vehicle. If you want to define your style further, pick up an LT, Diesel, or Premier trim Cruze with the available RS Package. Adding an edgy and athletic finish, the RS package includes front and rear sport-style fascias, an aerodynamic rear spoiler, and package-exclusive wheels. If that sounds like an expression of your personal style, you'll love the look of the RS package option.
3. The Chevrolet Infotainment 3 System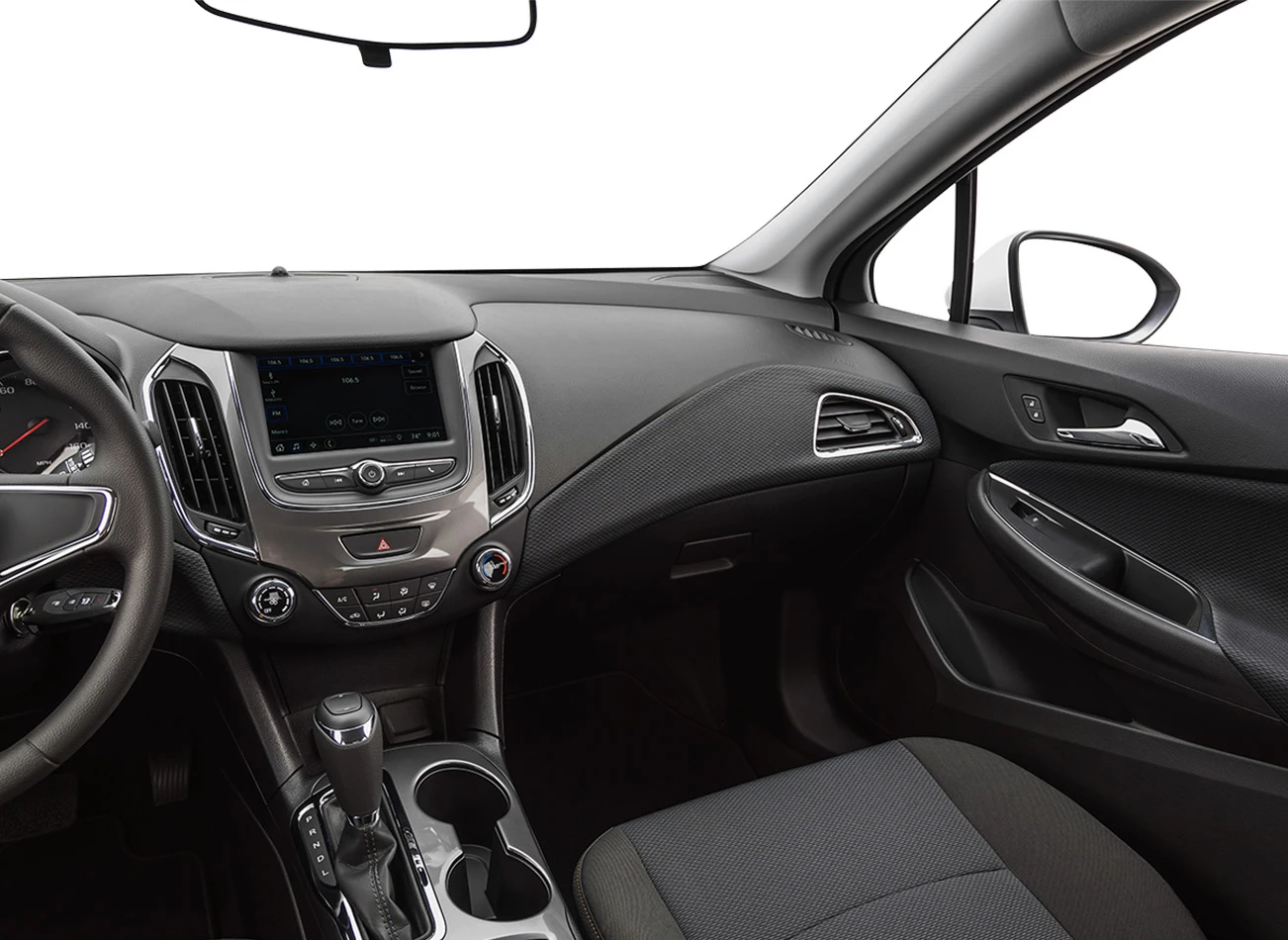 An easy-to-navigate infotainment system can make or break your daily driving. So it's nice to know that the 2019 Cruze has the Chevrolet Infotainment 3 System as a standard feature. A seven-inch color touchscreen features your in-car menus and access to your smartphone features via Bluetooth® wireless integration, as well as streaming your rearview camera images when the feature is engaged.
Staying connected, to your playlists, your people, and your journey, is altogether easier with the Cruze's up-to-date tech.
4. Impressive fuel economy figures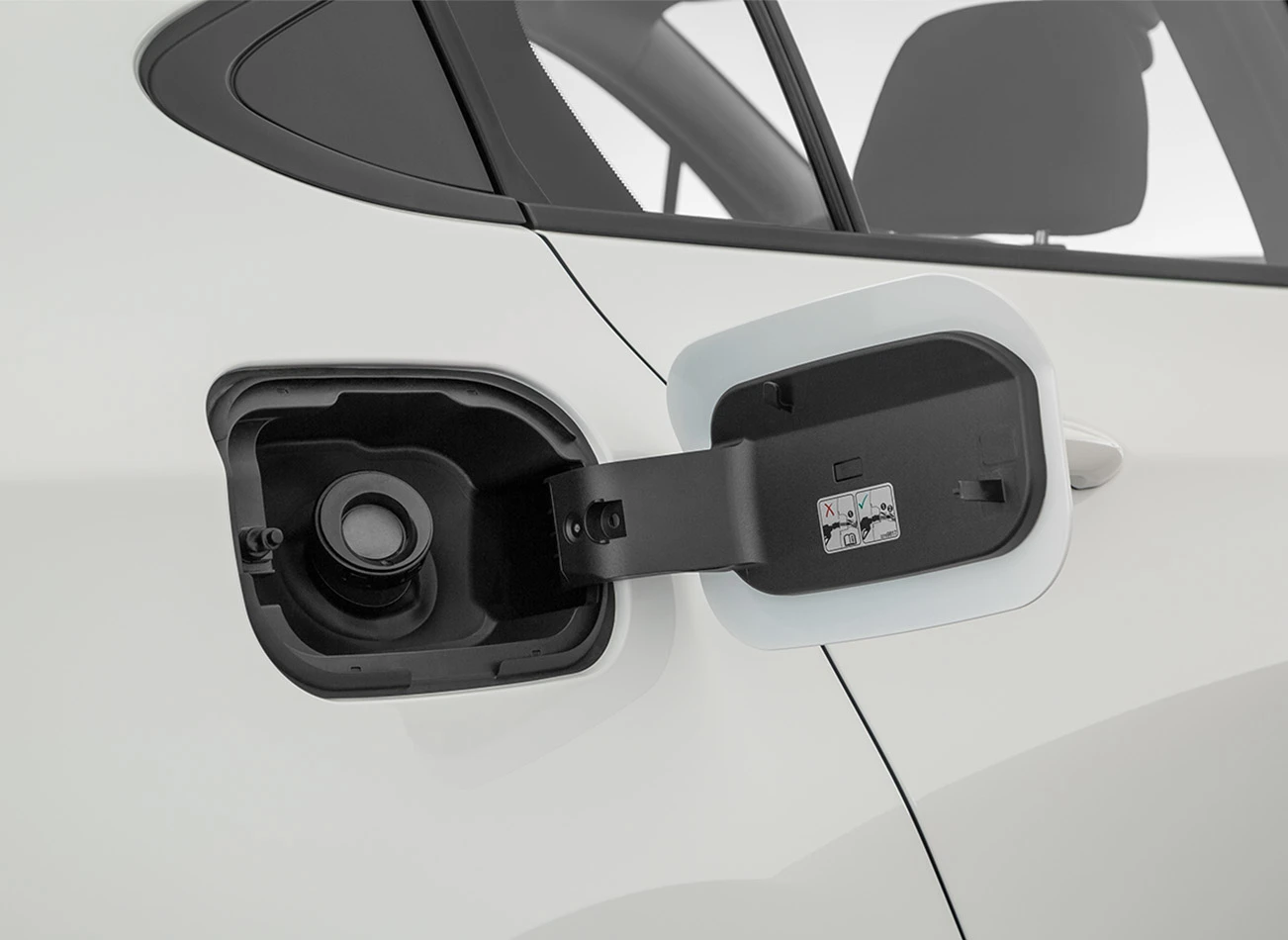 If you're driving every day, the gas gauge is always on your mind. Stretching your tank as far as you can matters more than ever, and with the 2019 Cruze, you've got two engine options that will take you further between fill-ups. Four of the Cruze trims (L, LS, LT, Premier) run on a 1.4L turbocharged four-cylinder engine. Pick one of these trims and the 1.4L engine for an EPA-estimated 38 mpg on the highway and 28 mpg in the city.
 For interstate trips where you're clocking up highway miles, the 1.6L turbodiesel sedan has you covered; its EPA-estimated 48 mpg on the highway means fewer stops on the way to the beach or campground.
5. Spacious dimensions for all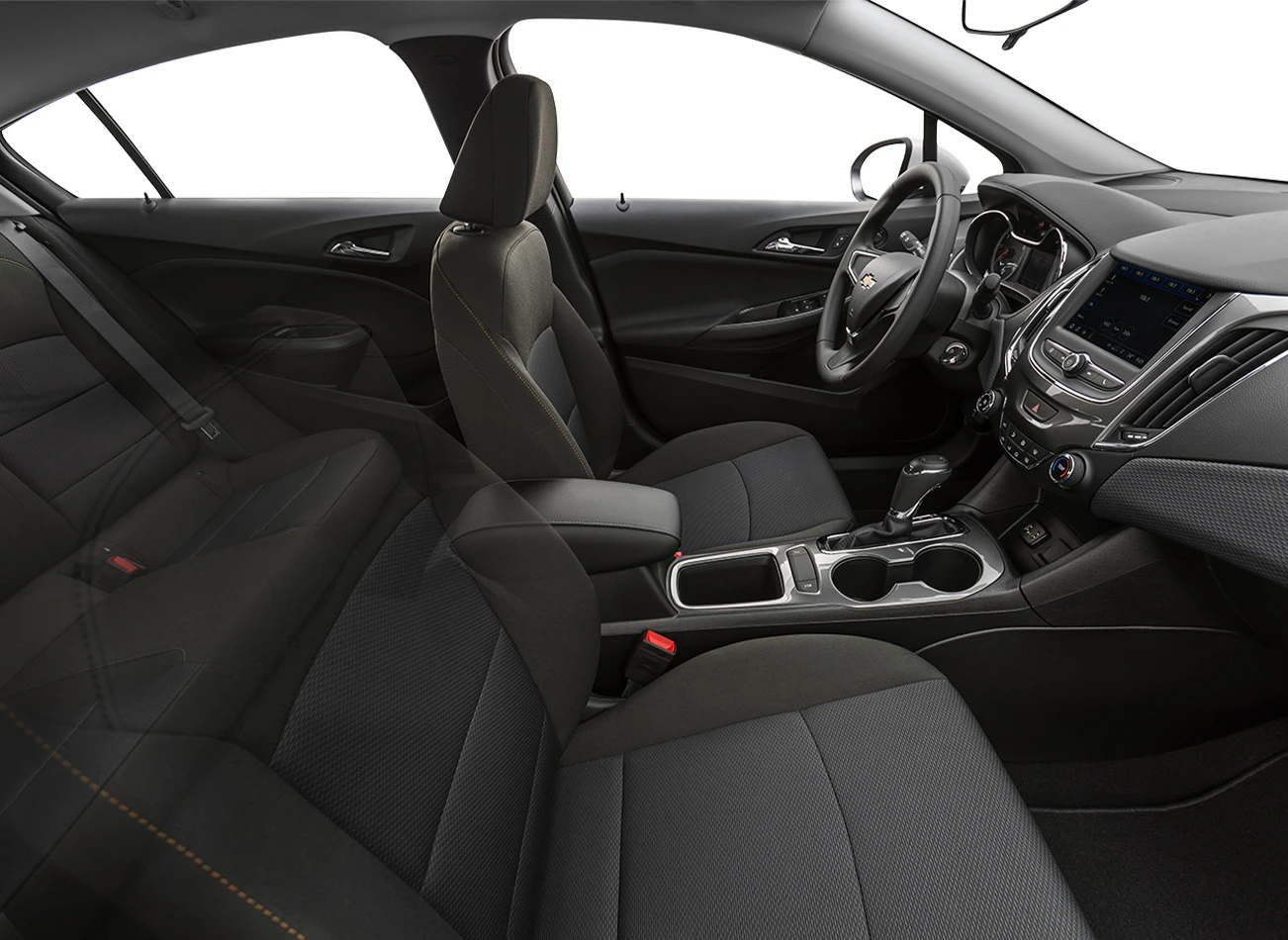 For a compact sedan, the Cruze is mightily impressive when it comes to interior dimensions. And when you realize the hatchback offers the same, it's easy to see why every 2019 Cruze has your passenger comforts all taken care of. Carpooling is a cinch; the rear row has 36.1-inches of legroom and 53.2 inches of shoulder room for your colleagues to enjoy. If you're making a doggie daycare drop-off before work or school, the Cruze hatchback can help. Flip down the rear-row seating for 47.2 cu-ft of extended cargo space behind the front row for your pooches and their crates. Everyone is welcome in the Chevrolet Cruze.
RepairPal gave the Chevrolet Cruze an overall reliability rating of 4 out of 5 stars, which RepairPal describes as Excellent. This rating ranks Chevrolet Cruze 32nd out of 44 among Compact Cars.
Color options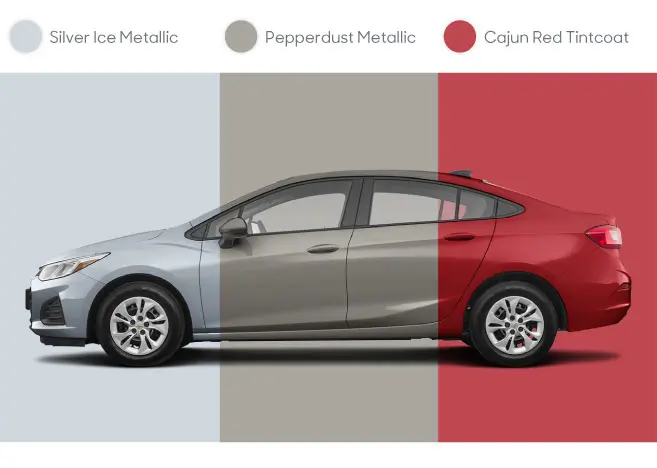 Exterior colors:
Black (hatchback only)

Cajun Red Tintcoat

Graphite Metallic (hatchback only)

Kinetic Blue Metallic

Mosaic Black Metallic (sedan only)

Nightfall Gray Metallic (hatchback only)

Oakwood Metallic

Pacific Blue Metallic (sedan only)

Pepperdust Metallic (sedan only)

Red Hot

Satin Steel Gray Metallic (sedan only)

Silver Ice Metallic

Summit White
Interior colors:
Interior details
The 2019 Cruze is available in two body styles: compact sedan, and hatchback. Both seat five passengers. Most models feature cloth upholstery. For the upgraded leatherette finishing, choose the Premier trim model, or the Diesel trim with the Preferred package.
Both Cruze body styles have soft-touch fixtures, door cubbies that can accommodate bottles, and two drinks holders in the front-row center console. If you pick the LT trim or above, you'll also get a flip-down rear-row armrest with two further drinks holders.
Taller passengers will love the Cruze for its legroom, all seats are generously proportioned. Both body styles feature 42-inches of front-row legroom and 36.1-inches for the second row.
Cargo cubes vary and it's where you'll notice the difference in body styles the most. The L and LS sedans feature a 14.8 cu-ft trunk. The LT and Premier trim sedans have space for a spare—reducing available trunk space to 13.9 cu-ft. If you plan to haul on the regular, the hatchback is king. Fixed cargo space comes in at 22.7 cu-ft, increasing to 47.2 cu-ft with the rear-row folded down.
Child seat details
All 2019 Cruze models have two sets of LATCH connectors (two lower anchors and an upper tether) in the rear-row outboard seats and a further upper tether for the rear-row middle seat. Lower anchors are clearly indicated, though they are deeply set, and can be hard to reach during seat installation. The Cruze hatchback's upper tethers are found to the rear of the seatback. For the sedan model, they are directly behind the seating (under capped covers), on the fixed shelf.
All seat types are accommodated, though it's worth noting that the middle seat does not have a headrest and has bolstered padding where the seat and back cushion meet. These may affect seat fit.
Performance
The 2019 Cruze offers two turbocharged engine options. The standard engine is a 153-hp 1.4L turbo four-cylinder, paired to a six-speed automatic transmission. Choose the Diesel trim for a 1.6L four-cylinder turbodiesel powertrain with a nine-speed automatic transmission that delivers 137-hp and 240 lb-ft of torque. All 2019 Cruze models are front-wheel drive.
Fuel economy is one of the Cruze's standout features, with almost no difference between the sedan and hatchback models. The 1.4L Cruze in all L, LS, LT trims achieves an EPA-estimated 32 mpg combined.
 Pick the 1.6L turbodiesel hatchback for an EPA-estimated 35 mpg combined or the diesel sedan for an EPA-estimated 37 mpg combined.
According to the manufacturer, the 1.4L turbo engine can achieve a zero-60 mph of 7.7 seconds. If you're stuck in traffic, however, you're more likely to appreciate the stop-start technology each Cruze is equipped with.
Year comparisons
2011–2015 Chevrolet Cruze (First Generation)
The first-generation Cruze enjoys only mild changes and updates. In 2013, a rearview camera and blind-spot monitoring becomes available. A diesel engine option is introduced for the 2014 model year, while 2015 models gain more connectivity tech and some revised exterior styling for all but the base trim.
2016–2019 Chevrolet Cruze (Second Generation)
Ushering in the second-generation Cruze in 2016, a new turbocharged engine, and a fresh exterior look are the standout changes.
Building on the popular Cruze sedan, a Cruze hatchback was introduced in 2017. This model year also sees Teen Driver monitoring become a standard feature, and a second engine option is added for the sedan, a turbodiesel.
The hatchback Cruze gained the turbodiesel engine option in 2018. 2019 is the final year of Chevrolet Cruze production.