1. Good selection of engines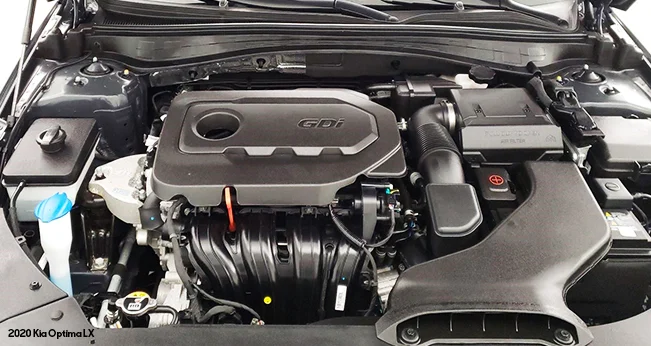 Three is a magic number, and it's also the number of engine options Kia offers on the 2020 Optima. Each one fulfills a purpose relative to what you might want from a midsize sedan. The base 2.4L four-cylinder engine is a good all-rounder for everyday driving, while the two turbocharged powerplants offer something a little different. Want maximum efficiency? Go for the 1.6L turbocharged four-cylinder engine, which can produce an EPA-estimated 31 mpg combined and 37 mpg highway.
Want to lean a little more toward performance? There's the SX trim's 2.0L turbocharged four-cylinder engine, which produces nearly 250 horsepower, while still managing an EPA-estimated 30 mpg on the highway—ideal for long-distance cruising.
Whatever you require from a midsize sedan, one of the Optima's three powerplants can provide what you're looking for.
2. Lots of equipment as standard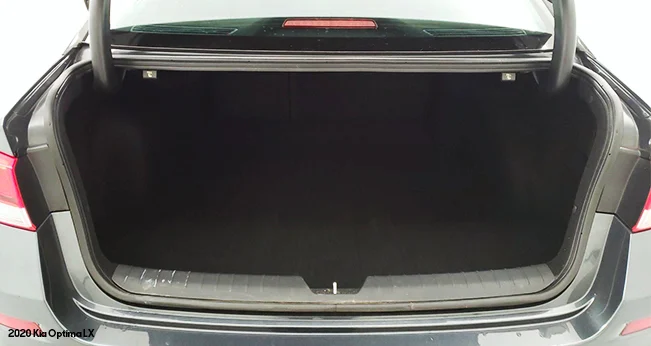 The 2020 Kia Optima has four distinct trim levels, with plenty of tech as standard. Features available on the base 2020 Kia Optima include automatic headlights and high-beam control, an eight-inch touchscreen and infotainment system—with Apple CarPlay and Android Auto integration. There's also a suite of driver convenience features, including lane-keeping assistance, rear parking sensors, and forward-collision warning. This helps make the 2020 Kia Optima an appealing choice at every trim level.
3. Plenty of driver convenience features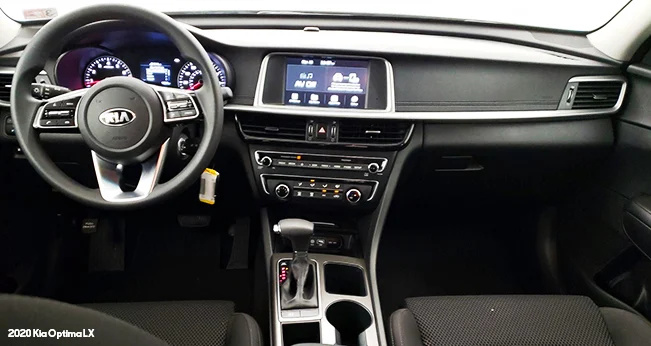 The 2020 Kia Optima boasts a great selection of driver convenience tech right at your fingertips, from the base LX model on up. On S models, you'll also get fog lights, keyless entry and ignition, and a hands-free unlocking trunk. On the EX, you'll get adaptive cruise control, dual-zone climate control, and the optional Premium package, which includes a navigation system and a heated steering wheel. And on the SX, you'll enjoy LED headlights and fog lights with automatic high-beam control, and an enhanced driver information display. Whether for business or pleasure, the 2020 Kia Optima makes every journey as effortless as possible.
4. Practical interior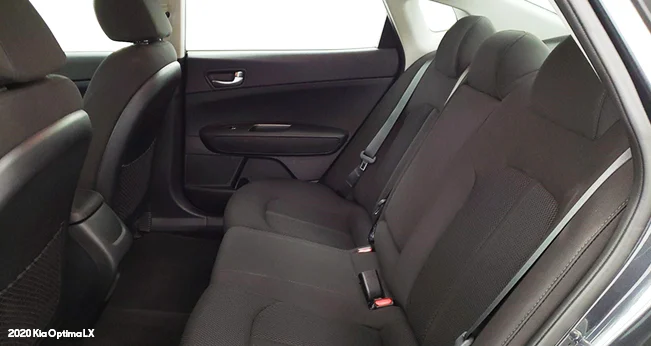 Not only does the 2020 Kia Optima have plenty of space for passengers, but there are also plenty of storage options for small items and additional cargo. The standard body can seat up to five people, with a total of 104.8 cubic feet of passenger volume. And, with 15.9 cubic feet of cargo volume in the trunk, you'll have more than enough room for a week's supply of groceries. Not only that, but the rear seats fold down in a 60/40 split-folding configuration for extra luggage space, and a hands-free unlocking trunk is available on S, EX, and SX trims. Other touches—such as two cupholders for rear-seat passengers, as well as front- and rear-door bottle holders and overhead sunglass holders—make the 2020 Kia Optima a pleasant and convenient place to relax and stow your stuff.
5. Choice of eight exterior colors
Right out of the gate, the 2020 Kia Optima is a very stylish car. It's a midsize sedan with swooping lines and a strong presence, which make it stand out from the crowd. To enhance that style, you have a selection of eight exterior colors from which to choose. Subtle standards like black, white, and gray/silver are covered, as well as bolder options such as Sangria, Horizon Blue, and Passion Red. All help maximize the curb appeal of this sleek sedan, and make the 2020 Kia Optima a car that will turn heads.