1. Range of powertrain options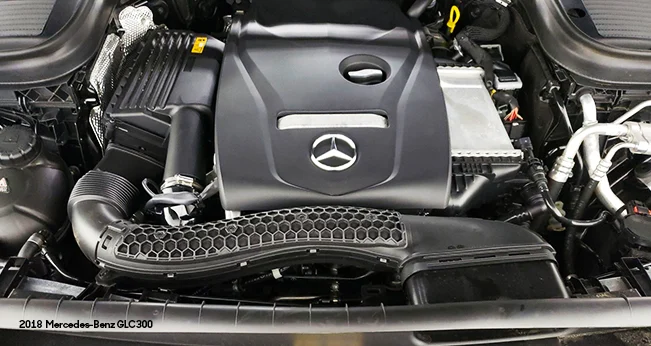 The 2020 Mercedes-Benz GLC-Class offers four powertrain options that let you express your driving passion on the open road. A 255-hp turbocharged four-cylinder engine with a nine-speed automatic transmission is the 2020 Mercedes GLC300's base powertrain. Rear-wheel drive comes standard or there is a GLC300 4MATIC® version, which includes all-wheel drive for optimized wheel torque and traction. If you are a performance enthusiast looking to get a Mercedes AMG SUV, you'll want to consider the 2020 AMG GLC43's turbo 3.0L V6 with 385 hp or the AMG GLC63's turbo 4.0L V8 with a sizzling 469 hp. Available mid-2020, a GLC350e plug-in hybrid will also be offered and include a turbo 2.0L four-cylinder gasoline engine and a 90-kW plug-in hybrid electric motor that has a total system output of 315 hp and 516 lb-ft of torque.
2. Exceptional performance
Whether you are craving a luxury SUV with Autobahn-worthy performance or a family-hauler with good fuel economy, the Mercedes-Benz GLC-Class SUV has plenty to offer. When equipped with the turbo 2.0L engine and nine-speed automatic transmission, the 2020 GLC300 4MATIC returns an EPA-estimated 21 mpg city and 28 mpg highway—and that's with all-wheel drive!
If you're looking for potent acceleration, the 2020 AMG GLC63's turbo 4.0L V8 will knock your socks off as it goes from zero to 60 mph in just 3.8 seconds. This model also boasts an advanced adaptive air sport suspension for precise handling stability, as well as a limited-slip differential.
3. Upscale interior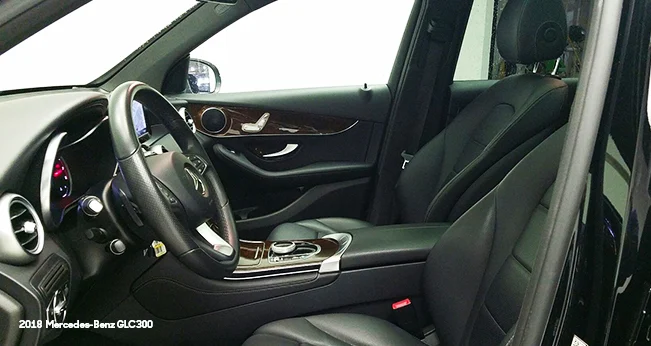 Luxury SUVs are admired for their premium in-cabin experience and this GLC Mercedes is no exception. All 2020 GLC-Class SUVs showcase an array of luxurious materials, which provide a comfortable passenger experience across its two rows. Standard equipment on all 2020 models includes dual-zone climate control and heated front seats with power adjustments and driver memory settings. The interior can also be upgraded to include leather upholstery, ventilated front seats, multi-media features, and more, by adding a GLC-Class package option.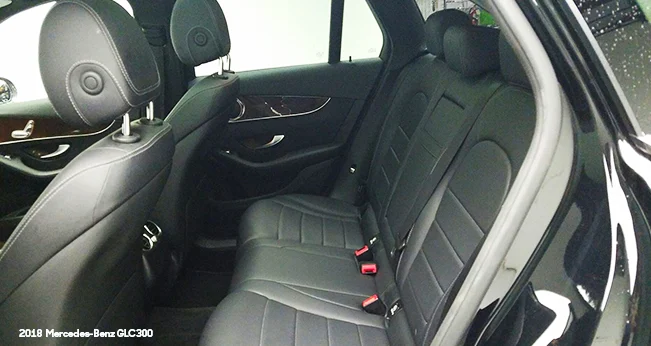 4. Driver-assist features
A highlight of this Mercedes is the SUV's driver-assist technologies, which can help you find extra enjoyment in your commute. Active Brake Assist, which is a radar-based technology, comes standard on all 2020 GLC-Class models and can help maintain an appropriate following distance from the vehicle in front of you. Parking the GLC Mercedes is also made easier with the inclusion of a rearview monitor (standard on all 2020 models), which displays a live 180-degree view of the vehicle on the touchscreen display.
5. Innovative connectivity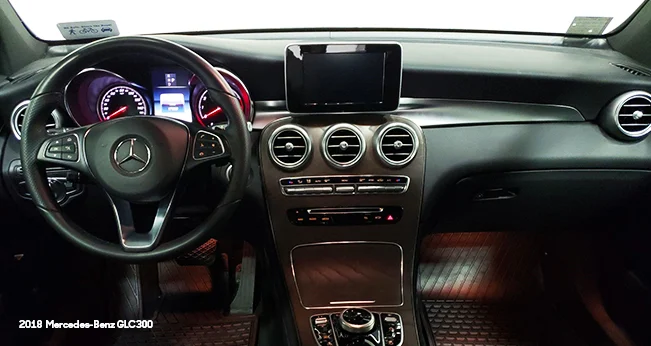 The 2020 GLC-Class features an advanced infotainment system called the Mercedes-Benz User Experience (MBUX), which comes standard on all models except the GLC350e. It includes an expansive 10.25-inch display with touch-sensitive controls and an available voice control system that responds to everyday phrases and commands. For example, if you want to adjust the cabin temperature, just say, "Hey, Mercedes, I'm cold," and the SUV will automatically adjust the climate control system. Apple CarPlay and Android Auto capabilities are also included as standard equipment on all 2020 GLC-Class models.