Car Financing for First-Time Car Buyers
---
PUBLISHED WEDNESDAY, JULY 26, 2017
How to find a good first car and how to get car financing!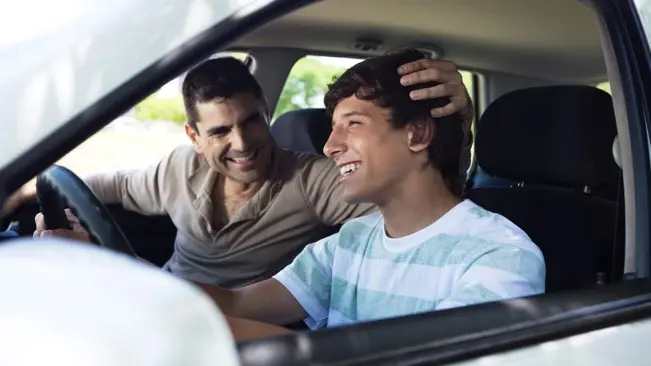 So, you're in the market for your first new or used car. Congratulations! The open road awaits you!
You probably have questions about the process — how to find the right first car, how to go about buying it, and how to secure financing for your purchase. We've got answers! Below are some commonly-asked questions our customers often have as a first-time buyer. Let's get into it!
How does financing work?
Say you've found a sweet Nissan Sentra — great condition, low miles, and it's got everything you need. Looks like a great first car, but how do you pay for it? When you finance a car purchase, you're borrowing money and entering a contract to repay it over time, usually in monthly payments. This is a standard practice, and lots of people use financing to purchase larger items like vehicles and big appliances.
At CarMax, financing is different from the haggling you might face at traditional new- and used-car dealerships, where you negotiate financing terms and may experience a lack of transparency. At a CarMax store, your sales consultant doesn't get paid based on your financing terms! Here's how the process works.
Do your research and establish a budget. Take a good look at your needs for your first car, including your driving requirements, to make sure you get behind the wheel of a vehicle that suits you for as long as you plan to keep it. Use our online calculator to understand the costs and the benefits of making a down payment. Check your credit score — your credit will be a factor in your available financing options. Understand the financing terms you'll be hearing about as you go through the process. Your used car research will pay off.

Get pre-qualified. This gives you an idea of how much you can spend on your purchase. 

Come see us at CarMax. We'll sit down with you to go over available financing options. Finance decisions come directly from our finance sources, usually within minutes of submitting your application.
If you decide to visit a traditional car dealership and finance your vehicle there, be sure you understand how the process works. The Federal Trade Commission has a handy guide to vehicle financing that can help you.
How do I budget for a used car?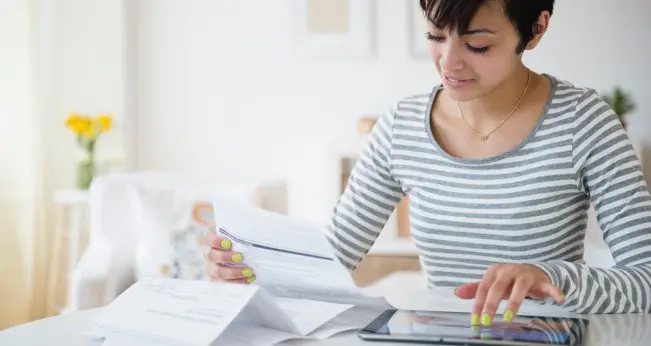 Do yourself a favor and make a budget for your first car purchase. Giving yourself some realistic guardrails will help make car ownership easier on your wallet! Most financial institutions recommend budgeting no more than 15 percent of your gross monthly income on a monthly car payment.
When you're budgeting, use an online calculator to get a feel for vehicle prices, down payment amounts, monthly payments, and annual percentage rates. In addition, check out these great ways to save on your next used car and additional helpful tips for the first-time car buyer.
So, when you've got your eye set on a used Hyundai Elantra or Nissan Versa — two solid-value choices for the first-time car buyer — you can make your purchase more confidently, and with less worry about paying for it.
How important is a down payment?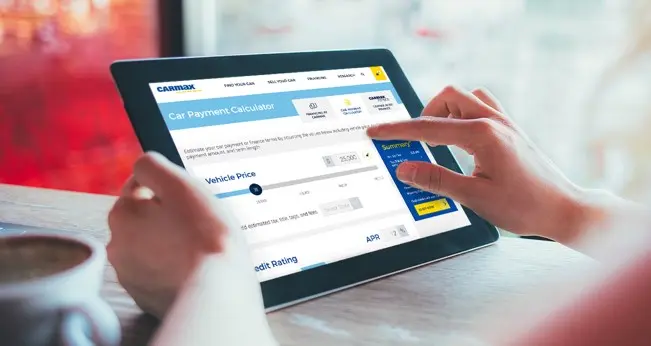 A down payment is the amount of money you put down at the time of your purchase. Some dealerships require a down payment, but at CarMax, making a down payment isn't a requirement. But it is important. If you're looking to buy a Ford Focus or Kia Forte for your first car, making even a small down payment — even $100! — is better than nothing at all. That's because it reduces that amount you'll need to finance and your monthly payment amount.
If you have a vehicle to trade in, you can get your car appraised (yes, you can put your offer from CarMax toward the purchase of a used car or truck at CarMax).
We've also partnered with car-review experts, Edmunds, to help you focus on what matters most when you're buying or selling a car. Check out our appraisal tool to see what your used car may be worth.
Can I get approved if I have no credit? How about bad or damaged credit?
We successfully provide options to customers with many different credit profiles because we work with some of the country's leading financial institutions, which improves your chances of getting approved.
Can I finance through my bank or credit union?
At CarMax, yes you can. Just bring your outside financing when you come to visit us at any CarMax location. You can also replace your CarMax offer with an outside financing offer within three days of your purchase, without any cost.
What finance companies does CarMax work with?
Almost eight out of every 10 CarMax customers purchase using our financing sources. Finance offers are typically based on these factors:
the vehicle you want to buy (its cost, age, and mileage)

your application information (your employment, residence, and income information)

your credit history (the information included in your credit file)

your down payment (the total amount of cash and trade value)
In addition to CarMax Auto Finance, our financing sources include Ally® Financial, Capital One Auto Finance®, Wells Fargo Dealer Services, and others.
We're confident about the competitiveness of our financing offers — but you're still welcome to replace ours with an offer from another finance source within three days of your purchase, at no cost.
What do I need to get pre-qualified?
Our pre-qualification process is fast and simple, and you can get pre-qualified at your convenience, using your computer or mobile device. Here's what you'll need to complete your application online:
Your contact information, including your home address

Your current employment information

Your current income information

Your co-applicant information, if you have a co-applicant
How do you decide where to buy?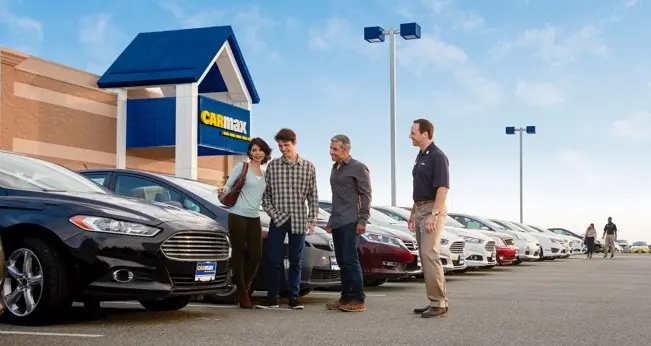 We won't tell you where to buy your first car or truck. Some dealerships may give you what you're looking for — and others might give you the feeling that you're being taken advantage of. But here at CarMax, you can feel confident that we'll never pressure you into making a purchase. We want you to find the used vehicle that best fits your needs, for as long as you plan to own it, and we have a no-haggle, no-pressure approach that lets our customers focus on finding a vehicle that's right for them.
You're embarking on an exciting adventure — good luck with buying your first vehicle, and whatever you buy, we hope you enjoy it.