How to Start Car Shopping
---
PUBLISHED FRIDAY, JANUARY 28, 2022

Go from confused to confident in a few minutes flat.
So you're ready to shop for your next car. Great! With so much information available to you online, it's never been easier. On the other hand, with so many makes, models, and styles to choose from, figuring out where to start can be daunting. How do you navigate the choices, narrow your focus, and feel confident in your decision? If you're looking for a road map to your next car, consider this article your guide.
Start with what you know.
If you're shopping for your first car, congrats! Skip directly to the next section. If you're replacing a car, before you scroll online or stroll a lot, take some time to consider a few things.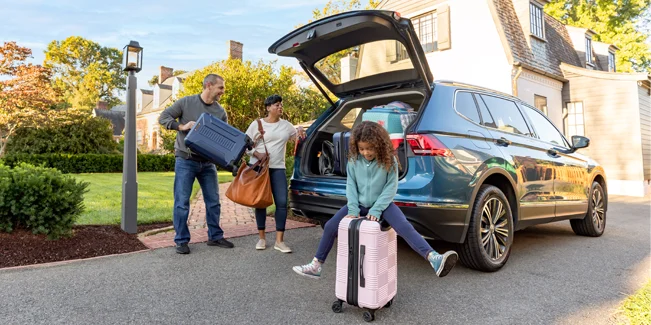 You know yourself and your current car better than anybody else does. What made you think about replacing it? Maybe it's reached a point where repairs are piling up and you're throwing good money after bad. Perhaps you've outgrown your current ride. Maybe you're just ready for a change.
Whatever the reason, before you jump right into shopping, consider what you like about your current car. Just as importantly, what do you dislike? Ponder. Drive. Ponder again. Once you've come up with a list of pros and cons, you're ready for the next step.
Dig a little deeper. 
Answer these questions and you'll be well on your way to deciding what size, body type, and features best suit your needs.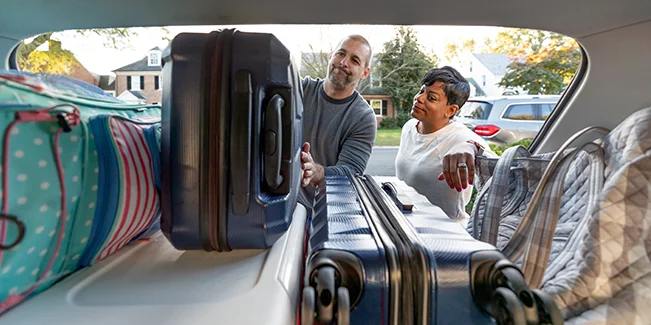 Narrow your selection.
At this point you may not know the specific type of car you want, but you know what you like. And you've thought about the ways you'll be using your next vehicle. Now it's time to decide the type that's right for you and come up with a manageable list of potential options for easier shopping.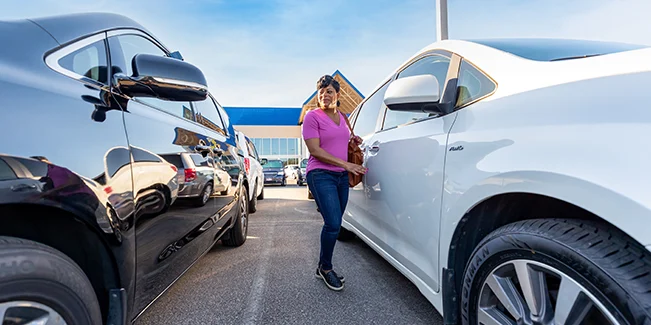 So let's talk more about the six most common vehicle types and why you'd want to pick one over another.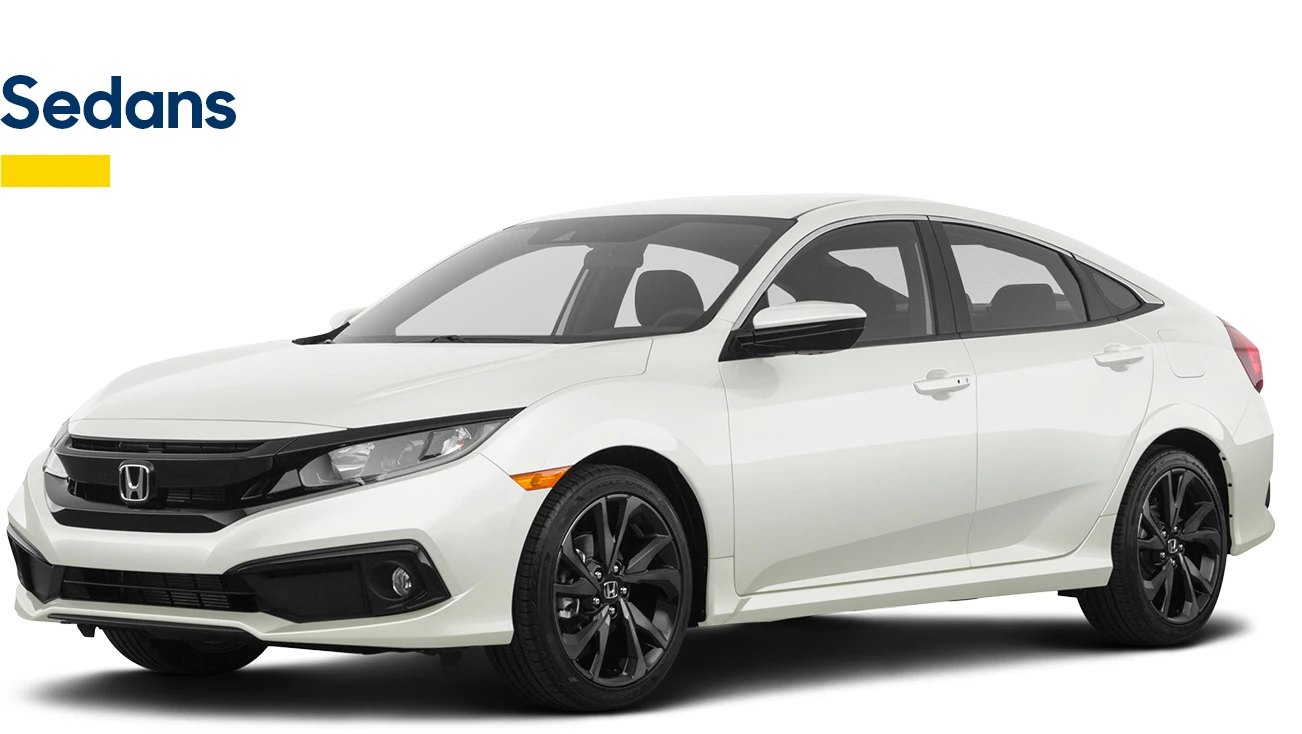 Sedans have four doors, a trunk, and a long history on American roadways. Like most vehicle types, they come in a variety of sizes, from sub-compact to full-size. A sedan is a good choice if you like the convenience of a back seat, you use your car for commuting, or you want something relatively easy to park.
Here are the most popular sedans among CarMax shoppers1:
To take it beyond the specs and features, we asked some CarMax associates what they love about their sedans. Here's what they had to say: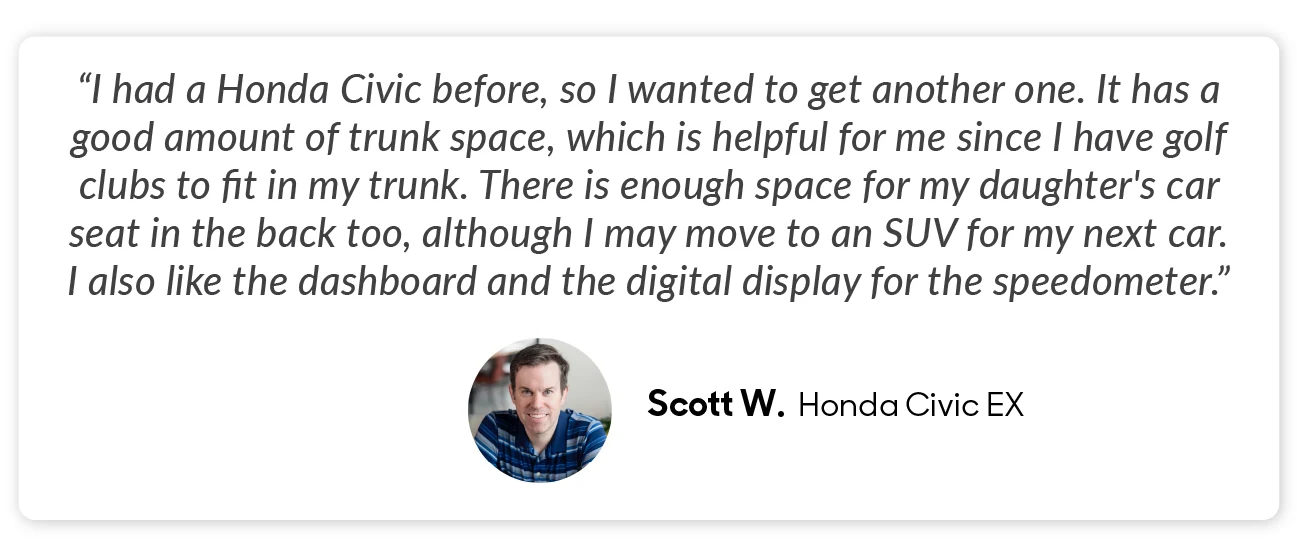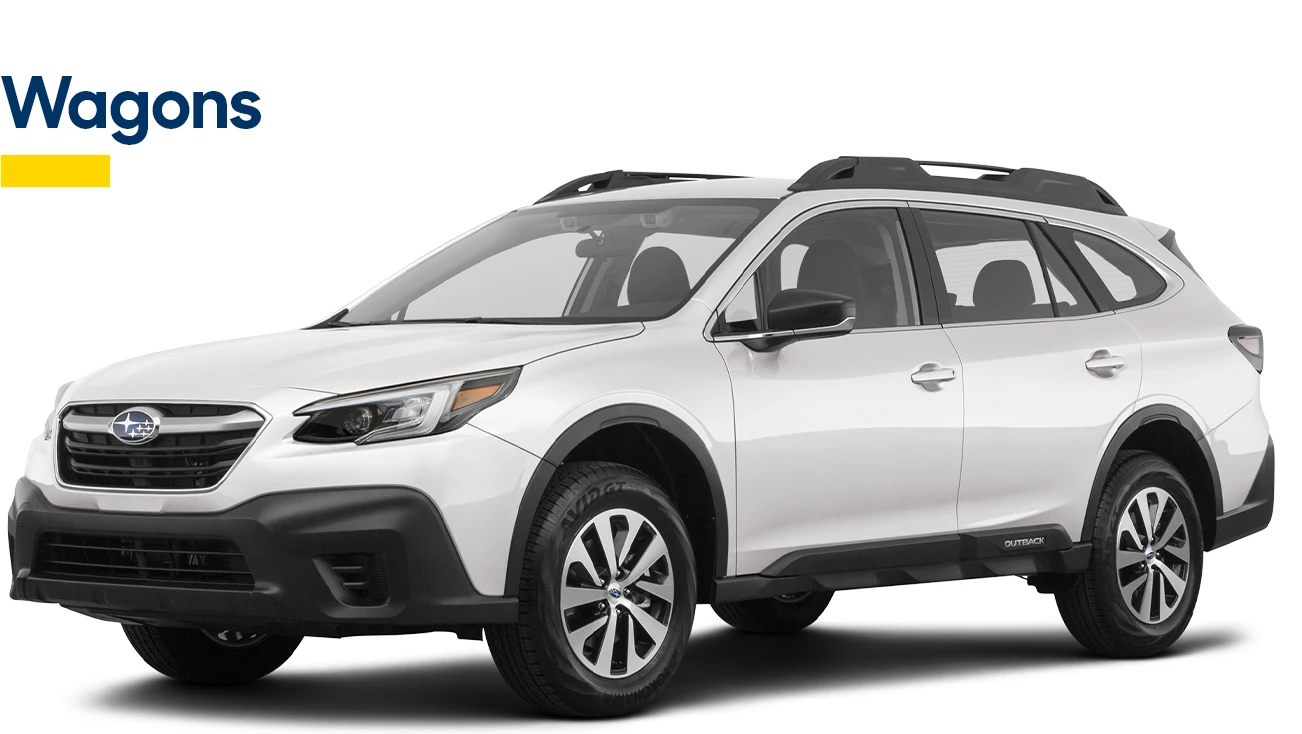 Wagons are like sedans, but they have an extended roof line and a rear hatch instead of a trunk. Some feature raised frames for more ground clearance, so they drive more like SUVs. Wagons aren't as popular as they once were, but if you like a car as unique as you are, with cargo space and a comfortable interior, this could be the right choice. Here are the most popular wagons among CarMax shoppers right now1:
CarMax associate Kate L. prioritized comfort for herself and her dog when choosing a vehicle. Here's why she settled on a wagon: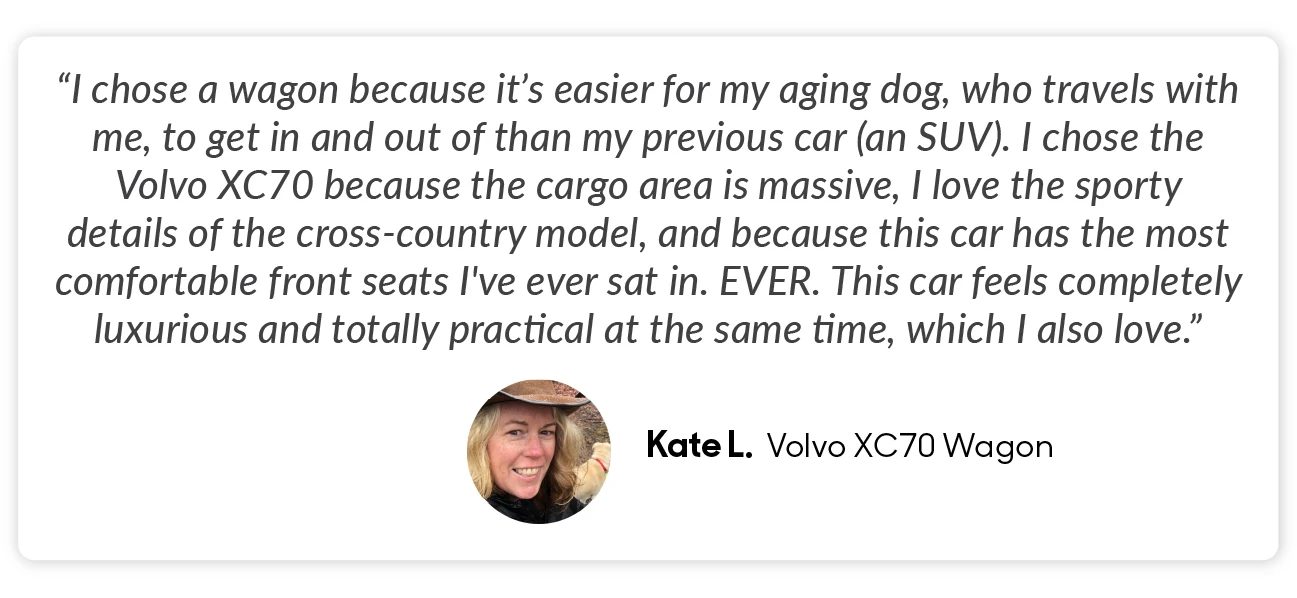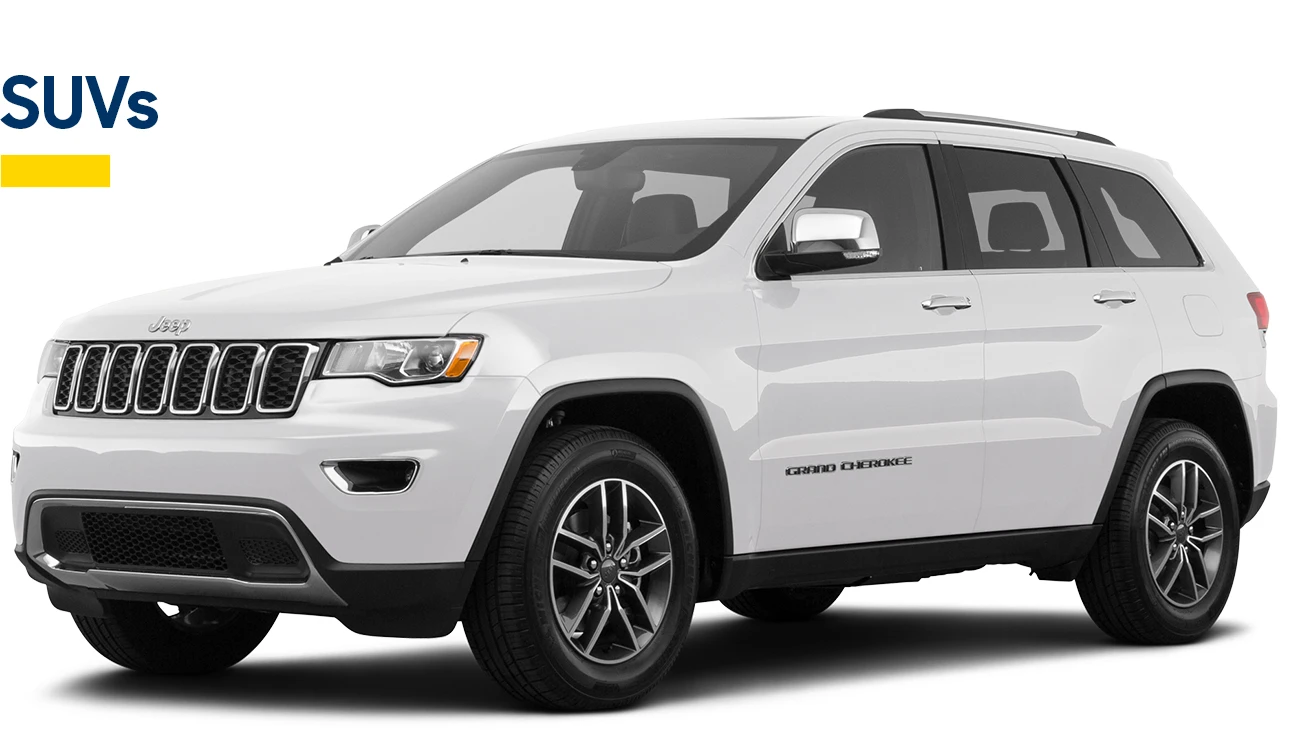 SUVs are "sport-utility vehicles." They're taller and boxier than sedans, with more ground clearance. They have a rear hatch door that provides access to a cargo area. Larger SUVs may have three rows of seats. An SUV is a good choice if you want to pack the back and go tailgating or ride with the fam to a vacation destination. Here are the best-selling SUV makes and models at CarMax1: 
CarMax associates love their SUVs for their versatility. Here's how two associates are using their SUV in very different ways: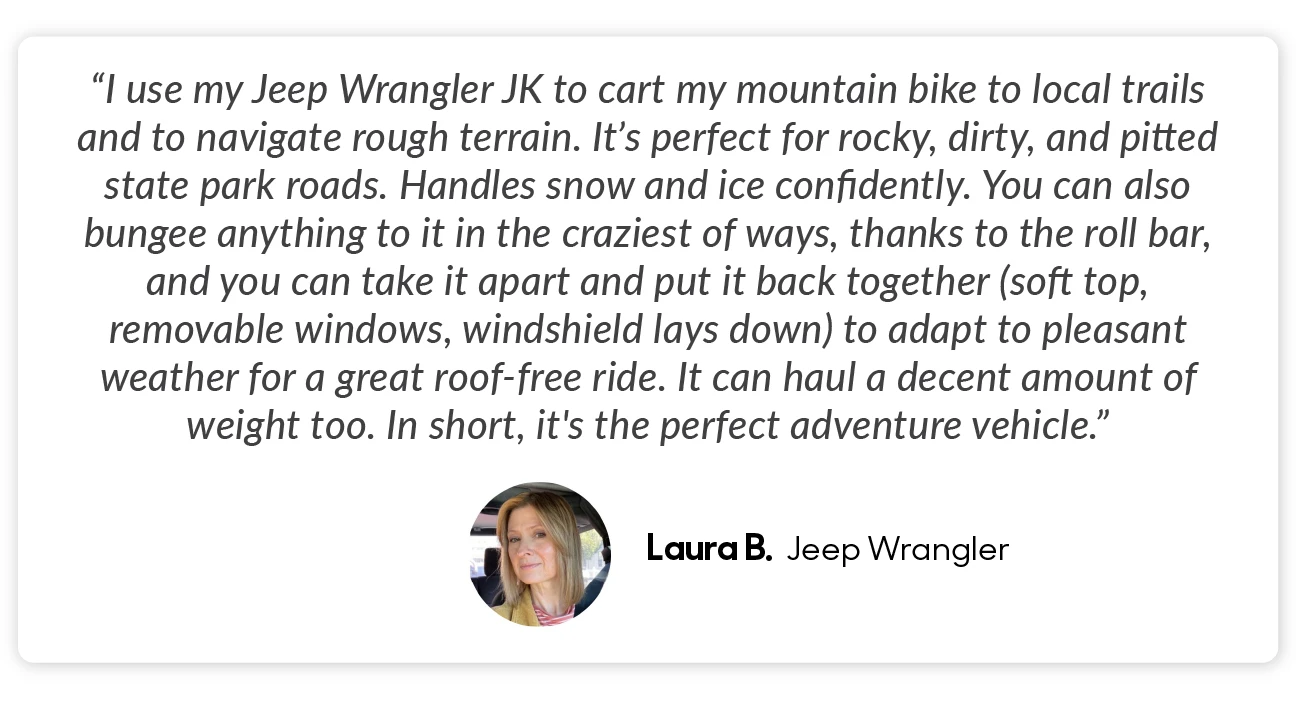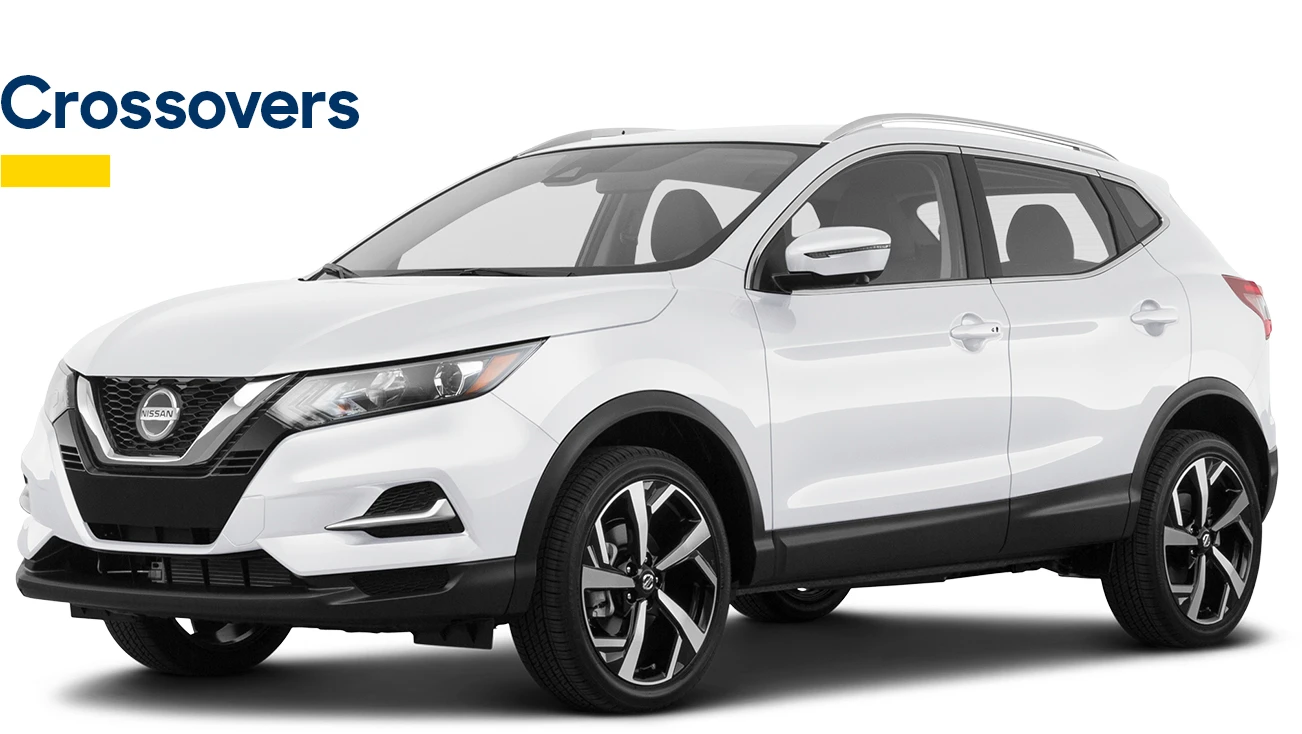 Crossovers and SUVs are close cousins. In fact, sometimes the names are used interchangeably. To get specific, crossovers are SUVs that are built on car frames, while traditional SUVs are built on truck frames. If you're looking for the convenient cargo access of an SUV but with a more car-like ride and (possibly) better gas mileage, consider a crossover. Here are the CarMax best-selling crossovers1:
CarMax associate Veronica P. needed a vehicle with enough room for her family's daily use and longer road trips that was also economical at the fuel pump. Here's why she settled on a crossover: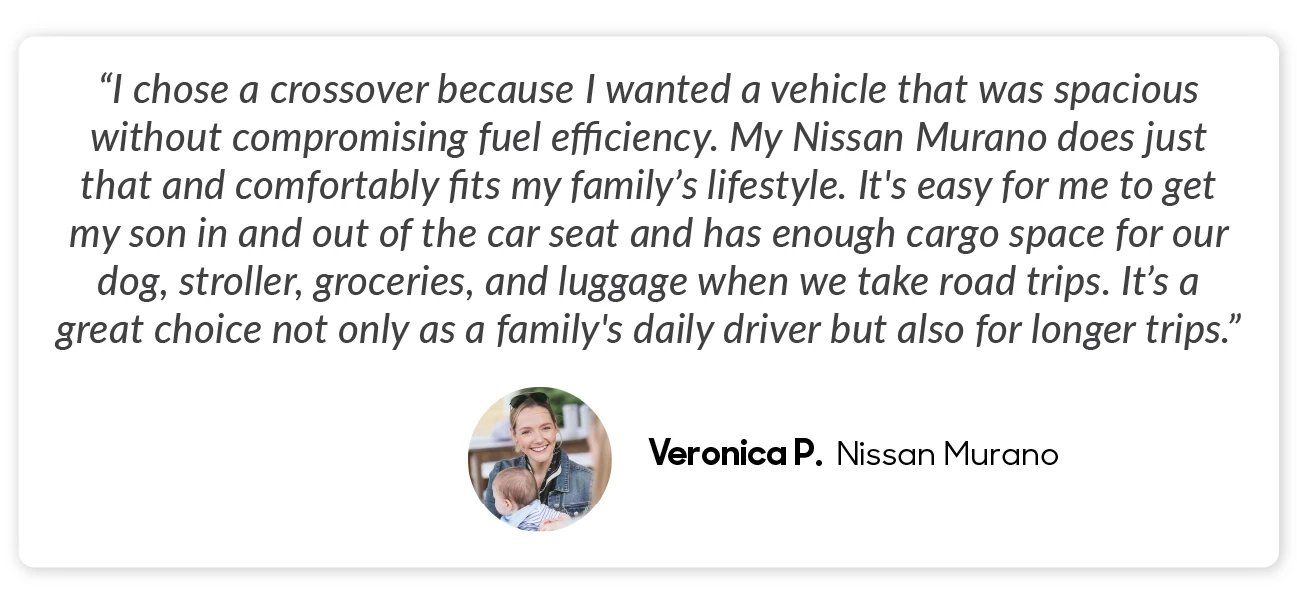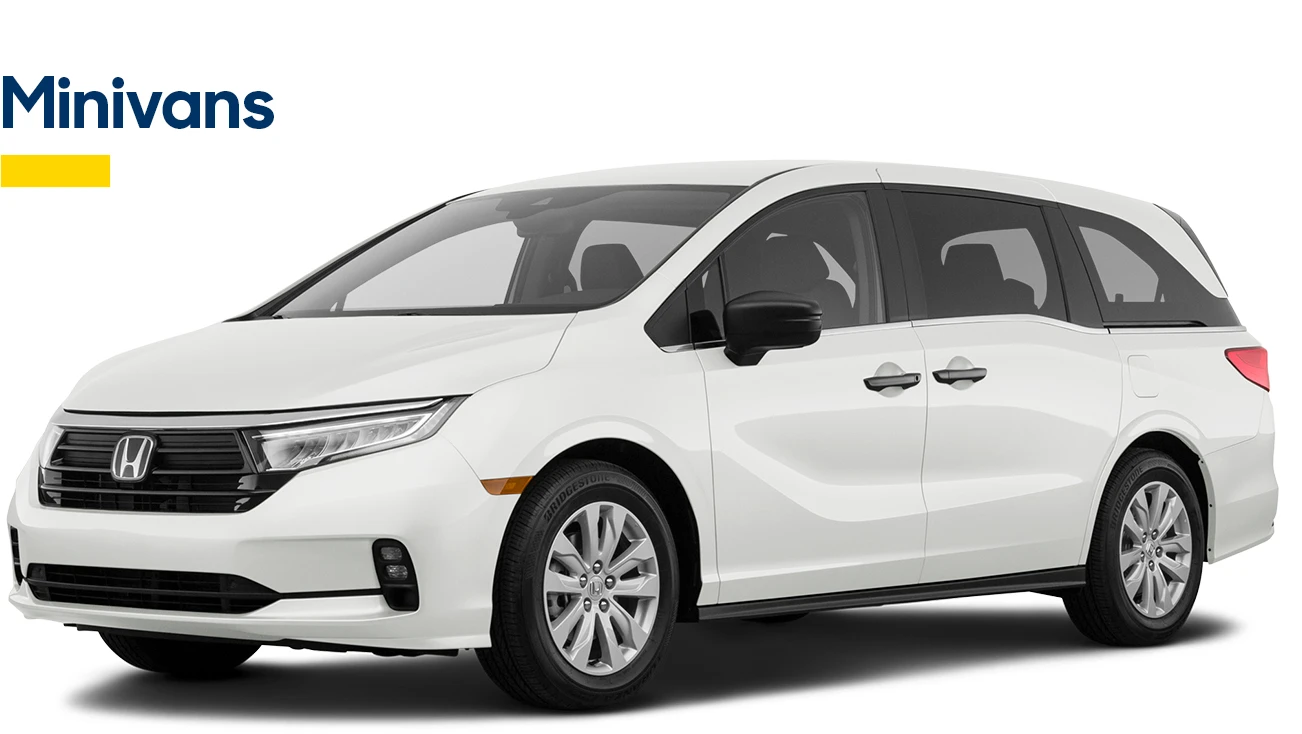 Minivans are anything but "mini." They're tall, with large interiors and easy access, thanks to sliding doors and a rear hatch that opens to a roomy cargo area. Most feature seating that folds away for expanded interior space. A minivan carries parents, kids, and baggage with ease, so it could be the ideal choice for your growing family. Here are the most popular minivans among CarMax shoppers1:
CarMax associate Scott L. loves his minivan for the ease of transporting his kids around, and the plentiful storage space: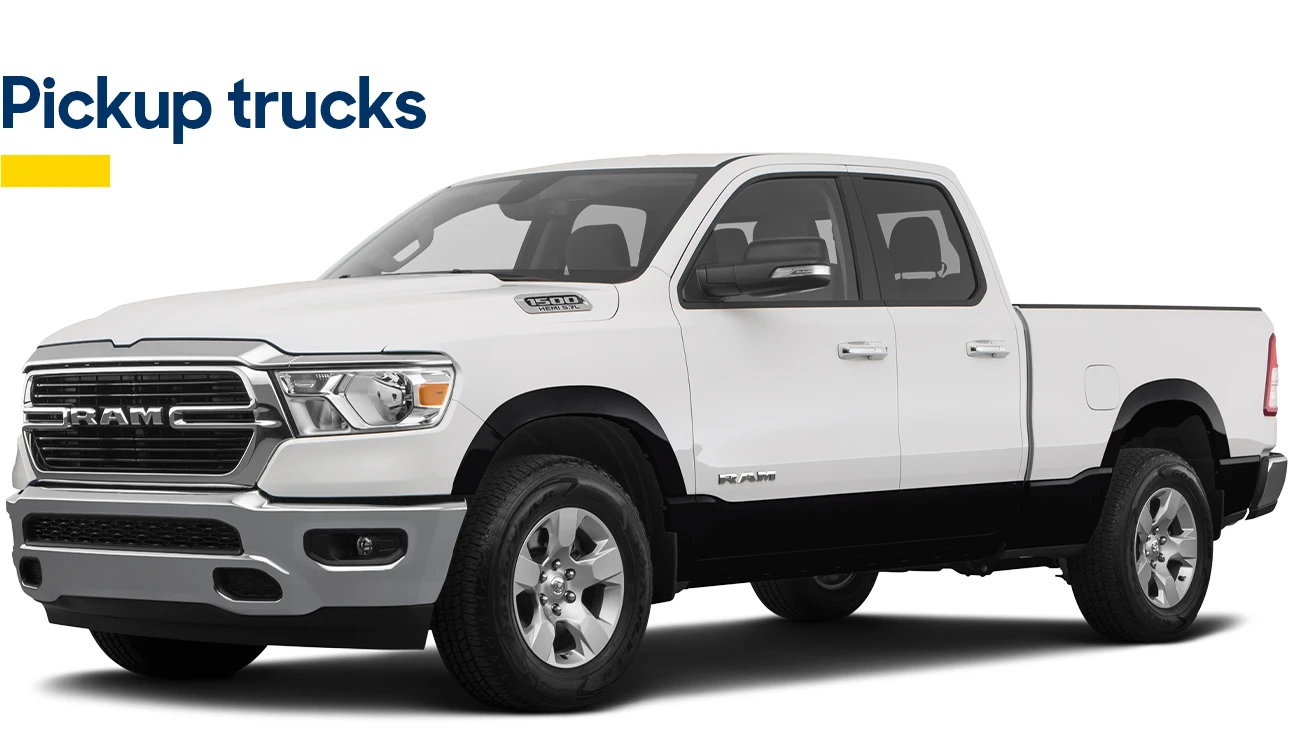 Pickup trucks carry two to six passengers in the front and a sizeable payload in the back. Originally designed as utilitarian workhorses, pickups of today feature rugged good looks and comfortable, even luxurious, interiors. Consider a pickup truck if you like to ride high in the cab and enjoy maximum versatility. Commute to work one day, haul yard debris the next, and spend the weekend towing your boat to the lake. Here are the most popular pickup trucks at CarMax1: 
CarMax associate Mike B. needed the versatility of a truck to accommodate his hobbies and family. Here's why he loves his RAM 1500 Big Horn: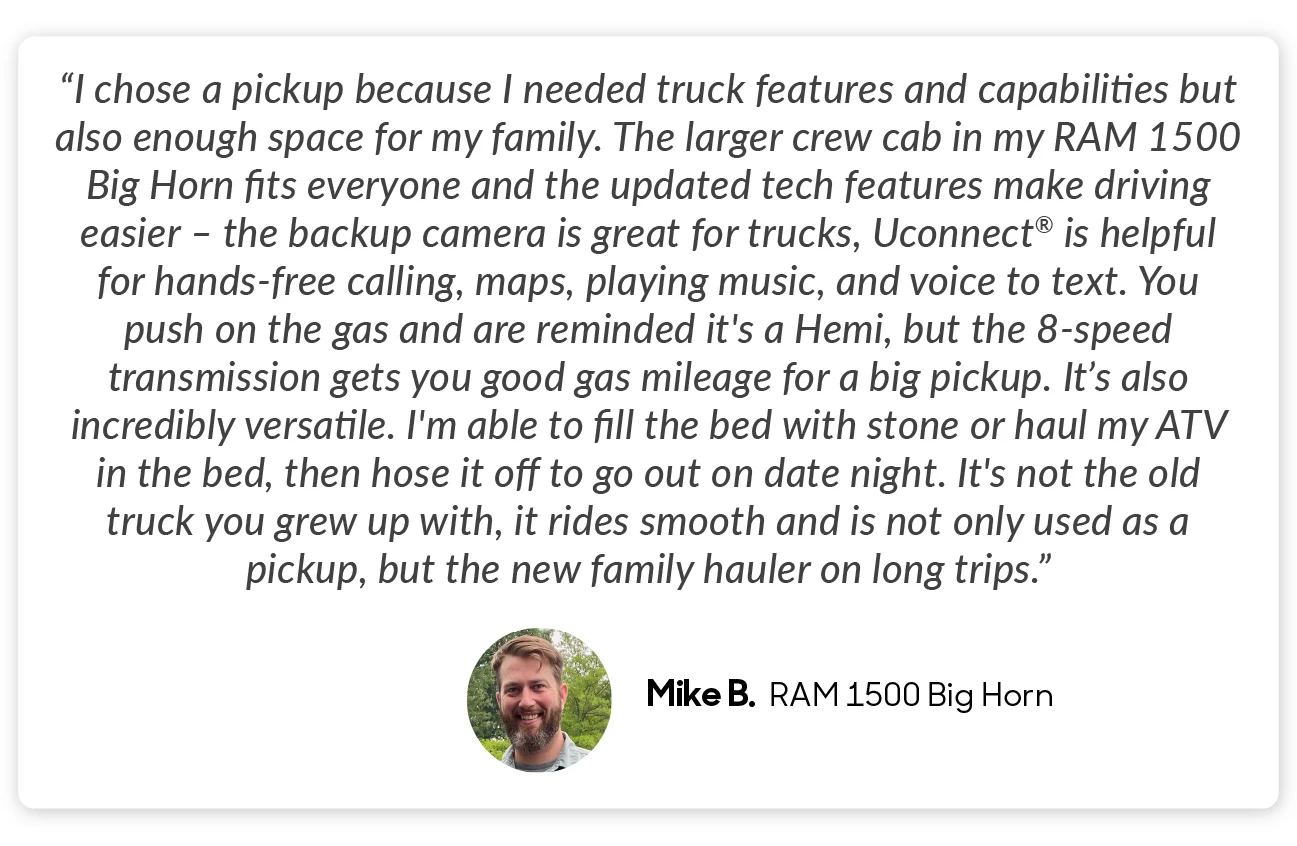 Let's shop!
You've asked yourself the right questions. You know your likes, dislikes, wants, and needs. You know the types of cars and which type is right for you. Buckle up! You're greenlighted to start your car-shopping journey. Check out this How to Buy a Car article for more information and shop the nation's largest used car inventory here.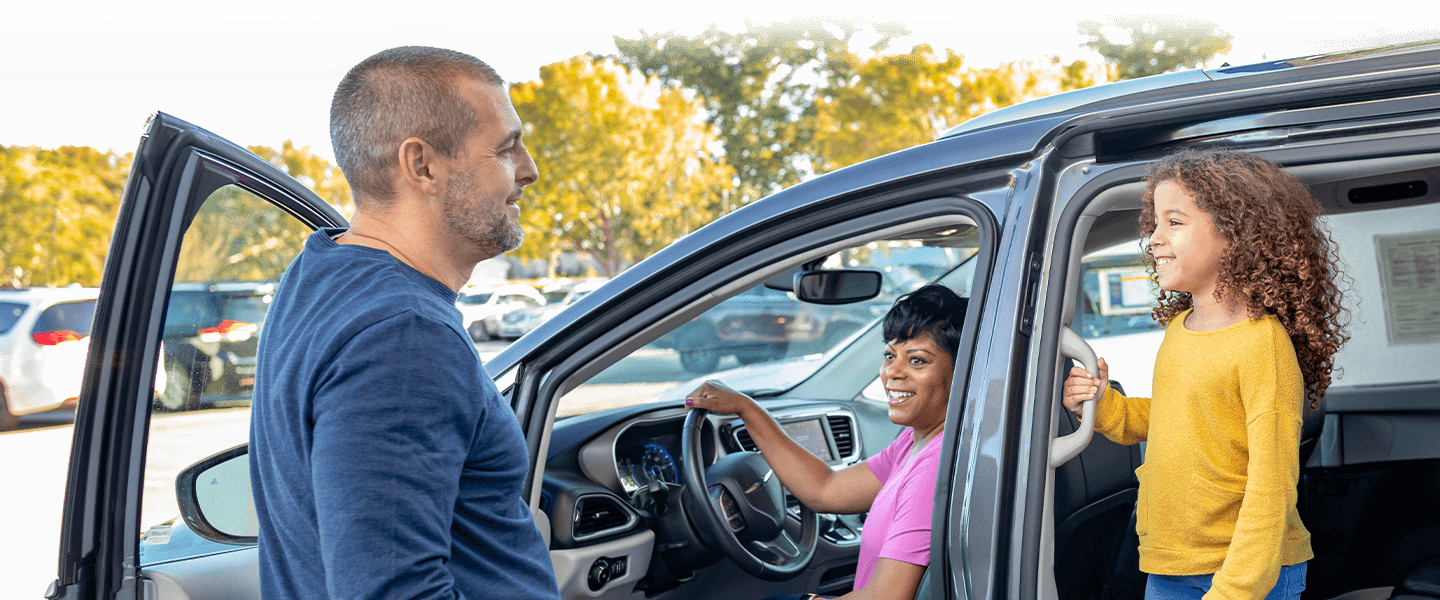 1
According to CarMax sales from 3/1/2021 – 8/31/2021.