Ask the Experts: Should I Buy a Ford Bronco?
---
PUBLISHED MONDAY, MARCH 14, 2022

BY EDMUNDS EDITORS

Standout styling and rugged off-road capability.
With thousands of vehicles in our inventory, we're here to help make car research easier for you. We've partnered with car-review experts from Edmunds to weigh in on what matters most when you're looking to buy a truck or car.
***
Vehicle Reviewed
2021 Ford Bronco
What do I need to know about the Ford Bronco?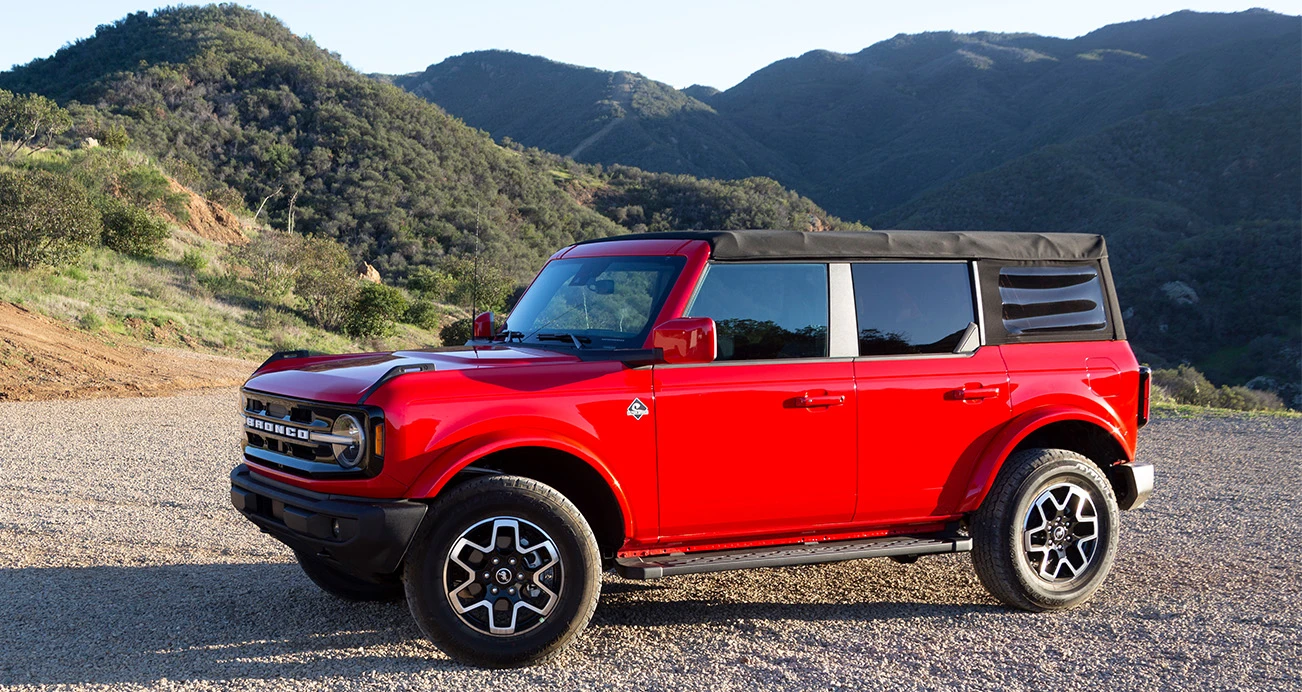 The Ford Bronco is an SUV with a lot to prove. At first glance, it might seem like just a boxy, retro-styled SUV with seating for five. But underneath the Bronco is focused on being an off-roader with much more capability than the average crossover. Like the Jeep Wrangler and the Toyota 4Runner, much of the Bronco's appeal comes from how far it can go off-road.
This reborn icon debuted for the 2021 model year. It's available as a two-door or a four-door and has a removable roof and doors. Note that you shouldn't confuse it with its smaller sibling, the Bronco Sport. The Bronco Sport is a small crossover SUV that's related to the Ford Escape. Ford builds the midsize Bronco on a truck-based chassis.
What are the Bronco's engines and fuel economy?
There are two engines to choose from with the Bronco. The standard powertrain is a turbocharged 2.3-liter four-cylinder that produces 300 horsepower and 325 lb-ft of torque. It's paired to either a standard seven-speed manual or a 10-speed automatic transmission. The optional engine is a 2.7-liter V6 that makes 330 hp and 415 lb-ft of torque. It's paired with the 10-speed automatic transmission only. All Broncos are equipped with four-wheel drive.
Fuel economy for the Ford Bronco varies with not only the type of powertrain you choose but also the version of Bronco you pick. Models with upgrades such as a lifted suspension and bigger wheels and tires can have reduced efficiency. EPA estimates therefore vary. 2021 Broncos with the 2.3-liter engine receive an estimate between 17 mpg combined and 21 mpg combined. With the 2.7-liter V6, EPA estimates are between 17 mpg combined and 19 mpg combined.
Travis' take: The standard 2.3-liter engine has adequate power but doesn't feel very gutsy when you go for a passing maneuver. With such small differences in EPA estimates between the two models, and the power differences so big, I'd go with the optional 2.7-liter V6. And if you're looking for a fuel-efficient SUV for your daily commute, you probably shouldn't have the Bronco on the top of your list in the first place. 
What's the Bronco like to drive?
The Bronco's focus on off-roading capability does limit all-around comfort. The ride is comfortable and the seats are well padded—they're great on long journeys—but road noise and wind noise are present in the Bronco nearly all the time. There's a constant buzz of wind noise over the top at highway speeds, and that's with both the soft-top and the hard-top designs. With more off-road-focused trims like the Sasquatch, you get big all-terrain tires. They help with capability, but they generate extra road noise.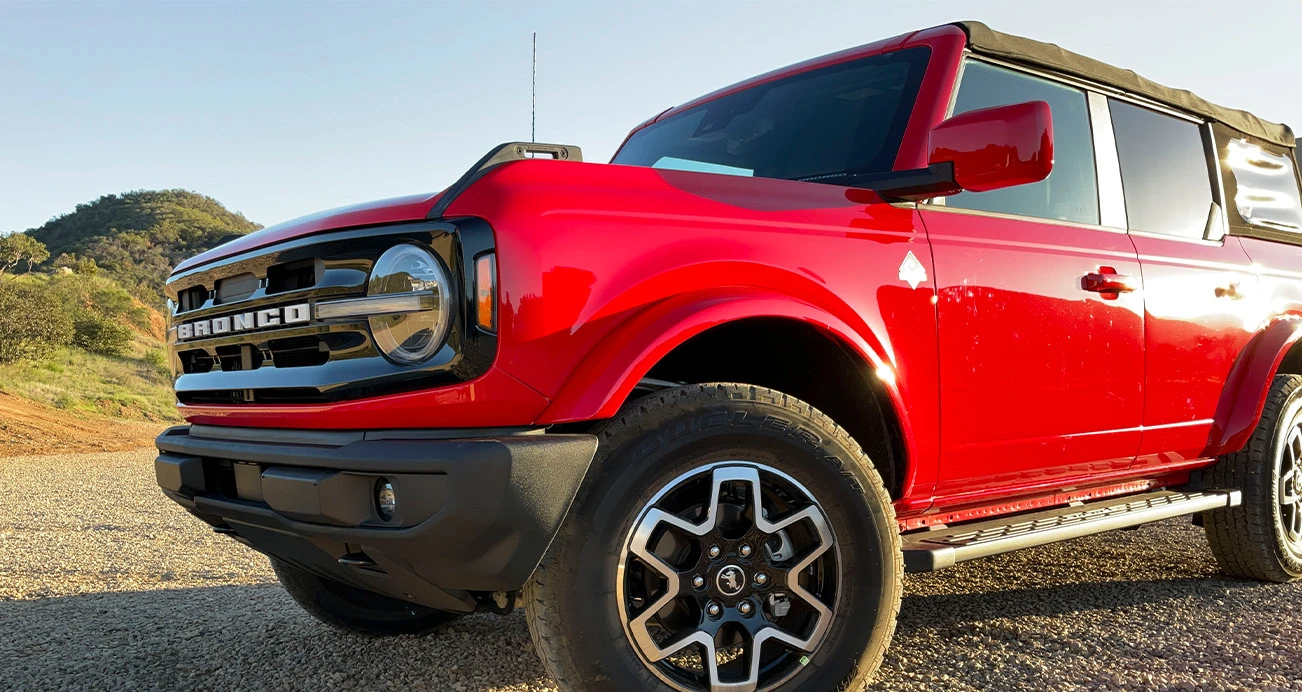 On the upside, the Bronco has impressive steering for a truck-based SUV. The Bronco is direct and stable on the highway, and it doesn't have the vague, way-too-light feel you get from the Jeep Wrangler. Quick and smooth shifts from the 10-speed automatic transmission are another high point.
Off-roading in the Bronco is a joyous experience. It feels robust, stable, and provides plenty of capability to get you over bumpy and rocky surfaces. There are also many available upgrades to further enhance the Bronco's capabilities, such as big all-terrain tires and locking front and rear differentials to help maximize traction.
Travis' take: The steering differences between a Wrangler and a Bronco are like night and day. In off-road-focused trims like the Rubicon, the Wrangler is unwieldy on the highway. You constantly have to adjust the steering wheel to keep the Wrangler going straight. Sure, there's some road and wind noise in the Bronco that's pretty annoying, but the differences in steering alone are enough to convince me that the Bronco is the better SUV.
What's the Bronco's interior like?
Both the two- and four-door Bronco models are spacious and comfortable on the inside. The rear seats are a bit flat and firmly padded, but otherwise adults should be comfortable in all the seating positions. There's plenty of headroom, too, thanks to the tall roof. The quality of materials isn't exactly top-notch, but the Bronco's price tag makes a bit more sense considering all the off-road tech and capability that you get. 
Getting in and out of a base Bronco is relatively easy. On the more off-road-oriented trims that have a lifted suspension and big tires, climbing into the cabin is more awkward because there's a higher step up needed to get into the cabin. There's a grab handle designed to assist your climb in, but it's located on the dashboard rather than the windshield pillar—not an ideal location. Once you're in, finding an appropriate driving position is easy thanks to lots of adjustment range in the steering wheel and driver's seat.
Travis' take: You're not spending your money for a classy or plush interior. What you're paying for here is off-road capability and a bit of nostalgia. It's functional, and for me, that's fine. The Bronco feels like it can take a bit of abuse. The controls and the main touch surfaces feel strong, and nothing feels overtly cheap.
How is the Bronco's tech?
Every Bronco comes standard with forward collision mitigation, which warns you of an impending collision and applies the brakes in certain scenarios. The Bronco also comes standard with several driver aids aimed specifically at off-roading. Trail Turn Assist is one such feature. It tightens the Bronco's off-road turning radius by braking the inside rear tire during a turn, allowing the Bronco to almost make a pirouette around its braked tire. On some trim levels, features such as a disconnecting front stabilizer bar and locking differentials are available. These can be easily controlled with the push of a button to allow for nearly effortless off-roading.
Apple CarPlay® and Android Auto™ smartphone integration works well in the Bronco. They come standard with wireless connectivity, which is a big plus. The base Bronco comes standard with an 8-inch touchscreen, while some trim levels offer a positively massive 12-inch screen. It responds to inputs quickly and has high-resolution graphics. Driver aids such as lane-keeping assist (steers the Bronco back into its lane if it begins to drift over the lane marker) and a 360-degree camera (gives you a top-down view of the Bronco and its surroundings) are all available as well.
Travis' take: If you think you need to buy a luxury SUV to get high-tech features, think again. This Bronco, especially with the Lux package or the Sasquatch trim, is available with just about all the driver tech aids you can think of. Wireless smartphone charging, adaptive cruise control, and even a navigation system that includes trails—you can have it all on the Bronco.
What other SUVs should I consider?
The Jeep Wrangler is the Bronco's most obvious competitor. And when you compare the two, the Wrangler does have a few advantages. The Bronco currently offers only two powertrain options (with a third on the way via the Bronco Raptor) but the Wrangler offers several more, including a diesel option and a plug-in hybrid. The Wrangler is also a bit more efficient across the range, according to EPA estimates. The Bronco, however, is significantly nicer to drive thanks to its much-better steering and handling characteristics.
Other SUVs are less capable off-road but are generally a little more comfortable. These include the Land Rover Defender, Subaru Outback, and Toyota 4Runner.
If I decide on a Bronco, which one should I buy?
The base trim level of the Bronco is reasonably well equipped and comes standard with LED headlights, smartphone connectivity, and Wi-Fi hotspot capability. However, we recommend going with the Big Bend trim level or higher. The Big Bend adds additional terrain management modes and some different style features, but more importantly it gives you access to the Mid and Sasquatch packages. Those optional packages offer lots of creature comforts and off-road goodies worth checking out.

Travis Langness is an automotive reviews editor for Edmunds.com. As a lifelong car enthusiast, Travis has a deep passion for cars. Through instrumented testing, off-roading, epic road trips, and local commuting, the Edmunds team tests and writes about new and used vehicles to help car shoppers make informed decisions.