Green-Conscious: Exploring Americans' Views on Hybrid and Electric Vehicles
---
PUBLISHED MONDAY, AUGUST 23, 2021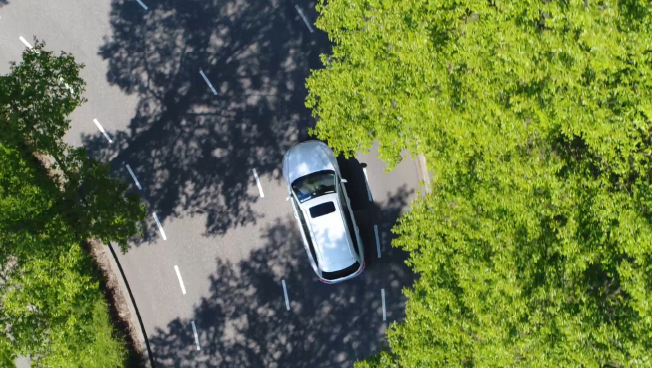 Highlights:
55.9% of people said they're likely to buy a hybrid or electric vehicle for their next car purchase.

The main detractor people see in green-conscious cars is their cost.

40.4% of people said they believe green-conscious cars will outnumber gas-powered cars in the U.S. by 2030.
The road as we know it today looks a bit different compared to decades past, as hybrid and electric vehicles, which used to be few and far between, have become increasingly common. From the Toyota Prius to Tesla's all-electric fleet, today, many car manufacturers are making moves to become more eco-friendly. Toyota, Jaguar, Volkswagen, Volvo, Mini, GM, Audi, and Mercedes-Benz have all set goals to produce only electric vehicles within the next 20 years. For car owners, there is good reason to believe the future is hybrid and electric vehicles, but how receptive are current car owners to this advancing trend?
To find out, we looked at CarMax sales data and surveyed 1,049 current car owners about their interest in owning hybrid or electric vehicles. We asked how important fuel emissions are to them and whether they've considered a green-conscious vehicle. We also explored the perceived advantages and disadvantages of owning a hybrid or electric car. Read on to see what we discovered.
Hybrid and Electric Vehicles on the Rise
According to CarMax's historical data, there is a clear upward trend in hybrid and electric vehicles, with annual sales climbing steadily in the past decade.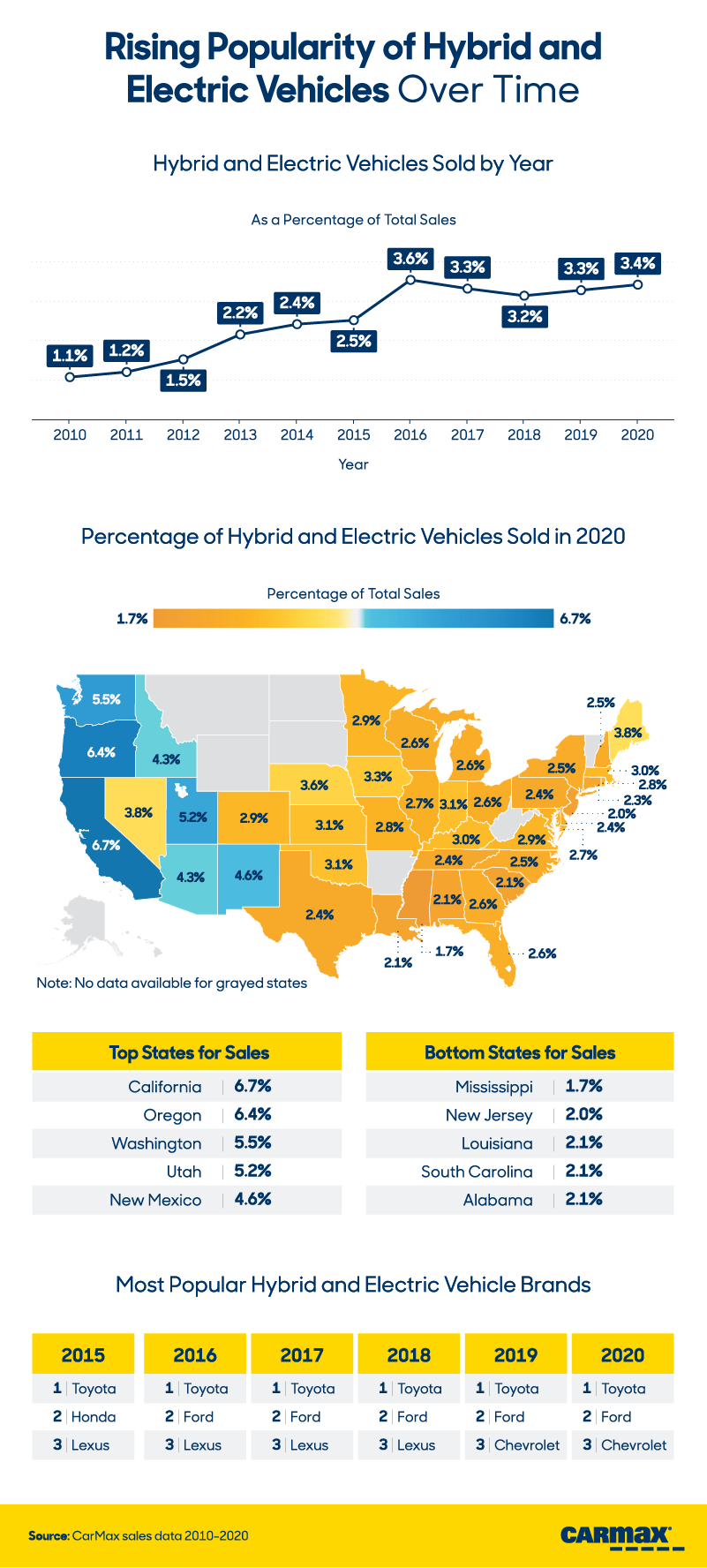 After a steep increase in 2016, hybrid and electric vehicles have consistently taken up more than 3% of total vehicle sales – over 2% higher than they were in 2010. When we zoom in on state-level purchasing, it becomes clear there is greater interest in green-conscious cars in some states than in others.
The popularity of hybrid and electric vehicles varies across the country, with the West Coast's sales greatly outnumbering the East's purchases of green-conscious cars. Every state on the Pacific Coast had above-average sales when compared to the 2020 national average of 3.4% of hybrid and electric cars. California topped the list with green-conscious vehicles representing 6.7% of total vehicle sales in 2020. This could be, in part, due to Governor Newsom's executive order to ban the sale of new model combustion engine vehicles by 2035. Oregon wasn't far behind with 6.4% of vehicle sales being green-conscious cars, followed by 5.5% of 2020 sales in Washington.
There seems to be less variability in the most popular car brands for hybrid and electric vehicles. Since 2015, Toyota has topped the list as the most popular brand for green-conscious cars, a dominance that can largely be attributed to the Toyota Prius, which some would say started it all as the first mass-produced hybrid vehicle. Ford has held on to the number two spot in popularity since 2016 with its suite of hybrid and electric vehicles. The brand is debuting the first Ford electric pickup, the F-150 Lightning, in spring 2022.
What Car Owners Think about Hybrids and Electrics
While the majority of car owners surveyed still own gas-powered vehicles – only 11% owned hybrids, and 9.5% had electric vehicles – a car's fuel emissions are still important to car owners. More than 60% of people said a car's fuel emissions are moderately or extremely important to them, while only 7.3% of people found fuel emissions not at all important.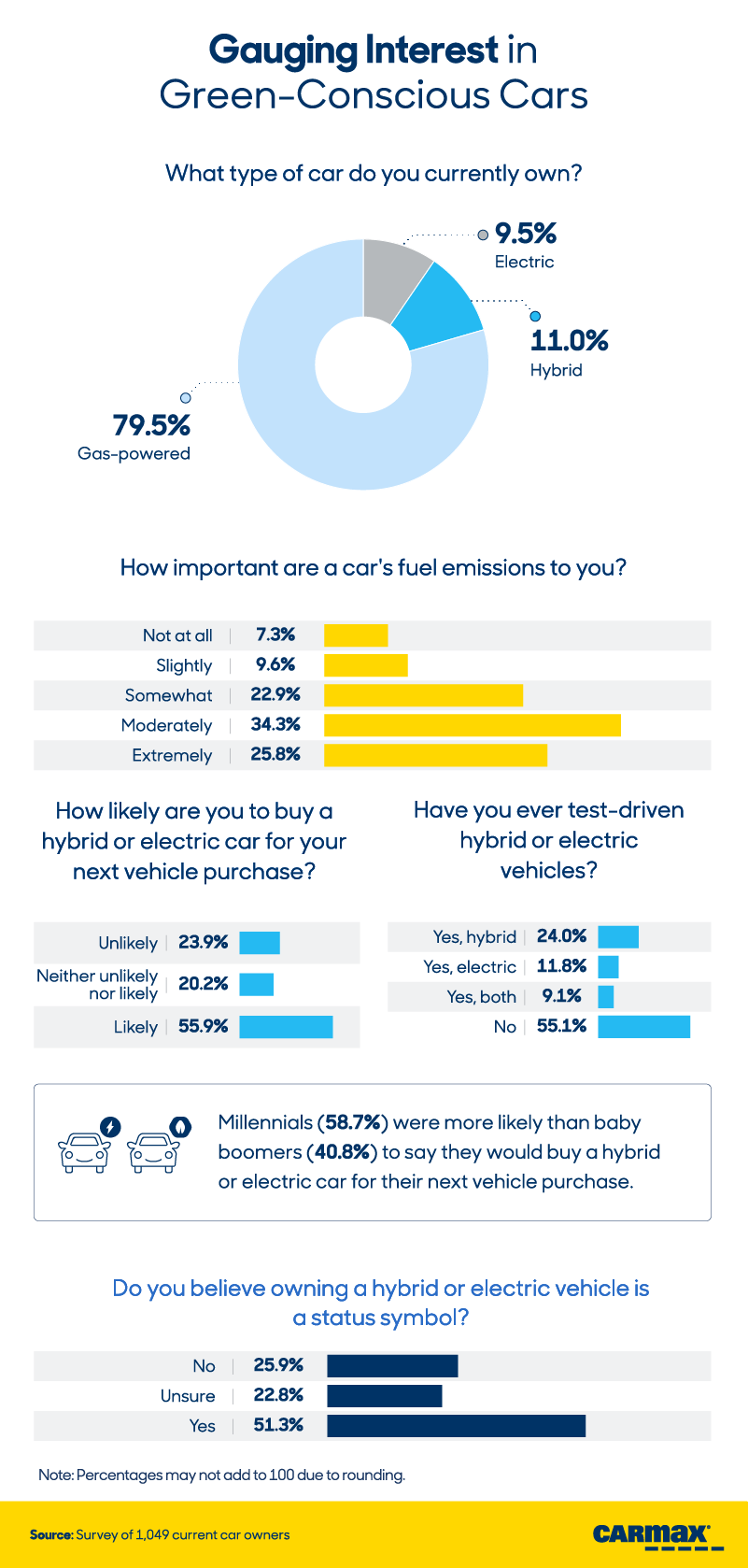 People are also thinking seriously about making their next purchase a hybrid or electric vehicle: 55.9% said they'll likely buy a green-conscious car the next time they're in the market for a vehicle, compared to less than 23.9% who were unlikely to do so. When we consider generational differences, millennials were more likely than baby boomers to say their next car purchase would be a hybrid or electric vehicle.
Despite the clear interest in green-conscious cars, a majority of people have never test-driven either a hybrid or electric vehicle. For those who had taken a test drive, most had only driven a hybrid vehicle. Just over 1 in 10 had solely test-driven an electric car, and about 9.1% of people said they'd test-driven both hybrid and electric vehicles.
Weighing Perceived Pros and Cons
For most people, the top benefit of hybrid and electric vehicles wasn't personal: It's for the environment. The most commonly cited advantage of green-conscious vehicles, according to 68.4% of people surveyed, is that these vehicles are good for the Earth.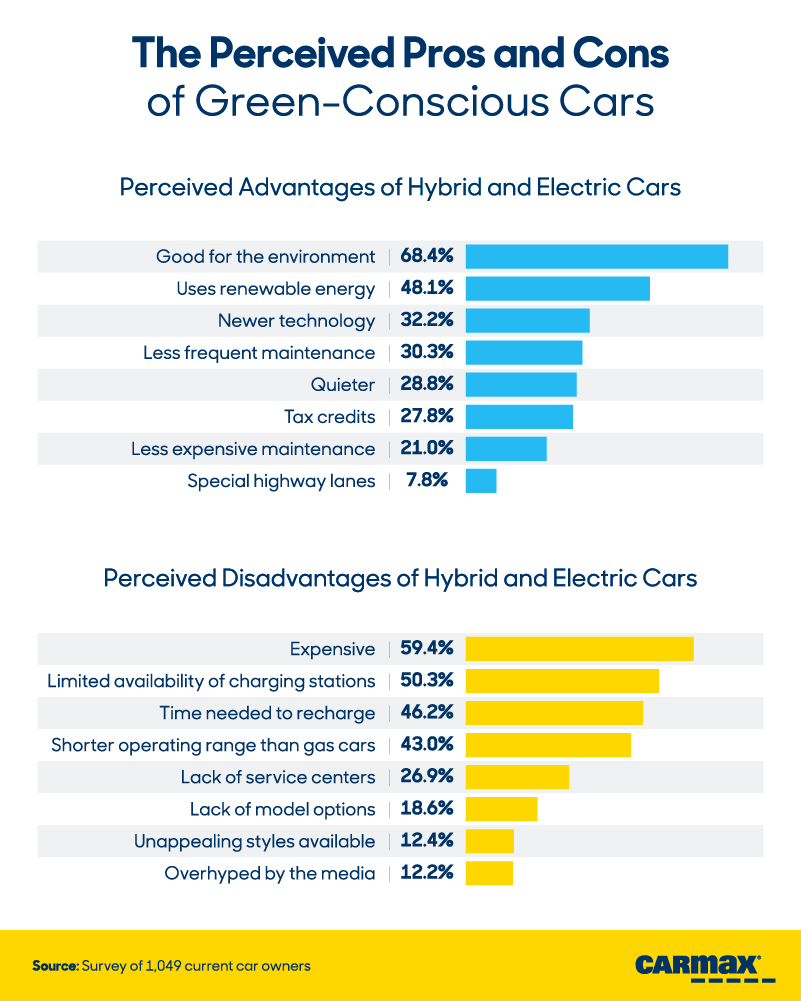 The second most popular perceived advantage, cited by 48.1% of people surveyed, was also environmental, namely that these cars use renewable energy. Rounding out the top three, nearly one-third of respondents perceived the fact that hybrid and electric vehicles use newer technology as an advantage.
More than 3 in 10 people viewed the perceived less frequent maintenance requirements as an advantage, and more than one-fifth said the perceived lower cost of the maintenance on these vehicles is an advantage. Other common perceived advantages included that hybrids and electric vehicles are quieter, can come with tax credits, and can provide access to special highway lanes.
Even with these myriad advantages, hybrid and electric vehicles had a number of perceived disadvantages as well. Topping the list was their initial cost. Of those surveyed, 59.4% of people perceived the cost of these cars as a disadvantage.
Consumers were also put off by the limited availability of charging stations. Additionally, 46.2% of people we surveyed said the time required to recharge is a disadvantage of green-conscious vehicles. Other common perceived disadvantages included the shorter operating range of hybrid and electric vehicles, the lack of service centers, and fewer model options.
The Future of Hybrid and Electric Vehicles
The vast majority of car owners, at 89.5%, agreed that hybrid and electric vehicles are becoming more popular. Just how quickly that popularity is perceived to be growing, however, varied.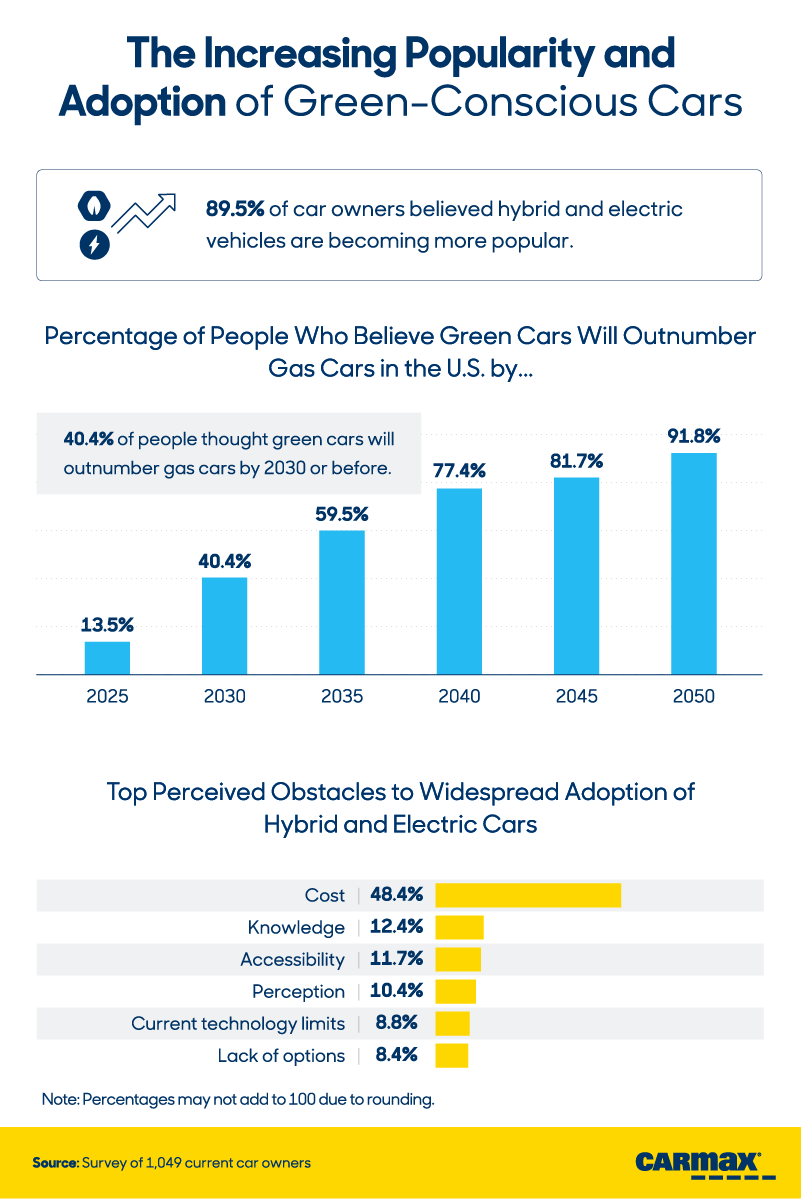 When asked what year they thought green-conscious cars will outnumber gas-powered cars in the U.S., 40.4% said by the year 2030 or sooner. Nearly 14% of people thought 2035 would be the year for the U.S. to make the flip, while 17.7% of people said green-conscious cars wouldn't overtake gas-powered models until 2050 or later.
What do people think is holding hybrid and electric vehicle adoption back? By far the biggest obstacle, according to the people we surveyed, was cost. 48.4% of people said this obstacle is preventing green-conscious vehicles from becoming more popular. Other obstacles included knowledge (12.4%) and accessibility (11.7%).
Who Do You Want Making Your Green-Conscious Vehicle?
Continuing to look ahead to the future, we asked respondents what car brand they'd most want to purchase a hybrid or electric vehicle from, regardless of whether that brand currently has green-conscious vehicle offerings.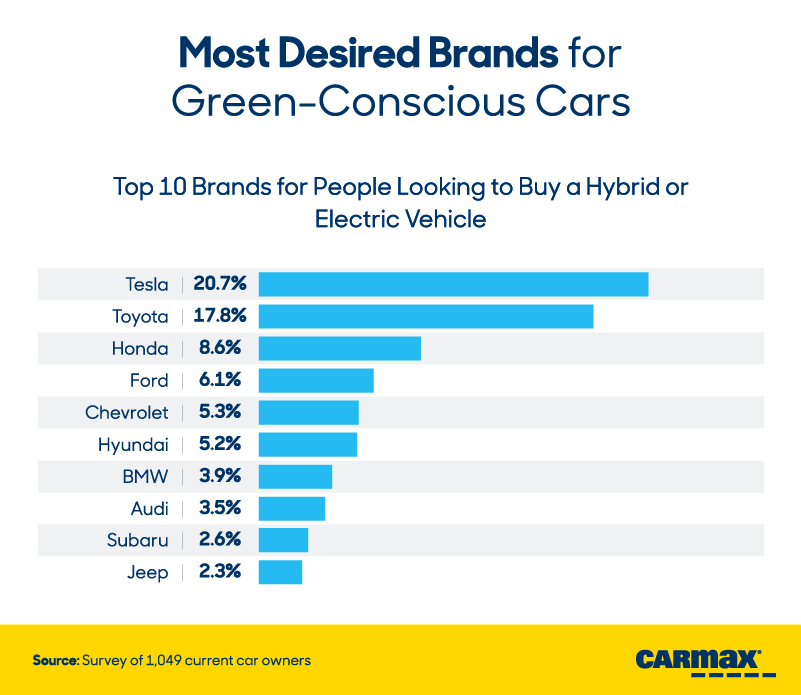 Topping the list was Tesla (20.7%), but Toyota (17.8%) wasn't far behind. Together, Tesla and Toyota earned 38.5% of the vote regarding consumer's desired hybrid and electric vehicle car brands. Some experts think Tesla's dominance in the electric vehicle market may be under threat, with vehicles like the Volkswagen ID.3 and Nissan Leaf gaining in popularity among international markets.
However, neither Volkswagen nor Nissan made our respondents' top 10 list of car brands from which they'd like to buy a hybrid or electric vehicle. Honda was the third most popular car brand for hybrid and electric vehicles at 8.6%, followed by Ford at 6.1%. Chevrolet came in fifth in the ranking.
Opting for Green-Conscious Cars
Hybrid and electric vehicles appear to be the way of the future. With automakers taking the pledge to stop producing combustion engines and President Biden's plan to accelerate the adoption of electric vehicles by improving the available infrastructure for drivers, it seems it could only be a matter of time before green-conscious vehicles dominate America's roads.
At CarMax, we want to help make the transition to your next vehicle – whether it's a hybrid, electric, or gas-powered one – as smooth as possible. That's why we offer a stress-free experience with no-haggle pricing and flexible options for customers to buy and sell a car on their terms, including options to buy online or at one of CarMax's 220+ stores nationwide. We also have the nation's largest inventory of used vehicles of nearly every make and model available to ship to you from any store in the country. CarMax's Love Your Car Guarantee provides customers with peace of mind, including 24-hour test drives so you have a full day to decide if a car is the right fit, and 30-day returns that let you return a car for any reason for a full refund if the vehicle has not been driven more than 1,500 miles. Visit CarMax.com to learn more.
Methodology
Using CarMax sales data, we analyzed trends in the sale of green-conscious vehicles over time. Hybrid, plug-in hybrid, and electric cars were included in our analysis. In our state-by-state analysis, states without a CarMax store were excluded. They appear in gray in the applicable graphics.
Additionally, we surveyed 1,049 current car owners about their perceptions of hybrid and electric cars. The survey was of the general population and not limited to CarMax customers. Respondents were 52.7% men and 46.4% women. Seven respondents were nonbinary, and two chose not to disclose their gender. The average age of respondents was 38.
When selecting their perceived pros and cons of hybrid and electric vehicles, respondents were instructed to choose up to three options.
Limitations
CarMax has more than 220 stores nationwide, but there are nine states without a CarMax location. The data presented in this project should therefore serve as an analysis of CarMax sales only and not broader commentary on people's preferences.
Additionally, the survey data presented relies on self-report. There are many issues with self-reported data. These issues include, but are not limited to, the following: selective memory, telescoping, attribution, and exaggeration.
Fair Use Statement
While no one knows the future, going in with more knowledge is always better. We hope you found this content educational in helping you prepare for your car-buying future. We'd love for you to share it with others you think may benefit from the information; we ask simply that you share for noncommercial purposes only and include a link back to this page so our designers can get credit for their hard work. Thank you.