Honda Accord Major Redesigns Since 2008
---
PUBLISHED FRIDAY, SEPTEMBER 23, 2022

BY EDMUNDS EDITORS

Which of the last three generations is best for you?
With thousands of vehicles in our inventory, we're here to help make car research easier for you. We've partnered with car-review experts from Edmunds to weigh in on what matters most when you're looking to buy a truck or car.
***
Vehicles Reviewed
2008-2012 Honda Accord sedan
2013-2017 Honda Accord sedan
2018-present Honda Accord sedan
Meet the Honda Accord
Ever since it was introduced way back in 1976, the Honda Accord has been a go-to model thanks to its roomy interior, good fuel economy, and great driving experience.
Today's Accord has evolved significantly since then, and even just in the past 10 years Honda has totally redesigned the Accord twice. Each new redesign of the Accord, known as a "generation," has its own unique strengths and weaknesses for used-car shoppers looking for the best value for their money. The generations break down like this:
Eighth-generation Honda Accord sedan: 2008-2012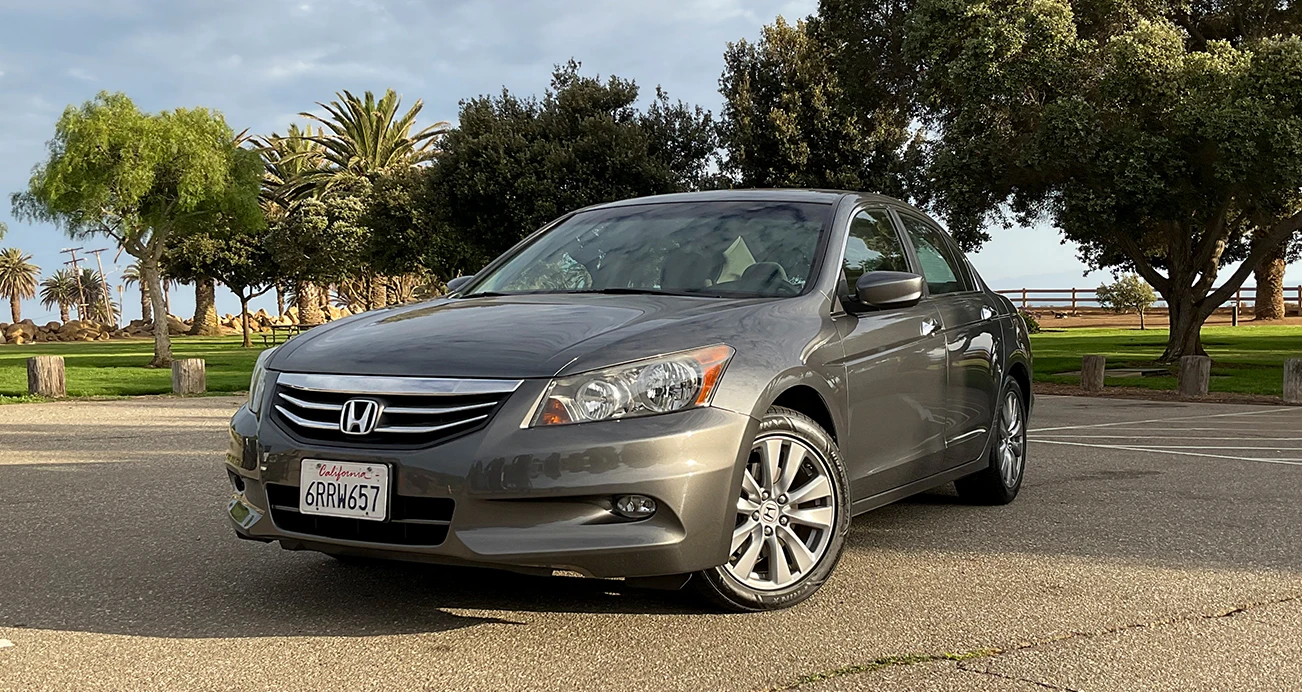 Ninth-generation Honda Accord sedan: 2013-2017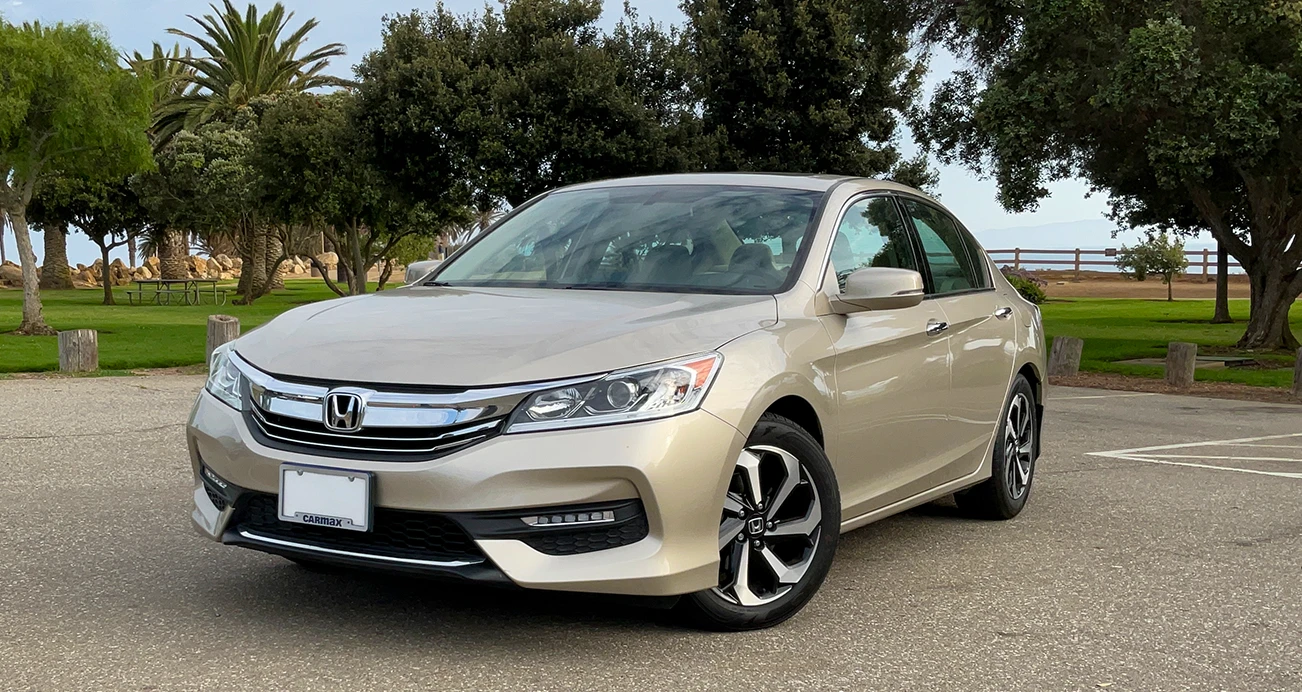 10th-generation Honda Accord sedan: 2018-present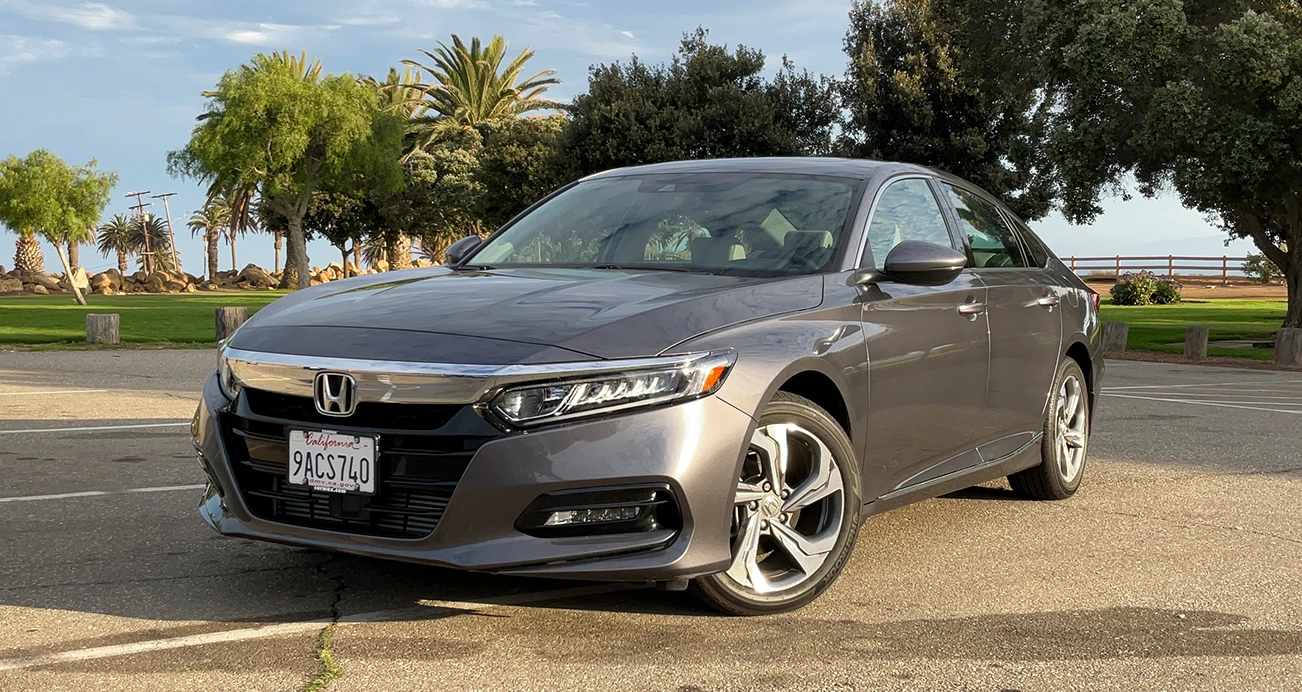 You might remember that a two-door Accord Coupe was sold alongside the four-door Accord sedan for a number of years, but we're focusing on sedans here because they're far more popular, and Honda stopped making the coupe when the 10th-generation Accord debuted in 2018. Also, both the ninth-generation and 10th-generation Accord sedans have hybrid versions with fuel economy of around an EPA-estimated 48 mpg combined. Most of what we say below applies to the hybrids as well.
Interior, cargo, and storage
2008-2012: Surprisingly, even though it's the oldest of this trio, Accords made for the 2008 to 2012 model years have the most interior volume. Most of that additional space goes to extra headroom, but you still get ample legroom even for tall rear-seat passengers. Interior storage includes a hidden panel in the dash under the audio controls, a cubby below that, a big center console, and big door pockets.
What isn't surprising is that this interior feels the most dated of the three. There's a lot of hard plastic, with the leather seats on the EX-L trims the only upscale-feeling touchpoint. We're happy to say that many Accords from this generation feature a 10-way power-adjustable driver's seat, and the EX-L even gets a power passenger seat. Dual-zone climate control is also available on those EX-L models, but that's about it when it comes to luxurious flourishes.
2013-2017: While it's true the dimensions shrunk a little, it's only a little, and there's tons of space. The trunk in this Accord got bigger, and there's no shortage of hidey-holes to store your things. It also includes standard dual-zone climate control and plenty of other niceties.
Accord interiors from this generation represent a major upgrade in refinement, and they're much nicer. The interior plastics feel more upscale, the switches all have a more satisfying click, and the overall layout is modern enough to avoid looking dated. In 2016, the interior got a refresh that included an improved touchscreen infotainment system on some trims.
Hybrid shoppers take note: the ninth-generation Accord Hybrid lost about two grocery bags' worth of trunk space to make room for the hybrid battery pack.
2018-present: It's not an exaggeration to say that this Accord's interior could be something out of Honda's upscale Acura division. The wood trim has an open-pore look, high-quality materials are everywhere, and it has thoroughly modern touches like a digital instrument display and an available head-up display that projects info on the windshield. It's also very roomy and has a massive trunk.
Good news for hybrid fans, the 10th-generation Accord Hybrid doesn't lose any trunk space, which is an advantage over the older model.
At a glance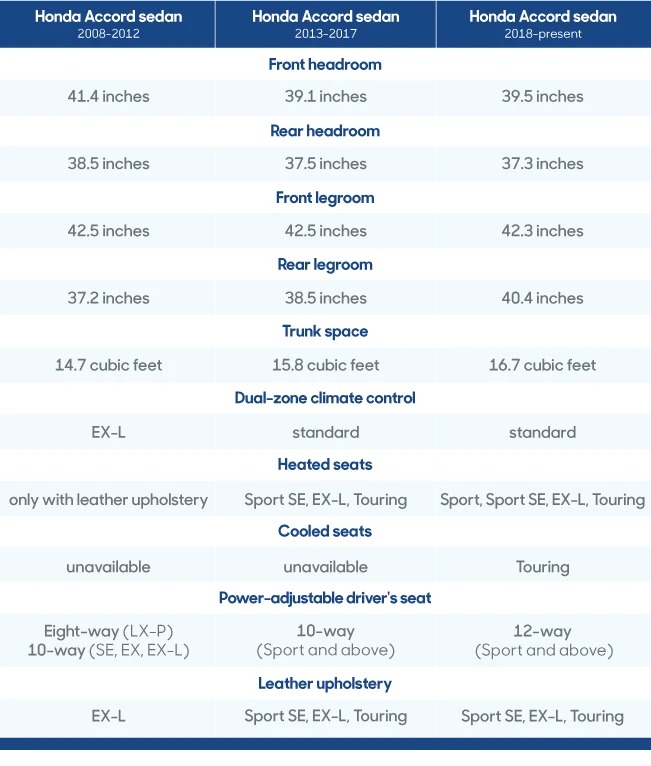 Keith's take: It's not too surprising that the oldest car here feels dated since the entire industry has made massive strides in refinement over the past decade. We're impressed the older Accord has held up as well as it has, but there's no denying the appeal of the more refined interior of the 2013-2017 Accords, and if you can make the stretch, it's worth a little extra on your monthly payment. As for the newest 10th-generation car, they're among the nicest you'll find, even compared to brand-new sedans in this class.
Infotainment and connectivity
2008-2012: The eighth-gen Accord predates anything resembling Apple CarPlay®, and touchscreens were still a luxury item in 2008. However, if you want better sound quality and a bit better control of your smartphone, a USB input appeared on EX and EX-L models in 2011, and on all other trims for 2012. It gives you basic control of your music through the car's audio buttons, such as skipping to the next song. Otherwise, you have optional Bluetooth® or an auxiliary input.
The audio system's sound quality is quite good, but we wish there weren't quite so many buttons, and that they were better separated from the nearby climate controls. Over time, a driver will eventually learn where everything is, and all the buttons may be considered a "pro" if you're not a fan of touchscreens.
2013-2017: From 2013-2015, the Accord's infotainment system felt like a simplified version of the button-strewn system in the older model. All ninth-gen Accords had an info screen near the windshield, and higher-end models also featured a touchscreen close to the driver. The touchscreen is nice in theory, but it integrates too many functions and suffers from a slow and confusing interface.
In 2016, a refreshed interior added a larger touchscreen on EX trims and above, with an improved interface. Importantly, the upgrade added Apple CarPlay and Android Auto™ smartphone integration, making these Accords feel much more modern. We like the addition of modern smartphone integration, but this still isn't our favorite touchscreen. It's slow and not well laid out, and it uses a touch-sensitive slider to change volume instead of a knob. Still, the CarPlay and Android Auto make up for those drawbacks.
2018-present: The current-generation Accord's infotainment system debuted Honda's new touchscreen interface, and it transformed the experience. The icons are big and color-coded, it uses a physical volume knob, the screen responds near instantly when it's tapped, and the display is big, bright, and easy to reach.
Best of all, every Accord from 2018 through 2020 got CarPlay and Android Auto support except for the base LX trim. Starting in 2021, all Accords got it, and upper trims even have wireless connectivity for Apple CarPlay and Android Auto. As for sound quality, audiophiles should gravitate to the excellent sound of the EX-L and Touring trims' powerful 10-speaker stereo.
At a glance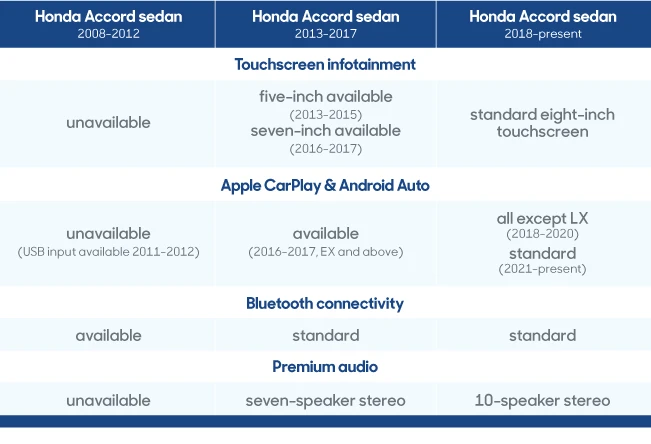 Keith's take: If audio quality is important, the good news is that the systems in all three generations of Accord sound good, and even the older 2008-2012 cars hold up nicely. The X factor is smartphone integration, and while we're happy to see that a USB port—with its better sound quality—is available on the 2011-2012 and 2013-2015 Accords, it's the newer cars with CarPlay and Android Auto that raise the bar. Obviously, the newest Accord has the best system, but the 2016-2017 cars are no slouch.
Driver aids
2008-2012: If you're looking for advanced driver-assist systems, such as forward collision warning or automatic emergency braking, skip the eighth-generation Accord. However, even though it doesn't have driver aids, the eight-generation Accord—like the ninth- and 10th-generation Accords—got very good scores in federal and insurance industry crash tests.
2013-2017: The 2013 Accord offered forward collision warning and lane departure warning as optional equipment on EX-L and Touring trims, which was advanced tech for the time. Honda also equipped EX trims and up with the LaneWatch™ blind-spot system. LaneWatch uses a camera on the passenger-side outside mirror to show video of what's alongside your car on the center screen. It's useful, but not as useful as the usual blind-spot warning system, which monitors what's on both sides of the car and sounds an audio alert when there's danger.
Honda Sensing® became an option for all Accord trims in 2016. The suite of driver aids includes automatic emergency braking, lane-keeping assist, and adaptive cruise control, which is nice to have on long road trips. We think using technology to supplement the driver's eyes and ears is always a good thing, and worth the money.
2018-present: The current-generation Accord has featured Honda Sensing as standard equipment on all trims since its debut. More advanced than the previous generation, the newer driver-assist systems have quicker and more natural-feeling responses. This generation of Accord also offers a proper blind-spot warning system that alerts you to traffic on both sides of the car and features rear cross-traffic warning as well.
At a glance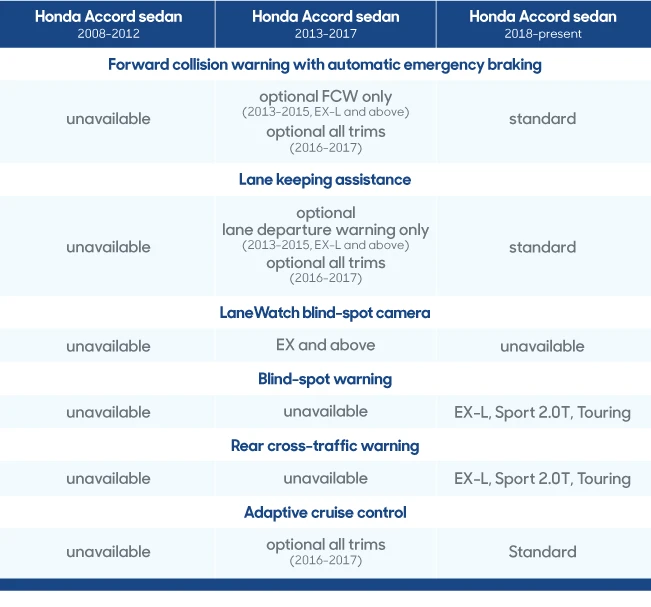 Keith's take: All of these cars have very good crash test scores. But it's always better to try to avoid an accident in the first place, and if your budget allows, making the extra stretch to a newer model with Honda Sensing tech is a smart move.
Driving and mpg
2008-2012: One of the first things you'll notice about this generation of Accord is the ride quality. The suspension absorbs bumps for a cushy and smooth ride that's still nicely controlled. The steering also feels sharp and accurate, and visibility out of the big windows is excellent. However, if you ask this Accord to hustle, it's disappointing, with the soft suspension leaning too much in corners.
Engine output is respectable, even by today's standards, and fuel economy also holds up to more modern scrutiny. But both the four-cylinder and V6 engines are hobbled by a slow-responding five-speed automatic transmission, which makes the Accord feel sluggish under acceleration. Both engines are unpleasantly loud at full-throttle acceleration, and when you're at speed there's a considerable amount of road noise and other cabin noise. If you can, skip the lower-end Accords (LX, LX-P, and SE) that had a low-output version of the four-cylinder that sacrificed power without gaining any fuel economy.
2013-2017: The driving experience definitely improved with the ninth-generation Accord. The four-cylinder is paired with a continuously variable automatic transmission (CVT), which responds quickly and avoids the droning noise some cars exhibit with this type of transmission. The four-cylinder is also available with a six-speed manual transmission on the LX, Sport, Sport SE, and EX trims. The V6 is a gem, with a satisfying growl as the revs climb. It's the most powerful engine ever put into an Accord, and the six-speed automatic it comes with is a good match, with only the occasional hesitation to downshift.
Out on the road, this Accord rides almost as smoothly as its predecessor, but it handles significantly better in the corners. The interior is noticeably quieter than its predecessor as well, but it's still on the noisy side compared to some of its contemporary competitors, like the Toyota Camry or Ford Fusion.
2018-present: The Accord introduced for 2018 put a higher priority on behind-the-wheel fun. Both the standard 1.5-liter four-cylinder and the 2.0-liter four-cylinder are turbocharged and feel snappy. The CVT attached to the 1.5-liter responds quickly, but we really like the 10-speed automatic that comes with the powerful 2.0-liter turbo. A six-speed manual was even available on Sport models made from 2018 through 2020, for both the 1.5-liter and 2.0-liter engines. Not many were sold, but if you find one of these unicorns, they're a lot of fun.
Handling is a strong suit for the 10th-gen Accord, bettering its predecessor yet offering up a comfortable and relaxed ride. The Touring trim gets special shocks that adjust to be firmer or softer depending on the drive mode. But since the standard suspension already strikes a good balance between ride and handling, that fancy and expensive Touring setup feels unnecessary. About the only downside is the steering, which we wish felt sharper. Aside from that small complaint, this Accord is as good as it gets for a mainstream midsize sedan.
At a glance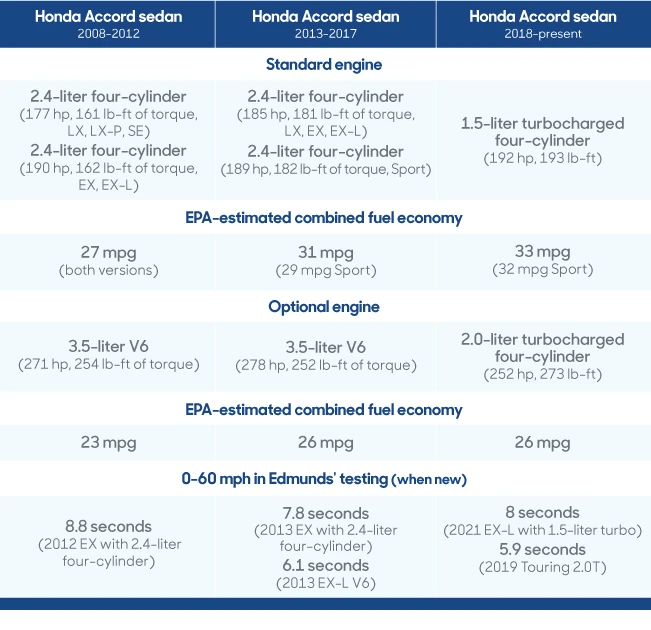 Keith's take: The Honda Accord has always had a bit of a sporty side, at least next to its mainstream competition, so it's no surprise that the handling on the 2013-2017 and 2018-present cars feels a cut above. That goes double if you are able to locate one of the models with a manual transmission. True, the 2008-2012 cars were a bit of a disappointment when it comes to being fun to drive, but the payoff is a comfortable ride that holds up well even today. If your daily drive takes place on pockmarked streets, that cushy ride is a point in its favor.
Conclusion
2008-2012: Even by today's yardstick, these Accords are comfortable and plenty roomy, especially if your tall friends have to sit in the rear. Since they are on the older side, it's possible to get into a higher-end EX-L model these days for a decent price. Shoot for the 2012 model if you can since all trims came standard with a USB input. The eighth-gen Accord's downsides are more road noise and a less fun driving experience compared to its newer siblings. But if you need lots of room on a budget, there's plenty to like here.
2013-2017: The good news is that all of these cars from 2013 through 2017 drive very well, with plenty of power and surprisingly good handling for a family sedan. If your budget allows, the 2016 and 2017 models get a bigger thumbs-up thanks to the availability of modern smartphone integration and advanced driver-assist systems. You'll be happy with the earlier versions of this generation, but if you can make the stretch to the newer ones, you'll be even happier.
2018-present: With this current-generation Accord, Honda managed to make a comfortable, roomy, classy-looking, and fun-driving sedan, with a lot of modern touches and features standard. Yes, you'll pay more. But you'll get a lot more, too.
Keith's take: The Honda Accord has always had a bit of a sporty side, at least next to its mainstream competition, so it's no surprise that the handling on the 2013-2017 and 2018-present cars feels a cut above. That goes double if you are able to locate one of the models with a manual transmission. True, the 2008-2012 cars were a bit of a disappointment when it comes to being fun to drive, but the payoff is a comfortable ride that holds up well even today. If your daily drive takes place on pockmarked streets, that cushy ride is a point in its favor.
Keith Buglewicz is a managing editor at Edmunds. He's been covering the automotive scene for more years than he'd care to admit, lucky enough to be working the dream job he's had since high school.