Honda Civic Major Redesigns Since 2015
---
PUBLISHED FRIDAY, SEPTEMBER 2, 2022

BY EDMUNDS EDITORS

Which of the last three generations is best for you?
With thousands of vehicles in our inventory, we're here to help make car research easier for you. We've partnered with car-review experts from Edmunds to weigh in on what matters most when you're looking to buy a truck or car.
***
Vehicles Reviewed
2012-2015 Honda Civic Sedan
2016-2021 Honda Civic Sedan
2022-present Honda Civic Sedan
Meet the Civic
If you're in the market for a used Honda Civic, you're going to wind up seeing different cars that all wear the name but look nothing alike. That's because Honda has totally redesigned the Civic three times in the last 10 years alone. Each of those redesigns is referred to as a generation.
9th-generation Honda Civic: 2012-2015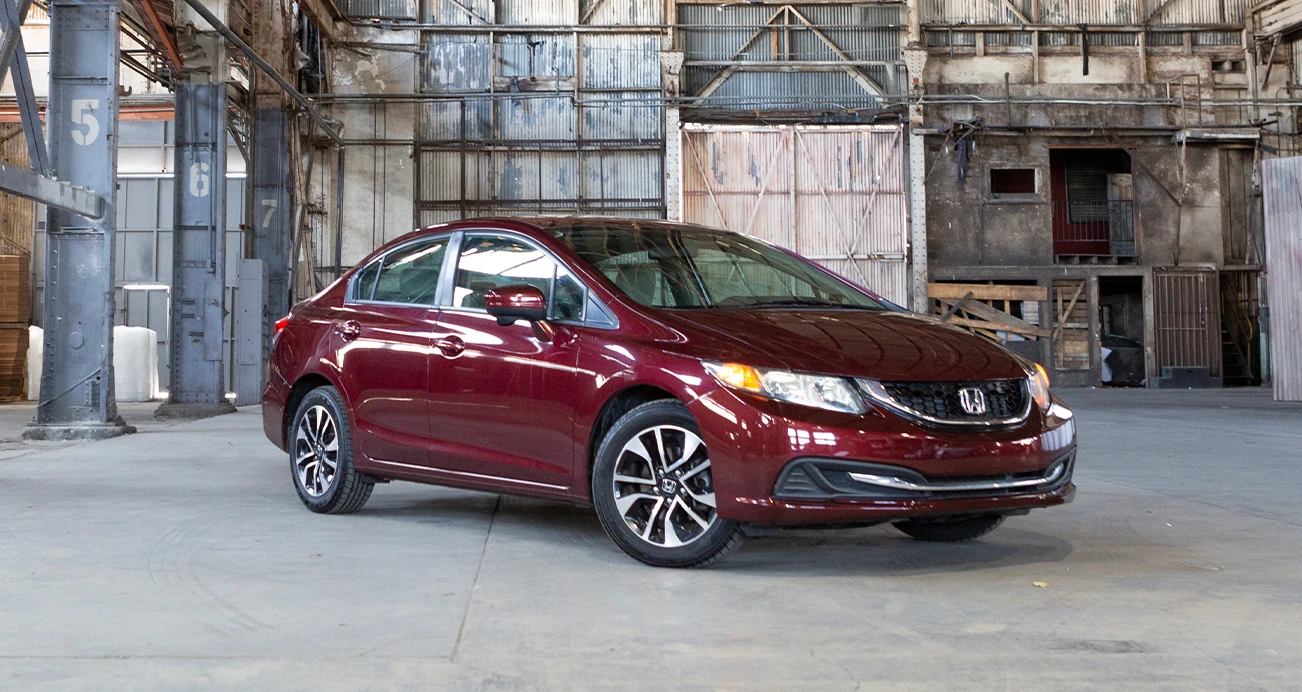 10th-generation Honda Civic: 2016-2021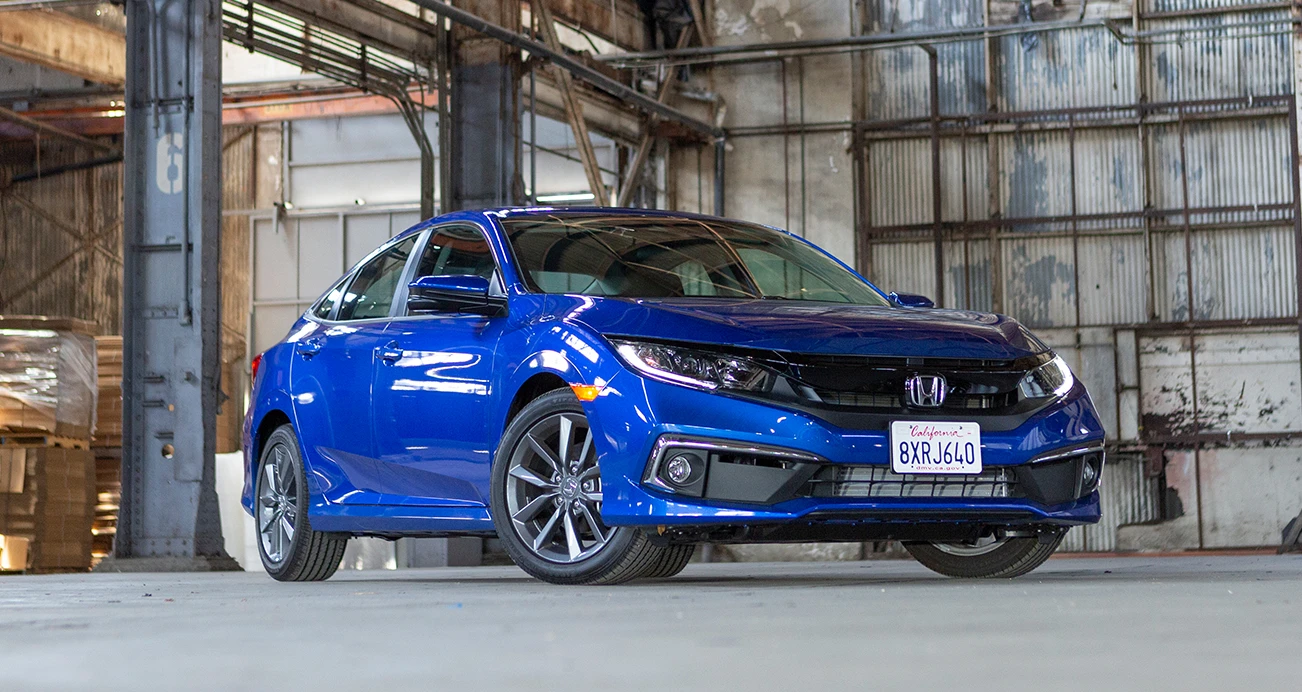 11th-generation Honda Civic: 2022-present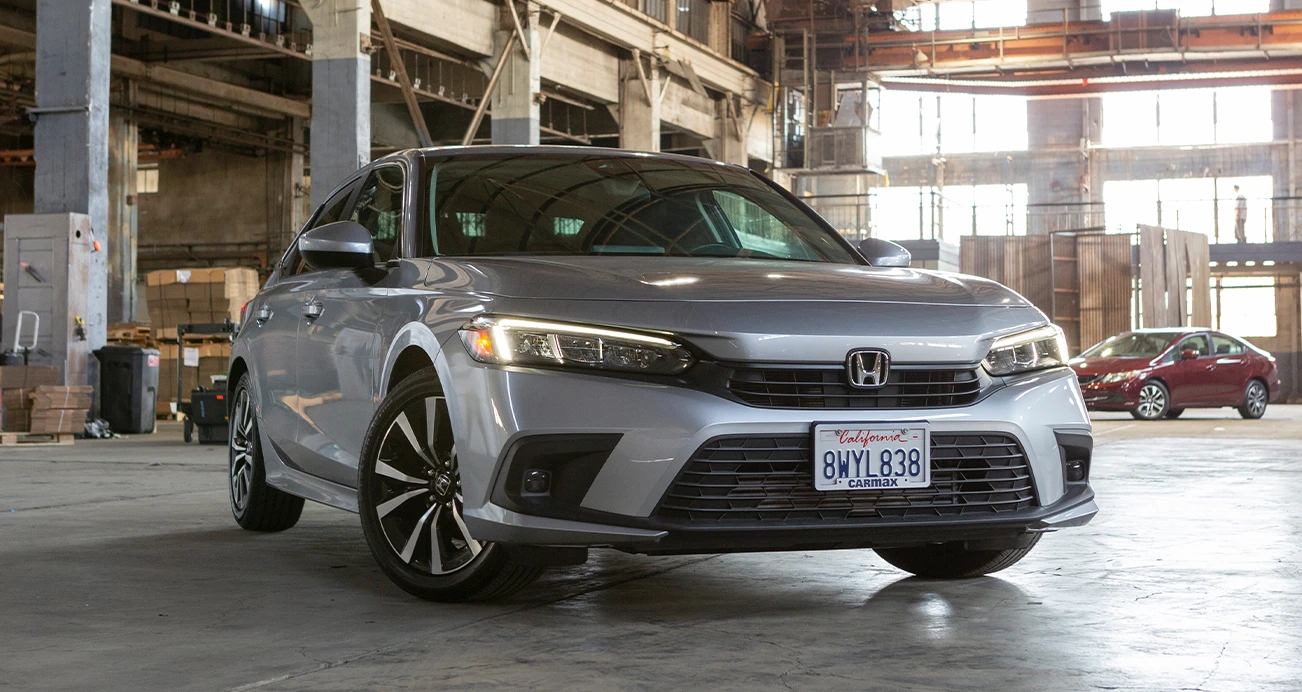 The first Honda Civic landed in the U.S. back in the early 1970s as a small, cheap alternative to big American cars. Since then, over the course of 11 generations, it's evolved into a full-featured and surprisingly refined sedan.
Old Civics are collector's items now, so we won't go all the way back to the days of disco. This article will cover what you need to know about the design, technology, features, and even driving experience of the ninth-, 10th-, and 11th-gen Civic models so you can choose the best used Civic for your budget.
Interior and storage
The Honda Civic has gotten bigger over time, giving it slightly more passenger space. It's also been thoroughly modernized and upgraded with higher-quality materials.
The biggest strength of the 2012-2015 Honda Civic interior is the passenger space: You get almost the same headroom and legroom as in the newer Civics, meaning this compact sedan can actually seat four adults. Otherwise, the interior is a bit basic compared to the newer models … aside from the instrument cluster, which splits its display between a big analog tachometer (which tells you your engine speed) behind the steering wheel and an old-school digital display on top of the dash that includes your speedometer. That design puts the speedometer closer to your line of sight, but also it splits up the information you'd usually find in one place in a traditional gauge cluster.
Unfortunately, 2012 models used some cheap-feeling interior materials. Honda updated the interior for 2013, and improved on it even more for 2014. All years came standard with cloth seats, with higher trim levels getting more luxuries like heated seats with power adjustment, leather upholstery, and automatic climate control.
The 12.5-cubic-foot trunk is only average in terms of capacity, and it's noticeably smaller than the newer cars' cargo space.
Moving up to the 2016-2021 Honda Civic interior gets you a whole new look, sturdier materials, tons of storage space, and more modern features. There's even more passenger space, with more than an extra inch of rear legroom.
Front and center in the 2016-2021 Civic is an instrument pod with a digital screen to show the tachometer, speedometer, and vehicle information. The center console features tons of storage space, with a lower shelf by the driver's knee and a console box with more room than you'd expect in a small car.
Cloth upholstery is still standard, but you can get heated seats and a power-adjustable driver's seat on midlevel trims. Dual-zone climate control is available for this generation, and of course, leather upholstery shows up on higher trims.
The 2016-2021 Civic sedan has the biggest trunk of the group, with 15.1 cubic feet of space (unless you get the Touring trim, which offers 14.7 cubic feet). That's about three grocery bags of extra volume compared to the older Civic, and a really good number compared to similarly priced competitors. For example, the 2018 Volkswagen Jetta has 15.7 cubic feet, while the 2018 Toyota Corolla makes do with only 13 cubic feet.
If you want even more space, check out the Honda Civic Hatchback, which is very similar to the sedan but with even more cargo area (up to 25.7 cubic feet).
The 2022 and newer Honda Civic has a significantly more upscale-feeling interior, with a bit less hard plastic, a lot more thoughtful design flourishes, and a digital gauge cluster with a new look. Passenger space doesn't really change, but some of the small-item storage options have been removed, meaning a bit less space to store and organize your gear. Otherwise the options are about the same as before, with available heated and power-adjustable seats, dual-zone climate control, and leather upholstery.
The trunk is slightly smaller in the newest Civic sedan, with 14.8 cubic feet of space. That's a loss of about half a grocery bag, so it won't be all that noticeable.
One weakness across the board for all three generations of Honda Civic is the lack of adjustable lumbar support. It's certainly not a universal feature among affordable compact cars, but some competitors (like the Mazda 3 and Volkswagen Jetta) offer two- or four-way adjustable lumbar on higher trim levels, while the Civic doesn't.
At a glance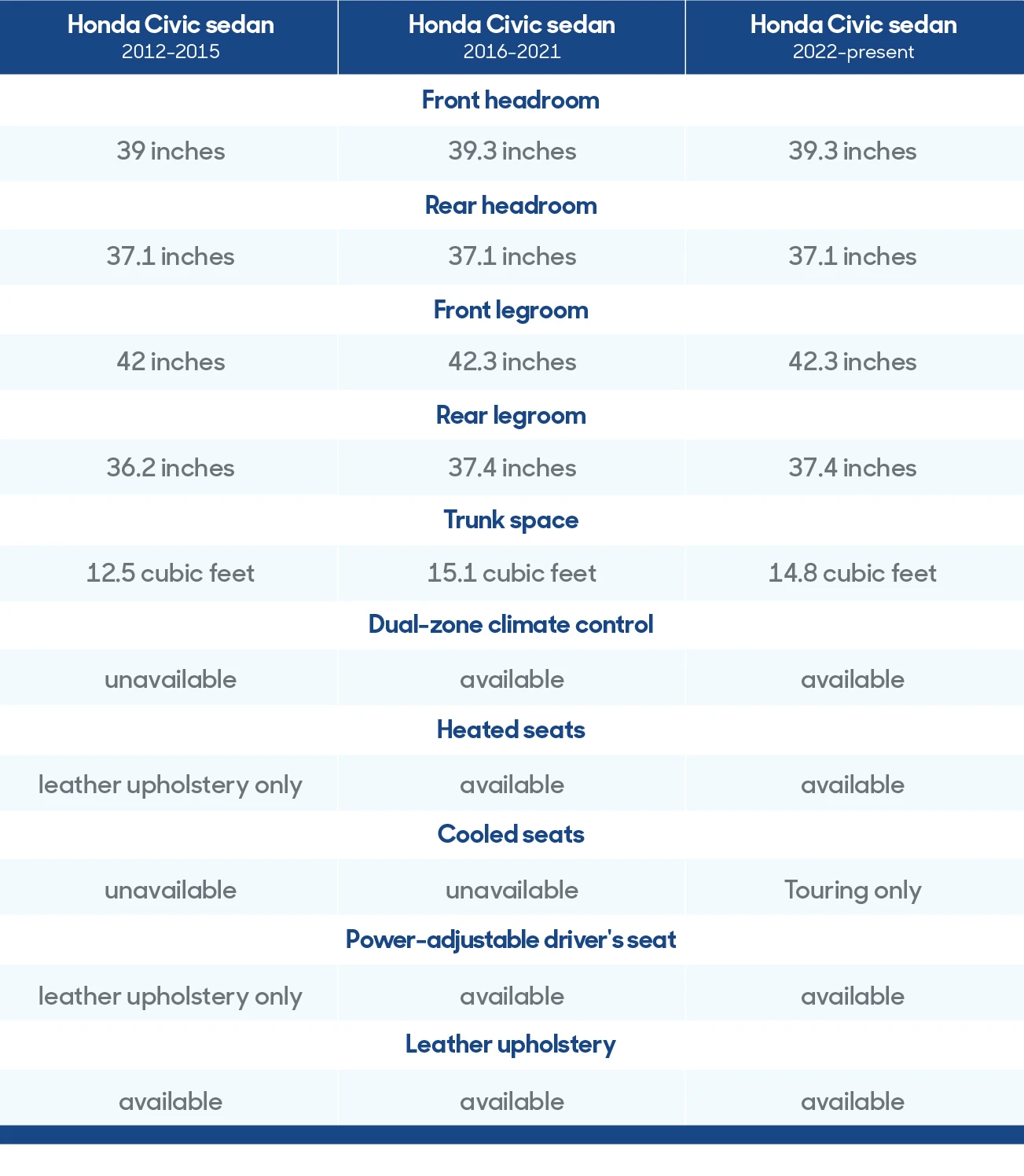 Will's take: The 2016-2021 Civic sedan definitely takes the prize for practicality with its bigger trunk and great small-item storage. But the 2022 or newer sedan is only very slightly less practical and makes up for it with an interior that wows. If you just want a simple interior on a budget, look at the 2013-2015 model—the 2012 felt a little too flimsy.
Infotainment and connectivity
You probably already assume that newer cars would have better technology than older cars, but in the case of the Civic, the car's infotainment system improved by quantum leaps each generation.
The 2012-2015 Civic didn't get a touchscreen until 2014, and then only on midlevel trims and up, with navigation available on the highest trim level. It's not particularly pleasant or intuitive to use, with relatively primitive functionality and some odd design choices.
You do get a USB port (remember when plugging in your iPod® was important?), but there's no Android Auto™ or Apple CarPlay® here. You can get Bluetooth® connectivity as well, but it was optional prior to 2014.
The four-speaker base stereo won't turn any heads, and while the upgraded six-speaker stereo sounds pretty good, it lacks the punch of newer sound systems.
For the 2016-2021 Civic, Honda upgraded to a larger touchscreen with more functionality, although until 2019 it was touch-only. Buttons and a knob were added in 2019, but they were small, and the system was still slow to respond to input. But with standard Bluetooth, and Android Auto and Apple CarPlay on all but the base LX trim, it provides much better connectivity.
Navigation is available for higher trim levels (it's standard on the Touring and optional on 2016-2018 EX-L models), and it's easier to use on the updated touchscreen. An eight-speaker stereo comes on most trims, with a premium 450-watt stereo coming on the top-tier Touring.
For the 2022 and newer Civic, Honda finally nailed its touchscreen interface, with large buttons and a responsive screen. It's not a bigger screen than the one in the previous car, but it's much, much better to live with. Android Auto and Apple CarPlay are now standard as well.
If you want the most tech out of your Civic, a 2022 or newer Touring trim gets an excellent 9-inch touchscreen, wireless Android Auto and Apple CarPlay, wireless charging, and a 12-speaker Bose® stereo.
At a glance
Will's take: Apple CarPlay and Android Auto are the saving grace of the 2016-2021 infotainment system, which is otherwise more frustrating to use than most of its contemporary competitors. The 2022-present car offers top-notch infotainment features, but if you mostly just plug your phone in and use CarPlay or Android Auto, it might not be worth the extra cost.
Driver aids
Advanced driver aids—like forward collision warning, automatic emergency braking, and adaptive cruise control—are becoming more and more popular, and for good reason. While there's no substitute for attentive driving, these systems can help reduce the incidence of certain types of collisions.
Before 2016, the Civic simply didn't offer these kinds of driver-assistance features, so you'll have to look at newer vehicles if they're on your must-have list.
Starting in 2016, Honda offered the Honda Sensing® package on the Civic, which includes lane departure warning and lane keeping assistance, forward collision warning with automatic emergency braking, and adaptive cruise control. In 2019, Honda made Honda Sensing standard on all Civic models.
Civics from 2016 to 2021 didn't receive blind-spot warning with rear cross-traffic warning. Instead, these models have Honda's LaneWatch™ system, which uses a camera mounted under the passenger side mirror to show the driver traffic in the blind spot. It requires you to look at the touchscreen in the center console, which takes some getting used to. It's also not as useful at night.
The 2022-present Civic sedan received an updated version of Honda Sensing, refining the same set of standard features as on the previous car. Honda also ditched LaneWatch and started offering blind-spot monitoring on higher trim levels. Blind-spot warning with rear cross-traffic warning is only available on the top-tier Touring.
At a glance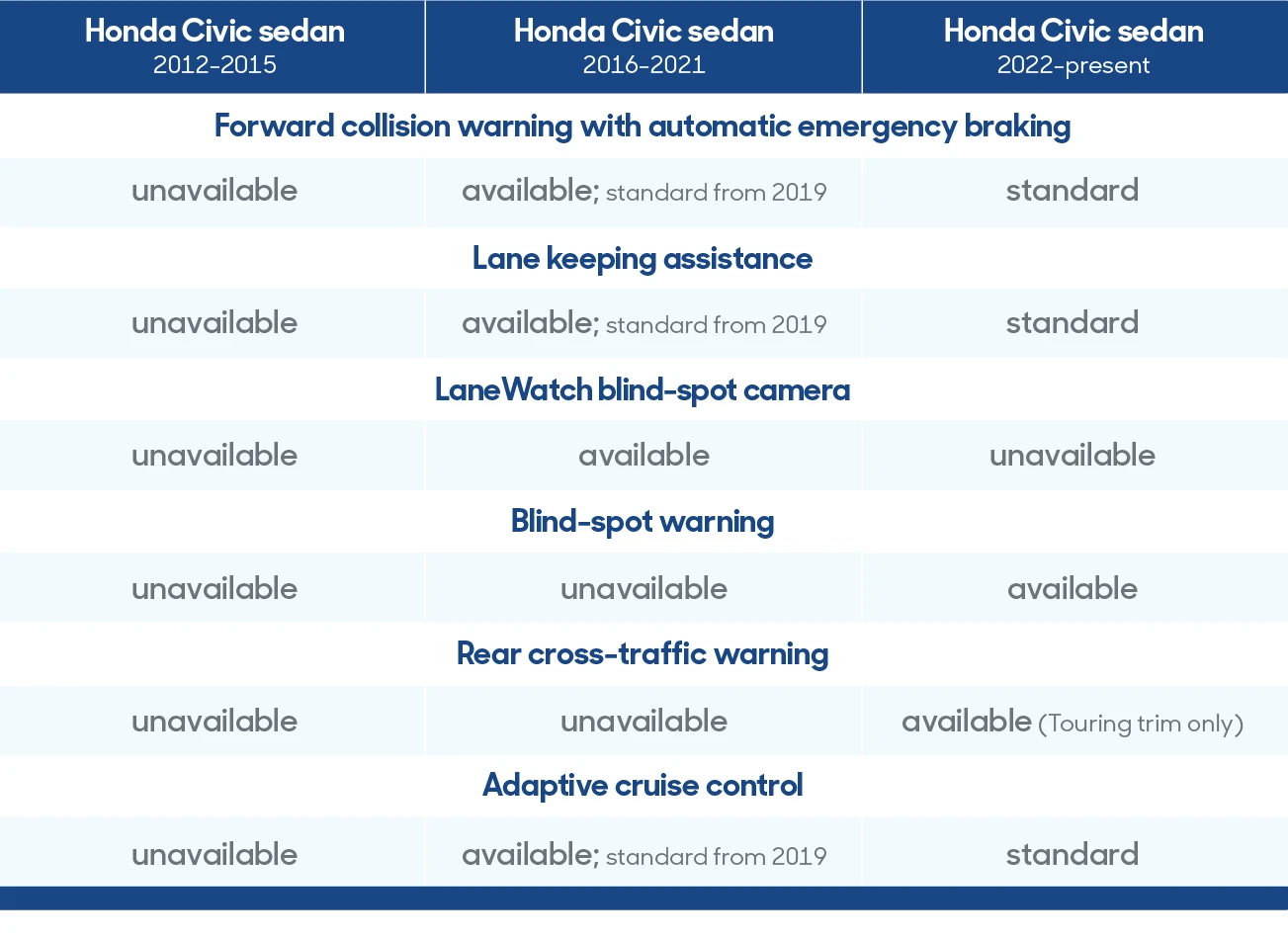 Will's take: It's a shame blind-spot monitoring isn't available on more of the Civic range, and that only the priciest version gets rear cross-traffic warning. Still, wide availability of Honda Sensing means it's not hard to find a used Civic after the 2016 model year with the most important driver aids.
Driving and mpg
Performance is another place where the Honda Civic made big strides between generations.
The 2012-2015 Civic came with a 143-horsepower four-cylinder engine that doesn't offer much in the way of acceleration, although it returns good fuel economy estimates. It originally paired with a five-speed automatic transmission, which was replaced with a continuously variable automatic transmission (CVT) in 2014. The CVT is responsive and helps make the car easier to drive but can't make it any more powerful. A manual transmission is available, but the CVT brings better EPA-estimated fuel economy.
Ride and handling are also strengths. The car is comfortable around town, but it's still composed through corners when you have to take a winding road.
For 2016, Honda gave the Civic two new engines. The base engine is a 158-horsepower four-cylinder, while higher trim levels get a 174-horsepower turbocharged engine. Not only is the turbo motor powerful enough to make the Civic one of the quickest cars in its class, but it also gets slightly better EPA estimates than the base engine.
The 2016-2021 Civic also upped the ante for comfort and handling, managing to somehow be both more capable in corners and smoother on bumpy roads than its predecessor.
The 2022 redesign wasn't as much of a leap forward for performance—in fact, even with a tiny power bump, the turbocharged engine is a second slower from 0 to 60 mph than the previous model—but Honda continued refining the Civic's driving experience. The car ups its handling game and feels even more nimble on twisting roads, although that comes at the cost of a little bit of ride comfort. Still, if you want the most engaging driving experience, the latest generation is the place to look.
It's worth noting that while the Civic offers good ride quality, all three generations have had a tendency to be noisier than their top competitors, especially at freeway speeds. While newer Civics are quieter than their predecessors, it's a place where Honda continually lags.
At a glance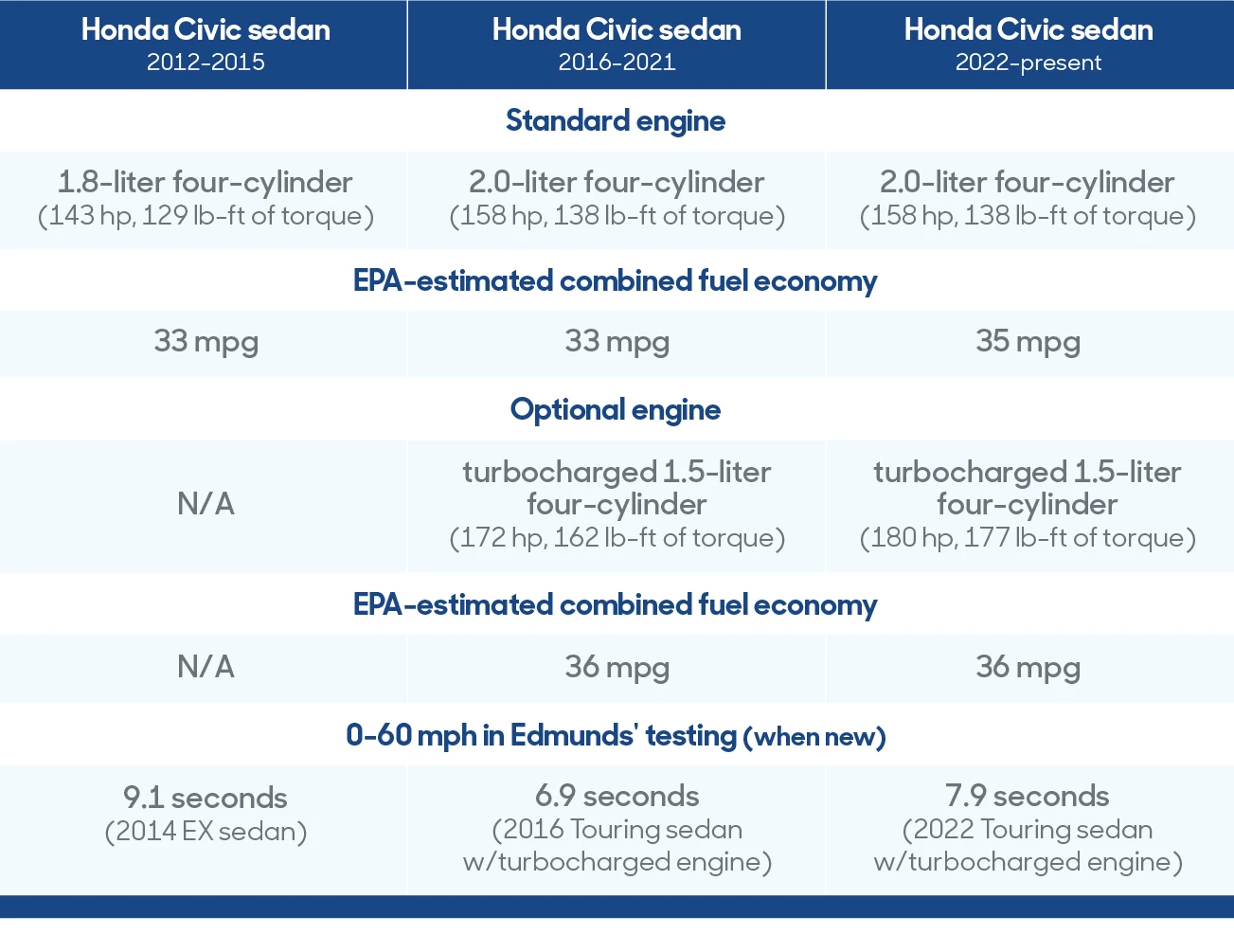 Will's take: The Civic's turbocharged motor and CVT make a surprisingly good team. There's nothing wrong with the base four-cylinder, and it makes the car more affordable. But if your budget will accommodate the turbo engine, the added power and estimated efficiency are worth the cost.
Conclusion
There's a reason the Honda Civic is one of the best-selling sedans in the country. It's roomy, comfortable, and rewarding to drive. It's also made huge leaps in terms of material quality, design, and technology features in the last 10 years.
The 2012-2015 Honda Civic is nearly as roomy and comfortable as the newer cars and more affordable. But it's also relatively slow and lacks most of the technology and all of the driver aids of the newer versions.
The 2016-2021 Honda Civic is the practicality king and the quickest from 0 to 60 mph. It offers tons of storage in its sturdy-feeling cabin and the biggest trunk. It's also more fun to drive with its optional turbocharged engine. But driver aids weren't standard for its whole run, and its infotainment system can be frustrating to use at times.
The 2022-present Honda Civic has the most upscale interior by a long shot and the sharpest driving characteristics. It does give up a little bit in terms of ride comfort as a trade-off. It also has the most current and complete list of available comfort and tech features. That said, it's a hair less practical than its predecessor, and on average, it'll also be the most expensive of the three generations.
Your budget and list of make-or-break features might be the deciding factor for you, and each generation has its own pros and cons. Overall, though, the Honda Civic is a compact sedan with a lot to offer.
Will Kaufman is a senior writer and content strategist for Edmunds.com. He used to write SAT study guides until he landed his dream job of talking about cars all day.