10 MPG-Boosting Electric & Hybrid Cars
---
PUBLISHED MONDAY, FEBRUARY 13, 2017
Maximize your miles per gallon with these top used hybrids and used electric cars.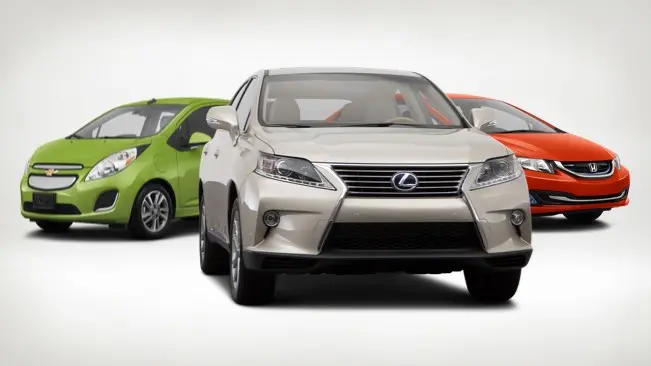 Most used car buyers consider hybrid cars and electric cars for two reasons. They want to save money on fuel, and they're concerned about the environmental impact of burning gasoline.
There are additional reasons for wanting to drive electric cars and hybrid SUVs; for example, some drivers want to get behind the wheel of something that's got a technological edge. Others seek to own a prestige vehicle that's a bit different from other vehicles on the road. Still others are car enthusiasts who get a kick out of the rapid acceleration that electric motors provide.
For many car buyers, it's the Toyota Prius that defines the term "hybrid."  This car is one of the best-selling hybrid vehicles today, but there are many other used hybrids on the market. Most manufacturers have one or more hybrid versions of their mainstream models. For a quick overview, take a look at our list of the top 10 hybrid cars of 2016.
Hybrid and electric cars are not all the same, and determining the right one for you can be challenging. That's why we've put together this buying guide. We'll explain how a hybrid car differs from an electric vehicle. Then we'll spend some time on widely-available hybrid and electric vehicles. Finally, we'll run through some pros and cons to help you decide whether one of these alternative fuel vehicles is right for you.
Hybrid and electric vehicle technology
An electric car has only an electric motor to drive the wheels, while a hybrid packs both a gasoline engine and an electric motor. So while hybrids are a bit more complex, they're good at tackling the challenges of limited range and lengthy charging times.
There are two main types of hybrid: extended-range hybrids and conventional, battery-assisted hybrids. In an extended-range hybrid vehicle, the engine works as a generator to recharge the battery. The Chevy Volt and the range-extended version of the BMW i3 are examples of this. These can be recharged at home or on the go, and if you only do short trips, both function as electric vehicles.
Many hybrid cars are battery-assisted. In other words, they are gasoline-powered with an electric motor for assistance. Some, but not all, can drive on electric power alone. When a hybrid is described as being a plug-in, it means the battery can be recharged by plugging the car into an electrical supply. Other hybrids are recharged when the small, onboard gasoline engine is running.
Most hybrid and electric cars also use regenerative braking to recover energy that would otherwise be wasted. This helps them to be more fuel efficient in city driving. While mileage varies from one model to another, typical gas mileage numbers can average 45 mpg in city driving and 40 mpg on the highway.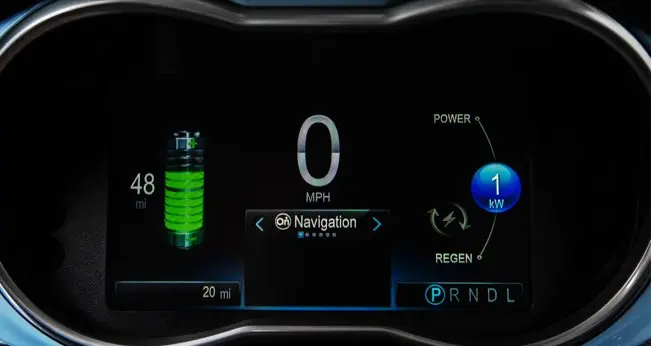 RANGE AND RECHARGING
Electric cars have several limitations. While refueling a gas-powered car takes only a few minutes at the pump, batteries need a lot more time to "fill up." Most electric cars offer two local charging options, using either a regular 110-volt household power supply or a high voltage system that requires special hardware. Higher voltage means faster charging, but it can still take an hour or more to gain useful range. The Fiat 500e is reported to need 24 hours of charging time at 110 volts (this is wall current, used to power most home appliances) or four hours at 220 volts (the current that's needed for home clothes dryers and some air conditioning systems).
Fast-charging stations are growing in number across the country, and they can charge the battery in a car like the Nissan Leaf to 80 percent of full capacity in 30 minutes. The US Department of Energy maintains a map of electric vehicle charging stations near you.  
Electric cars' range is determined by how much energy the battery can store and how quickly the motor uses it. The good news is that electric motors are very efficient; the bad news is it takes a big, weighty battery to store a driving day's worth of electricity, and this limits range. And, of course, the bigger a battery is, the longer it takes to charge it to full capacity.
ELECTRIC CAR MILEAGE
To compare the efficiency of gasoline and electric cars, the EPA created "Miles Per Gallon equivalent," or MPGe. This is a measure of how far an electric car can drive on 33 kilo-watt hours of stored energy, the same amount of energy that's in a gallon of gas. Most electric cars get around 105 MPGe in city driving and 100 MPGe on the highway, although individual models vary considerably.
MILEAGE INFORMATION
The EPA estimates fuel efficiency numbers for every car sold in the United States. You can search by vehicle make, model, and year at www.fueleconomy.gov.
Hybrid cars to consider: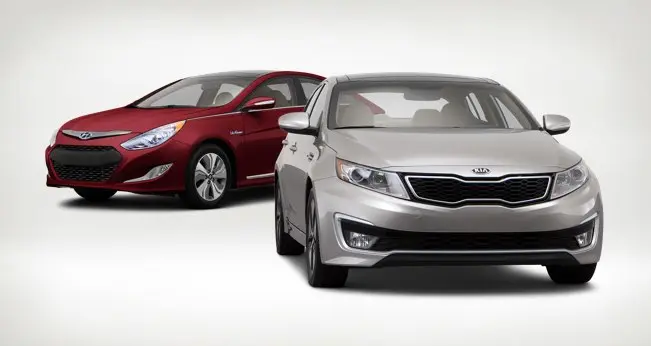 In addition to the four-door, hatchback Prius, there's also the more compact Prius c and the wagon-like Prius v. Toyota launched a plug-in version of the Prius in 2012, replacing it in late 2016 with the Prius Prime. The Prime is a plug-in hybrid that can travel 25 miles on electric power only before switching to gasoline. 
MPG (equivalent): 51 city/48 highway (2012 Prius Two)
This spacious, comfortable hybrid version of Toyota's best-selling sedan combines a full-sized (2.5L) four-cylinder engine and an electric motor in order to provide a total of 200 available horsepower. The Camry Hybrid comes in three trim levels: the base LE, the SE, and range-topping XLE. 
MPG (equivalent):  40 city/38 highway (2015 Camry Hybrid SE)
Available since 2014, the Accord Hybrid combines a 2.0L engine with an electric motor for a total of 196 horsepower. The EX-L version gives you leather seats, Bluetooth®, and heated front seats. There's also a plug-in version. 
MPG (equivalent):  50 city/45 highway (2015 Accord Hybrid EX-L)
Launched in 2011, this comfortable, spacious, and stylish midsized sedan combines a 2.4L engine with an electric motor. The plug-in version lets you drive just under 30 miles on electric power only. The 2013 models have a more powerful electric motor mated to the existing engine that together make 199 horsepower. 
MPG (equivalent):  36 city/40 highway (2013 Sonata Hybrid Limited)
Available only as a sedan, the latest-generation Civic hybrid combines a small gasoline engine with an electric motor for a combined output of 110 horsepower. While critics commended the comfortable ride, this lightweight (less than 3,000 pounds) four-door was discontinued after 2015. 
MPG (equivalent):  44 city/44 highway (2013 Civic Hybrid)
This comfortable, midsized sedan arrived as 2010 model. It was also badged as the Mercury Milan Hybrid. A plug-in version debuted in 2013 under the name Fusion Energi. With a 2L engine this was EPA-rated at 88 MPGe on the combined cycle and 38 mpg combined under gasoline power alone. 
MPG (equivalent):  43 city/39 highway (2013 non-plug-in Fusion Hybrid)
Part tall hatchback, part crossover SUV, the C-Max is a reasonably spacious people-hauler, with room for five passengers. Available since 2013, it shares a lot mechanically with the Fusion Hybrid. Both the Hybrid and Hybrid Energi plug-in are available in SE and SEL trims. 
MPG (equivalent):  42 city/37 highway (2014 C-Max Hybrid SE)
The Optima Hybrid is similar to the Hyundai Sonata Hybrid; CarMax customers say they love their Optima Hybrids for their comfort as well as their practicality. 
MPG (equivalent):  36 city/40 highway (2014 Optima Hybrid LX)
Luxury hybrids:
Weighing in at just over 3,600 pounds, the ES 300h is a heavier hybrid that's still got lots of get-up-and-go. You'll find plenty of luxury features here: heated and cooled front leather seats, panoramic sunroof, high-end sound system, and nav system. All this, plus seating for five. 
MPG (equivalent):  40 city/39 highway (2015 ES 300h)
Lexus RX 450h
Leather seats. Parking sensors. Seating for five, plus nearly 300 horsepower. The RX 450h is a powerful luxury hybrid that gives you more miles per gallon. 
MPG (equivalent): 32 city/28 highway (2015 RX 450h)
This hybrid version of Toyota's Highlander SUV has plenty of bells and whistles: all-wheel drive, leather seats, powered rear liftgate, and a V6 engine that's good for 280 horsepower. Plus, in this case, there's an electric motor and battery that helps the Highlander Hybrid achieve some impressive mileage numbers for its size. With the third-row seat in place, you've enough room for seven passengers. 
MPG (equivalent): 27 city/28 highway (2015 Highlander Hybrid Limited)
The Q50 Hybrid's six-cylinder gas engine gives you 360 available horsepower, plus there's a strong electric motor to help boost your mileage. It seats five and comes with all-wheel drive to get you where you're going, no matter what weather you're driving through. 
MPG (equivalent): 28 city/35 highway (2014 Q50 Hybrid)
Here's another SUV that has third-row seating — it's popular with CarMax customers who have larger families. This hybrid is your go-to if you're looking for an SUV that can pull a trailer or boat. It's got a 3,500-pound towing capacity, thanks to a strong, 250-horsepower four-cylinder engine under the hood. 
MPG (equivalent): 25 city/ 28 highway (2014 QX60 Hybrid)
Electric Cars: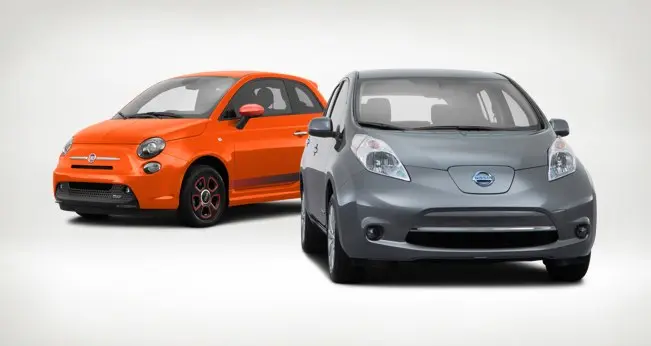 While Tesla is probably the best-known maker of electric cars, notably for its Tesla S, there are quite a few less-expensive alternatives. Here's a quick introduction.
Cheerful is a great description of the i-MIEV. It has four doors and it's endearingly egg-shaped. It's got a range of 62 miles. It's small, yes, but it's affordable (used i-MIEVs can be had for less than $10,000) and could be a good way for first-time buyers to get into electric cars.
MPG (equivalent): 126 city/99 highway (2014 i-MIEV ES)
At the other end of the scale, the Teslas are luxury electric cars. Currently there are two models, the S sedan and X SUV, with a third coming at some point in 2017 or 2018. This addition to the range, the Model 3, is expected to be less expensive than the Teslas on the market today.
A best-selling electric car, the Leaf launched as a 2011 model and there are a few used ones around. It's a reasonably spacious four-door, four-seat hatchback with a unique frontal appearance. Added features include front and rear seat heaters and a rearview camera. Highway range in recent models is given as 107 miles, but was lower in earlier models. 
MPG (equivalent): 126 city/101 highway (2014 Leaf S)
Toyota RAV4 EV
This electric RAV4 was available from 2012 to 2014. It's a two-wheel-drive SUV with plenty of luggage space, seating space for five, and a good-sized battery that gives it a range of 103 miles. CarMax customers say their RAV4 EVs ride and handle well, and they love all the extra space.
MPG (equivalent): 78 city/74 highway (2013 RAV4 EV)
A very compact two-door hatchback, the 500e's tiny footprint means not a lot of battery space, and this limits its range to 87 miles. The 500e is available with a smooth-shifting continuously variable transmission (CVT), heated front seats, a large rear hatch, and eye-catching interior styling.
MPG (equivalent): 122 city/108 highway. (2016 500e)
The Spark EV is another compact four-seat hatchback, sold from 2013 to 2016. Range is 82 miles. CarMax customers say their Spark EVs feel more powerful than the gas-only models, and are perfect for shorter daily commutes.
MPG (equivalent): 128 city/109 highway (2014 Spark EV LT)
Volkswagen Golf Electric
This electric version of VW's popular four-door hatchback has been available since 2015. It offers good accommodation for four adults although luggage space is compromised by the space needed for the batteries. EPA-estimated range is 83 miles.
MPG (equivalent): 126 city/105 highway (2016 Golf Electric SE)
Like the Golf, the Focus E is an electric version of the mainstream, gasoline-engined Focus hatchback. It launched in 2012. It's got seating for five, traction control, Bluetooth®, and heated front seats. Range on a full charge is 76 miles.
MPG (equivalent): 110 city/99 highway (2012 Focus Electric)
Extended-range electric cars:
This car has the build, handling, and performance you expect from BMW, along with distinctive looks. It arrived for the 2014 model year and has sold in steady numbers. Primarily an electric car, it has an electric range of 81 miles. An optional, range-extending engine gives a total range in the region of 150 miles. 
MPG (equivalent): 137 city/111 highway (2014 i3)
The Volt is a popular extended-range hybrid. A 1.4L gasoline engine fires up when the battery runs low on charge. According to Chevy, this happens after about 40 miles of driving. You can also plug it in to recharge. It seats four and has a hatchback storage area. The Volt was produced for 2011, and a second generation arrived for 2016. Electric-only range of the first generation is 38 miles while the new model can do 53 miles. 
MPG (equivalent): 35 city/40 highway (2015 Volt)
Making the choice - which is right for you
If you're looking for eco-friendly cars, explore both hybrids and electrics. An electric car is potentially "greener,"although that does depend on where your power comes from. If you're able to recharge from a solar array or you live in the Pacific Northwest, where electricity comes from hydroelectric facilities, it's very green. If you're in the Midwest, where power tends to come from coal, not so much. Even then, though, electricity is still more efficient than gasoline, as shown by the MPGe numbers.
Range and recharging time are concerns with electric cars, so be sure to consider the type of driving you do — or plan to do. City dwellers who buy an electric car may want to rent something that's gas-powered for occasional road trips.
Weather does affect range. Use a heater or the air conditioning extensively and you'll see a reduction on your dashboard's "miles remaining" gauge.
Hybrids score marks in city driving, where regenerative braking can top up the battery. If most of your driving is stop-and-go, a hybrid will yield bigger savings than if you use it for longer highway commutes. One point to note, though, is that regenerative braking feels a little different and can take some getting used to.
Conventional alternatives
When your main reason for looking at electric or hybrid cars is to save money, it's worth asking if you'd do better with a conventional fuel-efficient vehicle. Many modern cars can achieve more than 30 miles per gallon — take a look at our list of used cars that get great gas mileage.