Ask the Expert: How to Choose the Right Toyota Prius
---
PUBLISHED MONDAY, NOVEMBER 29, 2021
Which version of the popular hybrid is best for you?
With thousands of vehicles in our inventory, we're here to help make car research easier for you. We've partnered with car-review experts from Edmunds to weigh in on what matters most when you're looking to buy a truck or car.
***
Vehicles Reviewed
2020 Toyota Prius Prime
The Toyota Prius is an excellent choice when you want to save on gas. The initial 2001 model was one of the first hybrid vehicles to be sold in America and that longevity has helped the Prius  pretty much become synonymous with "fuel efficiency" and "hybrid." These days, if you're shopping for one, there are many different styles to choose from. In this article, Edmunds' Ryan ZumMallen guides you through the different types you need to know.
What are your options?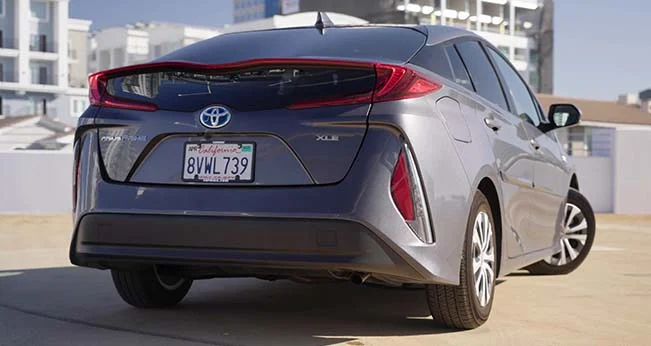 The most recent version of the Toyota Prius is the fourth generation, which made its debut in 2016. The Prius is a compact hatchback with a gasoline/electric hybrid powertrain. This hardware is the essence of what makes the Prius so efficient.
Toyota built a pint-sized version called the Prius c until 2019, and it also had a lengthened wagon-like model called the Prius v until 2017. But for the purposes of this article, we'll focus on the standard Prius hybrid and the Prius Prime plug-in hybrid.
The standard Prius featured from 2016-2018 and came in the following trim levels: One (2017-2018 only), Two, Two Eco, Three, Three Touring, Four, and Four Touring. Those made in 2019 or newer have updated styling and come in these trim levels: L Eco, LE, XLE, and Limited. There were also one-off editions such as the 2020 Edition and the Prius Nightshade in 2022.
If you want all-wheel drive, you can find the Prius AWD-e in either the LE or XLE trim (plus the 2022 Nightshade) beginning with the 2019 model year. And the Prius Prime plug-in hybrid is offered in Plus, Premium, or Advanced from 2017-2019 – however from 2020 and on, the models are LE, XLE, and Limited.
Engines and fuel economy
All versions of the standard Prius hybrid, the Prius AWD-e and the Prius Prime are powered by a 1.8-liter four-cylinder engine paired with electric motors to produce 121 horsepower in total. Each one uses a continuously variable transmission, or CVT. A CVT doesn't have stepped gear ratios like a regular automatic and instead constantly adjusts its gearing to suit the situation.
Here's what you can expect when it comes to fuel economy:
Toyota Prius Eco (2016-2022): EPA-estimated 56 mpg combined

Toyota Prius (2016-2022): EPA-estimated 52 mpg combined

Toyota Prius AWD (2019-2020): EPA-estimated 50 mpg combined

Toyota Prius AWD (2021-2022): EPA-estimated 49 mpg combined
The Toyota Prius Prime (2017-2022) should be considered a little differently. Because it's a plug-in hybrid with a larger onboard battery, it can drive on all-electric power for up to an EPA-estimated 25 miles when fully charged. If you use a standard household outlet the batteries will charge from empty to full in 5.5 hours. Another option is using a Level 2 charger, either installed in your home or at a public charging station, to reduce the charge time to just two hours. If the batteries are drained, the Prius Prime drives just like any other Prius—combining gasoline and electric power to achieve an EPA-estimated 54 mpg combined. According to the EPA, that equates to an estimated 133 MPGe when taking both electric and gasoline range into account.
The fuel economy figures for all Priuses are high. However there are several other hybrid sedans that compete closely. For example, the 2017-2020 Hyundai Ioniq Blue is EPA-estimated at 58 mpg combined and the 2019-2022 Honda Insight is EPA-estimated at 52 mpg.
There is also a plug-in hybrid version of the 2018-2022 Ioniq, which offers an EPA-estimated 29 miles of EV range and 119 MPGe if you consider both the electric and hybrid engines.
Ryan's take: The Prius has its reputation for fuel-sipping efficiency for a reason: it can seriously back up its fuel economy promises. These vehicles do not use very much gas at all compared to non-hybrids and, if you're like me, you'll quickly turn this into a game to see just how far you can push the Prius' efficiency. If your budget allows, give the Prius Prime a shot. It's an easy starting point to get into the world of plug-in hybrid and electric vehicles, with the gas engine available as a helpful backup plan.
Interior and comfort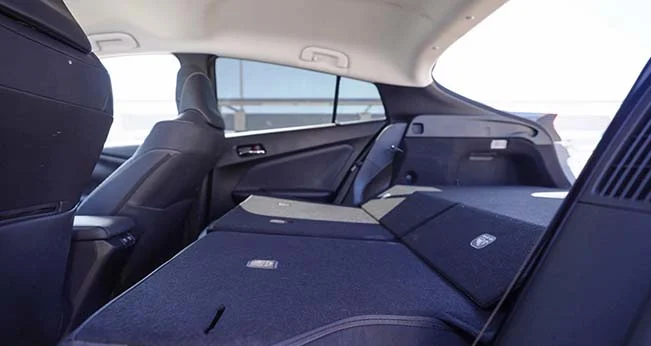 The Prius is a spacious and comfortable economy car. But it is still an economy car, meaning its cabin consists largely of hard materials. Most of the surfaces and touchpoints inside the current generation Prius (those made beginning in 2016) are made of plastic that is designed to be affordable, first and foremost. Toyota jazzed up the interior a bit by including glossy white or black plastic in some areas, and offering simulated leather seats and steering wheel on more premium trims.
For many buyers, the interior quality is overshadowed by its usefulness. The inside of the Prius is spacious, with plenty of headroom up front for taller drivers and lots of room even for passengers in the rear. The Prius also provides excellent outward visibility thanks to a big windshield and windows, and it's easy for drivers and passengers of all sizes to get in and out.
The Prius also set new standards for hybrids when it comes to cargo space. The current-generation hybrid model (2016-2022) and its AWD-e version (2019-2022) come with 24.6 cubic feet of maximum capacity when you open the rear hatchback liftgate. That's plenty of room for several full-length suitcases or loads of camping equipment. You can also fold the rear seats down flat, and even though the seatbacks are not completely level with the trunk floor, it's spacious enough to haul full-size bicycles.
For comparison, the Prius and its 24.6 cubic feet of space sits near the top of the class, just below the 2017-2022 Hyundai Ioniq with 26.5 cubic feet. The 2019-2022 Honda Insight ranks far below these two, with only 15.1 cubic feet.
The Prius Prime plug-in hybrid boasts less room than the standard hybrid, at 19.8 cubic-feet. This is because of the bulky batteries positioned underneath the trunk. But because of the useful hatchback design, the space is still easy to use and great for loading and unloading bulky items.
Ryan's take: The Prius actually has more utility than most people realize. Toyota has toned down the eggy shape of the exterior design in recent years, but it still has a rounded roof and long hatchback liftgate that creates loads of space inside. If you aren't using the rear seats, just fold them down and you'll be able to haul all kinds of large items like storage containers or sports equipment. Most people still think of the Prius as a one-trick pony – those in the know will tell you different.
Technology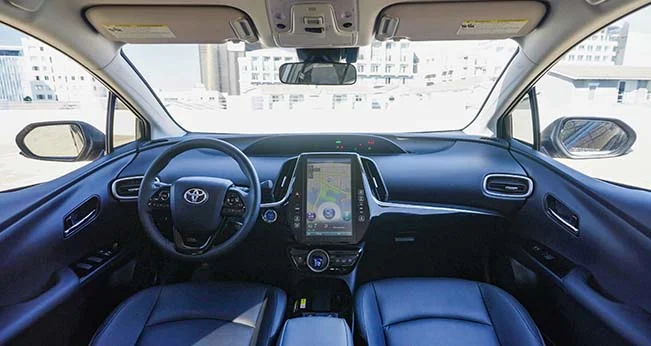 For the best available in-car technology, look for a 2020 Prius or newer. Beginning with that year, a 7-inch touchscreen came standard with Apple CarPlay® smartphone integration included on both the standard Prius and the Prius Prime—however you'll need to find a 2021 model for Android Auto™. On the standard Prius you can upgrade to an 11.6-inch vertical screen that comes standard on the Limited trim. That same screen is more readily available with the Prius Prime, standard on both the XLE and Limited.
Driver assistance aids is another area where the Prius excels. Beginning in 2019, every Prius and Prius Prime comes with a suite of assistance features that includes adaptive cruise control to keep a set distance between the Prius and the vehicle in front, and forward collision warning with automatic emergency braking to issue an alert when a possible accident is approaching and automatically hit the brakes in some cases. There's even lane departure warning to signal when the car may be drifting out of its lane, and lane-keeping assist to gently steer it back within the marking lines.
Ryan's take: Make sure you pick the right Prius for your tech needs, particularly when it comes to smartphone connectivity. For a long time, Toyota didn't include Apple CarPlay or Android Auto because owners were encouraged to use the in-house Entune app. Personally, I would stay away from Entune and its clunky operating system as much as possible. Tech should not be a top reason to consider the Prius anyway – its screen is often washed out in direct sunlight, and the optional 11.6-inch screen on some models doesn't offer much benefit over the smaller unit. The driving aids that come standard on recent models, however, work great and are a big bonus.
What they're like to drive
This section may be saved for last, but that doesn't mean it's the best. The Prius is not fast or quick, and while driving it feels comfortable and light, it is never very much fun.
The Prius is slow to accelerate from a stop, even for a hybrid vehicle. You may find yourself pressing harder than usual into the gas pedal to get up to highway speeds. But, of course, the lack of power is part of what makes the Prius and Prius Prime so efficient. For many, this is an acceptable trade-off.
The best part of driving a Prius is that it feels easy. The steering is light and the brakes don't take much effort to use. Because of the CVT, you won't feel jerky interruptions from the transmission. The Prius can also feel well-balanced at times. It's most comfortable driving around town and in cities, where the regenerative brakes can store more energy for later use. Just be aware that everything moves a little slower and takes a little longer in a Prius.
Ryan's take: It's simple: you don't buy a Prius for the driving experience. You need to be okay with slow acceleration, and you need to plan ahead for braking zones because the Prius takes its time coming to a stop. That said, the Prius is perfectly capable of cruising at highway speeds and, of course, returning excellent fuel economy in the process. Just plan on leaving your house a little earlier than usual.
Conclusion
It used to be that every Prius owner got the same efficient, yet compromised, driving experience. If you lived near slippery roads or wanted all-electric driving, you were simply out of luck. But now that you have more choices, that's no longer the case. The Prius AWD-e and the Prius Prime plug-in hybrid have added much-needed diversity to the family tree.
But high fuel economy is still the number one priority for this sedan, no matter which version you pick. The Prius can save you money on gas, and be comfortable and spacious in the process. Granted, the sluggish driving experience isn't for everyone. For those who value efficiency above all else, however, look no further.
Ryan ZumMallen has written automotive news and buying advice for nearly a decade. As an automotive reviews editor for Edmunds, ZumMallen examines trends in both the new and used markets with a focus on sporty, affordable cars, off-road trucks, and SUVs.