5 reasons to buy the 2020 Chevrolet Sonic
1. Supremely stylish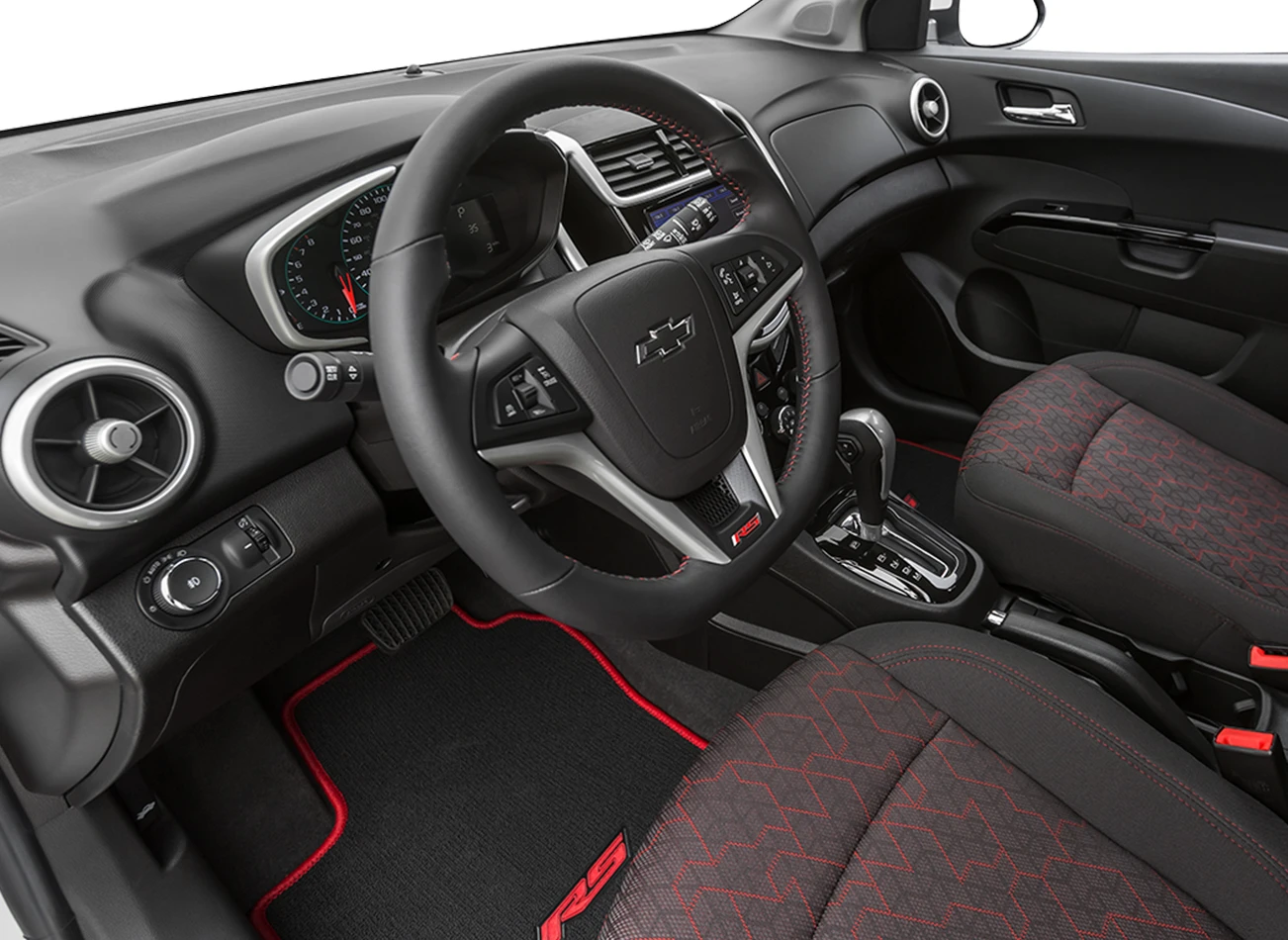 The RS package is standard on the 2020 Chevrolet Sonic hatchback and available on the sedan. This package adds exclusive alloy wheels, a sporty body kit and rear spoiler, black emblems, piano black interior trim, and RS-logo floor mats. There are additional small touches that vary by trim level, such as red-stitched leatherette seats on the Premier trim.
2. Bigger on the inside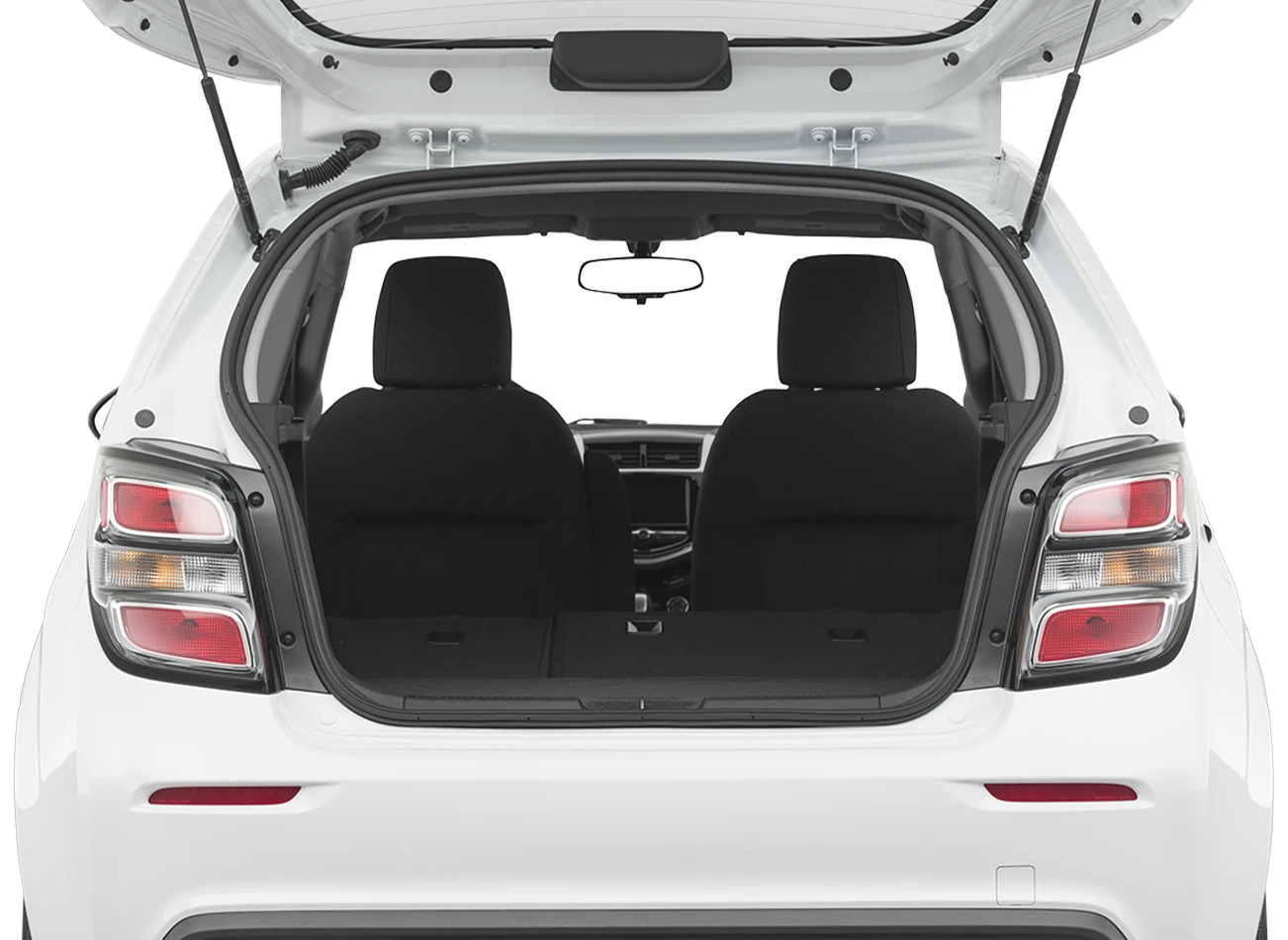 The 2020 Chevrolet Sonic is a subcompact, but don't underestimate what you can fit inside. The rear hatch holds 19 cu-ft of luggage, but you can put those seats down for an impressive 47.7 cu-ft total. That space can help a friend move or hold a massive cooler for a weekend camping trip. If gardening is your passion, the Sonic hatchback can carry 20 bags of mulch or a full-size wheelbarrow.
3. Peace and quiet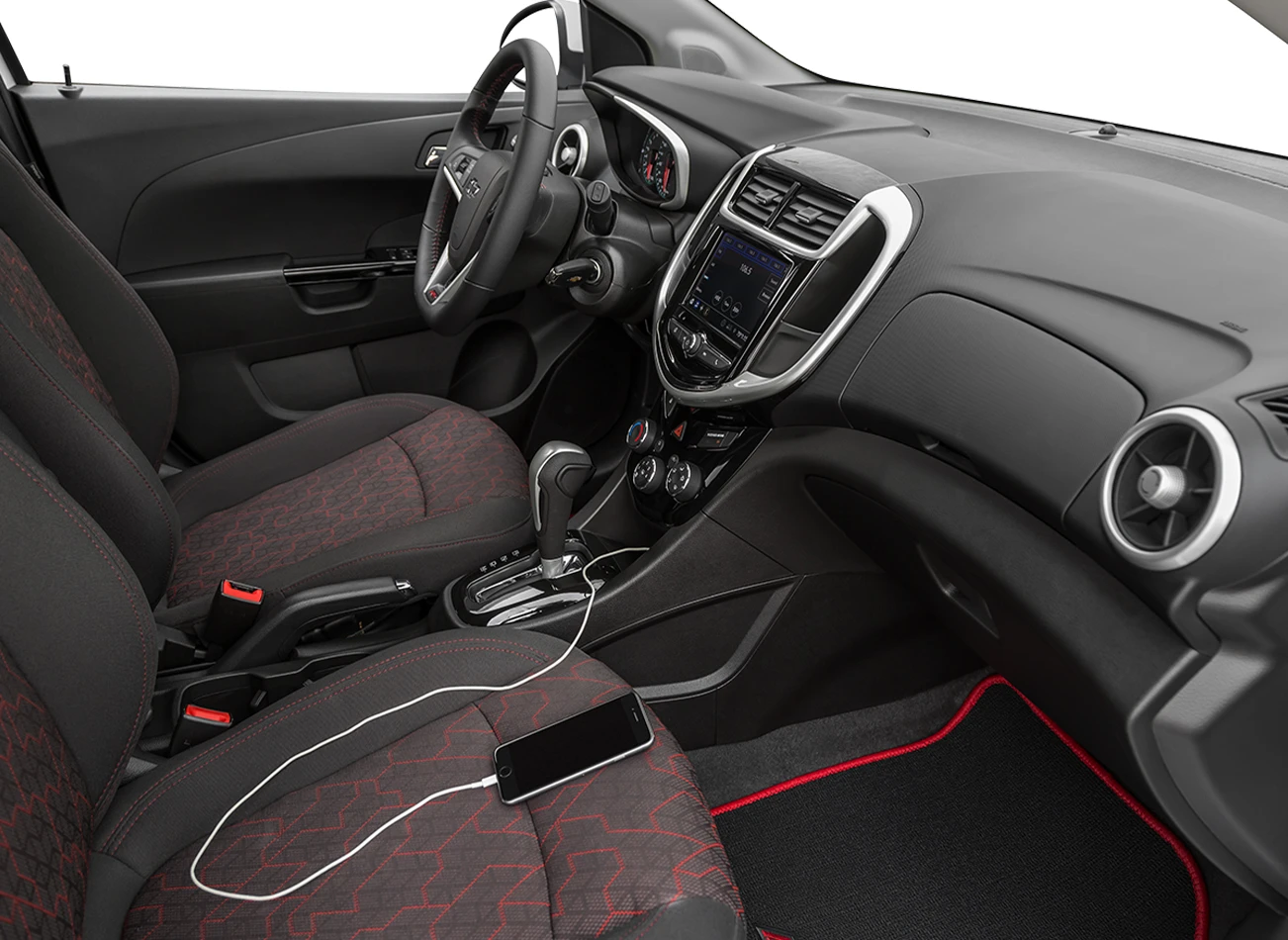 A strong chassis and lots of sound deadening material combine to make the 2020 Chevrolet Sonic a quiet way to travel. Listen to audiobooks or music with perfect clarity, as the Sonic soaks up the bumps and muffles everything from wind and tire noise to road construction. Interior sound testing shows the Sonic equaling some luxury cars for quietness, even at highway speeds.
4. Connectivity time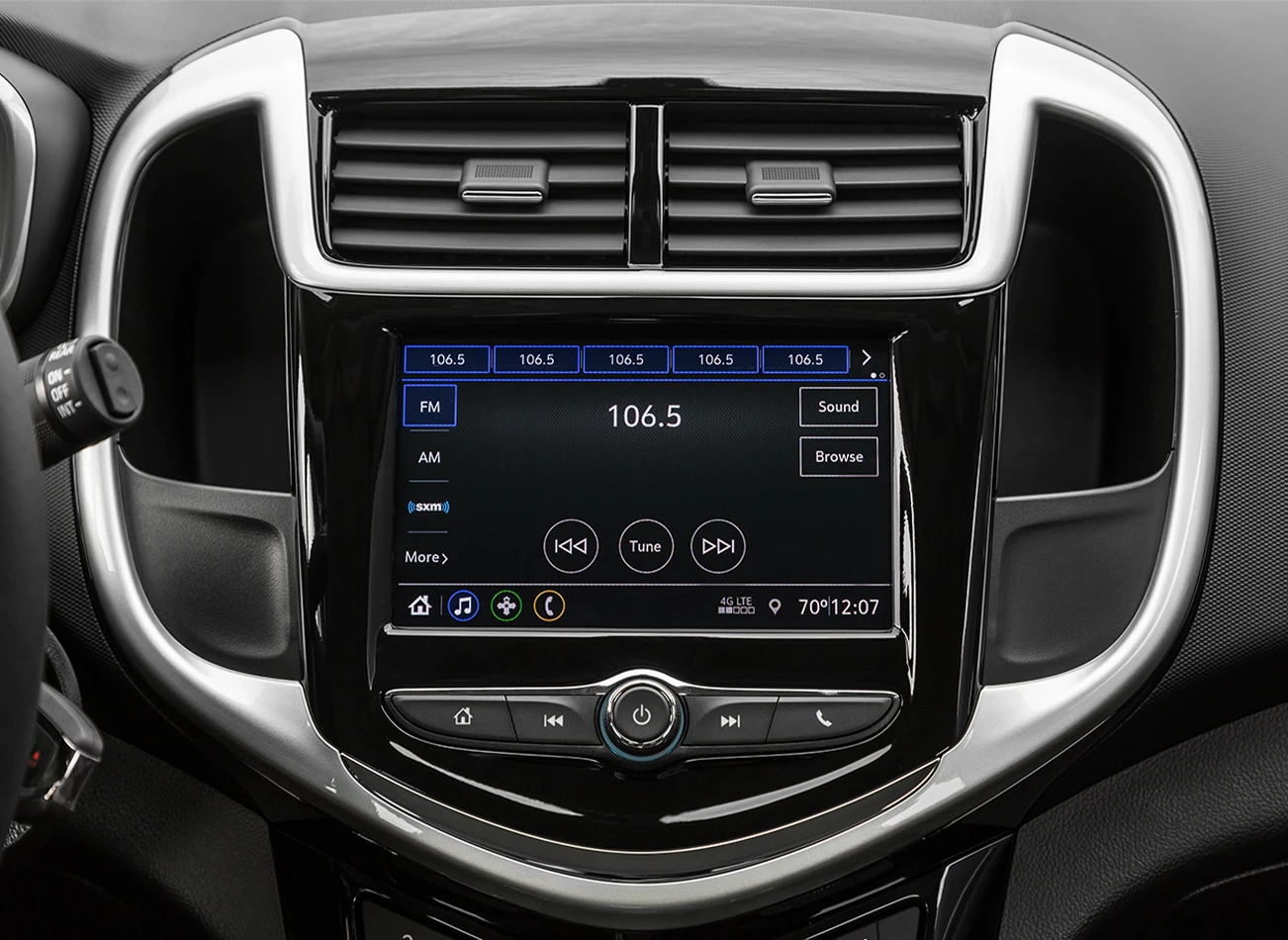 Forget working from home. With the 2020 Chevrolet Sonic's technology, your WFH can be WFA (work from anywhere). The available 4G LTE Wi-Fi offers high-speed connectivity.
 It allows up to seven devices, allowing you to take your office anywhere. If you're more into traveling recreationally than for work, you can post #campinglife videos from your ride.
5. Driver aids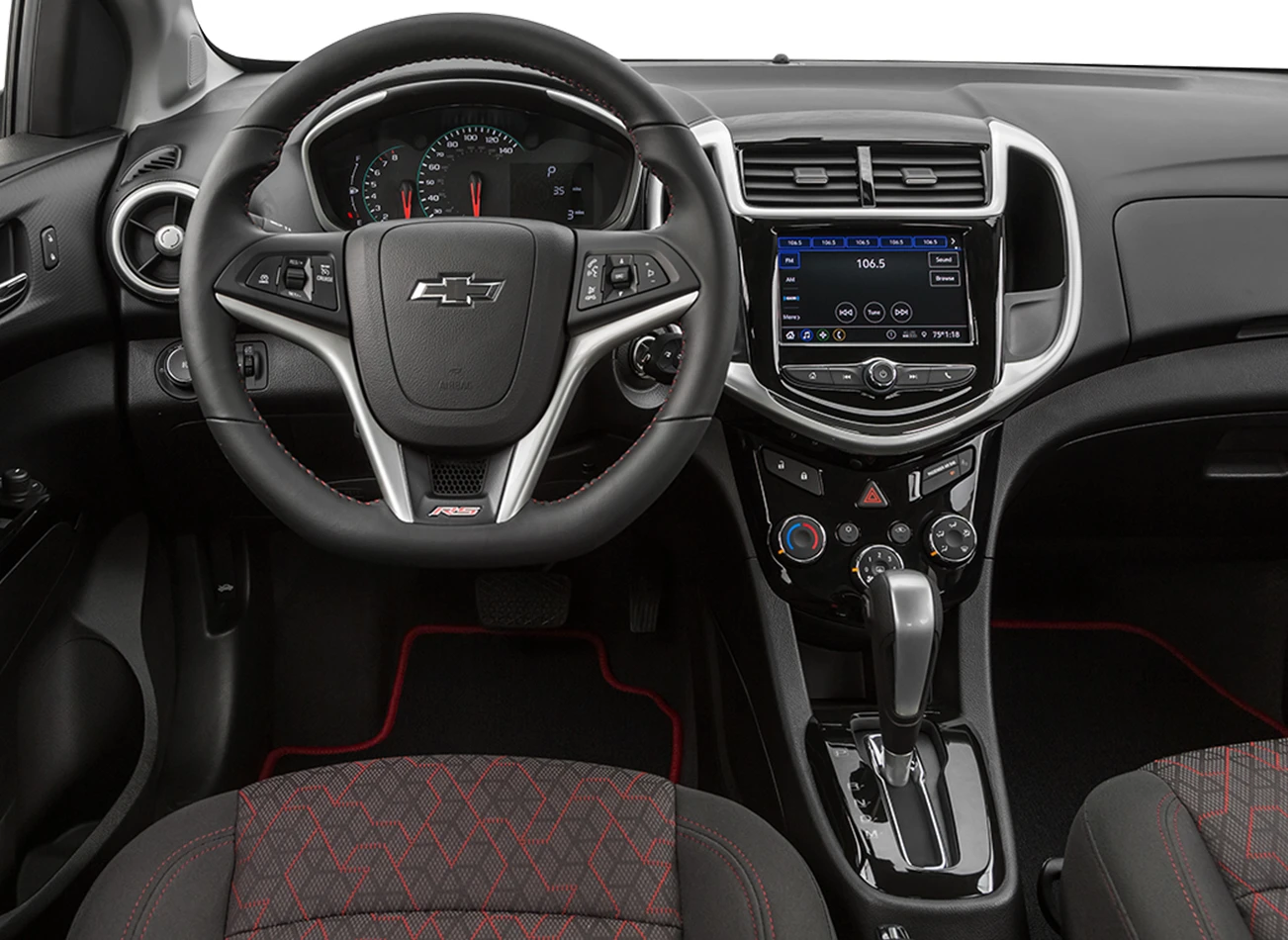 Small doesn't mean skimping on driver-assistance features. Taking some of the stress out of your daily grind are the available lane-departure warning, forward-collision warning, and rear parking sensors. If your attention is lagging, the 2020 Sonic has your back.
RepairPal gave the Chevrolet Sonic an overall reliability rating of 4 out of 5 stars, which RepairPal describes as Excellent. This rating ranks Chevrolet Sonic 20th out of 24 among Subcompact Cars.
RepairPal reports that the average total annual cost for repairs and maintenance on a Chevrolet Sonic is $590, compared to an average of $459 for Subcompact Cars and $619 for all the vehicles RepairPal considered in its dataset.
According to RepairPal, Chevrolet Sonic owners bring their vehicles into a repair shop for unscheduled repairs an average of 1.0 times per year, compared to an average of 0.9 times for Subcompact Cars and 1.4 times for all the vehicles RepairPal considered in its dataset.
RepairPal reported that the probability of a repair being a severe or major issue is 9% for the Chevrolet Sonic, compared to an average of 9% for Subcompact Cars and 12% for all the vehicles RepairPal considered in its dataset.
Color options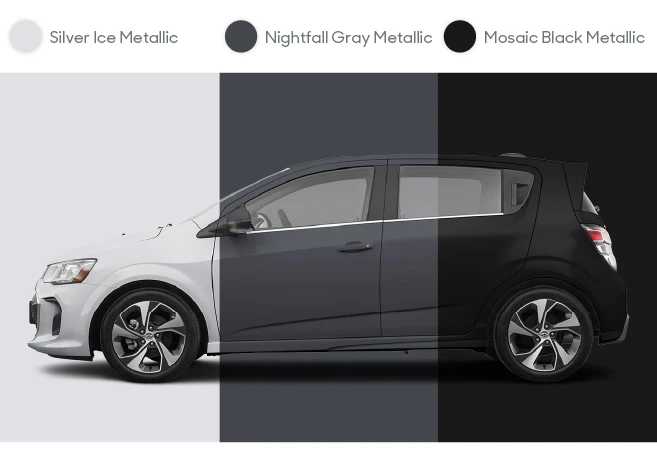 Exterior colors:
Kinetic Blue Metallic

Mosaic Black Metallic

Nightfall Gray Metallic

Red Hot

Silver Ice Metallic

Summit White
Interior colors:
Interior details
Having a seat in the 2020 Chevrolet Sonic sedan or hatchback reveals an appealing amount of passenger space, most notably the 37.8 inches of headroom and 41.8 inches of legroom.
The base LS trim has black accents on the steering wheel and center display screen, while LT and Premier models have silver trim with a brushed aluminum look. The three-spoke steering wheel is loaded with useful buttons and sits in front of a central driver information display and prominent tachometer.
While subcompact cars sometimes have a minimalist interior design, the Sonic has cool touches like industrial-looking air vents. The seats are comfortable even for long road trips, and the hatchback's rear seats fold down to make 47.7 cu-ft of space for all your voluminous cargo needs. The optional RS package adds sporty accents like red stitching on the seats and floor mats.
Child seat details
The 2020 Chevrolet Sonic has seating for five in sedan or hatchback models (the seats are identical), with up to three child seats in the back row. This includes LATCH car seats, infant car seats, rear-facing convertible car seats, forward-facing convertible car seats, and booster car seats. Note that the center rear seat lacks a head restraint, so it can't accommodate a backless booster seat.
LATCH points are easy to access on the back side of the rear seats. On the front side, the red belt buckles stand out against the black interior and are flexible enough to accommodate most child seats.
Performance
Despite the cool looks of the RS package, and the suspension's sporty handling, the 2020 Chevrolet Sonic is not in the "hot hatch" category. However, the turbocharged 1.4L four-cylinder is enthusiastic about its job, and due to the low curb weight (just 2,857 lbs.), the Sonic is really fun to drive. With 138 horsepower and 148 lb-ft of torque, the 2020 Chevrolet Sonic can sprint from zero to 60 mph in 8.3 seconds (according to the manufacturer, when new).
The six-speed automatic transmission is quick and responsive around town and downshifts perfectly when passing on the highway. The front-wheel drive is competent in poor weather, while the suspension design simultaneously soaks up bumps while still giving you the appropriate amount of road "feel." The 2020 Chevrolet Sonic hatchback RS isn't any faster than a non-RS package, but the larger wheels should give even more feedback.
As a commuter, you'll appreciate the handling and power, but also the ability to minimize trips to the gas station. The base engine of the 2020 Sonic gets an EPA-estimated 29 mpg combined.
Year comparison
2012-2020 Chevrolet Sonic (first generation)
There is only one generation of the Chevrolet Sonic, spanning many years. You'll notice a few key differences in the early years. The turbo 1.4L engine has been there since the beginning, but from 2012 to 2019 it could be paired with a six-speed manual transmission. The base engine was a 1.8L four-cylinder paired with a five-speed manual or a six-speed automatic.
The appearance changes slightly over the years too, with 2012-2016 models having a more angular grille and exposed motorcycle-like headlights, while 2017-2020 models wear the more contemporary and aerodynamic Chevrolet look. If Apple CarPlay® and Android Auto™ integration are must-haves, look to 2017-2020 models with the Chevrolet MyLink® system.