1. Infotainment and tech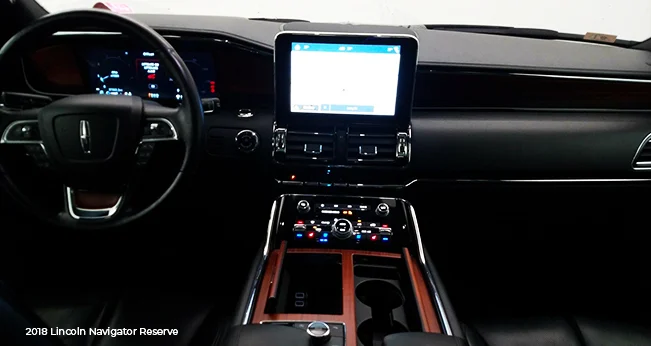 Every 2019 Lincoln Navigator comes with standard WiFi hot spot—that's going to come in handy for road trips near and far, as will the optional rear-seat entertainment system, which comes with wireless headphones.
The kids will love playing video games without having to hold a device up to their faces. For you, the intuitive infotainment system is streamlined to make it easy to use, and both Apple CarPlay
®
and Android Auto
™
are standard on every 2019 Navigator.
2. Driver-Assistance features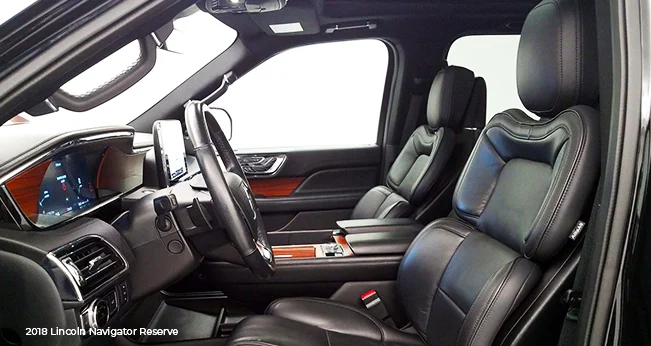 Blind-spot detection comes standard on the 2019 Navigator, with lane-keep assist and automatic braking available as options. This driver-assist technology will help to make your life easier on the road. Rear cross-traffic alert is also an integrated feature on 2019 models, which is designed to build confidence in busy parking areas.
3. Quiet cabin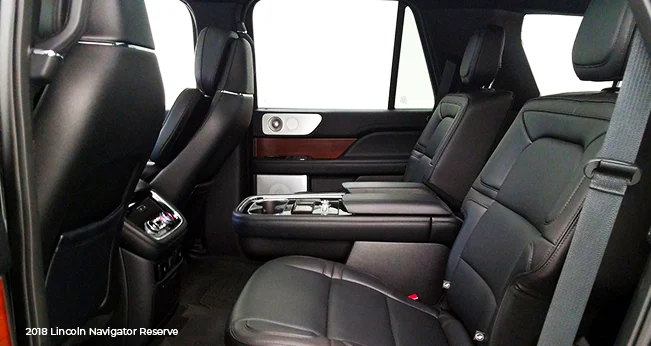 The 2018 and 2019 Lincoln Navigator comes with a powerful twin-turbo V6, but behind that power is a quiet and comfortable interior. When you think: "luxury automobile," you likely imagine a relaxing, soothing experience—and the 2019 Lincoln Navigator will meet your expectations. The 2019 Navigator's adaptive suspension smooths out the bumps from uneven roads while enhanced sound-absorbing materials keep things quiet. On top of all this, Active Noise Control provides everyone in your Navigator with a peaceful ride.
4. Towing options
With 450 horsepower and 500 lb.-ft. of torque from the 3.5L V6, the 2019 Lincoln Navigator is light on its feet. It's large but graceful, slipping away like a panther from the other vehicles on the road. And if it has to tow, the 2019 Navigator acts more like a truck than an SUV, with the ability to tow an estimated 8,700 pounds with the V6 when properly equipped.
The 2019 Navigator's optional 4WD system gives you and your Navigator sure footing on slippery and icy roads, offering you the flexibility to go almost anywhere.
5. Driving feels like a day at the spa
When you're driving a Navigator, you expect premium materials and amenities. Even so, you might not have anticipated the deluxe massaging seats. Equipped to transport up to seven full-size adults, the 2019 Navigator brings the heat—literally—with standard heated and ventilated seats for the front row, as well as Perfect Position Seats. The design of these fantastic seats was inspired by private aircraft, and that becomes obvious the moment you're inside. The Perfect Position Seats feature 24- and 30-way power adjustments while the patented design of Active Motion 2 flexes around you. Your key fob also sets your preferred settings, including the position of the driver seat, pedals, steering column, side-view mirrors, audio and climate control preferences, and more.