1. Iconic styling
The 2019 Mini Cooper retains many of the iconic styling cues that debuted on the classic 1959 model. From the heritage racing stripes on the hood (available on all models) to the contrasting floating rooftop, numerous design elements set this rally racer apart. Optional roof graphics, bold paint colors, and exterior finishes⁠—such as unique "Union Jack"-integrated LED taillights⁠—give this small car a huge personality.
2. A range of body styles
The first step in shopping for a 2019 Mini Cooper is deciding which body style is right for you. This spirited compact is available in either a two-door hardtop model that seats four or a four-door hatchback that seats five. Both options are available in either Classic, Signature, or Iconic trims. To maximize driving enjoyment, opt for the four-seater convertible variant⁠—on 2019 models this variant is equipped with a soft-top that can electronically retract in 15 seconds. However, convertibles are available only in a two-door, four-seater configuration. More interior space is one of the reasons you may choose the four-door variants of this subcompact. The top-of-the-line John Cooper Works performance model is only available in the two-door hardtop and convertible versions and can be found in Classic, Signature, or Iconic trims.
3. Flexible storage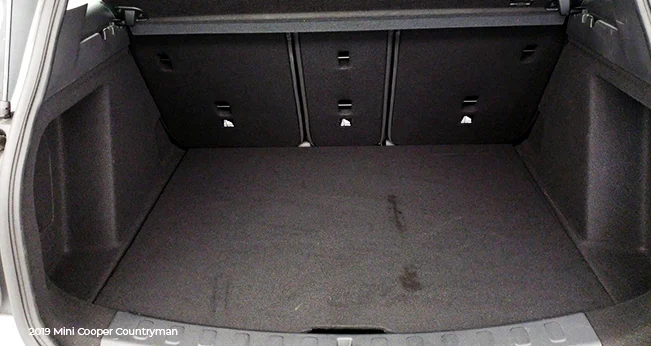 To make the most of the hatchback cargo area, the Mini Cooper is equipped with an adjustable load floor that enables two layers of storage. The subspace is great for stowing occasionally-used equipment and valuables while freeing the main cargo area for groceries or gear that need to be within easy reach. The rear seats fold forward to open up additional space to fit longer items. Although the boot space is smaller on the convertible, it offers an easy-load function that raises the top of the tailgate to enlarge its opening. This wider opening of the tailgate makes it easier to fit bulky items, and you can still fold the rear seats forward for more interior cargo space.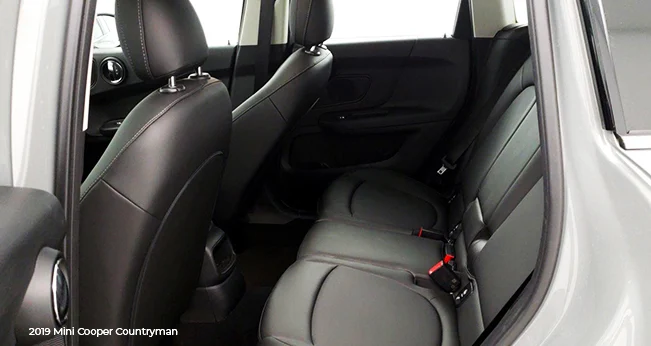 4. Sporty interior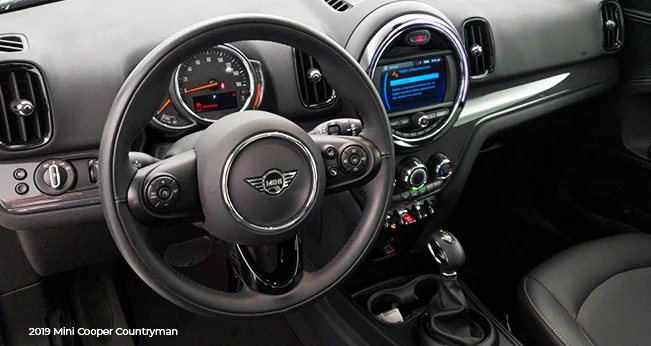 The repeated circular motif in all Mini Cooper models is one of the first things you notice when you step inside the cabin. The signature round instrument gauges and dials pay homage to the dashboard layout of the original 1959 model. Bringing a modern influence to the interior is an illuminated LED ring surrounding the standard 6.5-inch display screen or optional touchscreen in the center stack. There's also the option of backlit panels on the interior fascia display graphics to create an ambient glow that can change color to reflect your driving mood.
5. Fun to drive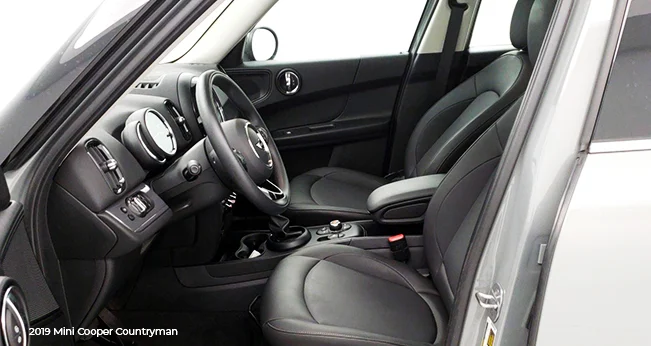 With its wheels pushed out to the corners as far as possible and minimal body overhang, the 2019 Mini Cooper feels like it was designed to corner. This front-wheel-drive car reflects its World Rally Championship heritage with performance handling and responsive maneuverability that brings the joy back to motoring. Available drive modes can maximize comfort, sportiness, or fuel-conservative driving by adjusting acceleration, suspension, and climate settings. The Mini Connected iPhone and Android app works with all 2019 models and has a feature that can play curated music scores to match your driving style.