5 reasons to buy the 2017 Tesla Model X
1. Unique rear doors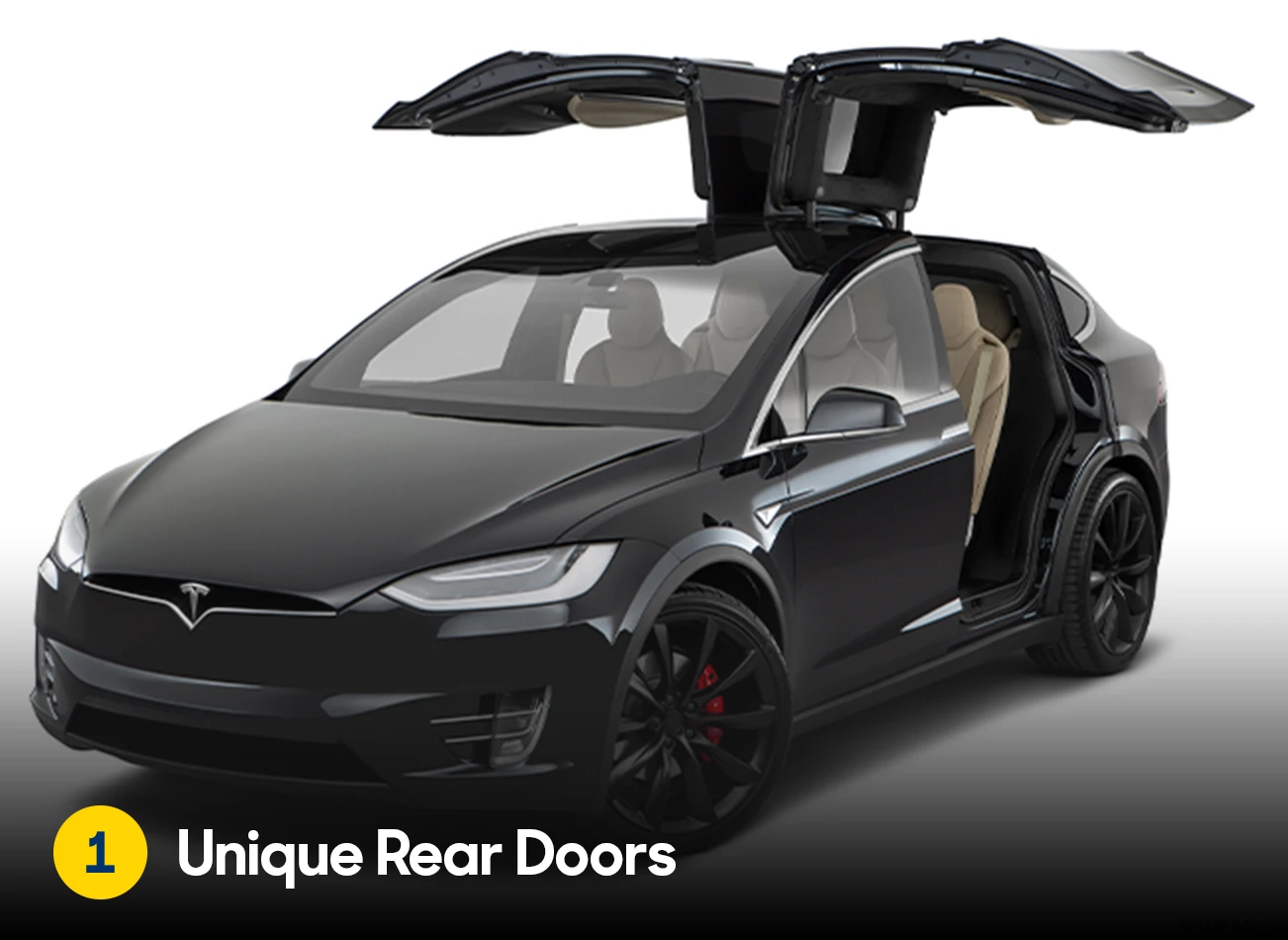 Why not sprinkle some excitement into your school drop-off or workplace parking lot? The 2017 Tesla Model X boasts show-stopping Falcon Wing rear doors that are top-hinged to open vertically in one smooth swoop. The benefits are obvious, particularly if you need to attend to kids in the rear seat, or if you like to fill your back seat with lots of stuff on a long journey. You needn't worry about tight parking spaces either, as these rear doors open straight up, staying clear of the cars on each side.
2. Driver-Assistance features
The Tesla Model X is generous when it comes to standard driver-assistance features. In addition to multiple cameras onboard to assist with parking and lane awareness, every 2017 Model X has 12 airbags, a traction control system, and adaptive cruise control. With a 17-inch central touchscreen that can provide traffic data and a variety of driving modes, the Model X is a driver's car first and foremost.
3. Amazing add-on packages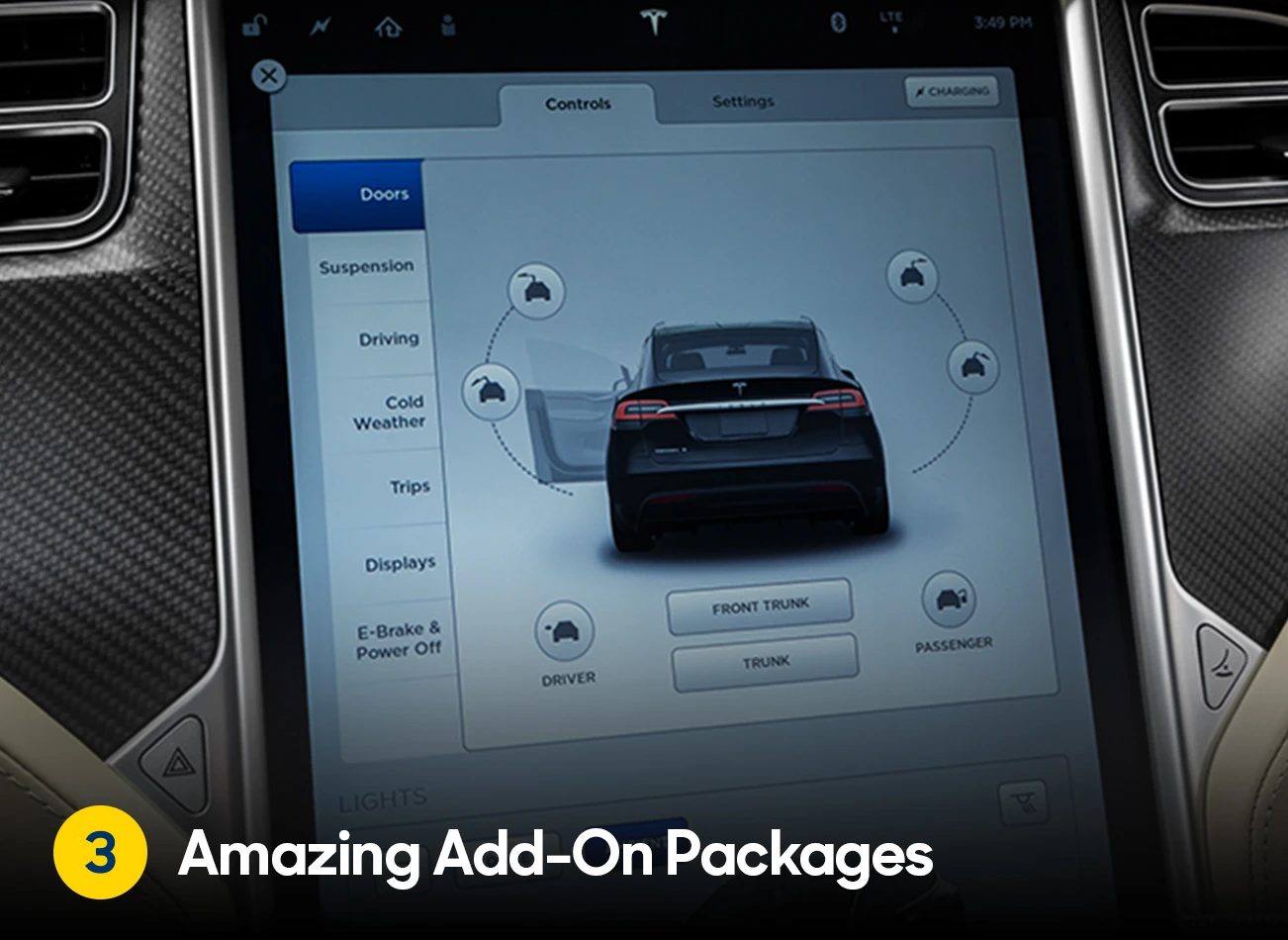 The 2017 Tesla Model X's standard features are plentiful and remain almost unchanged across its four available trims. If you're looking for some extras, you can shop for available packages. Standout features of the Premium upgrades package include automatic driver-door proximity opening, a high-fidelity sound system upgrade, and a HEPA air-filtration system. Premium touches like these make the Model X a great choice.
4. Stunning interior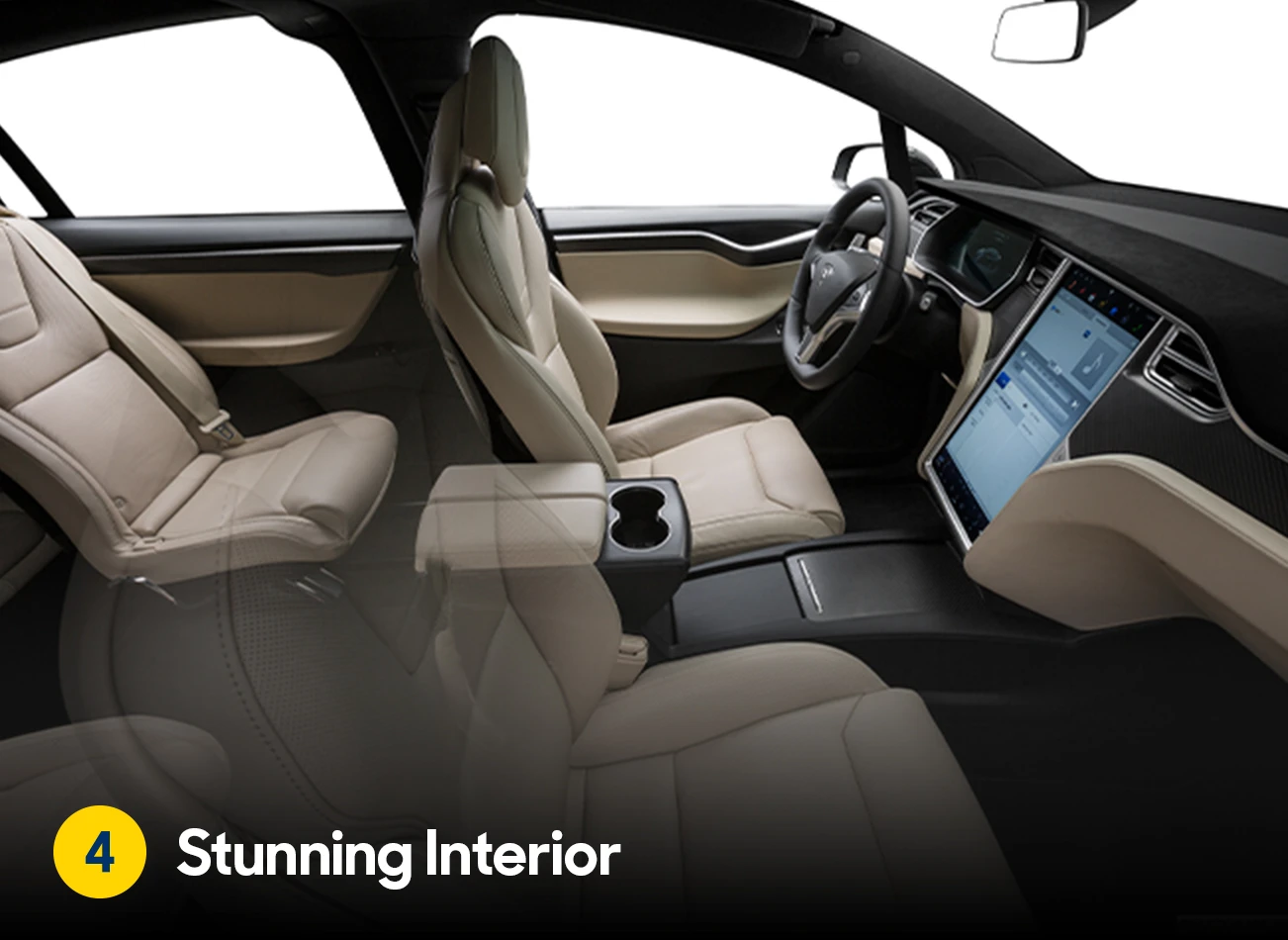 The interior elegance of the Model X is what you may notice upon first inspection. Leather upholstery in cool colors sits alongside real wood accents and deep underfoot carpeting. The smooth dashboard feels easy on the eye, while the wide-open panoramic roof can bring lightness to the cabin. This can allow you to share the serenity of the outdoors, regardless of what journey you're experiencing.
5. Powerful performance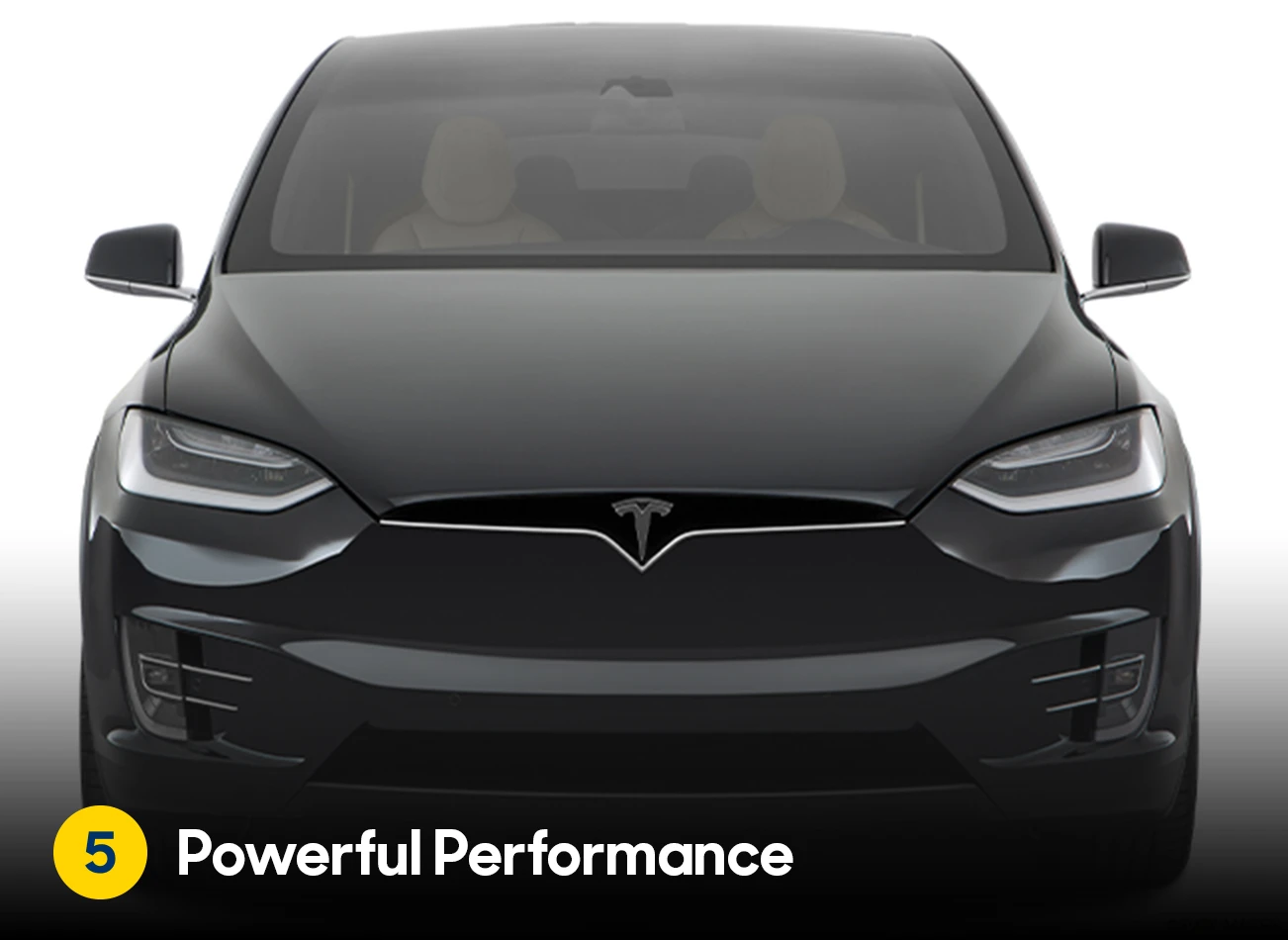 EV technology is bringing revolutionary sports car like performance to midsize SUVs. With instant torque and regenerative braking, the Tesla Model X SUV is designed to provide a next-level driving experience. The 2017 Model X P100D achieves a zero to 60 mph time of just 2.9 seconds (according to the manufacturer, when new). Who wouldn't be interested in test driving that?
Color options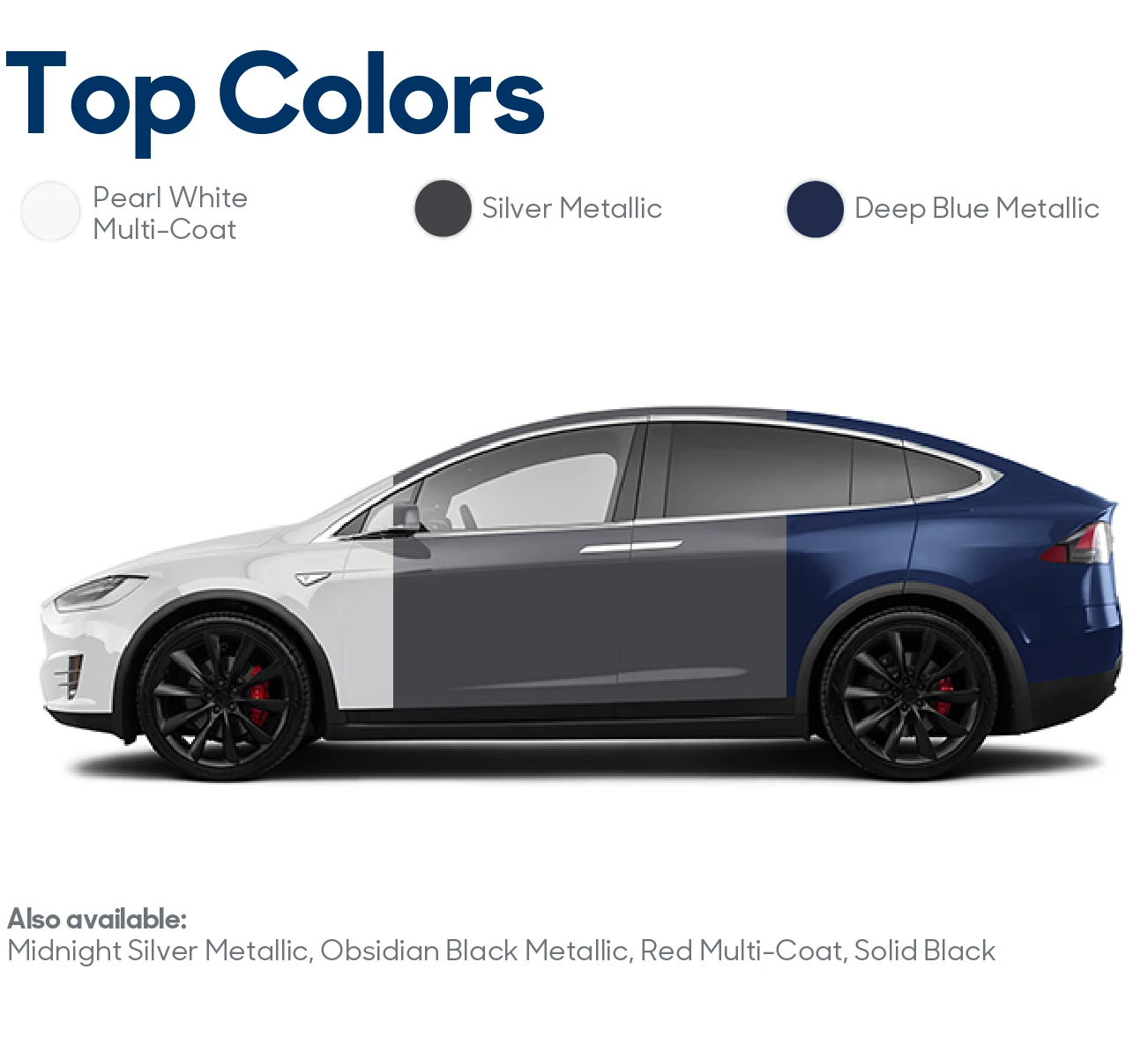 Exterior colors
Deep Blue Metallic

Midnight Silver Metallic

Obsidian Black Metallic

Pearl White Multi-Coat

Red Multi-Coat

Silver Metallic

Solid Black
Interior colors
Interior description
The 2017 Tesla Model X boasts luxury touches at every turn. Your passengers can enjoy stunning road-trip visibility across its broad windshield and extensive panoramic sunroof. Let them sink into the soft leather upholstery, enjoy plentiful cup holders, use the front door pockets for their essentials, and switch on front-heated seats (and optional all-seat heat) on chilly mornings. With genuine wood accents, deep plush carpets, and calming colors, the 2017 Model X exudes elegance.
Child seat details
The 2017 Tesla Model X comes standard as a five-passenger model and can fit three child car seats in the rear. The outboard seats have two lower LATCH anchors and one tether per seat, while the middle seat has the tether only.
The six-seat optional configuration can accommodate four child seats across the second and third rows. Each of these seats is equipped with a full set of LATCH connectors.
The seven-seat model also has four full sets of LATCH connectors on the outboard seats, while the second-row middle seat has the tether only.
The 2017 Tesla Model X can accommodate front- and rear-facing convertible seats, infant seats, and child booster seats. If you're a parent or caregiver, you may prefer the six-seat model for ultimate flexibility.
Performance
Powered by two electric motors and an onboard battery pack, the 2017 Tesla Model X feels surprisingly uncomplicated for a vehicle that's so technically advanced. All 2017 Model X vehicles have AWD and automatic single-speed transmission. When properly equipped, they can tow an estimated 4,960 lbs.
Technical data is at your fingertips via the cockpit's 17-inch touchscreen.
The 2017 Model X 75D has a 75-kWh battery and an EPA-estimated range of 237 miles on a full charge, with a zero to 60 time of 6 seconds.
The 2017 Model X 90D has a larger 90-kWh battery, which can produce a top speed of 155 mph and a zero to 60 time of 4.8 seconds.
The 2017 Model X performance trim is the P100D, achieving blistering performance figures for a crossover SUV, including a zero to 60 mph time of 2.9 seconds and a top speed of 155 mph.
Year comparisons
2016
The Model X debuted in 2016, taking Tesla into crossover SUV territory. The 2016 Model X seats five passengers as standard, with the option to upgrade to a six- or seven-seat configuration. The Model X's wing-like rear doors, which open out vertically at the touch of a button, are a standout feature. Available in three battery-size trim levels, the trim-topping P90D boasts an optional "Ludicrous Mode" performance upgrade, which accelerates the 2016 Model X from zero to 60 mph in 3.3 seconds (according to the manufacturer, when new).
2017-2018
For 2017-2018 model years, the Model X 90D and P90D battery-size trims are replaced by the 100D and P100D trims. Following owner feedback, second-row seats gained the option of folding flat to boost cargo space.
2019
The Raven upgrade was introduced in 2019, changing up the Model X's front motor and introducing a different air-suspension system. Trim levels had several name changes through this model year, finishing with just two: Long Range and Performance.
2020
The 2020 Tesla Model X is available in two trims: Long Range Plus and Performance. Each model features a 100-kWh battery. The Long Range Plus model has an EPA-estimated range of 351 miles on a full charge, while the Performance model features Ludicrous mode as standard.
The interior upholstery is available with vegan leather only, and exterior paint options are reduced to five.