Ask the Experts: Should You Buy a Ford Ranger?
---
PUBLISHED MONDAY, JANUARY 17, 2022

BY EDMUNDS EDITORS
Ask the Experts: Should You Buy a Ford Ranger
With thousands of vehicles in our inventory, we're here to help make car research easier for you. We've partnered with car-review experts from Edmunds to weigh in on what matters most when you're looking to buy a truck or car.
***
Vehicle Reviewed
2020 Ford Ranger XLT
The Ford Ranger offers a lot of promise. It's a midsize pickup truck, meaning it's smaller in stature than the full-size Ford F-150. But Ford designed it to still have lots of towing and hauling capability. A strong turbocharged engine comes standard too. So should you buy a Ranger and, if so, which model should you get? Edmunds' Ryan ZumMallen offers his expertise in this helpful shopping guide.
What do I need to know about the Ford Ranger?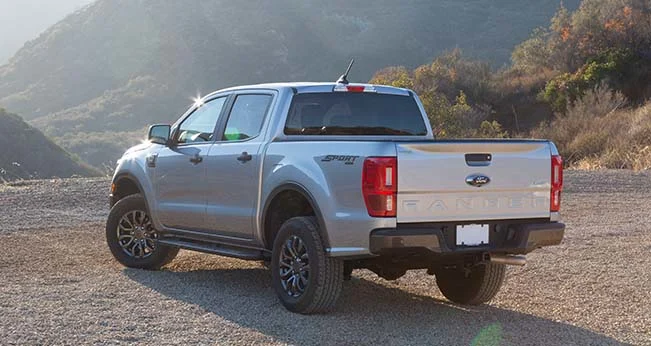 This article focuses on the 2019-present Ford Ranger, which is the fourth-generation version of the pickup. Ford built the Ranger for decades before stopping its production after the 2011 model year. In the Ranger's absence, competitors grew their sales, so Ford decided to bring the Ranger back in 2019. But instead of building an all-new truck, Ford took the Ranger it already offered in overseas markets and repurposed it for U.S. customers.
At its core, the Ranger is a four-door midsize pickup truck with two versions: the smaller extended cab called the SuperCab with a 6-foot bed and the larger crew cab called the SuperCrew with a 5-foot bed. From there you can choose from the XL base trim, the XLT, or the top-level Lariat. Some of them may come with the FX4 off-road package for adventurous fun, and some 2021 Rangers have even more capability with the available Tremor package.
What engines does the Ranger come with?
This is simple. Every Ranger in this generation comes with a turbocharged 2.3-liter four-cylinder engine that makes 270 horsepower and 310 lb-ft of torque. That is a lot of muscle for a midsize truck and helps it accelerate from 0 to 60 mph in just 6.8 seconds, which is very quick for a midsize truck. The engine in each Ranger is paired with a 10-speed automatic transmission. Rangers come with either rear-wheel drive or four-wheel drive.
The Ranger also has high fuel economy estimates for its class. Here's the breakdown of EPA estimates:
2019-2021 Ford Ranger (RWD): 23 mpg combined

2019-2021 Ford Ranger (4WD): 22 mpg combined

2021 Ford Ranger with the Tremor package (4WD): 19 mpg combined
Ryan's take: The turbocharged four-cylinder engine is easily the single best part of the Ranger. Here we have a small engine in a truck, yet it's strong and can be relatively efficient. And that translates beyond raw numbers, too—the engine feels great from behind the wheel. This is an excellent display of power that enables the Ranger to achieve its strong payload and towing capacities, and it makes many competitors feel like they are behind the times.
What is the Ranger's interior like?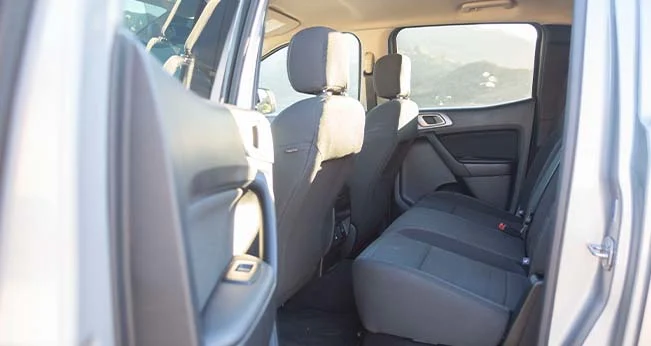 Interior comfort is not a particular strength of the Ford Ranger. This is one of the ways in which it becomes apparent that the Ranger migrated from other countries, where shoppers tend to be more tolerant of hard materials and plain design. Here in the U.S., the Ranger's utilitarian cabin may be fine if you need a Ranger as a basic work truck, but its unappealing plastic and outdated styling may not sit well with other buyers. A confusing control layout and small buttons that can be hard to find and press while driving are other issues.
Space in the front seats is sufficient for drivers of many sizes. The seats themselves are comfortable, and they are positioned to make it easy to get in or out. However, in the rear, you shouldn't expect much comfort from the tight quarters of the smaller SuperCab configuration. There's a better situation in the back of the larger SuperCrew, but taller adults will likely need to get out and stretch their legs before too long.
Ryan's take: It's immediately clear the interior of the Ranger wasn't designed in 2019. It's simply not up to the standards of the modern U.S. midsize truck market. This would be much easier to forgive if the Ranger offered excellent ergonomics, or if the various buttons, dials, and controls were easy to locate and use—but that's not the case. You should be comfortable in a Ranger over long periods of time on a road trip. But it's nowhere near the top of the class.
What's the Ranger like to drive?
First, the good: Its turbocharged engine is not lacking for power, and it provides a satisfying punch when you need it. Its accompanying 10-speed automatic transmission can be lethargic when it comes time to shift, but in general it pairs well with the engine for a smooth delivery.
Unfortunately, the rest of the Ranger experience is not so sunny. Its steering feels inconsistent—responsive in some corners but vague and numb in others. There are other midsize trucks that offer greater confidence on the road. The truck also exhibits more body roll, or leaning, when going around turns for a pickup of this size. And when you drive over bumps in the road, the Ranger's suspension is more rough than many competitors. Overall, the Ranger will do fine for tough work, and it feels more comfortable and composed when towing or hauling. But in typical everyday driving, it lags behind rivals.
Ryan's take: I'm a fan of the Ranger's engine, but I dislike the rest of its driving experience. This is mainly because of the Ranger's steering that feels disconnected and disorienting to me. On top of that, I find the handling to be sloppy and the ride too rough. The ironic thing is that all systems feel much better calibrated when you're off-roading or towing. Unfortunately that's not enough to counteract its many missteps.
How capable is the Ranger?
On the upside, the Ranger has high maximum towing and payload capacities for the class. Ford estimates the Ranger can haul up to 1,860 pounds in its bed, specifically in the SuperCab RWD configuration, and that the Ranger can tow up to 7,500 pounds in all its varieties when properly equipped.
These are strong numbers for the class. For instance, the 2021 Toyota Tacoma has a maximum payload capacity of 1,685 pounds and a max towing capacity of 6,800 pounds. The 2021 Nissan Frontier has a max payload of 1,460 pounds and max towing of 6,720 pounds. The 2021 Chevrolet Colorado boasts max payload of 1,550 pounds, and only its diesel-powered version bests the Ranger in terms of towing, with a max capacity of 7,700 pounds.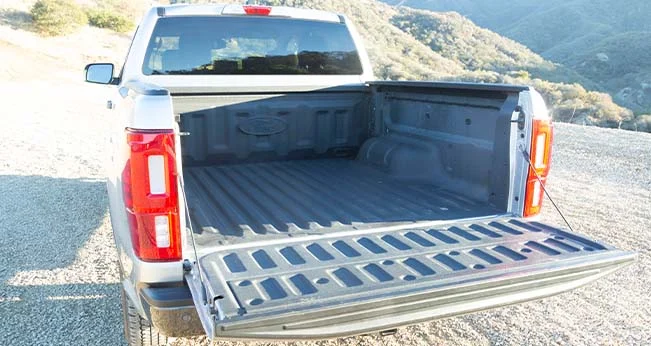 As for the bed, the Ranger comes standard with a bare steel bed, but some versions might have a protective bedliner that Ford offered as an option when new. All versions have tie-down points for securing large loads in place, and there's plenty of room in the bed because its side walls are quite high. At the same time, those high walls can make it difficult to reach into the bed to retrieve items while you're standing outside the truck. You may have to climb inside, and there aren't any helpful steps to boost you up.
Ryan's take: The impressive capabilities of the Ranger should be enough to make people looking at full-size trucks wonder whether they really need that F-150 or Silverado 1500. They might be happy with a smaller pickup like the Ranger instead. That's because the Ranger not only has eye-catching maximum capacities, but it also feels confident and capable handling cargo that size. Not every midsize pickup can say it provides a confident driving experience at or near its limits. The Ranger can.
What is the Ranger's technology like?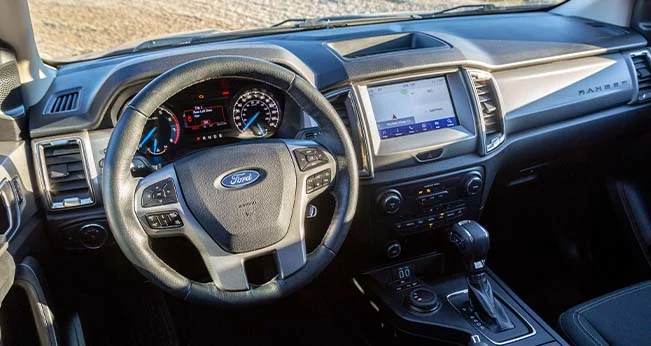 Basic versions of the Ranger are lacking when it comes to tech. The XL trim comes standard with only a small center display and a four-speaker sound system—though it does come with an available Wi-Fi hotspot. Look for the XLT or Lariat trim in order to get an 8-inch touchscreen with Apple CarPlay® and Android Auto™ smartphone integration, all of which comes standard on those models. If you really want to level up its technology features, look for a Ranger with the Technology package to get a navigation system, front parking sensors, and adaptive cruise control, which automatically keeps a set distance between you and the vehicle in front at speed.
Ryan's take: I like using the SYNC® 3 infotainment system, which came standard on the XLT and Lariat trims from 2019 and on. Ford also made it an option on the base XL trim beginning in 2021. If you take advantage of its full capabilities like the available Wi-Fi hotspot, satellite radio, and native navigation, then SYNC 3 is a treat. Otherwise, the Apple CarPlay and Android Auto systems look good on the central screen too. The driver-assistance aids are also some of the best around, so you can feel confident using adaptive cruise control if you have it.
What else should I consider?
The midsize pickup class offers no shortage of choices. The most direct rivals to the Ranger are the Chevrolet Colorado, which has a comfortable ride for a truck, and the Toyota Tacoma, which offers impressive off-road capability. There is also the Nissan Frontier, which carried over largely unchanged for more than a decade before receiving a new V6 engine in 2021 and a full redesign for 2022.
You could also opt for the Honda Ridgeline. It boasts strong payload ratings and has the most refined ride quality in the class. Finally there is the Jeep Gladiator, which is a little larger than its competitors and relies on heavy-duty components to achieve extreme off-road capability.
Ryan's take: I tend to think the Tacoma is the right choice for the largest number of truck shoppers due to its inherent toughness and right-sized shape. I also like the Honda Ridgeline. If you're towing and hauling needs are only occasional, the Ridgeline offers the best everyday usability in the class by far. But if you think you'll be doing a lot of towing and hauling, the Ranger is certainly worth a look.
If I decide on a Ranger, which one should I buy?
The base XL trim is a good choice if you're looking for an inexpensive work truck. However, if everyday transportation with a little weekend fun is more your style, the XLT trim represents a big step up with alloy wheels and an improved touchscreen. That makes the XLT an advisable pick even compared with the top-level Lariat, which has LED headlights and leather seats among other upgrades but doesn't improve the total experience significantly. If you're going to be towing with your Ranger, make sure to get one with the optional Trailer Tow package for maximum capability.
Ryan ZumMallen has written automotive news and buying advice for nearly a decade. As an automotive reviews editor for Edmunds, ZumMallen examines trends in both the new and used markets with a focus on sporty, affordable cars, off-road trucks, and SUVs.