Ask the Experts: Should You Buy a Subaru Outback?
---
PUBLISHED FRIDAY, SEPTEMBER 17, 2021

BY EDMUNDS EDITORS
With thousands of vehicles in our inventory, we're here to help make car research easier for you. We've partnered with car-review experts from Edmunds to weigh in on what matters most when you're looking to buy a car.
***

Vehicle Reviewed:
2020 Subaru Outback
To some, the Subaru Outback looks like a wagon with some extra ground clearance. But it also has traits you'd normally associate with an SUV, such as lots of cargo capacity, standard all-wheel drive, and a rugged overall character. So is it a wagon or an SUV? Or can it be both? Edmunds expert Travis Langness gives you all the details on the 2020 Subaru Outback and his take on what to look for when shopping at CarMax.
What do I need to know about the Subaru Outback?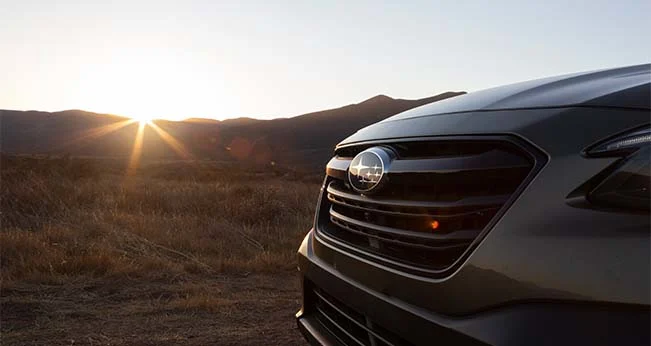 Subaru last redesigned the Outback for the 2020 model year. Compared to the prior-generation Outback, the 2020 and newer Outbacks have more high-tech driver aids, updated engines, and new looks.
The 2020 Outback comes in seven trim levels: base, Premium, Limited, Touring, Onyx Edition XT, Limited XT, and Touring XT. The base trim is reasonably well equipped and comes standard with Apple CarPlay® and Android Auto™ smartphone connectivity, which allows you to display many of your phone's apps on the touchscreen. It also has driver aids such as adaptive cruise control, forward collision mitigation, and lane-keeping assist.
The Premium trim steps things up a bit with heated front seats, a larger 11.6-inch center touchscreen display, and a leather-wrapped steering wheel. On the Limited trim level you get even more features, including blind-spot monitoring, heated rear seats, and leather upholstery, while the Touring is the most luxurious with a standard navigation system, ventilated front seats, and more. The Outback's XT versions have a similar spread of features as the Premium, Limited, and Touring, but with a more powerful engine, which we cover next.
What engines does the Outback come with?
The standard engine in the Outback is a 2.5-liter four-cylinder that produces 182 horsepower and 176 lb-ft of torque. It's paired to a continuously variable automatic transmission (CVT) and comes standard with all-wheel drive. The EPA estimates that a 2020 Outback with the base 2.5-liter engine gets 29 mpg combined (26 highway/33 city).
On XT models, the Outback comes with a turbocharged 2.4-liter four-cylinder engine. It produces 260 horsepower and 277 lb-ft of torque. Just like the standard engine, it's connected to a CVT and all-wheel drive. The EPA's estimate for the turbo engine on the 2020 Outback is 26 mpg combined (23 highway/30 city).
Travis' take: The Outback with the base engine is OK, but it's worth seeking out an Outback with the turbocharged 2.4-liter engine. The engine's extra power really makes a difference. The drop in fuel economy isn't big either.
What's the Outback like to drive?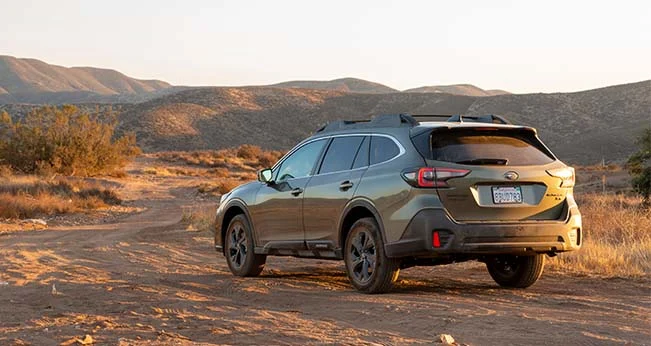 The Outback with the base engine feels relatively underpowered and isn't as fun to drive. The extra power from the turbocharged engine makes merging onto the highway or passing a slow-moving truck a lot easier. But with either engine, steering and handling are impressive. The Outback is easy to maneuver in parking lots and stays stable around turns. Compared to some rival SUVs, the Outback feels more agile.
Ride comfort and seat comfort are two of the areas where the Outback excels. The seats are soft but supportive, and they'll easily keep you comfortable on long road trips or on daily commutes. On the highway and in the city, the Outback soaks up most road imperfections without transmitting them to the cabin. It's also relatively quiet on the highway, with little wind and road noise.
If you decide to take your Outback off-road, you'll probably be pleasantly surprised by its capabilities. Like all Subaru SUVs, the Outback has nearly 9 inches of ground clearance, which is enough to make it over most off-road obstacles like rocks or big ruts. In the dirt, the Subaru rides well too. You won't be able to tackle big rock-crawling obstacles like you could with something like a Jeep Wrangler, but you'll certainly be a lot more comfortable.
Travis' take: The Outback is one of my favorite vehicles to drive in this class. The handling and steering are good enough that you'll enjoy cruising around your local back road, but it's rugged enough and there's enough ground clearance that you can do a bit of light off-roading without feeling like you're out of the Subaru's element.
How is the Outback's storage?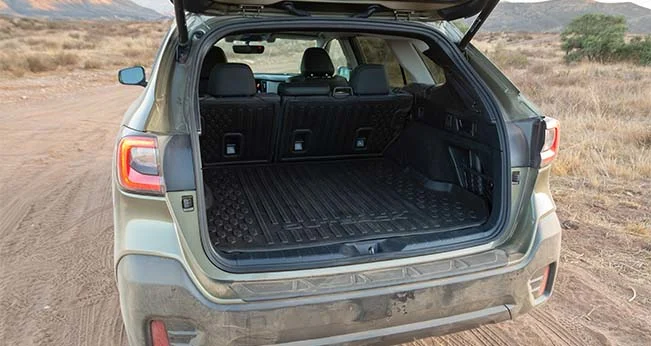 The Subaru Outback isn't as tall as some of its SUV rivals, and that results in slightly less maximum cargo capacity. Behind the second row of seats, the Outback offers 32.5 cubic feet of cargo space. The rival Honda Passport and Toyota 4Runner offer 41.2 cubes and 47.2 cubes, respectively. It's a similar deficit when you fold the rear seats down. You get 75.7 cubes in the Outback versus 77.9 cubes in the Passport (Sport trim) and 88.8 cubic feet in the 4Runner.
But in real-world use you're rarely packing things up to the headliner. For everyday cargo hauling, the Outback has a decent amount of space for luggage and small items. There are helpful door pockets and seatback pockets too, as well as a lot of center console space.
Another benefit of the Outback is the ease of loading items onto the roof. That lower roof height means it's easier to secure items such as a roof cargo box, bikes, or kayaks. The Outback also has trick integrated roof-rack cross rails. They're always on the car, so you don't ever have to store them and they deploy easily when it's time to use them.
Travis' take: If you're constantly loaded up to the brim for camping trips or overshopping at your local big-box store, the Outback may be a bit limiting for you. But for most people, there's plenty of room for groceries, luggage, and whatever else you plan on packing. Overall cargo space isn't an area where the Outback shines, but it's not so bad that it's a deal-breaker.
What's the Outback's interior like?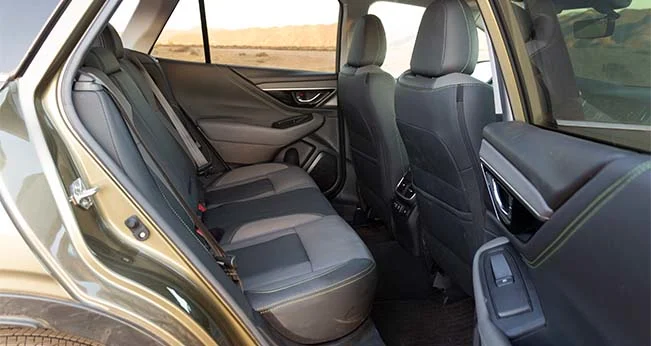 The Outback has plenty of room for front and rear passengers. Headroom and legroom are abundant enough for adults in all the seating positions, and the tall side windows help make the cabin feel airy. Those same tall windows and the tall windshield mean excellent visibility too. Getting in and out of the Outback is a simple matter of sliding into the seat thanks to wide-opening doors and a seat height that isn't so high that you have to hop up into it.
When it comes to interior materials and build quality, the Outback doesn't feel particularly special. There are nice touchpoints for your hands and elbows and upper trim levels get leather upholstery, but most of the dashboard buttons and physical controls around the steering wheel are made out of plastic. Still, everything feels well put together.
Travis' take: The Outback isn't particularly luxurious, even the top trim levels. But that's not what I really expect from an Outback. I want it to feel robust, like I can put it through some abuse and it'll come out unscathed, and that's what it feels like. Visibility and passenger space get top marks.
How is the Outback's tech?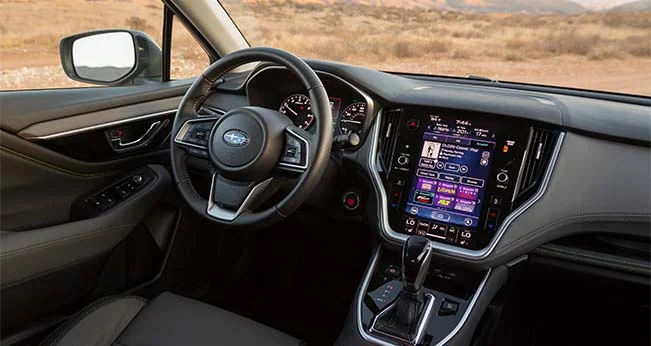 There are two available screens for the Outback: the standard 7-inch screen and an upgraded 11.6-inch touchscreen. Only the base trim gets the 7-inch touchscreen, so most Outbacks you come across at CarMax will have the larger touchscreen. That bigger screen has sharp-looking graphics, but finding some of the controls in the on-screen menus can be distracting if you're driving. Climate control functions, for example, are controlled via a combination of physical buttons and touchscreen controls and can take some getting used to.
Voice controls are not particularly impressive either. Basic commands, such as selecting a radio station, work relatively well, but the Subaru doesn't take navigation inputs very well.
A bright side for the Outback is the impressive functionality of its driver aid systems. The adaptive cruise control system maintains a reasonable distance with traffic in front without overreacting to slowing vehicles, for instance, and the lane-keeping assist feature gently helps you stay centered in your lane. There are a lot of beeps and chirps to deal with, but the aids themselves work very well.
Travis' take: Subaru's big 11.6-inch center touchscreen is pleasing to the eye but less appealing in actual use. If you get an Outback, be sure to familiarize yourself with all its controls first. Set up the cabin temperature, the radio presets, and all the driver aid settings before getting on the road. Otherwise, you'll have a hard time figuring them out on the move.
What other vehicles should I consider?
If the Outback's off-road capabilities don't fully satisfy your need for adventure, consider getting the Toyota 4Runner. The 4Runner has a more traditional SUV design, like a pickup truck, which means it can tow and haul more. With its robust underpinnings, the 4Runner can tackle tougher off-road obstacles than the Outback, but it compromises on comfort and fuel economy. If you're prioritizing something that's a bit more practical, with extra space for cargo, check out the Honda Passport. It's spacious, comfortable, and totally capable as a family SUV, with a bit more refinement than the Subaru.
Travis' take: The Outback is an excellent jack-of-all-trades. It's comfortable, spacious, and competent both on-road and off-road. That's one of the reasons I like it so much. But if you're looking for an SUV that excels in one particular category, some rivals could be a better choice.
If I decide on an Outback, which one should I buy?
The standard 2.5-liter engine is adequate for daily use, but if you're looking to have a bit of fun in the Outback, the turbocharged 2.4-liter engine is the best choice. It's a closer match to the standard V6 options offered among rivals. An Outback with this engine will have XT in its name. From there, picking between the Onyx Edition XT, Limited XT, and Touring XT largely comes down to getting the features you want—each one offers progressively more convenience and luxury-like features.
Travis Langness is an automotive reviews editor for Edmunds.com. As a lifelong car-and-truck enthusiast, Travis has a deep passion for cars. Through instrumented testing, off-roading, epic road trips, and local commuting, the Edmunds team tests and writes about new and used vehicles to help car shoppers make informed decisions.