Ask the Experts: Should You Buy a Toyota Tundra?
---
PUBLISHED MONDAY, JANUARY 3, 2022

BY EDMUNDS EDITORS
A big truck with big capabilities but an old soul.
With thousands of vehicles in our inventory, we're here to help make car research easier for you. We've partnered with car-review experts from Edmunds to weigh in on what matters most when you're looking to buy a truck or car.
***
Vehicle Reviewed
2021 Toyota Tundra
What do I need to know about the Toyota Tundra?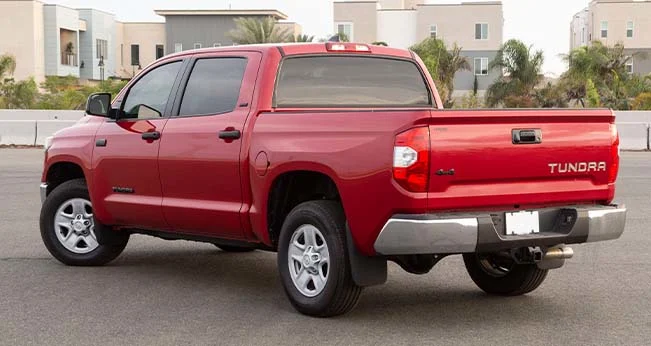 The Toyota Tundra is Toyota's full-size pickup truck. It's bigger and more capable than the midsize Tacoma and competes against other full-size trucks such as the Chevy Silverado 1500 and Ford F-150.
Toyota most recently redesigned the Tundra for the 2022 model year. We'll be focusing on used 2021 models for the purposes of this review. The 2021 Tundra is part of the second generation that debuted in 2007. While there have been some updates over the years, many aspects you'll read about here on the 2021 truck apply to older Tundras as well.
What engines are offered?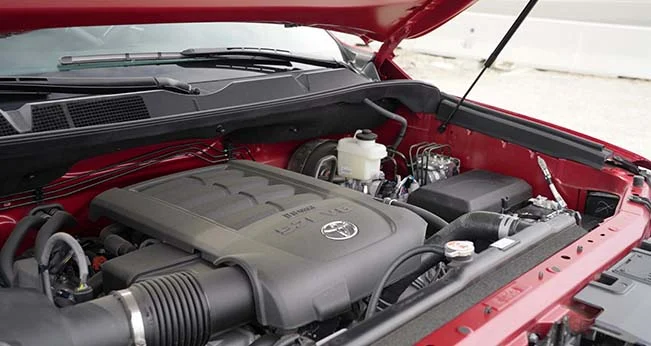 Early models were offered with different engines, but the 2021 Tundra only gets one engine: a 5.7-liter V8 that makes 381 horsepower and 401 lb-ft of torque. It's paired to a six-speed automatic transmission. Rear-wheel drive is standard, and four-wheel drive is optional. This is in stark contrast to most other full-size trucks that offer a few engines to choose from.
EPA-estimated fuel economy is 15 mpg in combined city/highway driving with rear-wheel drive or 14 mpg combined with four-wheel drive.
Travis' take: The Tundra's V8 is powerful enough for most of the truck stuff you'll be doing. It is, however, the only option. Want a fuel-efficient V6 or diesel? Forget about it. And the six-speed transmission? It makes the engine a bit loud on the highway and relatively inefficient. Consider, for example, that a 2021 Ford F-150 with its turbocharged 2.7-liter V6 engine and 4WD gets an EPA-estimated 21 mpg combined.
What's the Tundra like to drive?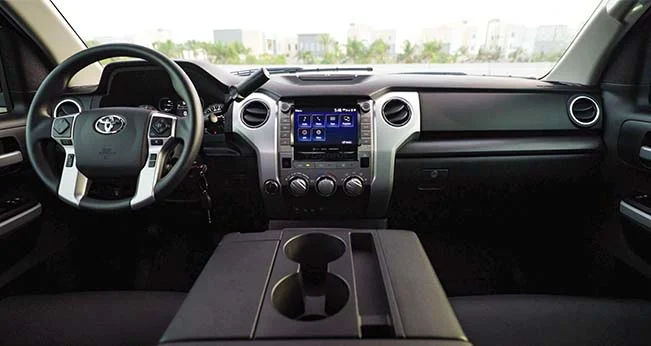 In parking lots and other tight spaces, we've found the Tundra a bit difficult to maneuver. There are also large rear blind spots because of the Tundra's thick roof pillars. Handling is a low point for the Tundra as well, with lots of body roll in the corners and a large steering wheel that feels unwieldy in your hands.
The Tundra isn't great at ride and seat comfort either. The seats are stiffly padded without much bolstering to speak of, and you'll likely have some discomfort on long road trips. Over imperfect road surfaces, lots of bounces and bobbles make their way into the cabin. And, at speed, there's lots of wind and road noise.
Travis' take: If you want an old-school truck experience, with all the noises and sensations associated with old-school trucks, you might like the Tundra. But for me, it feels unrefined compared to the Ram 1500 and the Ford F-150. If you just want a robust workhorse, this might be the one, but it's hard to justify as a daily driver or a family hauler.
What's the Tundra's interior like?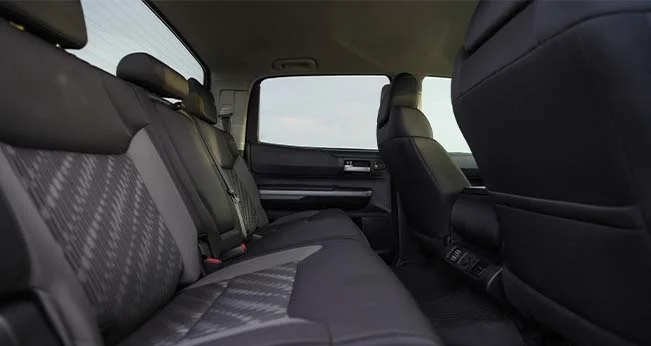 There's plenty of space inside the Tundra for adults in all the major seating positions. You'll find quite a few places to put your water bottles and smartphones. The layout in the center console doesn't offer many customizable slots or bins, but there is a lot of sheer space for your items. If you're loading large items in the rear seating area, know there's a large transmission tunnel that intrudes on rear legroom in the center position, so big boxes will have a hard time sliding in. Plus, the rear seat bottom is long, so wide items won't fit very well either.
The quality of materials is about average for the full-size truck class. On the classier Tundra trims, such as the 1794 Edition, there are some nice surfaces on the doors and the dashboard, but most of the center console is constructed with hard plastics.
Travis' take: I like the massive space inside the Tundra. For a work truck, the Tundra could work out well. But I'm not impressed by the cabin's overall look and feel. The Ram 1500 and GMC Sierra 1500 have a classier look inside while still feeling robust.
How is the Tundra's tech?
Base versions of the 2021 Tundra get a 7-inch touchscreen and midrange and upper trim levels get a larger 8-inch screen. These screens include Apple CarPlay® and Android Auto™ smartphone integration, which means you can easily connect your phone to display and use many of your phone's apps right on the touchscreen. Screen resolution is below average for the class, however, and the audio quality on the base sound system is a bit underwhelming. If you're an audiophile, keep an eye out for some of the optional sound systems that Toyota offers on the Tundra.
Voice controls are similarly mediocre. The Tundra's voice control system requires fairly specific commands, and there's not really a whole lot you can actually activate. As for advanced driver aids, the 2021 Tundra does come standard with adaptive cruise control, forward collision mitigation, and lane departure warning.
Travis' take: No surprise here: An old truck does new truck stuff poorly. Sure, there are a number of available driver aids on the Tundra, and it's nice they're there. But they make a lot of warnings and beeps. I'd rather have these systems be a bit less sensitive (and as a result be a bit less annoying), or at least have a larger range of adjustments for warnings. Oh, and the stereo—definitely look for the optional 12-speaker system because the base six-speaker unit isn't loud enough for most sing-alongs.
How are the Tundra's towing and hauling?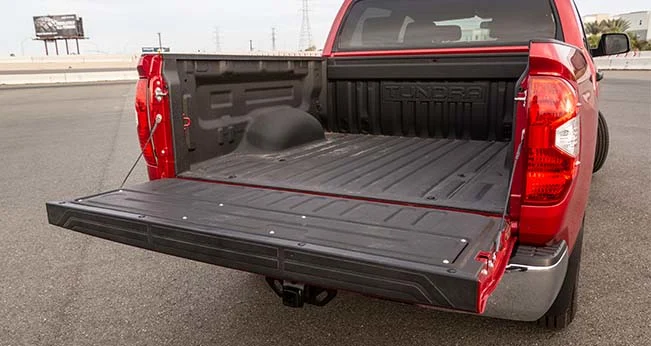 A big advantage to having a big V8 usually translates into big towing and hauling capability. With the Tundra, that's certainly the case. Towing capacity, when properly equipped, tops out at more than 10,000 pounds. The Tundra also has a respectable maximum payload capacity of 1,730 pounds. These numbers will vary depending on the exact configuration and features that are equipped to your truck, but overall the Tundra is competitive in the full-size truck class.
Travis' take: This is one of the few places where the Tundra shines. If you need to pick a truck that can tow and haul, and do so with very little nonsense, it might just be the Toyota Tundra. The torque provided by the V8 makes towing a relatively easy experience. If I needed to tow a trailer on a regular basis, I'd take a hard look at this Toyota.
What other trucks should I consider?
There are a limited number of full-size trucks available, and each has its own unique appeal. The Ram 1500 offers a near-luxury interior with a ride quality that leads the class. The Ford F-150 is a highly versatile pickup with lots to offer when it comes to available engines and varying configurations. The Silverado 1500—and its more luxurious corporate sibling, the GMC Sierra 1500—should be considered as well.
If I decide on a Tundra, which one should I buy?
The 2021 Tundra comes in six trim levels: SR, SR5, Limited, Platinum, 1794 Edition, and TRD Pro. The base SR is a very bare-bones work truck. The Limited, Platinum, and 1794 trims offer the nicest interior and the most features. The TRD Pro serves up serious off-roading capability via special hardware and software. We think the best middle ground is the SR5. It gets a number of upgrades compared to the standard truck without adding the unnecessary cost of some higher-level creature comforts.
Travis Langness is an automotive reviews editor for Edmunds.com. As a life-long car-and-truck enthusiast, Travis has a deep passion for cars. Through instrumented testing, off-roading, epic road trips and local commuting, the Edmunds team tests and writes about new and used vehicles to help car shoppers make informed decisions.