10 Best Used SUVs Under $20K: Ranked
---
PUBLISHED MONDAY, FEBRUARY 8, 2021
Comfortable and versatile options.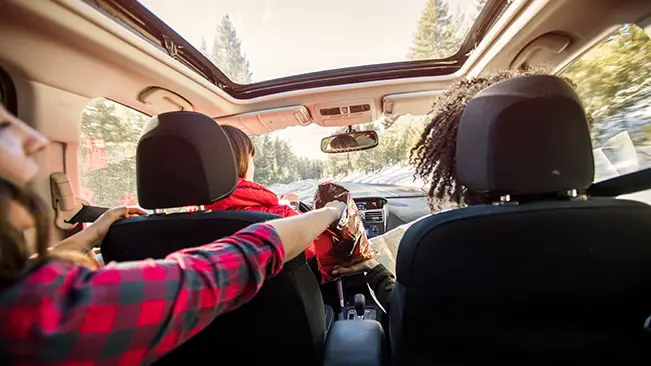 An SUV's higher driving position and a large comfortable cabin space make the sports utility a very versatile choice, able to adapt to a wide variety of uses. Outdoorsy features like all-wheel drive and space for loads of gear are often matched with luxury and convenience equipment like infotainment systems, climate control, and hands-free liftgates.
To help you with your search, we've compiled a list of the 10 best used SUVs with average prices under $20,000, based on CarMax sales and average pricing data from July 1, 2020, through December 31, 2020.
 Please be aware that certain model years and upper trim configurations may bring the prices of some of these vehicles over $20,000.
Combining the practicality of larger vehicles in a size that's easier to handle and park around town, the compact SUV is a popular choice among used car shoppers. The Chevrolet Equinox, Honda CR-V and GMC Terrain all have agile handling and a smooth ride, and the 2019 AWD Nissan Rogue with the 2.5L four-cylinder motor is a great fuel-sipping choice with an EPA-estimated 25 mpg city and 32 mpg highway.
 If you're looking for fun behind the wheel, give the
Ford Escape
a try, but if you'll be going off-road regularly then the
Jeep Compass
is worth a look.
The sub-compact Buick Encore makes a new entry into our list, proving that smaller SUVs are a good choice too. With its roomy, premium interior and high-tech infotainment features as standard, the 2019 Encore matches up to most of the compact SUVs but fits it all into a smaller package.
However, if you fancy something even bigger for more passenger or luggage space, look at the midsize Dodge Journey and Kia Sorento. All Journey and Sorento models come with three-row seating as standard from 2019. Their rear cabins are easily configurable to expand the available cargo space by folding down the 50/50-split third row and 60/40-split second-row seating (40/20/40 in the Kia).
In terms of equipment, most of the vehicles on our list offer driver-assistance features with higher trim levels, but notably the 2019 Hyundai Tucson and Nissan Rogue both have automated emergency braking and lane-keeping assist as standard. The 2019 Rogue also features forward-collision warning, blind-spot monitoring, and rear cross-traffic alert on all models. The 2019 models of the Encore, Sorento, Tucson, Terrain, Compass, Equinox, and Rogue all come with touchscreen infotainment featuring Apple CarPlay® and Android Auto™ as standard.
Thinking of trading in your car for an SUV? We've partnered with car-review experts, Edmunds, to help you focus on what matters most when buying or selling a car. Try our appraisal tool to see what your used car may be worth.
Need more SUV inspiration? Take a look at these related articles to help you on your search: