Which to Buy: Chevrolet Equinox vs. Kia Sorento
---
PUBLISHED MONDAY, DECEMBER 19, 2016
Crossover? Compact SUV? The Equinox and Sorento fit both descriptions. They're roomy like SUVs and have car-like manners.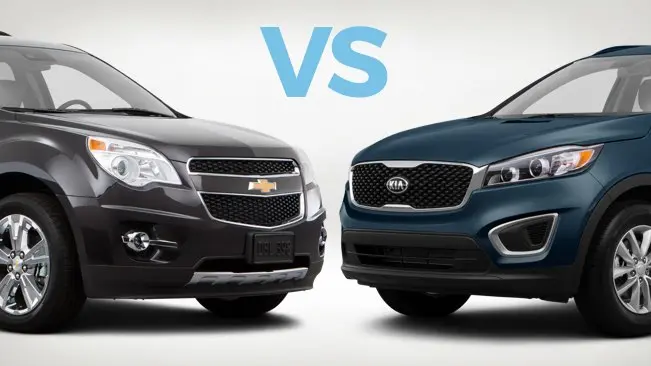 Compact SUVs are popular right now, and with good reason. With road manners more like those of a car than a traditional SUV, they're comfortable and easy to drive. In addition, their liftgates and folding back seats provide lots of cargo space, and the high seating position gives good visibility.
Two popular used compact SUVs are the Chevrolet Equinox and the Kia Sorento. A little larger than competitors like the Honda CR-V and Subaru Forester, these both make appearances on CarMax most-popular lists, including the top 10 SUVs of 2016 and top 10 crossovers of 2016.
Crossover or compact SUV: what's the difference?
Crossover refers to the fact that these vehicles are built like a car rather than a truck and share car-like styling with more family-friendly features often found in SUVs. Front-wheel drive is standard, although most crossovers offer all-wheel-drive (AWD) as an option. Towing capacities are lower than those of traditional, body-on-frame SUVs.
Compact SUV refers more to a vehicle's size and overall shape. Vehicles with interior space totaling 100 to 110 cubic feet can be classified as compact. Sports utility vehicle (SUV) implies a taller vehicle with more ground clearance, a rear liftgate, and some useful cargo space.
Chevrolet Equinox Overview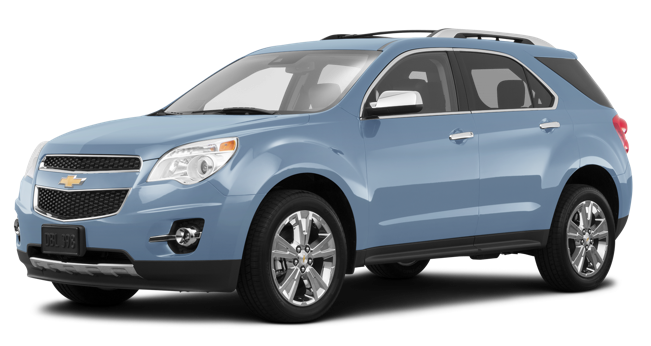 The good news for anyone looking for a used Chevrolet Equinox for sale is that there are plenty around; it's one of the best-selling four-door, five-seat crossovers on the market.The Equinox has room for five adults, and generous front-seat travel means drivers of all heights can find a satisfactory position. The sliding rear seat is a particularly useful feature; with almost 10 inches of travel, pulling it forward curtails legroom but increases cargo space. Or slide it back to let your taller passengers stretch out.
The Equinox first appeared as a 2005 model, when it was also badged as a Pontiac Torrent. It was redesigned for the 2010 model year, and it took on a chunkier, more substantial appearance. A mildly refreshed Equinox reached showrooms for the 2016 model year.
Chevy offers three or four Equinox trim levels. There's the base LS, the LT, and the range-topping LTZ. However, the LT is subdivided into two editions, and one of them is slightly better equipped than the other.
POWERTRAINS
The first-generation Equinox came with a 3.4L V6, which was soon replaced by a 3.6L engine. From 2010 forward, the standard engine was a 2.4L, four-cylinder engine that makes a respectable 182 horsepower. Paired with a six-speed transmission, this engine provides adequate acceleration and EPA mileage numbers of 22 city/32 highway.
A 3.0L V6 was offered as an option for the 2012 model year, and customers could upgrade to a 3.6L in 2013. With 301 horsepower on tap, this engine has plenty of power for long uphill grades and merging onto freeways. Gas mileage is slightly lower, at 17 city/24 highway. All Equinox engines are E85-capable and take regular gas.
All-wheel drive is an option on all Equinoxes except for the base LS trim model. The extra demand of the engine reduces gas mileage, with the 2.4L dropping two mpg and the 3.6 liter one mpg, on average.
INTERIOR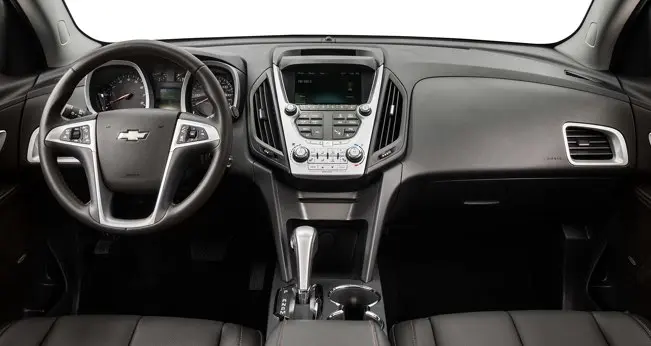 Cargo haulers will appreciate the 31.4 cubic feet behind the rear seat. Fold the seat down for a total of 63.7 cubic feet of space.
Chevrolet offered two color schemes for the Equinox's interior: black-on-black and two-tone, white-on-black. There's a lot of hard plastic inside, but the styling is attractive. Drivers face an instrument pod and a center stack that includes a touchscreen and rearview camera display (except on the base models). Ice-blue ambient lighting is standard.
FEATURED EQUIPMENT
LS and LT Equinoxes ride on 17-inch alloy wheels, and the LTZ gets chromed 18-inch wheels. These are options on the lower trims, and in some models you can go even bigger—19-inch wheels. Roof rails and tinted glass are also standard on all models but the LS.
Later models feature a power-adjustable driver's seat as standard equipment, although this was a fairly common option on earlier Equinoxes. A tilt-and-telescope steering wheel is standard, and it incorporates controls for audio, cruise, and hands-free calling via Bluetooth®. LT and LTZ trims get Chevrolet's MyLink® telematics package with voice-activation and a touchscreen.
The LTZ trim also adds a powered passenger seat and seat position memory. The upholstery is leather, the liftgate is power-operated, and lane departure warning and forward collision alert features are included.
Kia Sorento Overview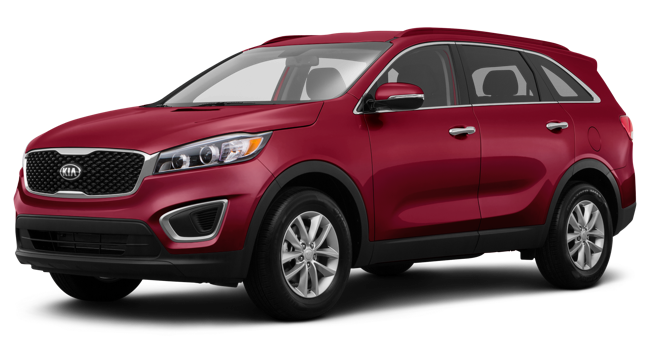 Kia introduced the Sorento as a traditional, body-on-frame SUV in 2002. It came in just two trims, the LX and EX models, and was equipped with a 3.5L V6 engine. A complete redesign saw the 2011 Kia Sorento move to a car-like, unibody construction. For the 2014 model year, Kia gave the Sorento a fairly extensive refresh with suspension improvements plus exterior and interior styling tweaks. That was followed in 2016 by a third-generation model that was a bit larger than its predecessors.
Like the Equinox, the Sorento is billed as a compact SUV, but in reality it's larger than that term suggests. It's actually slightly bigger than the Equinox, and is available with a third row of seats, which lets it carry up to seven passengers. That said, the third row appears to be intended more for children than adults.
Trim levels have varied slightly over the years. Generally speaking though, the range runs from the base-model L trim package through LX, EX, and SX to the range-topping Sorento Limited.
Powertrains
Here we'll concentrate on the second generation Sorento (2011-2015), assuming that customers considering a used Kia Sorento for sale are mostly likely looking at cars from these model years.
All trim levels received a 2.4L, four-cylinder engine in 2011, which gave the Sorento LX 175 horsepower while the EX received a more powerful engine of the same size. Driving the front wheels through a six-speed transmission, the LX gets EPA mileage numbers of 21 city/29 highway. With AWD available on LX and higher trims, mileage drops to an average of 21/27.
Buyers who want more power should look for a Sorento with a 3.5L V6. Making 276 horsepower, this model delivers average mileage numbers of 20/26 (front-wheel drive) and 19/25 (all-wheel drive).
A 290 horsepower, 3.3L V6 became standard on higher trims for the 2015 model year. The LX still came with a 2.4L engine, but could be ordered with the V6. Average gas mileage numbers for the 3.3L are 18 city/25 highway.
The third-generation Sorento (2015 and later) gained a 2.0L, turbocharged four-cylinder engine option which generates 240 horsepower and achieves an average of 20 mpg in city driving and 27 on the highway.
Interior
The Sorento offers lots of space in an interior that's tastefully finished with quality materials. The driver faces a three-dial instrument cluster, while the center stack is arranged in tiers and topped with a small information display above the color screen. In second-generation Sorentos, there's 40 cubic feet of cargo space behind the second row of seats (72.5 cubic feet when the seat's folded down).
Featured equipment
Like most manufacturers will, Kia adds features to the Sorento over the years. Using the 2015 Kia Sorento as a reference, the LX includes steering wheel-mounted audio and cruise controls, manual air conditioning, and attractive fabric seats. The Sorento EX adds leather seat trim, a powered driver's seat, a rear view camera, and blind spot warning feature.
The SX has all the features of the EX plus a powered liftgate, a larger nav screen, and a 10-speaker audio system. Lastly, the Limited comes with luxury touches like more leather and a heated steering wheel.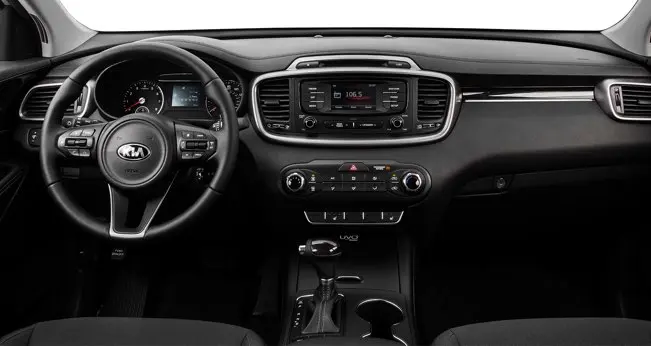 Pluses and minuses
If you're shopping for a larger compact SUV (or maybe a smaller mid-sized one), you'll find both the Equinox and the Sorento featured prominently on our popular used cars for families list. Both offer room for at least five plus a fair amount of luggage, and both will look good parked in your driveway.
Of the two, the Equinox is perhaps more truck-like in appearance, gets better highway gas mileage, and has that useful sliding rear seat. In contrast, the Sorento has a slightly more upscale interior and offers third-row seating.
Other contenders
Buyers considering either a used Chevrolet Equinox or used Kia Sorento for sale should explore all the options available to them, including the Honda CR-V , the Toyota RAV4, the Dodge Journey, and the Subaru Forester. Each provides family practicality and SUV style with the comforts of a car rather than a truck.