6 Most Reliable Used Luxury Cars: Reviews, Photos, and More
---
PUBLISHED FRIDAY, DECEMBER 3, 2021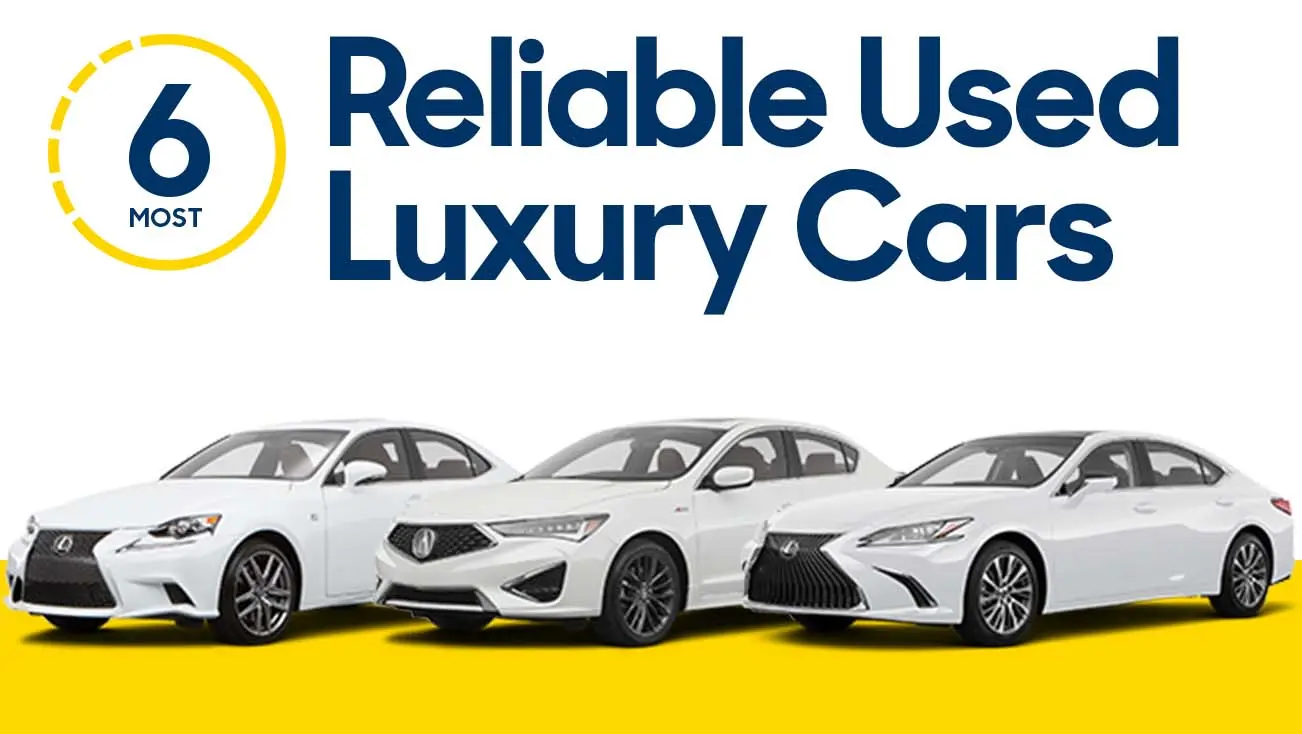 Peace of mind in a luxurious package.
Luxury and peace of mind aren't mutually exclusive—nor should they be. You don't have to sacrifice reliability in order to enjoy style, comfort, and top-of-the-line features in your next vehicle. If you're looking for a luxurious used car you can trust, you've come to the right place.
To help you on your search, we've compiled this updated list of the six most reliable luxury cars for 2022 shoppers, based on RepairPal Reliability Ratings. RepairPal Reliability Ratings are based on the actual cost, frequency, and severity of unscheduled repairs and maintenance on make/model data for select 2006-2020 vehicles. The reliability of a specific vehicle may vary depending on its maintenance and driving history, model year, trim, and features.1
6.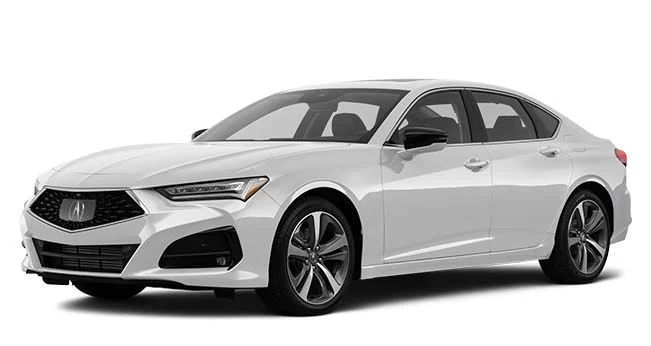 Overall RepairPal Reliability Rating: 4.5 out of 5
Kicking off our list is the Acura ILX, a smart sedan with an "excellent" RepairPal rating. Even the base models of this vehicle come with a generous number of luxury features. 2017-present Acura ILX base trims have a leather steering wheel, heated front seats and mirrors, and keyless entry as standard. The Acura ILX also boasts plenty of driver aids, including traction control as standard from 2017 onward. Lane departure warning and lane keeping assist were introduced for the 2019 base model.
Other standard features of the 2017-2021 Acura ILX base trim include:
Wireless cell phone hookup

Push-button start

Synthetic leather upholstery (leather seats for the Premium trim)

Six-speaker stereo

17-inch alloy wheels
5.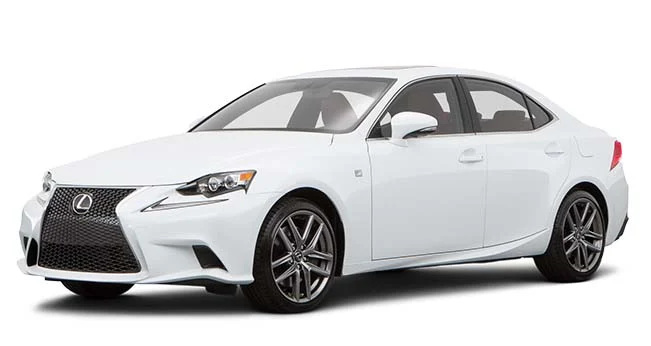 Overall RepairPal Reliability Rating: 4.5 out of 5
This base model of the Lexus IS has a small "t"—which seems far too humble, considering it stands for "turbo." You know you're in for a good time when the base model has a turbocharged four-cylinder engine and eight-speed automatic transmission. Several advanced driver aids came into play for this vehicle in 2017—including the optional Lexus driver-assistance system, which provides access to features like pre-collision braking and adaptive cruise control—before the Lexus IS 200t was replaced by the IS 300 in 2018.
Other standard features of the 2017 Lexus IS 200t include:
Push-button start

Power-adjustable front seats

7-inch display screen

10-speaker stereo

Bluetooth® capability
4.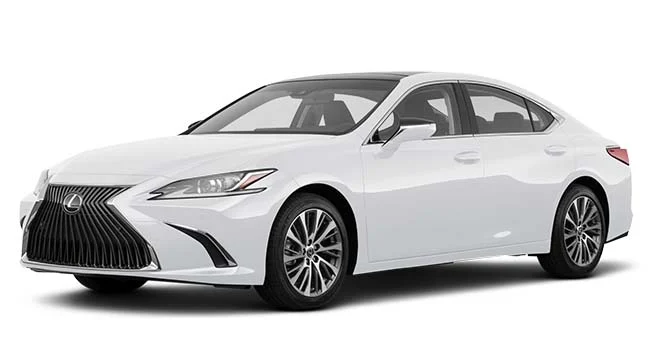 Overall RepairPal Reliability Rating: 4.5 out of 5
The Lexus ES 350 generously combines upscale interiors and a comfortable ride. This sleek and stylish sedan houses a 3.5L V6 engine, giving it plenty of power under the hood. In 2019, the ES 350 was fully redesigned, boosting the engine from 268 hp to 302 hp. 2018-2019 models offer a suite of driver aids, including forward collision warning. The ES 350 is a great choice if you regularly clock up the miles.
The 2017-present Lexus ES 350 also comes with the following standard features:
Rearview camera

Moonroof

Amazon Alexa™ smartphone integration (2019+)

Apple CarPlay® and Android Auto™ capability (2020+)

Low-light pedestrian detection (part of 2019's optional driver-assistance package)
3.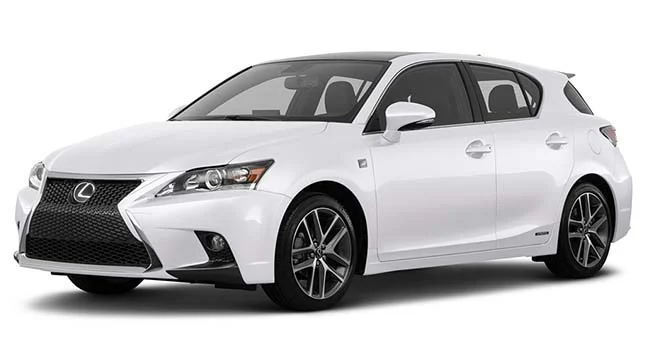 Overall RepairPal Reliability Rating: 4.5 out of 5
Another strong contender with an excellent RepairPal Reliability Rating, the Lexus CT 200h is a luxurious hatchback with great fuel economy—not surprising, given that the "h" in the name stands for "hybrid." The 2017 model (the last before it was discontinued in the US) gets an EPA-estimated 42 mpg combined.2 Steering response is quick and precise on 2017 models, ideal for city driving, while the 34.8 cu ft of cargo space with the rear seats down opens up the option of road trips or visits to the driving range.
The 2017 Lexus CT 200h also comes with the following standard features:
Push-button start

Six-speaker audio system

Proximity key entry

Rain-sensing wipers

Bluetooth capability
2.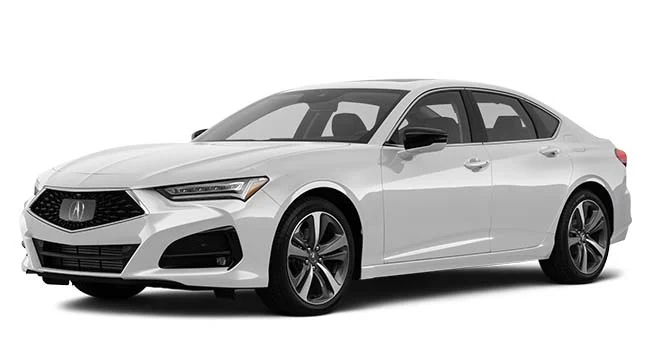 Overall RepairPal Reliability Rating: 5 out of 5
Aesthetically sleek with a quiet engine, the 2017-present Acura TLX has all the trappings of a luxury vehicle—with the added benefit of 14.3 cu ft of trunk space. The base model has a four-cylinder engine (206 hp), while the two higher trims come with a powerful V6 engine (290 hp) for extra excitement. The 2018 model made Apple CarPlay and Android Auto connectivity standard and refreshed the exterior of the vehicle. If you're looking for a luxury car that will turn heads as you pull into the parking lot, the TLX is a great choice.
Other standard features of the 2017-present Acura TLX include:
Moonroof

Push-button ignition

Rearview camera

Voice command activation

Dual-screen infotainment system
1.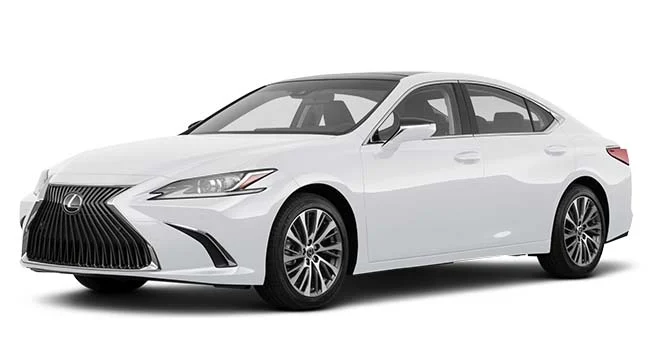 Overall RepairPal Reliability Rating: 5 out of 5
Topping our list is the Lexus ES 300h, a hybrid sedan with the power you need to get around town efficiently. Unsurprisingly for a hybrid vehicle, one of the best features of the Lexus ES 300h is the fuel economy—the 2019 model gets an EPA-estimated combined 44 mpg, smartly combining luxury with a ride that really lasts.2 The ES 300h also offers a smooth experience for you and your passengers, with attractive interiors and useful driver aids like forward collision warning and pedestrian detection. You'll enjoy hopping into this luxury car as you head out each morning.
Other standard features of the 2017-present Lexus ES 300h include:
Push-button start

10-way power-adjustable front seats

2.5L four-cylinder engine

Eight-inch infotainment touchscreen

Three USB ports
Whatever you value most—whether it's mpg, engine power, good looks, or cargo space—there's a reliable used luxury car for every lifestyle on this list.
If you want to know more about luxury vehicles, take a look at these related articles:
1
RepairPal Reliability Ratings are provided by RepairPal and CarMax is not responsible for their accuracy. These ratings are based on RepairPal Reliability data as of 9/1/2021. Learn more.
2
Fuel economy figures are based on EPA estimates for when vehicle sold as new. Fuel economy may vary for reasons like driving conditions and vehicle history. Unless specified, figures are for vehicles equipped with an automatic transmission. See fueleconomy.gov.