Ask the Experts: Should You Buy a Tesla Model 3?
---
PUBLISHED MONDAY, MAY 2, 2022

BY EDMUNDS EDITORS
With thousands of vehicles in our inventory, we're here to help make car research easier for you. We've partnered with car-review experts from Edmunds to weigh in on what matters most when you're looking to buy a truck or car.
***
The ins and outs of this friendly electric vehicle.
Vehicle Reviewed
2021 Tesla Model 3 Long Range
The Tesla Model 3 is a true pioneer. When it debuted in 2017, no electric vehicle had so effectively combined EV range, performance, and style in a compact sedan package. And none has matched this combination since. The Model 3 is easy to drive in comfort, and it's fun to drive at speed.
While there are a few occasional missteps you should know about, these are balanced by benefits such as access to Tesla's nationwide Supercharger network. There is a lot to consider when it comes to the Model 3, and Edmunds' Ryan ZumMallen offers this expert guide to shopping for one at CarMax.
What do I need to know about the Tesla Model 3?
While there are many versions of the Model 3, the overall structure and design have remained unchanged since it first went on sale. It's a four-door small sedan that forgoes a traditional engine of any kind, instead using power from batteries to drive its electric motor or motors.
Compared to many other electric vehicles, the Model 3 is spacious and fun to drive. Because there is no engine, the Model 3 provides two cargo areas: one in the front, known as a frunk, and a traditional trunk in the back. While Model 3 trim levels have changed many times since 2017, they mainly boil down to four variants: Standard Range, Mid Range, Long Range, and Performance.
What powertrain does the Model 3 come with?
The Model 3 has a battery pack under the floor powering either a single rear-mounted electric rear motor, for rear-wheel drive, or an additional electric motor up front to give the car all-wheel drive (AWD). Models with AWD are noted as such below.
This is the formula followed by all versions of the Model 3. However, some versions have additional battery power or performance upgrades.
First, know that Tesla doesn't often list official horsepower specifications. However, at Edmunds we have conducted several tests of the Model 3 in various forms, and our acceleration results may help you understand the performance levels of each. Here are a few examples:
2019 Tesla Model 3 Standard Plus: 0-60mph in 5.3 seconds

2017 Tesla Model 3 Long Range: 0-60mph in 5.0 seconds

2018 Tesla Model 3 Performance AWD: 0-60mph in 3.3 seconds

Here's a complete rundown of the different Model 3 versions from 2017 to 2022:
2017
2018
Mid Range

Long Range

Long Range AWD

Performance AWD
2019
Standard Range

Standard Range Plus

Mid Range

Long Range AWD

Performance AWD
2020
Standard Range

Standard Range Plus

Long Range AWD

Performance AWD
2021
Standard Range Plus

Long Range AWD

Performance AWD
2022
Model 3 RWD

Long Range AWD

Performance AWD
With so many versions of the Model 3, the range estimates also vary. Here are the EPA estimates for each model:
Standard Range
Standard Range Plus
2019: 240 miles

2020: 250 miles

2021: 263 miles
Model 3 RWD
Mid Range
2018: 260 miles

2019: 264 miles
Long Range
Long Range AWD
2018-2019: 310 miles

2020: 322 miles

2021: 353 miles

2022: 358 miles
Performance AWD
2018-2019: 310 miles

2020: 322 miles (w/ 18-inch wheels)

2020: 304 miles (w/ 19-inch wheels)

2020: 299 miles (w/ 20-inch wheels)

2021-2022: 315 miles
These figures are impressive for an electric compact sedan, and few competitors can match them. Even the lower-range models are considered plenty for normal, everyday driving duties. However, you should know the Model 3 does not always live up to its lofty rating. No version of the Model 3 has ever achieved its EPA range estimate in Edmunds' instrumented testing. Plus, more generally, when it comes to electric vehicle range figures, it's important to know that the actual range can vary depending on things like how you drive, outside temperatures, accessory use, battery life, and vehicle maintenance. It's also worth noting that over time, battery performance can decline.
Ryan's take: No vaporware here. The Model 3 has impressive range in all of its variations, and it backs that up on the road. More than 300 miles of range is where you want to be with an EV, and the Model 3 has versions with EPA-estimated range of up to 358 miles. Now, there's some debate as to whether those numbers are accurate—no Model 3 has matched its EPA estimate on the Edmunds EV test loop, which is rare among dozens of electric vehicles we've tested. But it makes up for this with an unmatched seat-of-the-pants feeling. Drive one, and you might not care whether it falls a little short of max range.
What is the Model 3's interior like?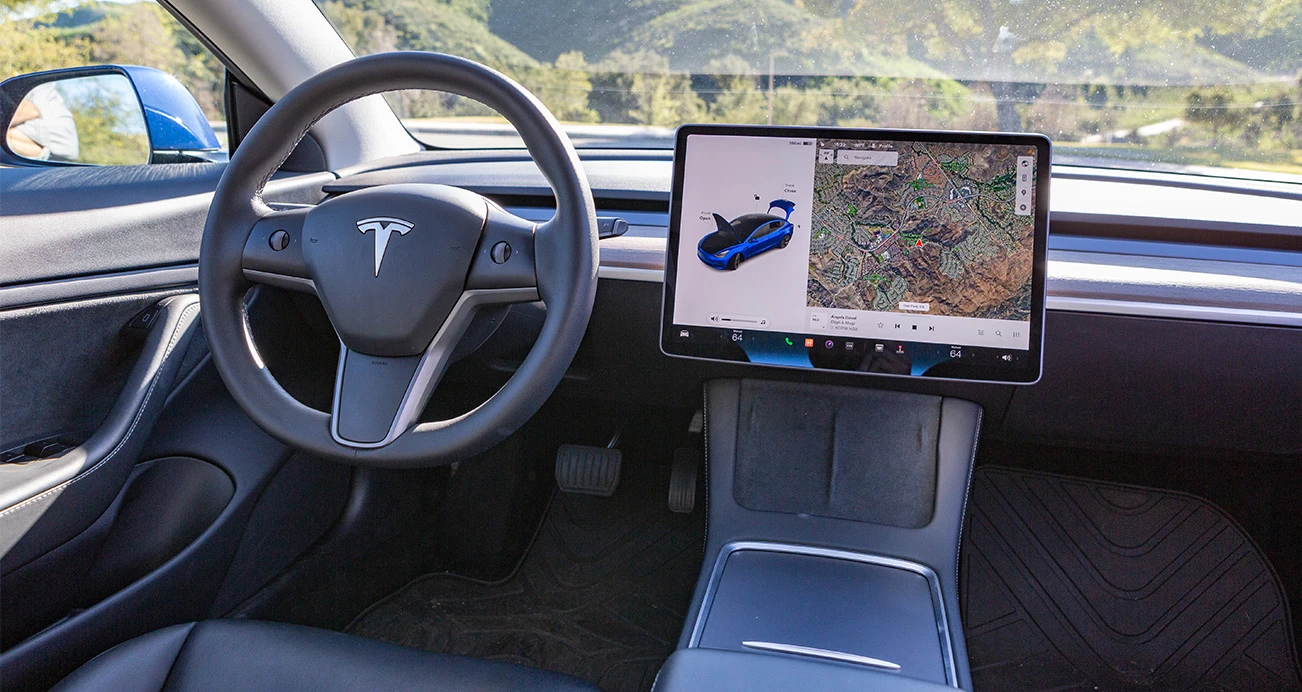 Very minimal, bordering on plain. The rare Model 3 has a bright white interior, while the vast majority of them feature all-black everything—from the steering wheel and seats to upper dashboard, doors, and ceiling. And what's more, there are very few distinguishing features inside. The dashboard has no traditional knobs or dials. There are two controller buttons mounted on the steering wheel, plus a button to open each door. Otherwise, the only visual accents are a wide wood panel and the 15-inch touchscreen.
It's easy to climb inside, and you'll find plenty of room as well. Even taller drivers should be able to maneuver around. It's also simple to get into a comfortable driving position thanks to a telescoping steering wheel and lots of seat adjustments. The seats themselves are both supportive and well cushioned to keep you satisfied on long drives.
However, it should be noted that some Model 3s might be prone to more interior squeaks, rattles, and inconsistent exterior panel gaps than other electric vehicles that have better fit and finish.
Ryan's take: This interior isn't for me. Even on top trims, the seats and surfaces are soft, but they feel a long way from premium. The bigger issue is that parts can feel like they were slapped together. For some people, the minimalist aesthetic is a perfect fit. To me it feels simply rushed.
What is the Model 3's technology like?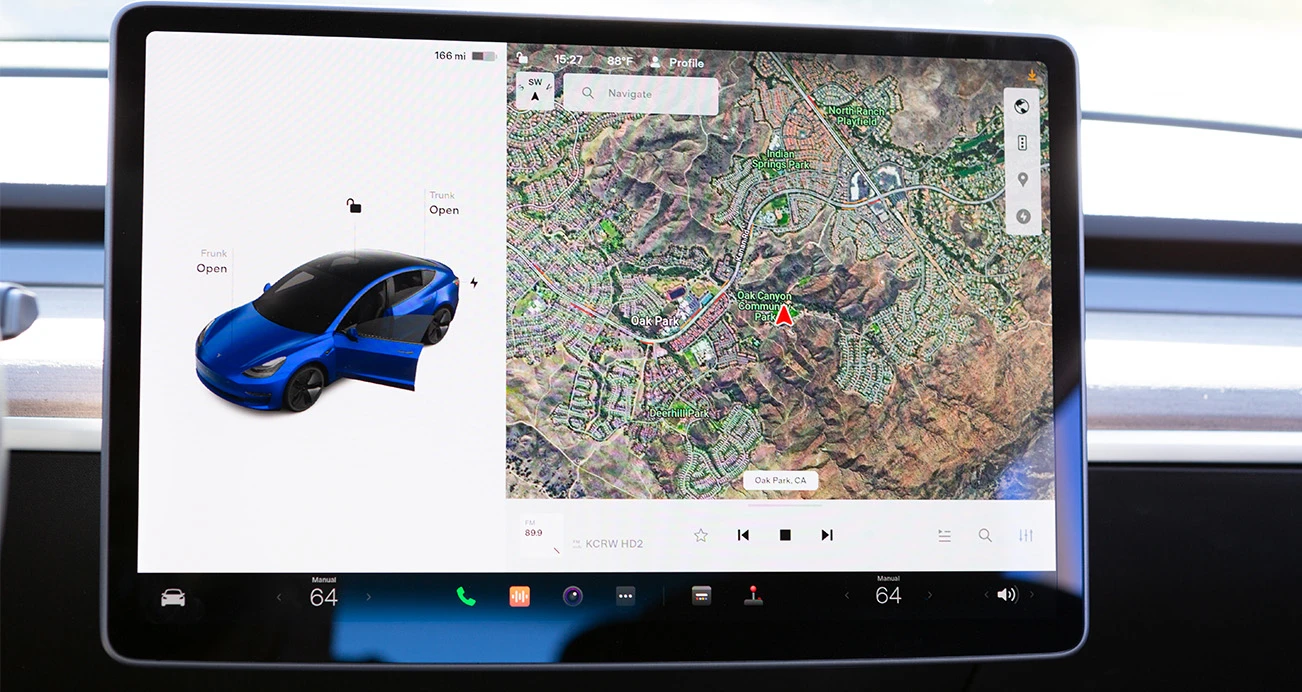 Technology is front and center in nearly every aspect of the Model 3 experience. This is most apparent when you need to perform any function inside the car because you'll likely need the 15-inch center touchscreen to do it.
The screen is big, bright, and quick to respond to your touch. Navigation comes standard, as do a host of features, such as a music menu and numerous camera views—even streaming services and video games are available. The screen is especially important because there are no buttons inside the Model 3, so you need the screen to operate the climate control, lock the doors, or open the glovebox. What's more, Bluetooth® compatibility is standard, but smartphone integration through Apple CarPlay® and Android Auto™ is not available whatsoever. So you'll have to make peace with the screen and Tesla's operating software if you're going to spend the next few years with a Model 3.
There are other important tidbits to know. For instance, the driver aid suite known as Autopilot (detailed below) was made standard in 2019, and a wireless smartphone charging pad became standard beginning in 2020.
Driver aids are another point of controversy for Tesla and the Model 3. Plenty of features come standard, including:
Forward collision warning and mitigation (warns you of an impending collision and applies the brakes in certain scenarios)

Blind-spot monitoring with collision avoidance (automatically steers the car back into its lane if you try to change lanes while a car is in the vehicle's blind spot)

Lane departure warning (alerts you if the vehicle begins to drift out of its lane)
Depending on the particular car you're considering, the Model 3 may also come with these optional driver aids:
Enhanced Autopilot (optional on 2017-2019 models; standard from 2020 and on)

Adaptive cruise control (maintains a set distance between the Model 3 and the car in front)

Lane-keeping system (makes minor steering corrections to help keep the vehicle centered in its lane)

Full Self-Driving Capability

Automated parking (vehicle can automatically enter or exit a parking spot with no occupants when summoned by key or smartphone)

Automatic lane changing (guides the vehicle into the next lane when the turn signal is used)

Navigation route following (automatically follows recommended route to your destination, including on-ramps, off-ramps, and freeway interchanges)

Traffic light and stop sign control (automatically recognizes and slows for stop signs and red lights)
Edmunds has extensively tested each of the technologies listed above. Each is impressive and generally works well, although occasional mistakes mean that the driver must pay attention at all times and be prepared to take control of the vehicle. The larger issue is that the terms coined by Tesla to describe these systems can be misleading. Although the Autopilot suite combines several semi-automated features, it does not allow for hands-free driving.
And while Tesla has from the launch of the Model 3 promised the forthcoming arrival of Full Self-Driving Capability—which it says will provide a completely hands-free experience—as of this writing, only certain aspects of the Full Self-Driving Capability suite are enabled on customer vehicles, and Tesla must approve your eligibility for the program.
Ryan's take: There are some truly impressive tech features in the Model 3. The touchscreen has an expansive breadth of capability, for instance, and automatic OTA updates add new flavor to vehicles that have been on the road for years. I'm also fond of the adaptive cruise control with stop-and-go function, which is utterly perfect for battling L.A. gridlock. But that's not enough, in my mind, to overcome the lack of an information screen in front of the driver that could be used to relay important information while allowing the driver to keep his or her eyes on the road. With so many cool tools and toys inside the Model 3, it shouldn't be difficult to add some much-needed functionality too.
What's the Model 3 like to drive?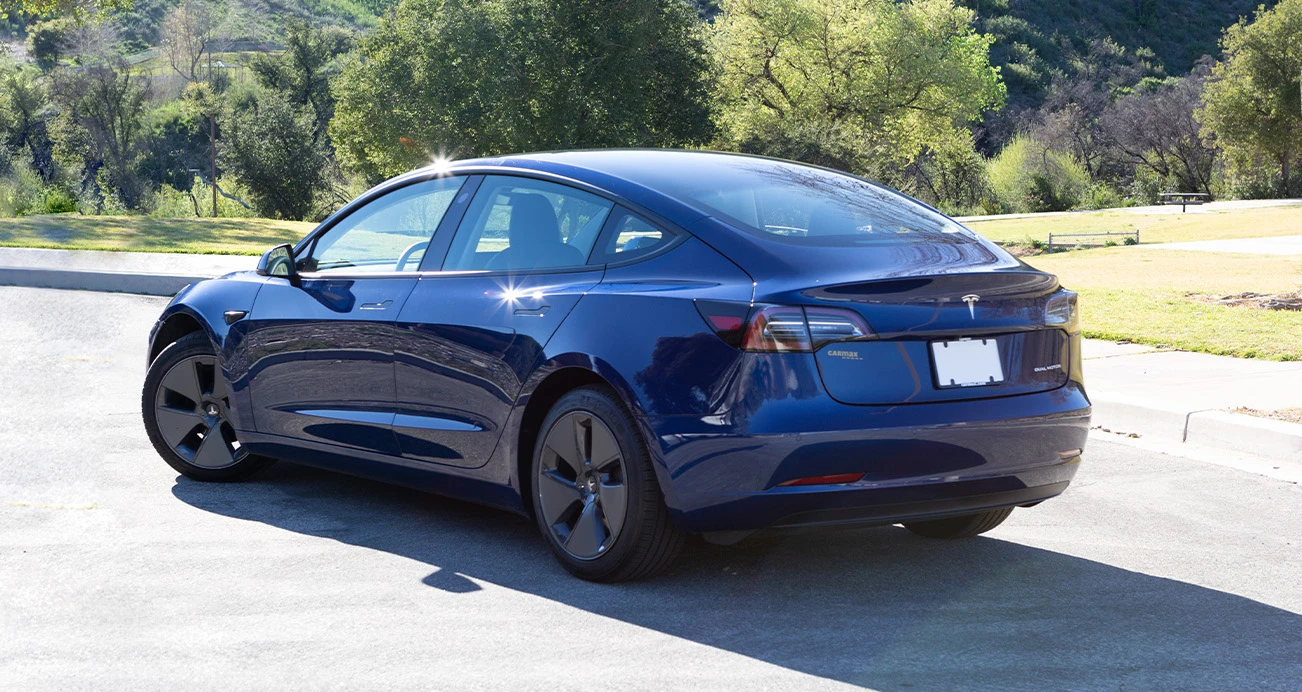 Driving a Model 3 is certainly a unique experience. It can be a thrilling ride whether you have a single-motor car with less power or a dual-motor Performance trim with thunderous muscle. That's because the Model 3 responds quickly when you press the accelerator. And because it's electric, the motors can unleash maximum power at a moment's notice. Even if it's only around 250 horsepower or so, the rush comes quickly and is invigorating.
The Model 3 backs up that speed with capable handling as well. The steering feels sharp and precise. While it's a very different feeling if you're accustomed to traditional gas-powered sport sedans, its precision is undeniable. Braking is also a strong point, particularly because you can select one-pedal braking, which slows the Model 3 down automatically anytime you're not pressing the accelerator. This is a point of pride for many EV drivers, and it lends the electric ownership experience extra style points. Finally, the Model 3 doesn't have the smoothest ride around. Many rivals are more comfortable over bumpy roads—but that's the trade-off for excellent performance.
Ryan's take: The instant power? Fantastic. The quick handling? Fantastic. The rough ride? Not so much. But honestly, the sensation of speed is nearly worth the price of admission alone. Driving the Model 3, if you've been in gas-powered cars all your life, truly does feel like the future—even if you're just cruising around at routine speeds. With the dual-motor AWD system, the feeling is even more pronounced.
How capable is the Model 3?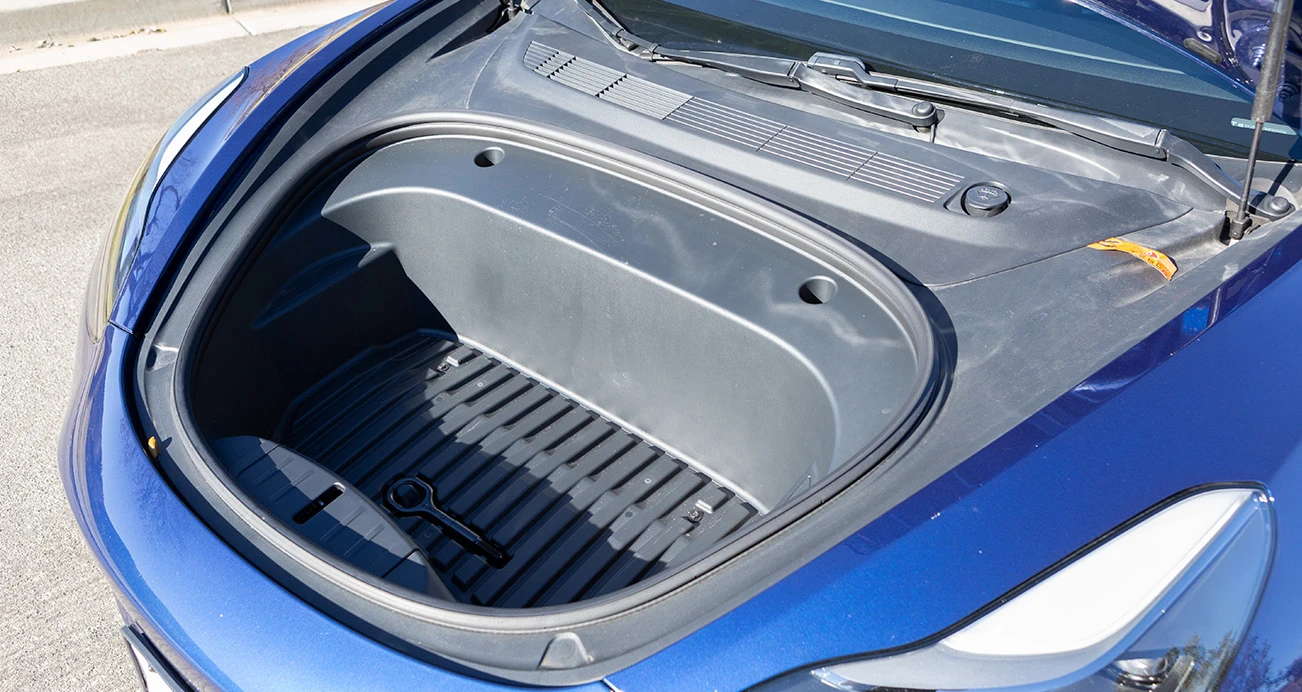 Of course, since it's an electric vehicle, there is no engine under the hood of the Model 3. That creates plenty of space for a front trunk, or frunk, to help you carry things around. The frunk offers 2.7 cubic feet of space. That isn't a lot, but it's enough for a couple of bags of groceries, backpacks, or some sports equipment. There's also the traditional rear trunk, which has 12.3 cubic feet of space for your larger suitcases, electronics, and camping equipment. This was a clever and impressive use of space when the Model 3 first came out, and even now there are electric vehicles hitting the market that don't utilize their available room quite as well.
Ryan's take: Believe it or not, storage space is one of the Model 3's biggest strengths. One of the great promises of electric vehicles is that without all of the traditional mechanical components of gas-powered cars, an EV would be free to reimagine its space for maximum usefulness. Plenty of automakers have since punted on that opportunity, forgoing a frunk at all. Yet in the Model 3, the promise actually came to fruition.
What else should I consider?
Even after the sales success of the Model 3, there aren't a whole lot of competitors popping up. Most new EVs come in a small crossover size more relatable to the larger Tesla Model Y. As far as compact sedans, though, that's a much smaller list.
At the top is the Chevrolet Bolt. It's a comfortable and roomy EV that you can drive quickly and provides decent total range. The same could be said for the Nissan Leaf, though it doesn't offer quite as much EPA-estimated range and its interior does not feel as premium. There is also the Hyundai Ioniq Electric, which has an excellent set of tech features but falls short of the others in range.
If you're more interested in a luxury experience, try the BMW i3. It provides less EPA-estimated range than the Model 3, but inside it offers lots of personality and brand clout.
Ryan's take: There are some good options on this list, but none match the all-around practicality or the technological grandeur that the Model 3 brings to the table. None, in fact, even come close. That said, I like the Bolt for everyday driving due to its roomy cabin, and the i3 for its quirky charm. Both of them push the envelope—just not nearly as far as Tesla does.
If I decide on a Model 3, which one should I buy?
For obvious reasons, the Long Range is the best fit for most people. Not only is it the most widely available version of the Model 3, but it also comes in both single-motor and dual-motor versions, as well as the souped-up Performance trim. And then of course, the Long Range offers the highest maximum driving distance due to its robust battery capacity.
If you're interested in a 2017-2019 Model 3, it might be a good idea to find one with the Enhanced Autopilot package already installed. That way you'll have a good set of features to help you on the road. (Those made in 2020 and later will already have it.)
Otherwise, the Model 3 has a lot to offer right out of the box, with more excitement and style than the typical electric vehicle. At the very least, it sure is an interesting talking point. If you're looking for a way to explore the fun side of EVs, the Tesla Model 3 is hard to beat.
Ryan ZumMallen has written automotive news and buying advice for more than a decade. As an automotive reviews editor for Edmunds, ZumMallen examines trends in both the new and used markets with a focus on sporty, affordable cars, off-road trucks, and SUVs.