5 reasons to buy the 2018 Audi A6
1. A Suite of driver aids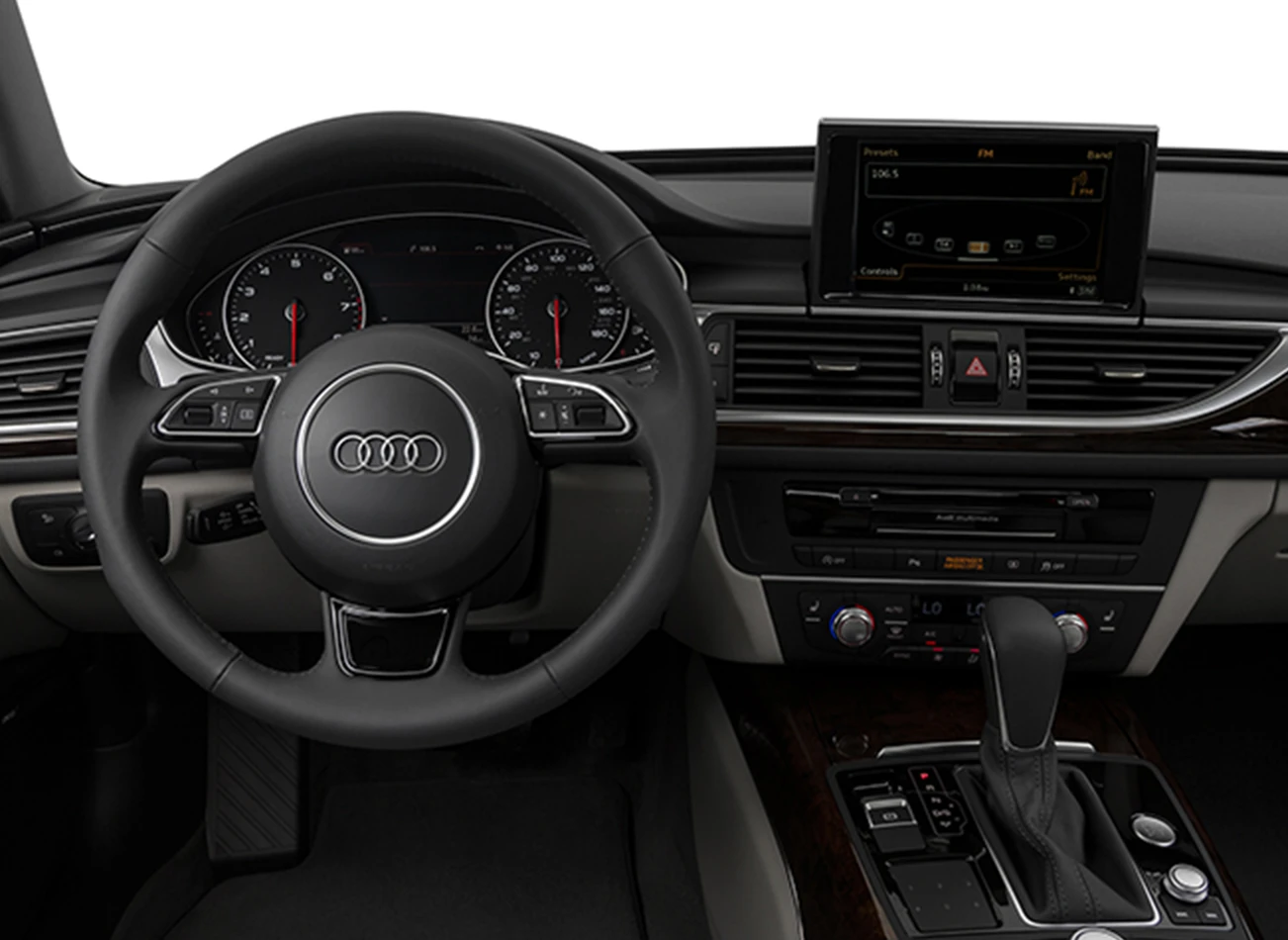 Driving aids like adaptive cruise control and lane-keep assist have become must-haves. The 2018 Audi A6 delivers with a comprehensive suite. A top-view camera is available on any trim, as are adaptive cruise control and active lane assist. In addition, when picking the 2018 Audi A6 3.0T, you'll get lane-change assist and parking assist. Lastly, a heads-up display with night-vision and pedestrian detection can get added to Audi A6 Prestige trim and higher.
2. Concert level sound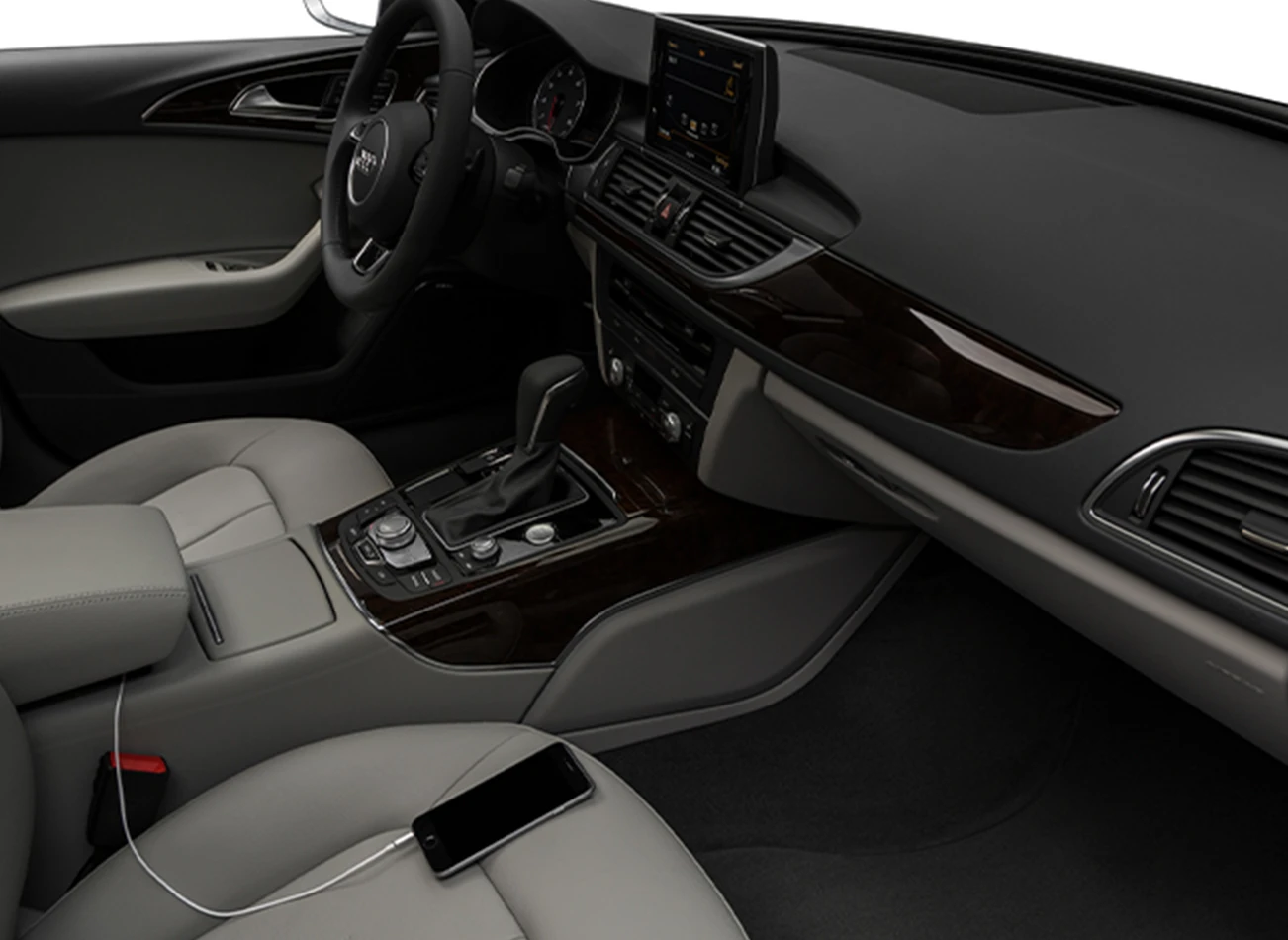 Good sound can quickly make a long road trip pass by, but excellent sound turns it into a cinematic experience. Even at the entry-level, a 2018 Audi A6 gets equipped with a 10-speaker surround system and satellite radio. Stream from your device with Android Auto™ and Apple CarPlay® integration, too. The Audi A6 Premium Plus and higher trims get fitted with an impressive 14-speaker Bose® sound system. Finally, look for the optional Bang & Olufsen® system with 15 speakers and immersive surround audio for the best musical experience.
3. Power and sure footing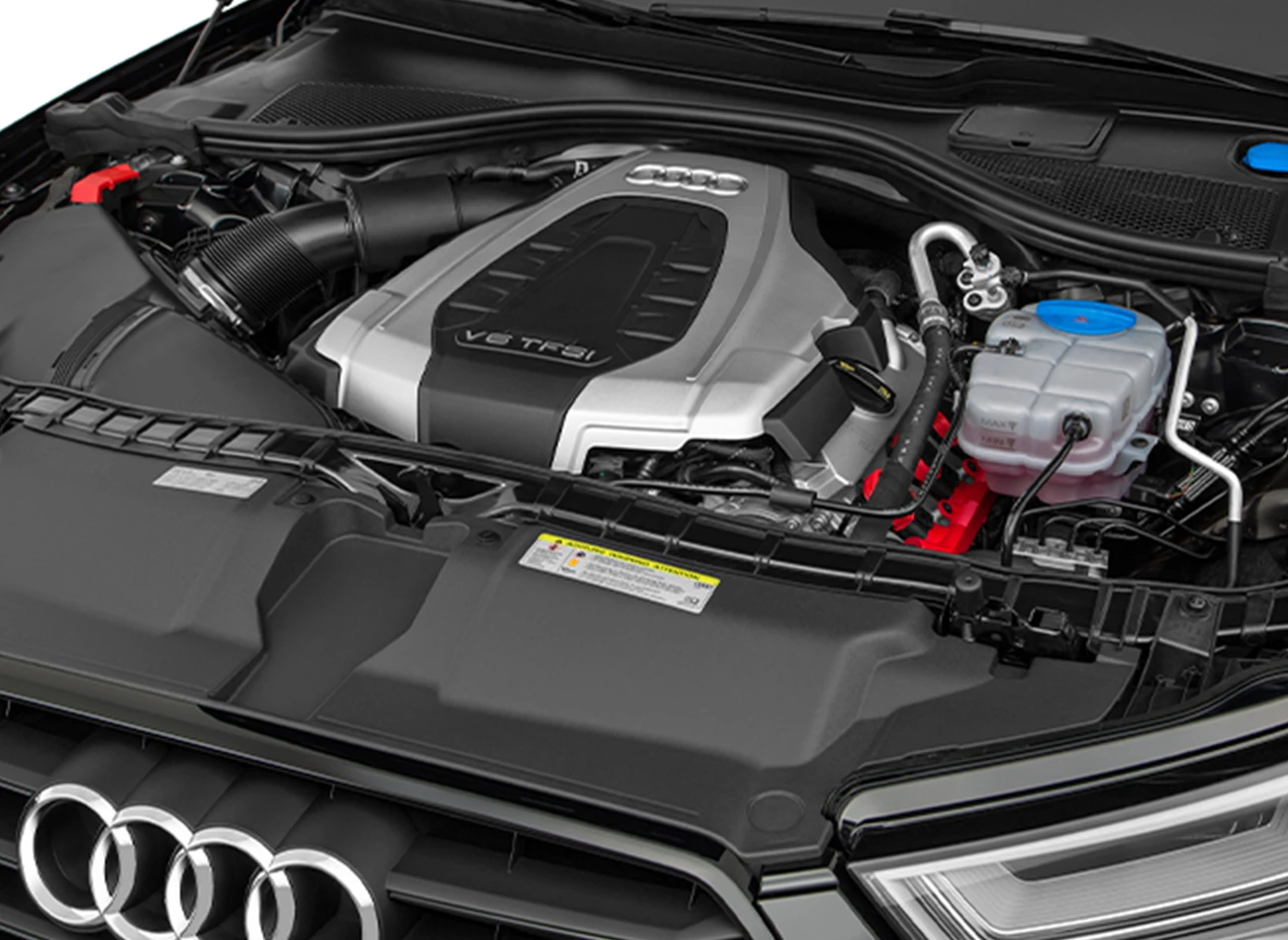 Having heart-thumping power is one thing but keeping it on the road is another. Get all-weather traction thanks to the available Quattro AWD, which balances the engine power across all four wheels based on grip conditions. The first of three engines, a 252 hp turbocharged 2.0L four-cylinder, and FWD get the job done around town. Or, at 333 hp, a 3.0L supercharged V6 engine—bumped to 340 hp in 2018 Audi A6 Competition models—should easily handle any high-performance demands.
4. Luxurious interior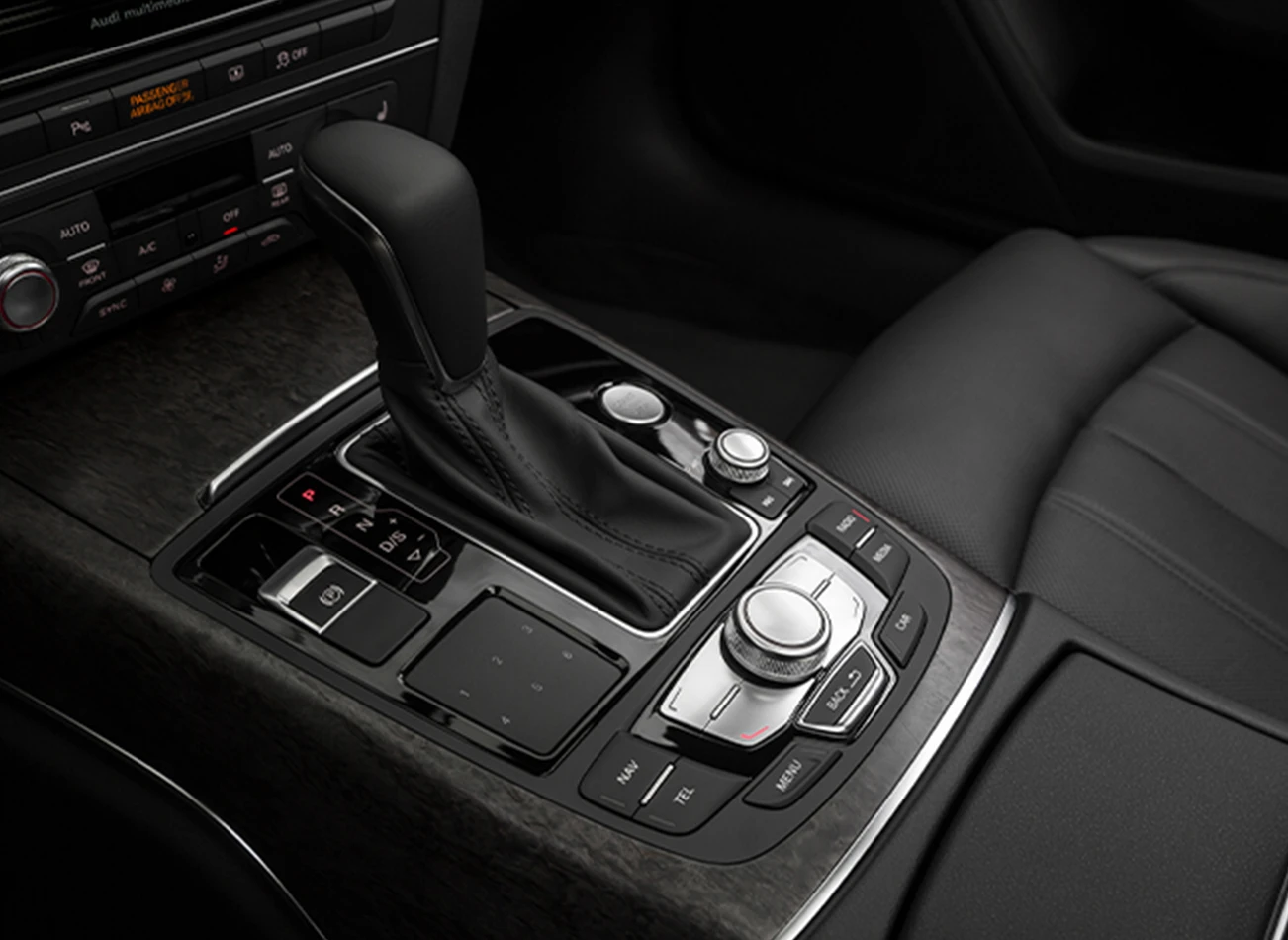 Where the 2018 Audi A6 shines is how it looks from the inside out. Built using high-quality materials and sound deadening, the interior stays quiet while cruising at highway speeds. There's a selection of natural wood trims across all trims, including Birch, Ash, and Walnut inlays. Finally, all models get treated with soft leather seating.
5. Outdo the competition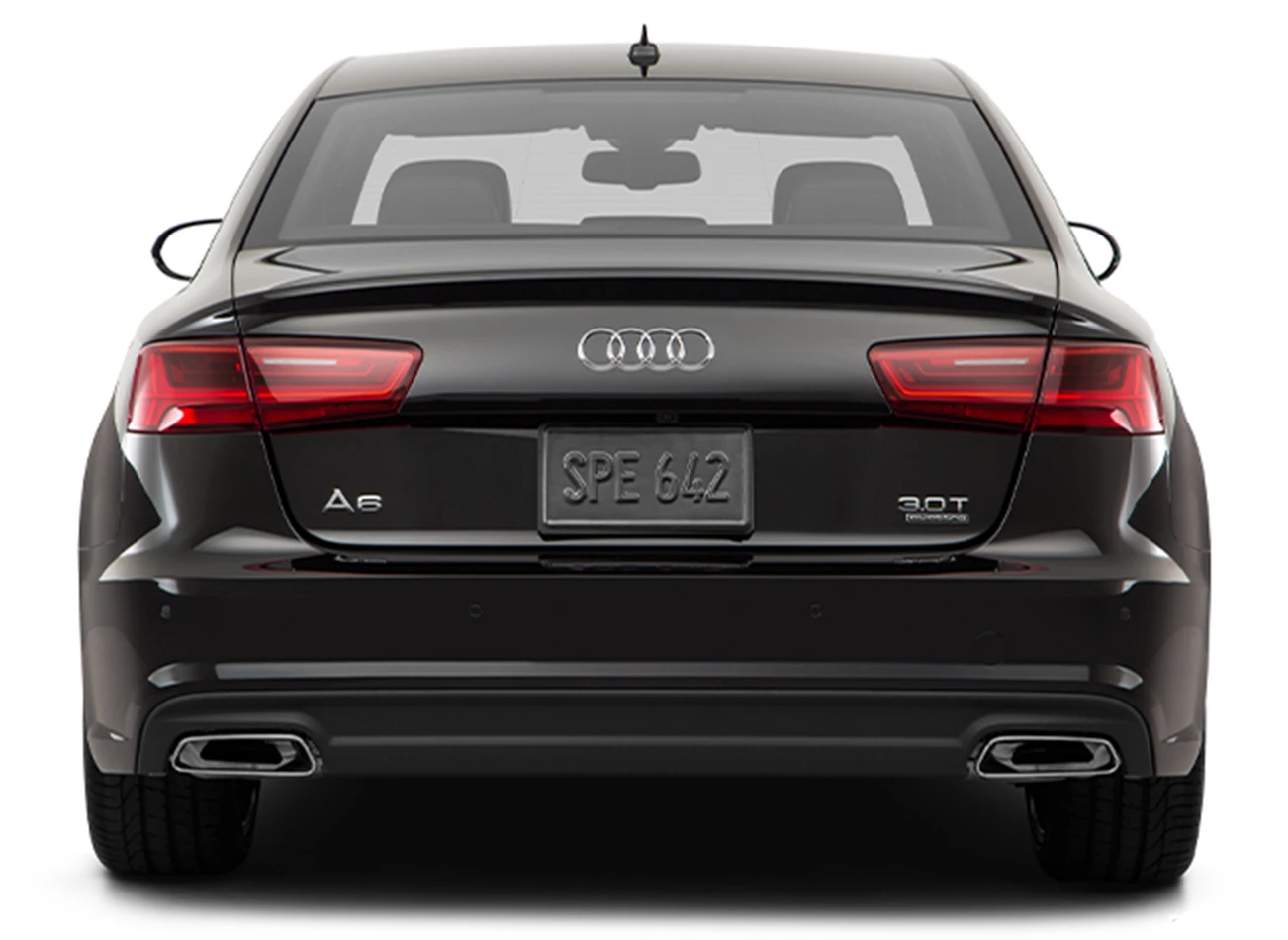 Shift into high gear when you step into the performance-orientated 2018 Audi A6 3.0T Competition. Equipped with a unique grille, body accents, and five-spoke 18-inch wheels. But performance isn't just skin deep. Audi improves the suspension, brakes and boosts power from the supercharged 3.0L V6 engine up seven hp to 340 hp. Finally, the 2018 Audi A6 3.0T Competition gets from zero to 60 mph in just 5.1 seconds (when new), letting you keep up with the competition.
RepairPal gave the Audi A6 an overall reliability rating of 3 out of 5 stars, which RepairPal describes as Above Average. This rating ranks Audi A6 22nd out of 54 among Luxury Fullsize Cars.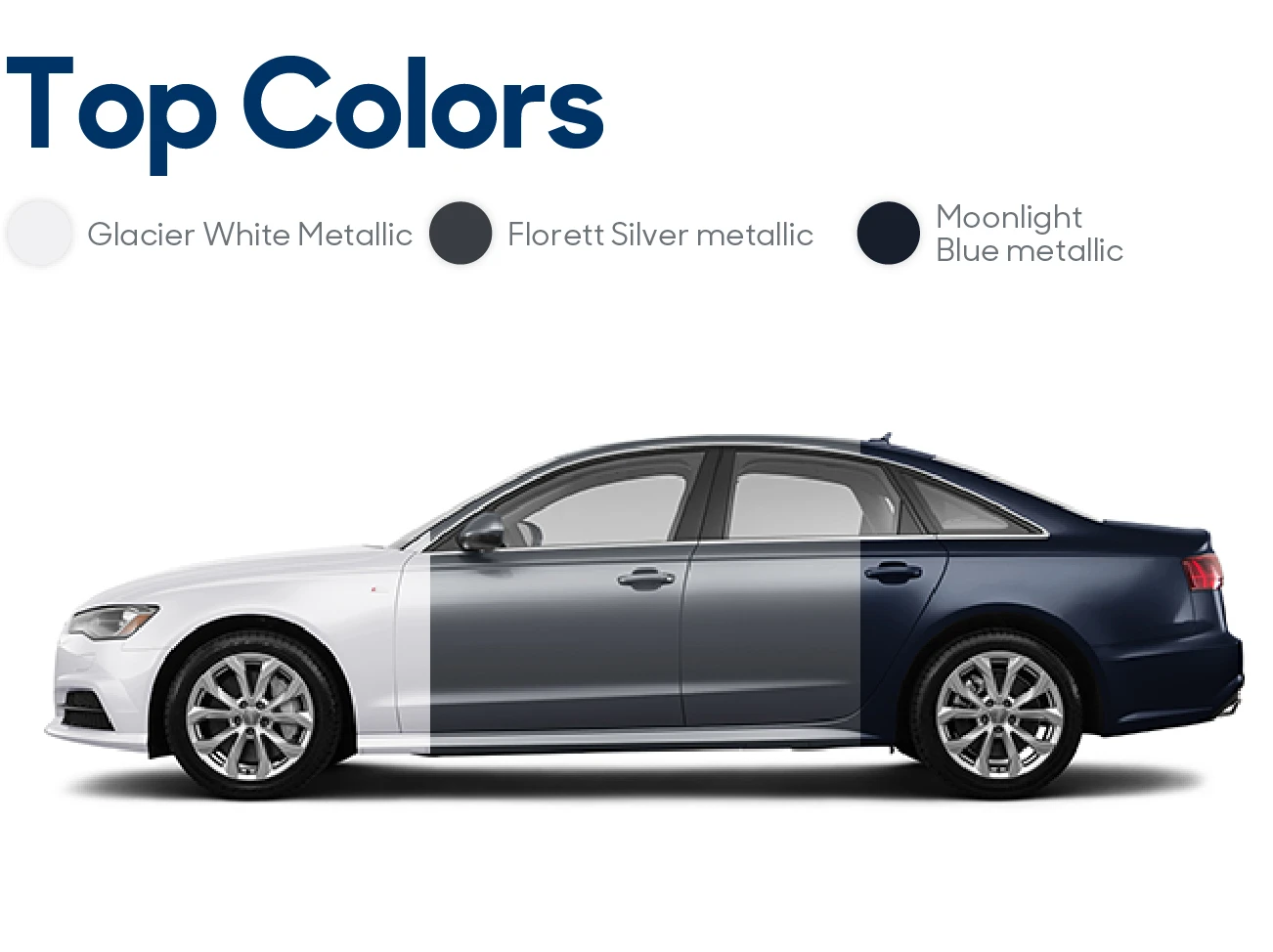 Exterior:
Brilliant Black

Daytona Gray pearl (3.0T Competition)

Florett Silver metallic

Glacier White Metallic

Havannah Brown metallic

Ibis White

Java Brown metallic

Matador Red metallic

Misano Red pearl (3.0T Competition)

Moonlight Blue metallic

Mythos Black metallic

Oolong Gray metallic

Tornado Gray metallic
Interior:
Arras Red with Granit Grey stitch (3.0T Competition)

Atlas Beige

Black

Black with Black stitch (3.0T Competition)

Black with Korso Red stitch (3.0T Competition)

Black with Silver sitch (3.0T Competition)

Flint Gray

Lunar Silver with Dark Silver stitch (3.0T Competition)

Lunar Silver with Graphite Gray stitch (3.0T Competition)

Nougat Brown
Interior Details
Filled with natural wood interlays, brushed aluminum trim, a soft cloth headliner, and leather seating, the 2018 Audi A6 ticks all your luxurious needs. In the rear, seats split fold 60/40, so they'll be adaptable for any cargo too long for the trunk. At 14.1 cu-ft, there should be plenty of cargo space for any luggage a road trip requires. Finally, in the 2018 Audi A6 3.0T Competition, diamond-stitched Valcona leather seats complete the luxury sport-sedan feel.
Child Seat Details
Three child seat anchors run along the rear deck of the 2018 Audi A6, while a pair of LATCH anchors are on the outside rear seats. As needed, you can use any rear-facing, forward-facing, and booster seats in the back seats. In addition, a third tether anchor in the middle position can be used for seatbelt installation if required.
NHTSA Safety Ratings
The 2018 Audi A6 received an overall 5/5 by the National Highway Traffic Safety Administration (NHTSA). Find out more about this rating and how NHTSA's 5-Star Safety Ratings program evaluates the crash protection and rollover safety of new vehicles.
Keep in mind that certain vehicles may have unrepaired safety recalls. Click here to look up a specific vehicle.
Frontal Barrier Crash Rating Test: A head-on collision between two similar vehicles traveling at 35 mph.
Overall: 5/5
Side Barrier Crash Rating Test: A vehicle standing in an intersection sustains driver-side impact from a vehicle moving at 38.5 mph.
Overall: 5/5
Side Pole Crash Rating Test: A vehicle slides sideways at 20 mph and impacts a tree or telephone pole.
Overall: 5/5
Performance
Despite its size, the 2018 Audi A6 is a capable performance machine. Sport-tuned suspension and a powerful range of engines will turn even the most regular drive into a heart-thumping experience. Quattro AWD sends most of the power to the rear wheels to give you the best grip, only redirecting it as traction conditions change. 5.1 seconds isn't much time, but that's all it takes for the 2018 Audi A6 3.0T Competition to go from zero to 60 mph, according to the manufacturer when new.
Emissions
The 2018 Audi A6 with a turbocharged 2.0L four-cylinder engine and seven-speed automatic transmission gets EPA-estimated 311 grams per mile of tailpipe emissions. Or, when equipped with a turbocharged 2.0L four-cylinder and eight-speed automatic, the 2018 Audi A6 gets EPA-estimated 347 grams of tailpipe emissions. The EPA-estimated tailpipe emissions for the supercharged 3.0L V6 2018 Audi A6 are 378 grams per mile.